My grandma used to cook her chicken in apple cider vinegar, something her mom used to do. It's always been weird to me, but after asking more about it, I found out it's something a lot of people do and have done for a long time. My grams said it was a "simpler time" and they didn't have anything fancy to give flavor so apple cider vinegar was a cheap and flavorful staple for their chicken dinners. I decided to play around with it a bit but wanted to ease into the whole "I'm cooking my food in vinegar" thing, so I made apple cider vinegar creamy chicken by adding some coconut milk to balance it out.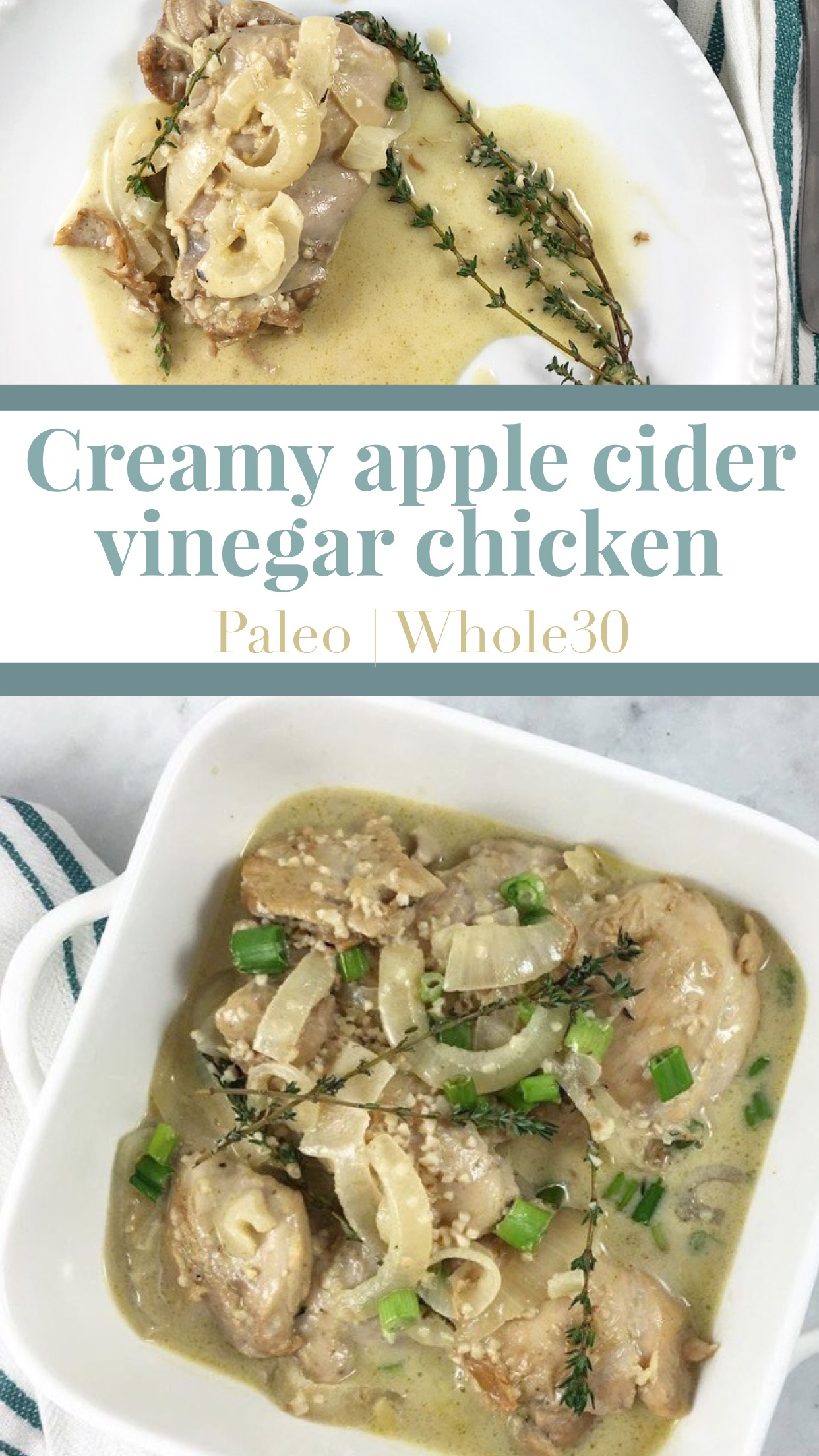 The first few times I made it, I tweaked some things and finally came out with a dish that is seriously mind-blowing. So, SO good. The boyfriend loved it, too. He even ate the leftovers in the fridge I had meal prepped with this dish. Which is totally annoying but also a total compliment to my cooking. It's a fine line 😉
On that note, this meal does meal prep really nicely. I was able to feed two of us and use the leftovers to make two more Tupperware meals. The leftovers heated up the next few days to be just as good as the first go-round. Or you can make it look super fancy and feed it to a dinner party. It's THAT good.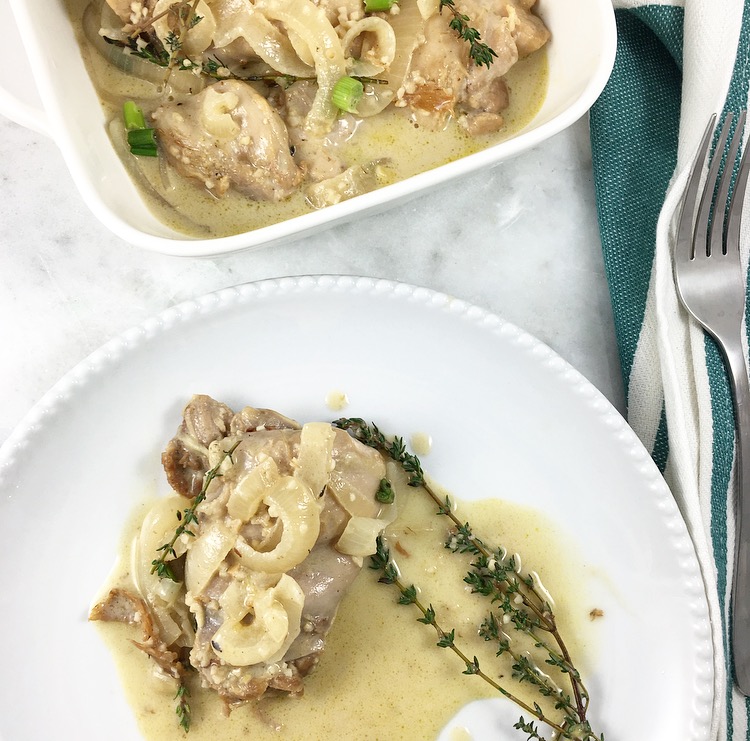 Aside from being a great meal prep option, the whole thing takes less than a half hour to make. There's really no slicing and dicing except for the onion. A few shakes, pours and stirs and this apple cider vinegar creamy chicken is done! I have a special place in my heart for meals that don't leave me with a huge mess. Or a mountain of dishes to clean up after I stuffed my face, ya know?!
Check it out and let me know what you think!
Print
Creamy Apple Cider Vinegar Chicken
Cook Time: 25 minutes
Total Time: 25 minutes
Yield: Serves 4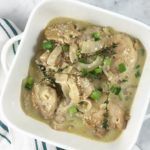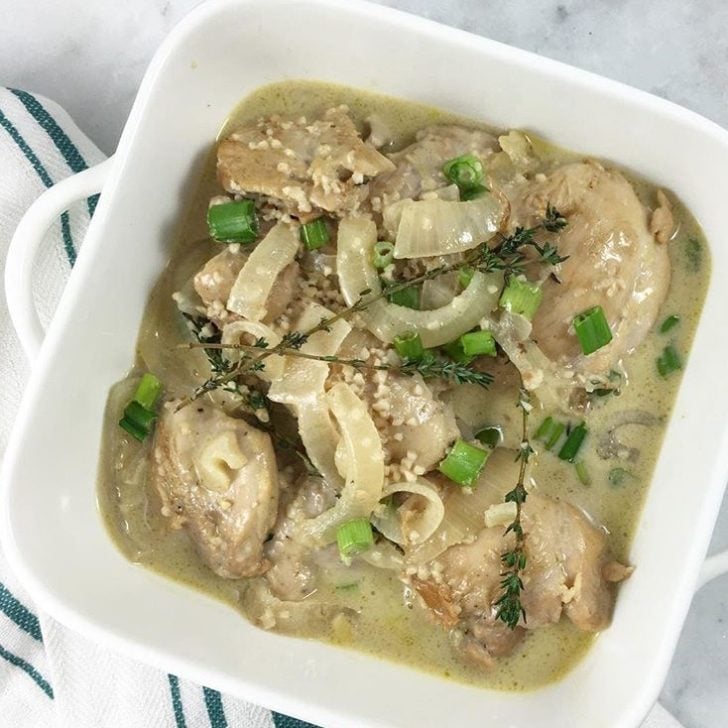 Ingredients
1 pound boneless chicken thighs
1 large white onion, sliced
2 tablespoons extra virgin olive oil
2 tablespoons minced garlic
1 cup chicken broth
1/2 cup apple cider vinegar
1 teaspoon salt
1 teaspoon pepper
1 teaspoon dried parsley flakes
6 fresh thyme branches
1 can full fat coconut milk
*optional: green onion or parsley to garnish
Instructions
Heat extra virgin olive oil in large stove-top skillet
Add chicken thighs, allow to cook almost thoroughly but still pink in the middle, flipping halfway through, about 4 minutes on each side
Remove chicken from pan and set aside
Add in sliced onion and minced garlic
Stir until garlic becomes fragrant
Add apple cider vinegar, salt, pepper, parsley and chicken broth to pan
Stir to combine
Add fresh thyme and chicken thighs back into pan and allow to cook until done completely, about 10 minutes
Remove chicken from pan again and add in the thick liquid at the top of the coconut milk can
Stir until combined and let simmer until the sauce thickens
Add chicken back in, remove the cooked thyme branches
Garnish with fresh thyme, green onions or parsley
Serve and enjoy!
This post contains affiliate links, though all products are ones I use personally and recommend. When you purchase anything using my links, it costs you absolutely nothing extra, but it does give wholekitchensink.com a little financial support which helps to keep this blog running. Thank you for your continued support, both with your dollars and your interest.