Doing a Whole30 while traveling can seem like an overwhelming, or totally impossible, thing to do. While it's not as easy as doing one from the comfort of your own kitchen, it can definitely be done! These Whole30 travel tips will help you easily get it done. With a bit of planning and thinking ahead, eating Whole30 on the road is something you are more than capable of.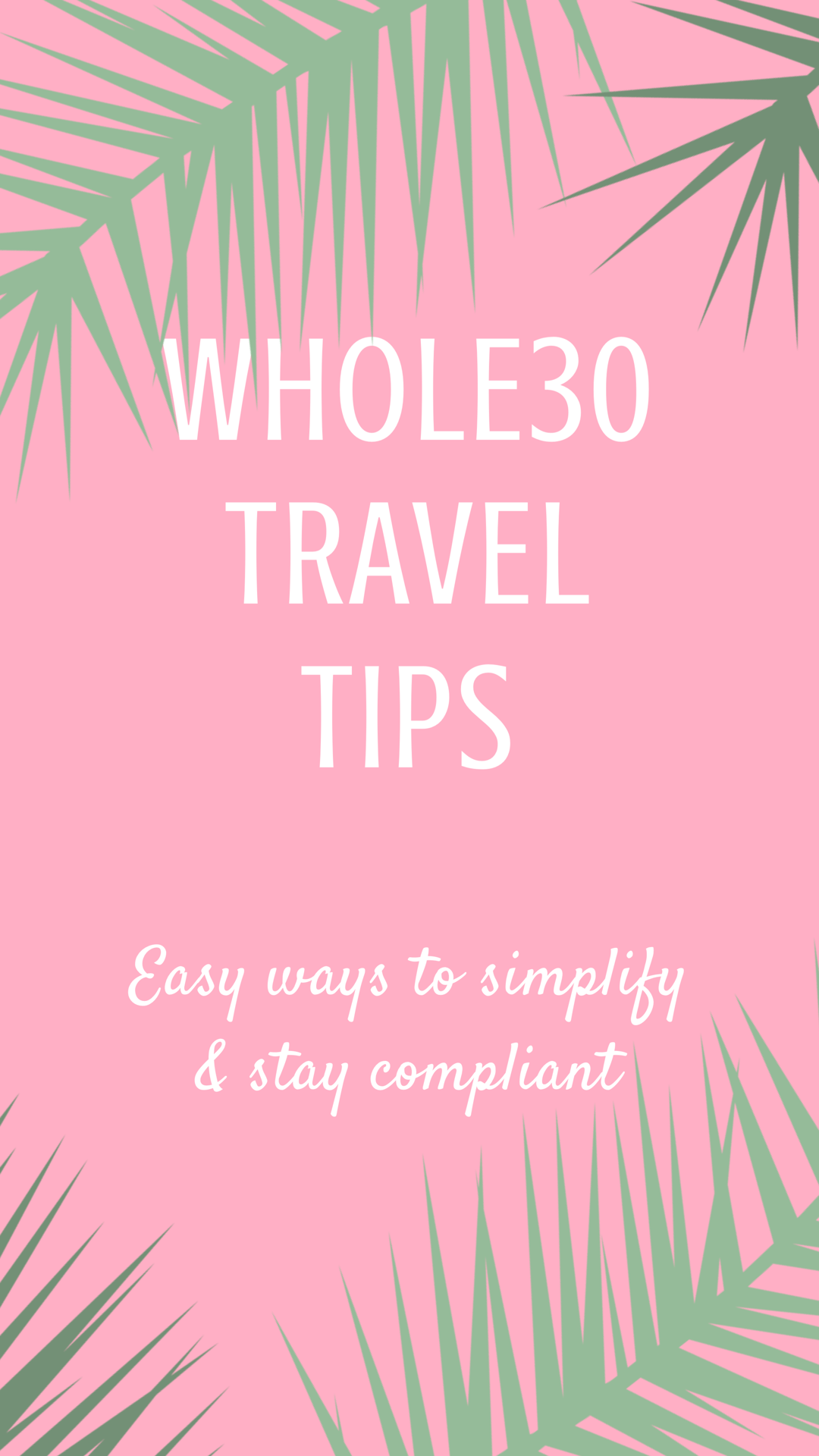 A lot of these Whole30 travel tips, meals, snacks and strategies are what I do when I'm traveling even if I'm not on a Whole30. By implementing some of these ideas in my food freedom, it helps me keep feeling my best while allowing me to focus on the experience I'm having while away from home, instead of the food. I just got home from a two week road trip, and guess what? My favorite moments were the incredible things I saw, and the people I shared that time with. I was able to be fully present and not exhausted, irritable or feeling blah because I was having a vacation induced free-for-all when it came to eating junk food.
Here's a list of my Whole30 travel tips, with more detailed explanations and ideas below:
Road Trips:
Pack a cooler
Stock up on on-the-go snacks to take with
Bring kitchen utensils with you
Cook/freeze simple proteins before you leave
Book hotels or Airbnb's with mini or full kitchens
Grocery shop vs. eat out
Simply meals and expectations
Air Travel:
Check your luggage
Plan ahead (research!)
Take what you can with you
Book cooking friendly accommodations
Make meal times work for you & your plans
Stock Up & Plan Ahead
Before taking off, either by car or plane, stock up on some necessities. This looks different for each of us, but make sure you have what you need to be successful. It can sound like a lot of work, but it doesn't have to be! I typically put in a Thrive Market order, run to the store, or fill my Amazon cart a week prior to a trip to make sure I've covered all of my bases.
See all of my recommended Whole30 Travel Snacks
Things I stock up on include my Whole30 travel snacks, favorite Whole30 drinks, everything I need for my morning coffee (like Vital Proteins individual coffee creamers with collagen, or nutpods), travel size packets of ghee, my favorite salad dressing or condiments (like Tessemae's BBQ sauce or Primal Kitchen's ranch), and protein bars (like Epic bars, Larabars, or RXBARs).
Check out my Thrive Market Budget Whole30 Picks for these options… but cheaper!

Check a Bag & Bring a Cooler
This is why when I'm traveling by car, I take a cooler, or traveling by plane, I'll check a bag to make sure I can easily take the things with me that are bigger than the 4 ounces allowed in a carry on. Another option is to purchase once you get to your destination by swinging through a Whole Foods, Fresh Thyme, Sprouts or another store with some compliant items.
The way I'll use the things I take with me help me both simplify and expand my eating options. Because I have dressings with me, I can easily purchase a compliant rotisserie chicken and top with BBQ sauce, purchase simple salad greens and veggies for salads with ranch, balsamic or a green goddess dressing. I can also take these with me to restaurants to make eating Whole30 compliant an easier experience while dining out.
Prep Before You Leave:
When traveling by car, you have the added convenience of making some food ahead of time. My favorite things to prep are simple proteins that I can use a variety of ways, or that have accompanying ingredients that are easy to get. An example of that is taco meat. I prepped taco meat ahead of time, because pre-made pico, guacamole, diced onions, chopped romaine and Whole30 compliant salsa can be found at virtually any grocery store these days.
I also made some hardboiled eggs (which also can be purchased at most stores), and pulled pork or chicken. Pulled meats can be paired with steamed veggies you can microwave in the bag, microwaved potatoes with ghee, salads, easy to grab protein for snacks or mini meals or added to eggs for omelettes/skillets.
Appliances:
When you're staying at a hotel or Airbnb that has a small kitchen, a quick trip to the grocery store will allow you to make most of your own meals. You don't need a stove, but always a bonus. With a microwave you can cook chicken breasts, steam veggies, nuke potatoes, heat up compliant hot dogs or chicken apple sausages.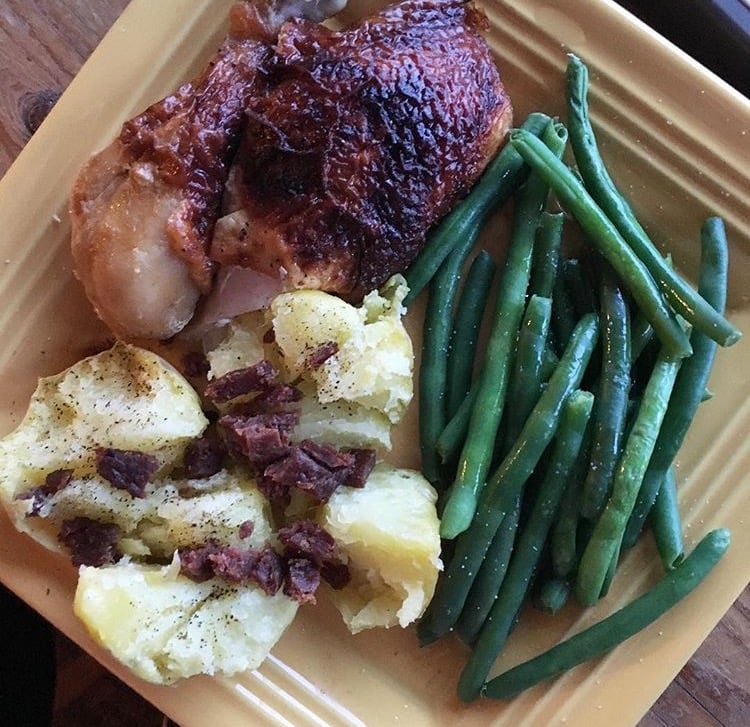 If you're traveling by car, throw your slow cooker or instant pot in the trunk. This might sound crazy, but it's an invaluable tool you'll be glad you thought of. This way you don't even need to worry about a kitchen stove.
Having this allows you to make one dish meals without tons of work or ingredients. You can make egg bakes, soups, roasts with veggies, bulk prep meats, really the options are endless. It is also helpful to pack a few Tupperware containers you can put the leftovers in to pack into the cooler or hotel fridge so you can simply warm up when needed.
I did this on my last trip, stopped at the grocery store quickly every every few days, and let the slow cooker or microwave in our hotel do the rest. I also brought a can opener with me, which was a lifesaver for snacking on olives, making tuna salad, using coconut milk in a soup or adding canned green beans to a complaint rotisserie chicken.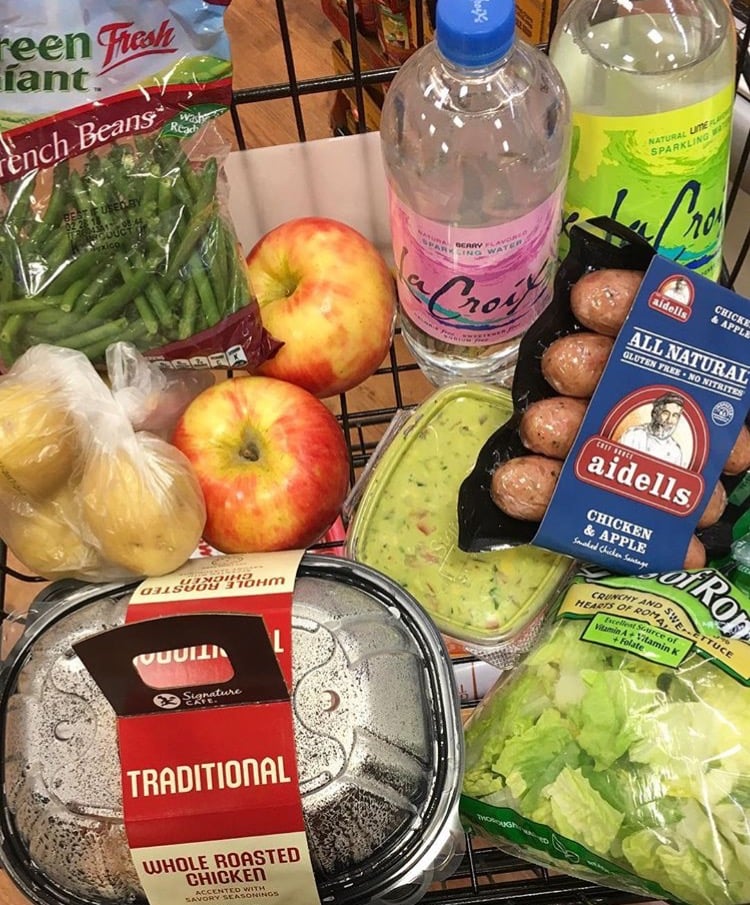 Other kitchen tools that are helpful to have: small handheld milk frother (best 10 bucks I've ever spent!) to easily stir collagen, creamer packets, or matcha packets, small salad dressing travel containers, small pairing knife, flexible cutting board, reusable ice packs for cooler, and Tupperware.
Grocery store protein ideas to pack before you go or buy once there:
Compliant hot dogs (Applegate)
Compliant chicken and apple sausages (Aidell's)
Pre-cooked kielbasa (Pederson's)
Compliant deli meat
Compliant grilled chicken breast strips (Applegate)
Prosciutto or compliant bacon
Hardboiled eggs
Peeled shrimp
Rotisserie chicken
Epic bars, Chomps, Brooklyn Biltong, Wild Zora bars, DNX bars
A majority of these are all available in major grocery store chains like Target, Whole Foods, Fresh Thyme and Sprouts, and can be found on Thrive Market as well at a lower cost, such as the tuna, dressings and meat sticks/bars. A big order from Thrive Market is one of the best Whole30 travel tips.
More Simple ideas to make Whole30 travel life easier:
Taco meat for taco salads
Meatballs made and froze ahead of time
Breakfast sausages made ahead of time for breakfast or portable protein
Tuna or chicken salads
"throw-it-over-greens" meals using deli meat, sausages, chicken, hot dogs
Use individual packs of guacamole, pre-made pico, compliant salsa as dressings
Pick up baby veggies, like baby carrots, broccoli, English cucumbers, celery sticks for dipping/snacks/easy sides to meals
Individual packets of bone broth
Individual packets of Tessemae's dressing, or the Tessemae's Whole30 Master Kit
Add almonds or cashews to meals, or pack in individual baggies for on-the-go
Buy fruit that doesn't need much preparing, like apples, bananas, grapes, berries and oranges
Order Zupa Noma portable soups (code PALEOBAILEY saves you 15%) and pack in a cooler
Smoked salmon, kielbasa or apple sausages for breakfast with easy vegetable sides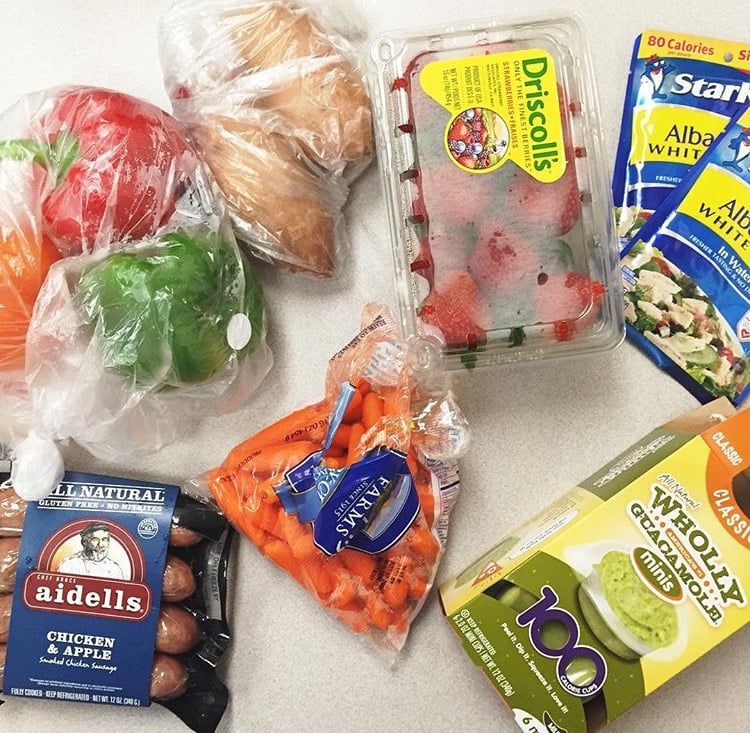 Simply your meals and expectations. It's okay if sometimes your meals are eaten cold, off of a paper plate or paper towel, or you bought more pre-cooked options than you would if you were home. A of my major Whole30 travel tips is to remove the idea of what a meal is suppose to look like. It doesn't have to be glamorous or Pinterest worthy, it just has to work for YOU.
Research the Area:
Find grocery stores that are in a reasonable distance to where you're staying and make a pitstop before arriving at your hotel to stock up on what you need. Before you go, do research on what healthier restaurant options will be around and take screenshots, or make a list in your phone.
Another one of my Whole30 travel tips is to find grocery stores that will be more natural foods oriented/speciality stores by hopping onto a Whole30 Approved company's website, such as Tessemae's or Primal Kitchen's, and doing a store locator search. Type in the area code for the place you're going to be traveling to, and check out what grocery stores pop up. Your best bet is going to be going to one of those stores and they'll likely carry other healthy options, too.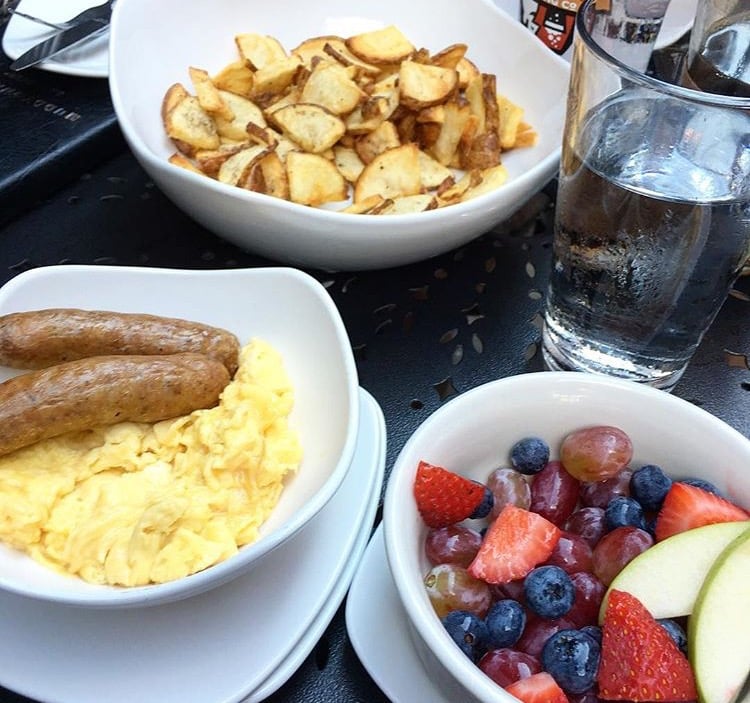 The best way to find more health oriented places to eat is by searching Google or Yelp for "Paleo restaurants near *insert city*", "farm to table *insert city*", "organic restaurants *insert city*".
Even if there aren't a lot of options, you can still order and enjoy a Whole30 meal basically anywhere. Take your salad dressing, ask your questions and follow the Whole30 travel tips in my Guide to Eating Out Whole30 – you'll find it's easier than you may think!
Helpful Resources for More Whole30 Travel Tips:
Whole30 Travel Snacks
23 Steps to a Successful Whole30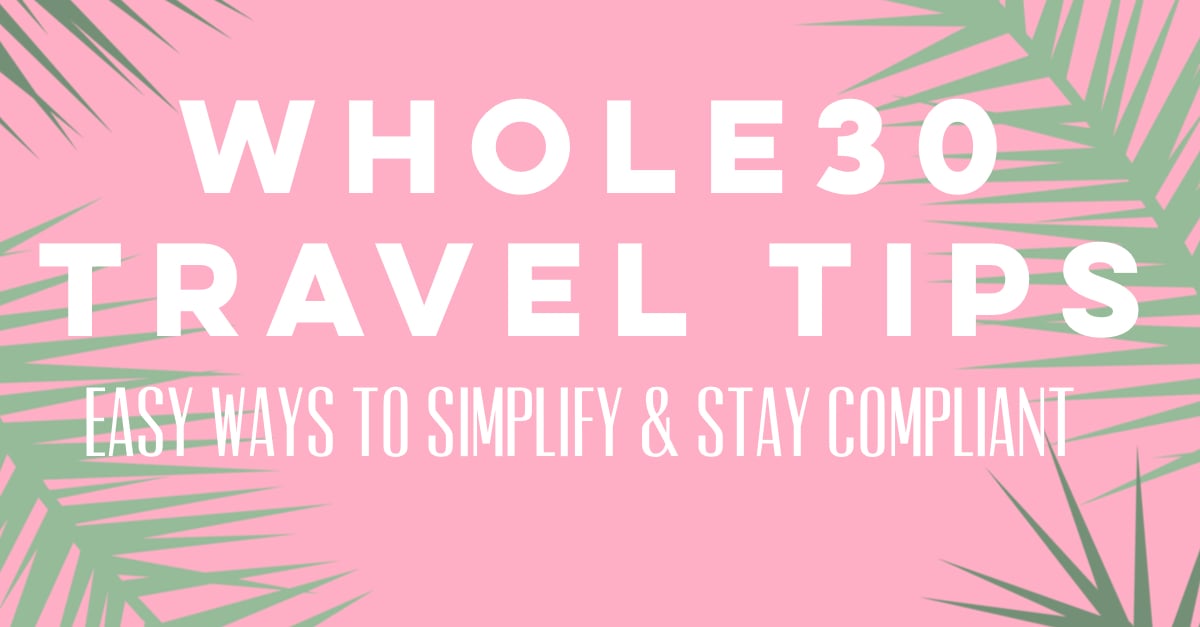 This post may contain some links that are affiliate links, though products are ones I use personally and recommend. When you purchase anything using my links, it costs you absolutely nothing extra, but it does give Paleobailey.com a little financial support which helps to keep this blog running. Thank you for your continued support, both with your dollars and your interest.