It's been a few weeks with my instant pot now and to be honest, I'm not sure how I lived without it. I just made an easy Paleo and Whole30 instant pot spaghetti sauce recipe for my first week of doing a budget Whole30. Not only was it way less labor intensive than standing over a stovetop but it was also way quicker than putting it in the slow cooker! Win-win for me!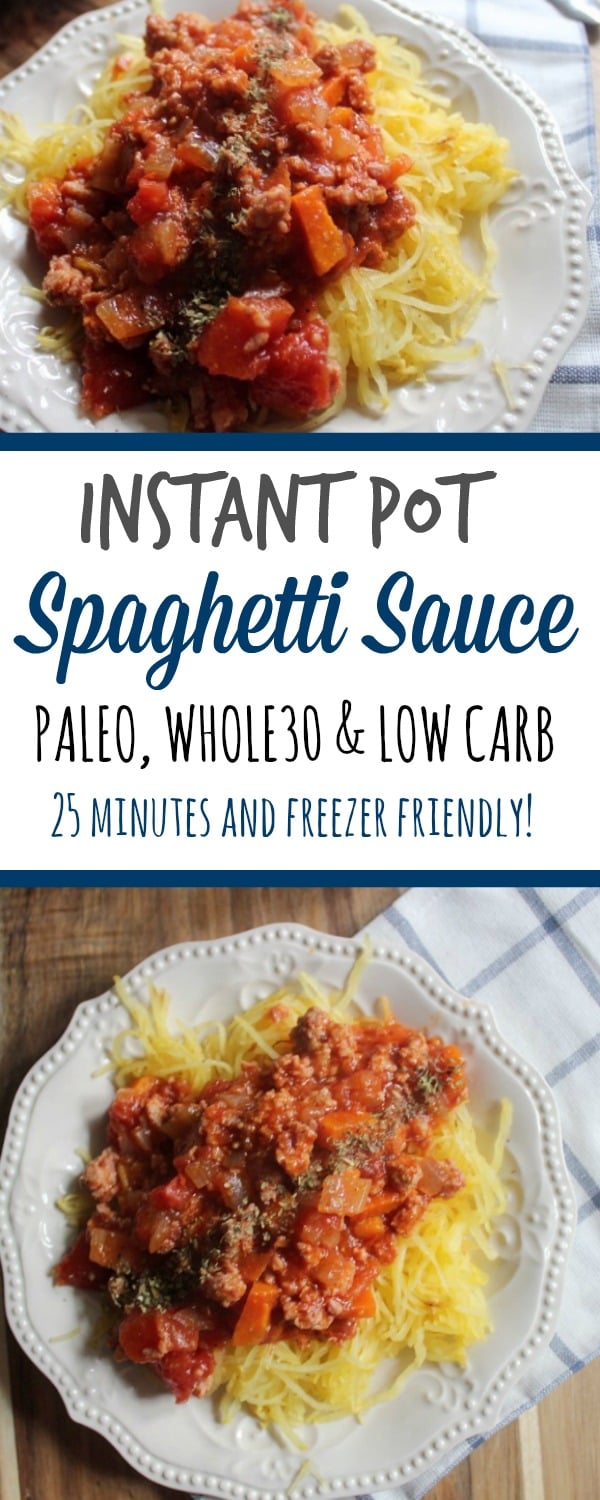 So far I've just been messing around with the instant pot mostly and trying to get a feel for how it works. Like I've mentioned in one of my other posts, it's got about 429 functions and looks like a mini spaceship. There's nothing fancy or innovative about this instant pot spaghetti sauce recipe, but it is good enough to share!
The ingredients are all inexpensive and it makes a huge batch. Both of those factors making it perfect for doing a Whole30 on the cheap. Tons of meals without tons of cost. YUP.
One important thing to remember about recipes is that you don't need to follow them word for word. If you don't have canned tomato sauce, fine! Use marinara to make it easier if you have that in the pantry. Don't like that much onions? No problem. Adjust accordingly. Your husband LOVES garlic? Sweet, add more! Do what works for you, your meal prep and family.
I prepped spaghetti squash to eat with the instant pot spaghetti sauce. Well, I didn't really do anything except take the already prepped squash out of the freezer. But it was still work okay?! 😉
YES, you CAN freeze spaghetti squash. Mind blowing, right?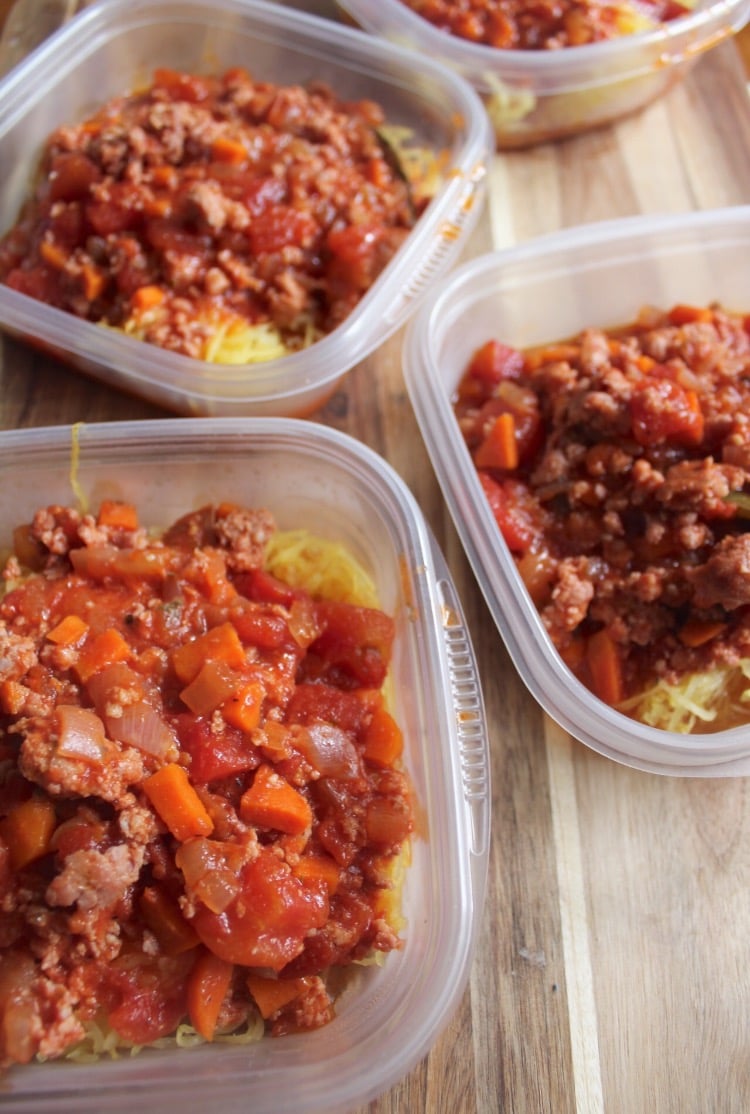 You could also have this with zucchini or butternut squash noodles. Butternut squash noodles are probably my favorite. Or try it over sweet potatoes! Sweet potatoes are another really easy way to make this a simple meal prep. Just wrap your already-baked potatoes in tinfoil, refrigerate and pop one in the microwave with your individually portioned spaghetti sauce.
Wondering how to get zucchini noodles or spaghetti squash noodles to not leave your plate full of water? Use a nut milk bag to gently squeeze the water out prior to serving! This is the dishwasher safe nut milk bag I use. It's a game changer, I promise.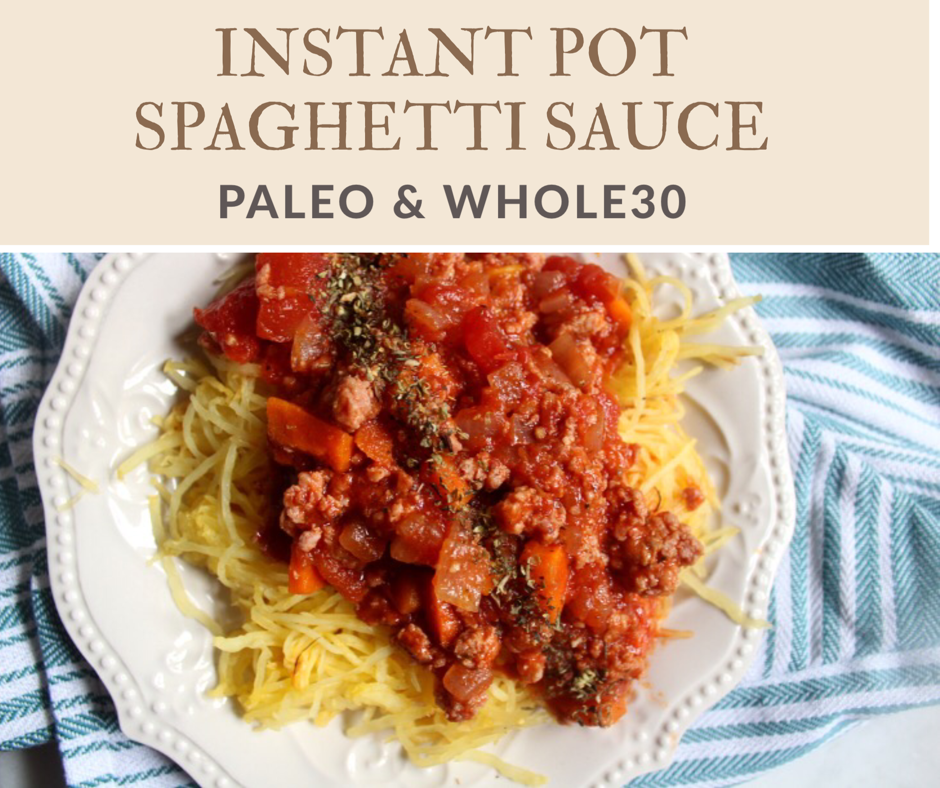 Because I'm only prepping for one person, I only used a pound of ground beef. Just double the recipe if you want more. I've done this sauce plenty of times before with 2 pounds and frozen half. I've also done 1 pound of ground beef and 1 pound of bison! All make for a delicious sauce, just depends on the quantity you want!
Check out a similar slow cooker version of this sauce!
Print
Whole30 Instant Pot Spaghetti Sauce
Prep Time: 5 minutes
Cook Time: 25 minutes
Total Time: 30 minutes
Yield: Serves 4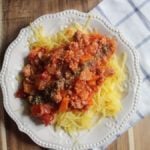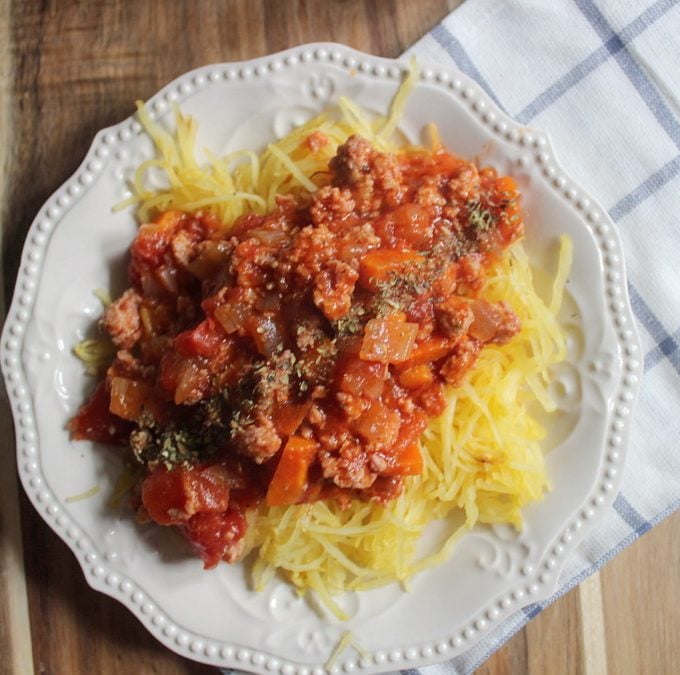 Ingredients
1 pound ground beef
1 can diced tomatoes (with liquid)
1 can crushed tomatoes (with liquid)
1 large onion, finely chopped
2 stalks celery, finely chopped
1 long carrot, finely chopped
2 tablespoons olive oil
2 tablespoons tomato paste
2 tablespoons garlic
1 tablespoon dried oregano
1 tablespoon dried basil (or substitute the oregano and basil for 2 tablespoons Italian seasoning blend)
2 bay leaves
1 teaspoon salt
1/2 teaspoon pepper
Instructions
In sauté mode, brown ground beef in the instant pot
After about 10 minutes when beef is mostly cooked, remove and drain liquid
Set ground beef aside
Add olive oil to the instant pot
Place carrots in the bottom, still in sauté mode
Once carrots have begun to soften, about 4 minutes, add in garlic, onions and celery
Continue sautéing another 3 minutes
Note: the veggies will not be all the way cooked at this point, but they will once they're done with the pressure cooking
Add the ground beef back into the instant pot along with the spices and tomato paste and mix in with the veggies
Cover mixture with 1 can of diced tomatoes and 1 can of crushed tomatoes and don't stir
Place the top on the instant pot and cook for 15 minutes on "high pressure" mode, ensuring the release knob is closed
Once it's done cooking, turn the knob and let all the steam out before removing cover for quick release
If your sauce looks runny, that's okay! Select sauté mode and the excess water will begin to evaporate
The sauce should be reduced and thickened quickly
Taste and season with more salt and pepper per taste
Serve and enjoy!
Notes
I meal prep this into 4 individual servings. This recipe is easily doubled and freezes well.
This post may contain some links that are affiliate links, though products are ones I use personally and recommend. When you purchase anything using my links, it costs you absolutely nothing extra, but it does give wholekitchensink.com a little financial support which helps to keep this blog running. Thank you for your continued support, both with your dollars and your interest.