This easy 30 minute Whole30 chicken soup is every bit as healing as it is simple. There's nothing like a cozy, hearty and healthy chicken soup. This paleo chicken soup is made without the junk but with all the flavor. With instant pot instructions, and stovetop directions, this will definitely be a fall favorite for your family!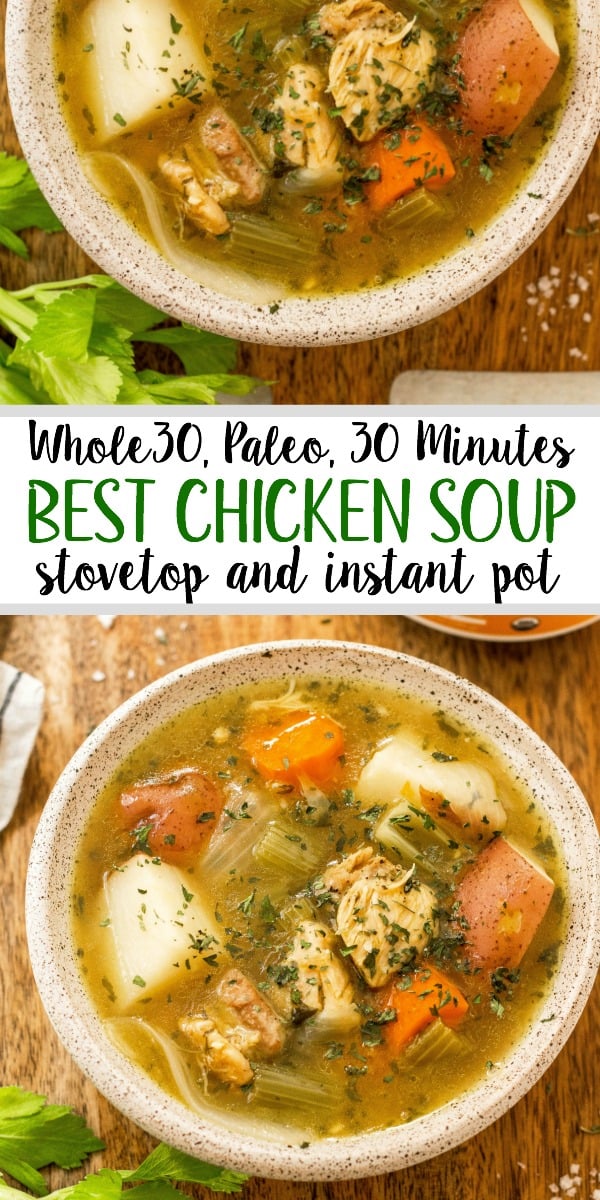 This Whole30 chicken soup is sponsored by Vital Proteins. I'm happy to work with a company I love, use and believe in so much! Thanks for your support here on the blog and your support for Vital Proteins!
When the temperature dipped below 60 degrees the other day, I only had one thought. Soup season! I eat soup year round, but when it starts to get cooler and summer is winding down, my soup consumption ramps up considerably. I've had lots of requests for a simple get hearty chicken soup so it's high time I share my easy go-to Whole30 chicken soup!
Easy Ingredient Magic
This soup is so thick and hearty it's almost a chicken stew, which is fine by me! I almost always use chicken thighs in my chicken soups because they're much more juicy than breasts which can be kind of bland. The thighs add a ton of flavor, so make sure you dump the juices from the chicken back into the pot of soup too!
The other ingredients are simple, common ingredients that don't require anything crazy. The spices for this soup are all going to be things most of us have in our cupboards, and the vegetables I add to my chicken soup are the basics. That being said, even if the ingredients look simplistic, that doesn't mean that they don't come together to make a rich and filling soup.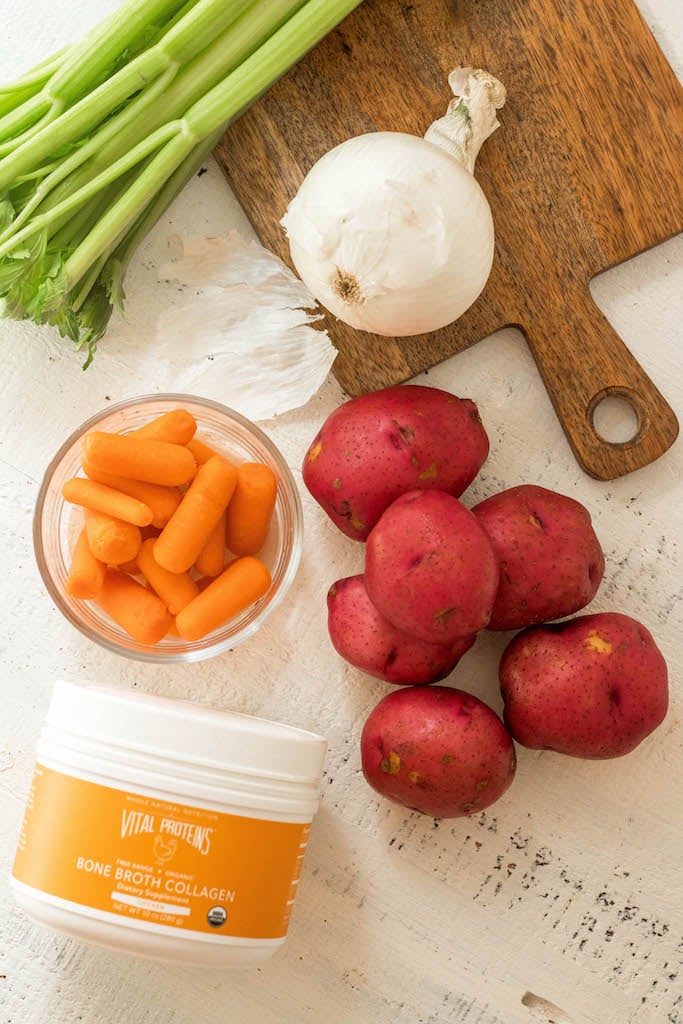 Let's Talk Bone Broth
For over a year now I've been using Vital Proteins Bone Broth Collagen for my chicken and beef broths. Not only is it Whole30 Approved with the ingredients only being chicken bone broth powder, but it's super easy to use. You just mix the powder with warm water and have your broth! Whole30 broth can be tricky to find in cartons. By keeping Vital Proteins on hand I know I always have broth when I need it.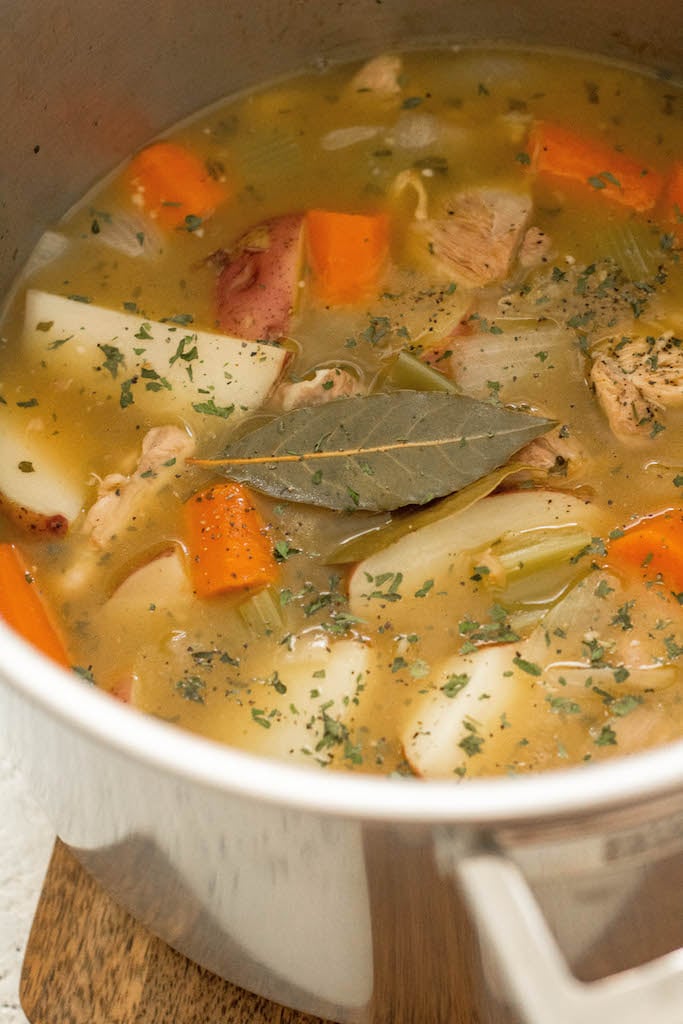 I also really love the added health benefits from collagen. Collagen is something I use every single day and have seen incredible results from. Collagen is the most abundant protein in the body, but as we age, we stop producing less of it. It's essential for healthy joints, muscle recovery, skin, hair and nails, among about 100 other things.
There really isn't an organ system that collagen isn't an important part of. This bone broth serves a double purpose then by being convenient, and giving me another way to get collagen into my diet and that of my family! Even my grandma now uses it and says she's not taking as many pain meds for her arthritis anymore after a few months.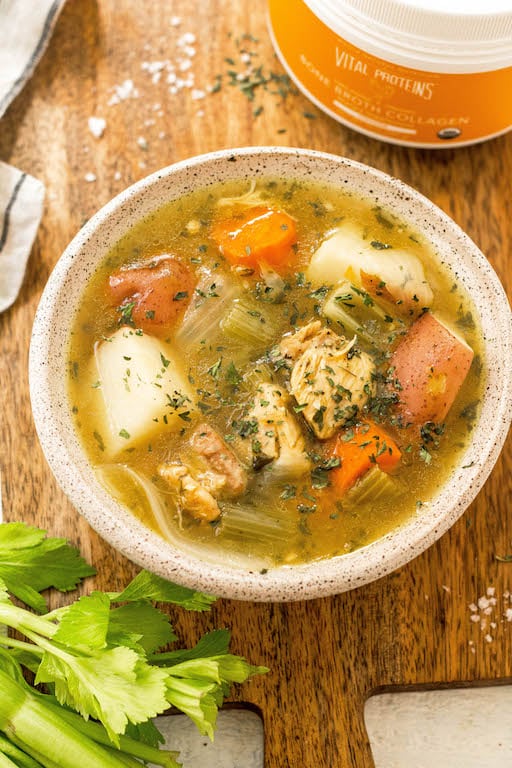 For more in depth details on what collagen is check out this post all about the uses and benefits of collagen!
This soup is really easy to make, and I've of course included instant pot chicken soup directions too! The easiest way to make this Whole30 chicken soup in the instant pot is to just put it on "soup" mode, although you could also put it on high manual pressure and get it done in about half the time! I'd start with 15 minutes and if the potatoes aren't tender enough, add another 5!
Click HERE to get my favorite Whole30 Approved Chicken Bone Broth Collagen!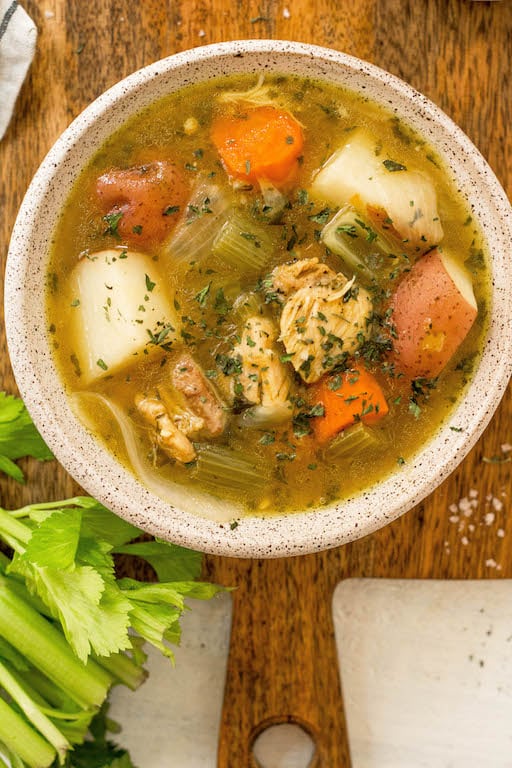 Other Whole Kitchen Sink recipes using chicken broth:
Whole30 Cashew Chicken Skillet
Whole30 Mexican Albondigas "Meatball" Soup
Creamy Sausage and Potato Whole30 Casserole
Slow Cooker BBQ Pulled Pork and Pineapple Coleslaw
Recipe Video
Print
30 Minute Whole30 Chicken Soup: Stovetop & Instant Pot Directions
Author:
Prep Time: 10
Cook Time: 40
Total Time: 50 minutes
Yield: Serves 6
Category: Soup
Method: One Pot
Cuisine: American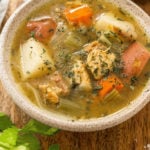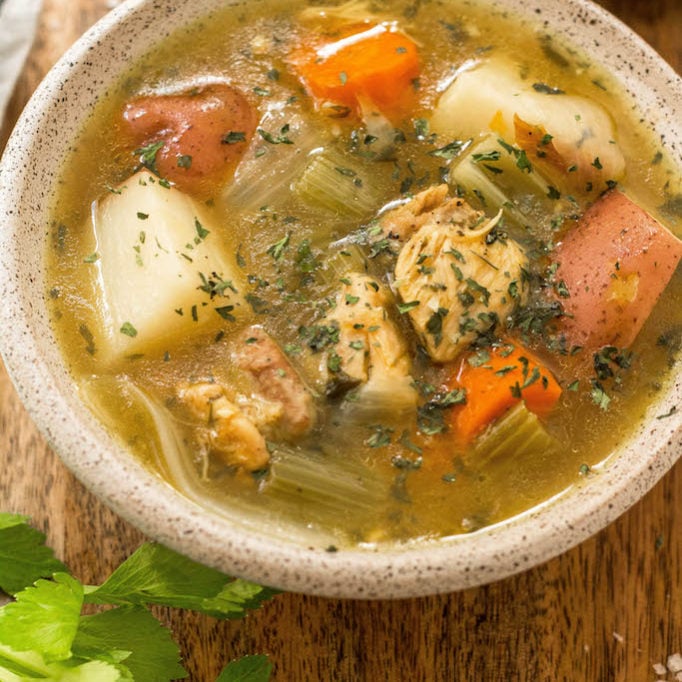 Ingredients
1.5 lb boneless, skinless chicken thighs, diced into 1" pieces
2 cups carrots, diced in 1/2 inch chunks (about 3 long carrots)
2 lbs red potatoes, quartered
1 white onion, halved, and then cut into 1/2 inch slices
5 ribs celery, diced
2 tablespoons olive oil
2 tablespoons minced garlic
5 cups chicken broth
2 tablespoons arrowroot flour
1 tablespoon dried parsley
1 and 1/2 tsp salt
1 tsp pepper
1 tsp dried thyme
1 tsp dried rosemary
2 bay leaves
Instructions
Heat olive oil in a large stock pot. While oil is heating, season chicken with salt and pepper.
Add chicken to the stock pot and cook on high heat for for about 6 minutes, stirring occasionally, until brown on all sides. Remove and set aside on a plate
Add onion, celery, carrot and minced garlic to the stock pot. Cook for about 4-5 minutes until onion starts to become translucent, stirring often and scraping the bottom to loosen the browned bits
Mix flour with 1 cup of the broth until dissolved, and add to the stock pot
Add chicken, chicken broth, potatoes and all spices. Stir to combine and add more salt and pepper to taste
Bring to a simmer and cover. Reduce heat to medium and cook for 30 minutes
Once potatoes and carrots are soft, discard bay leaves, remove from heat and add additional fresh or dried parsley to taste
Notes
Instant pot instructions: Set instant pot to saute mode and heat oil. While oil is heating season chicken with salt and pepper. Add chicken to the Instant Pot and brown for 6 minutes, stirring occasionally and then remove from the instant pot. Add onion, celery, carrot and minced garlic to the instant pot and cook for 4-5 minutes until onion becomes translucent, stirring often and scraping the browned bits from the bottom. Mix arrowroot flour with 1 cup of the broth until dissolved, and add to the instant pot. Add chicken back in, along with chicken broth, potatoes and all spices. Stir to combine and add more salt and pepper to taste. Set the instant pot to "soup" mode, close the lid and set to sealing. Once done, do a quick release and serve!
Keywords: chicken soup, whole30 soup, whole30 recipes, paleo, vital proteins
Nutrition Facts:
Calories: 362
Sugar: 5
Fat: 9
Carbohydrates: 45
Protein: 27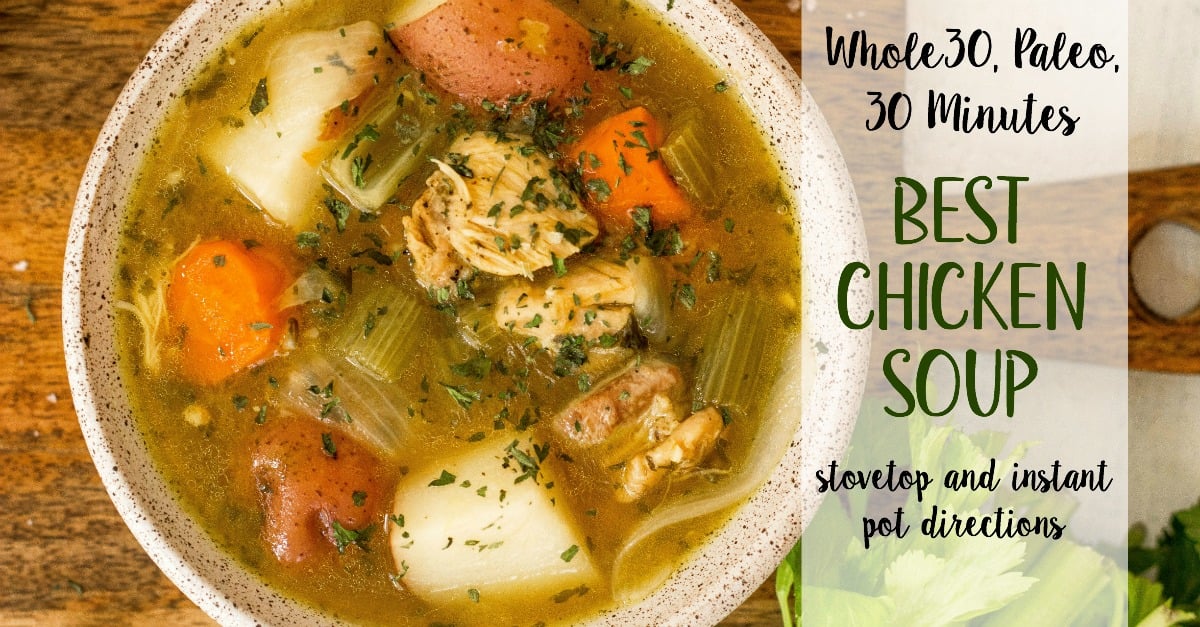 Click Image to Pin to Pinterest!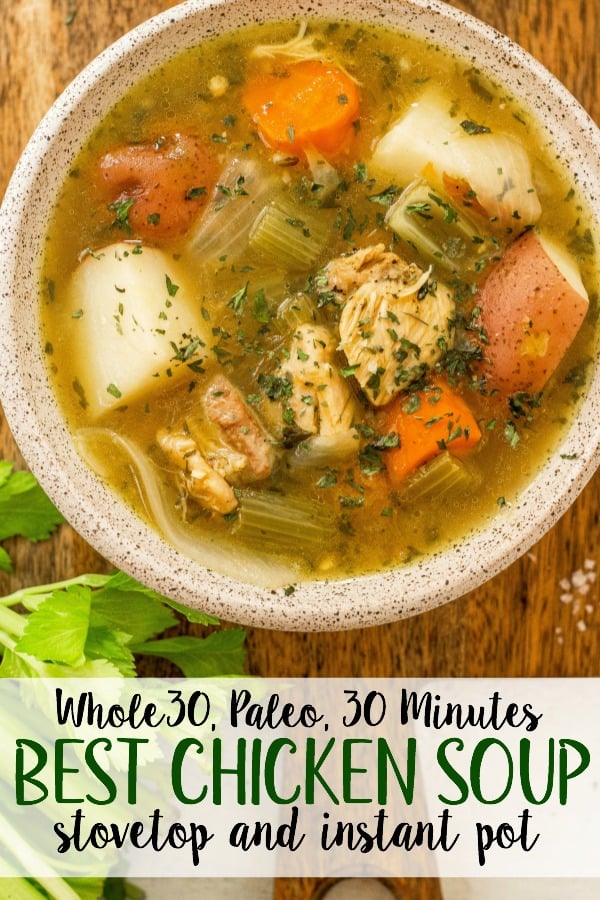 This Whole30 chicken soup recipe may contain some links that are affiliate links, though products are ones I use personally and recommend. When you purchase anything using my links, it costs you absolutely nothing extra, but it does give wholekitchensink.com a little financial support which helps to keep this blog running. Thank you for your continued support, both with your dollars and your interest.