This creamy Whole30 casserole is the perfect easy and family friendly dinner. It's with sausage and potatoes in under an hour and is a creamy, comforting Paleo or gluten-free recipe. It would be great for meal prep, and I think the leftovers are almost more delicious!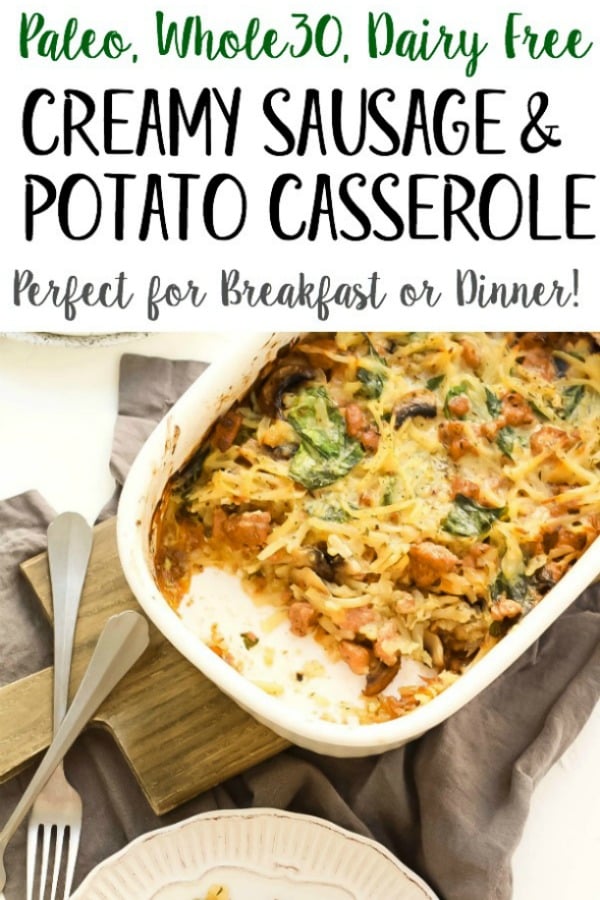 My midwest, Minnesotan youth was filled with all types of classic casseroles. In Minnesota we call a casserole a "hot dish", which I've been told isn't the norm in most parts of the country. Hot dishes, or, you know, casseroles, were a staple at every family gathering. That's probably why I think of these foods as comfort foods now – hearty, and ate around a table with my favorite people.
Now it kind of makes me laugh because now that I make casseroles for myself, like this Whole30 casserole I know how easy they are. I've realized that that's probably the real reason they're always around or why my mom made them when she wanted to just throw things in one pan and be done with it.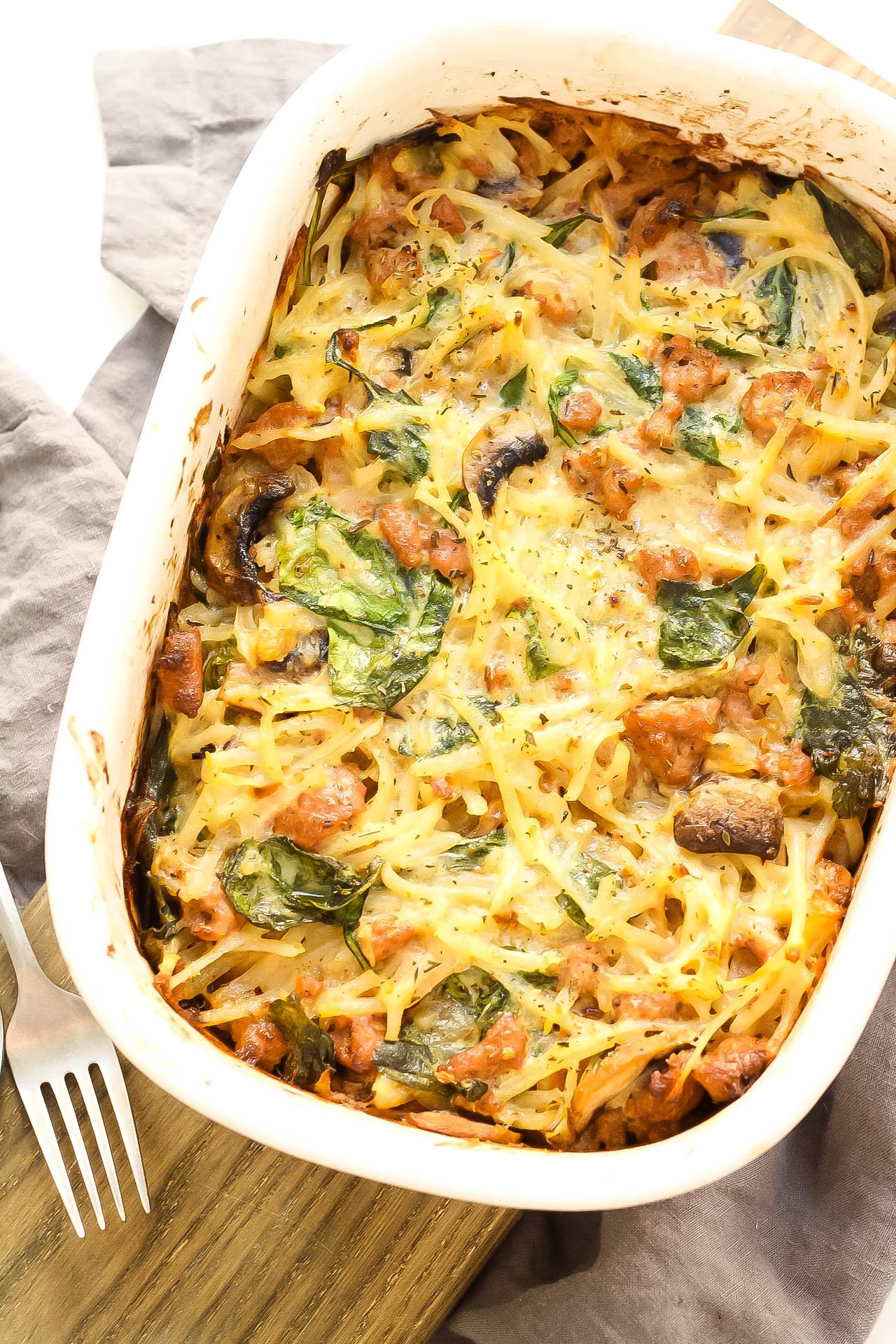 This creamy sausage and hash brown Paleo and Whole30 casserole is ALMOST a one pan meal, but you will need a skillet for the creamy sauce and sausage. It's worth the extra dish, I promise! I love this casserole so much I've made it specifically for breakfast too. I tell myself it's like a hash brown sausage and gravy casserole when it's before 9 a.m.
The potatoes I used for the paleo casserole came from a bag of compliant hash browns. You can find these in many stores, including Walmart! If going from frozen, you'll want to let them thaw prior to baking. I used canned coconut cream and a Califia Farms almond milk. Any Paleo substitution would work for the milk, including nutpods. You'll need a bit of ghee for the cream sauce, broth, and some arrowroot flour to thicken the cream and the rest of the ingredients will be your normal pantry and food items!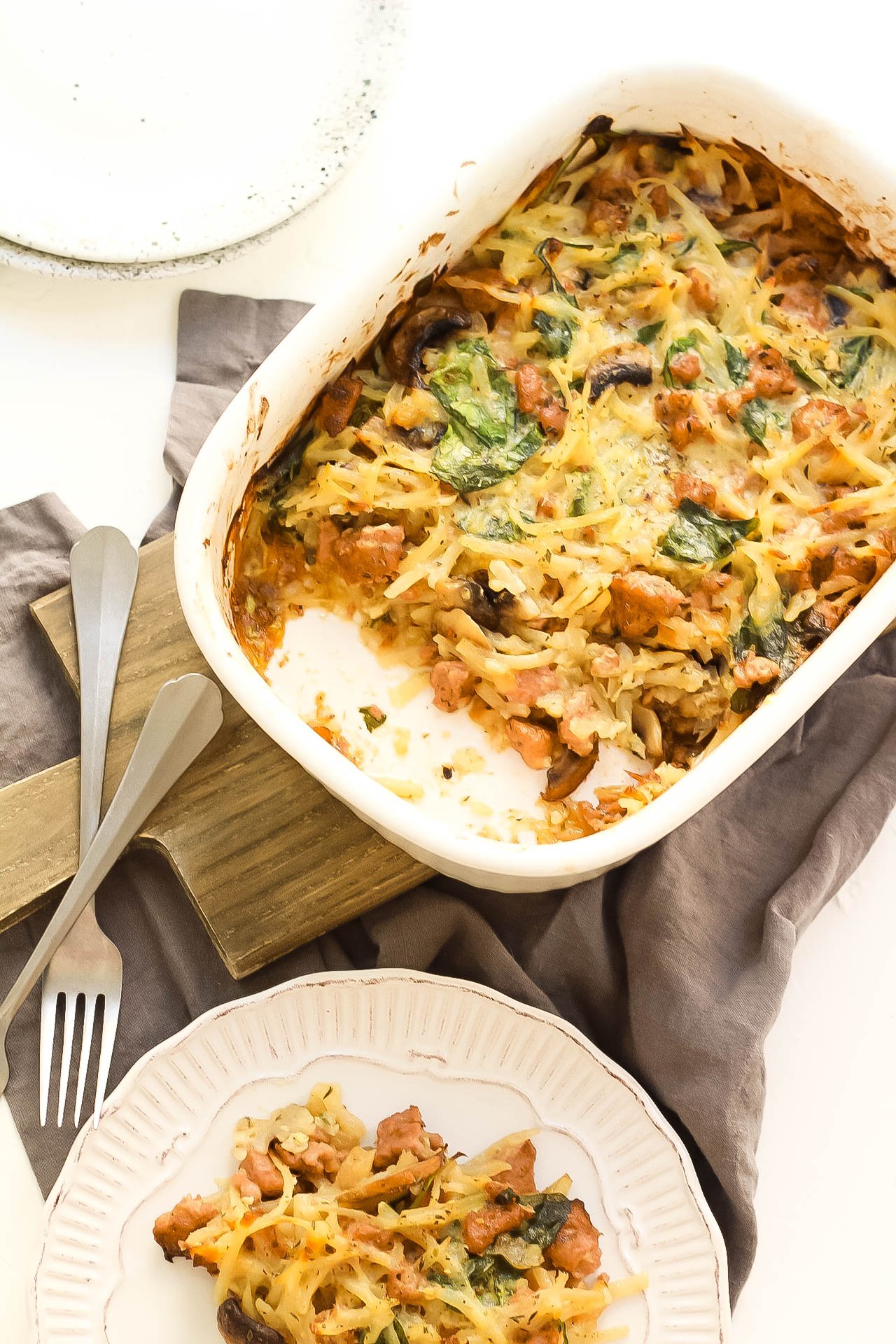 Califia, nutpods, coconut cream, ghee, broth and arrowroot can all be purchased from Amazon, or your local Whole Foods. You can also grab all of those products at a discount from Thrive Market (and get 20% off of your first 3 orders!) For more of my favorite Thrive Market budget favorites, check out my Paleo staples list, and Whole30 staples list!

The Whole30 casserole recipe itself is really easy. I mean, of course it is. You're talking to me after all. Nothing fancy or complicated. Simply brown the meat first, make the creamy sauce, combine it all in a baking dish and you're set! I hope you enjoy this recipe as much as I do!
Print
Hungry for more? Subscribe to my newsletter to get new recipes delivered straight to your inbox! And be sure to stay in touch on Facebook, Pinterest and Instagram for all of the latest updates.
Creamy Sausage & Potato Whole30 Casserole (Paleo + GF)
This creamy Whole30 casserole is the perfect easy and family friendly dinner. It's with sausage and potatoes in under an hour and is a creamy, comforting Paleo or Whole30 recipe. It would be great for meal prep, and I think the leftovers are almost more delicious!
Author:
Prep Time: 10 minutes
Cook Time: 1 hour
Total Time: 1 hour 10 minutes
Yield: Serves 4-6 1x
Category: Dinner
Cuisine: American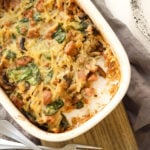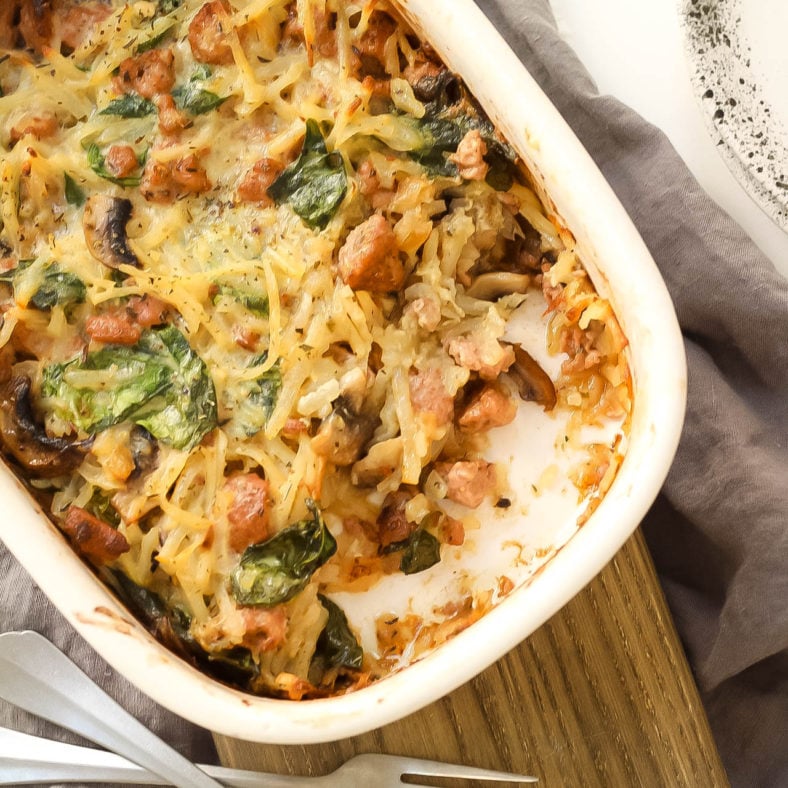 Ingredients
1 pound ground sausage (no sugar)
3 cups shredded potatoes (hash browns, no sugar added such as Mr. Dell's brand)
2 cups baby spinach
1 13.5oz can unsweetened coconut cream
1 cup sliced mushrooms
1 cup diced yellow onion
1 cup broth (chicken or beef)
1/2 cup unsweetened almond milk
2 tablespoons arrowroot flour (or tapioca flour)
1 tablespoon olive oil
1 tablespoon ghee
1 tablespoon minced garlic
1 teaspoon dried rosemary
1 teaspoon dried basil
1/2 teaspoon dried thyme
1/2 teaspoon salt
1/2 teaspoon pepper
Instructions
Preheat the oven to 400 degrees F. Lightly grease a 2.5-3 quart casserole dish and set aside
Add olive oil to a large skillet over medium-high heat. Once hot, add diced onion and sauté for 3 minutes, or until they begin to soften
Add ground sausage, garlic, salt and pepper. Cook until meat is browned and crumbled
Drain excess grease and transfer to a large bowl
Add almond milk, coconut cream, ghee and broth to the skillet over medium heat with the remaining spices
Combine well and bring to a simmer, about 5 minutes. While the sauce is heating, add hash browns, spinach, mushrooms to the bowl with the crumbed sausage and mix well. Place the potato and sausage mixture into the casserole dish.
Slowly (to avoid clumping) whisk in flour to thicken the sauce in the skillet. Continue whisking for about 2 minutes until sauce is thick
Pour cream sauce over the sausage and potatoes in the casserole dish. Use a spoon to gently mix it in
Bake for 45 minutes, or until the top of the mixture forms a slight crust and doesn't give when you press in the middle of the casserole
Notes
If you want a thicker cream sauce, or sauce is too thin, add an additional 1/2 tablespoon arrowroot flour and slowly whisk in.
For a list of Whole30 compliant sausage brands, check this post, or make your own using ground pork using this recipe.
For a list of Whole30 compliant almond milk brands, check this post.
Keywords: whole30 casserole, whole30 dinner recipes, whole30 breakfast recipes, paleo casserole, whole30 recipes, paleo recipes
Nutrition Facts:
Calories: 474
Sugar: 3
Fat: 36
Carbohydrates: 13
Protein: 19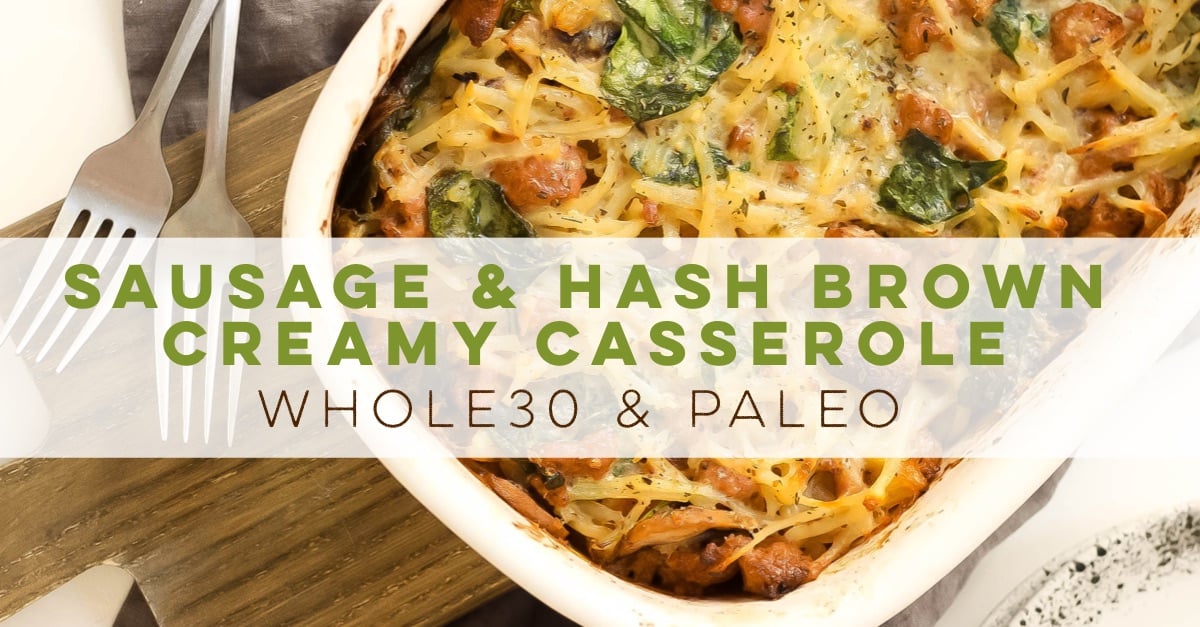 This post may contain some links that are affiliate links, though products are ones I use personally and recommend. When you purchase anything using my links, it costs you absolutely nothing extra, but it does give wholekitchensink.com a little financial support which helps to keep this blog running. Thank you for your continued support, both with your dollars and your interest. I promise I won't buy a pony.