These fiesta Whole30 chicken drumsticks are marinaded in the best ever homemade Paleo and Whole30 taco sauce. The homemade taco sauce is only a few simple ingredients, and when you throw the chicken drumsticks on the grill, you have an easy dinner or protein for meal prep in under 30 minutes! Even if you want to use the oven baked method, these are the best tasting marinaded drumsticks!
This post is sponsored by Vital Proteins. I'm happy to work with a company I love, use and believe in so much! Thanks for your support here on the blog and your support for Vital Proteins!
I can't stop grilling all of the things this summer. As some of you may know, this is our first summer in our first home! So I'm definitely in the "honeymoon phase" of being a homeowner still and just loving every second I get to be in my backyard, on my deck, using my grill. Such a big difference from last summer when I was in a tiny 700 square foot apartment with no A/C and certainly no grill.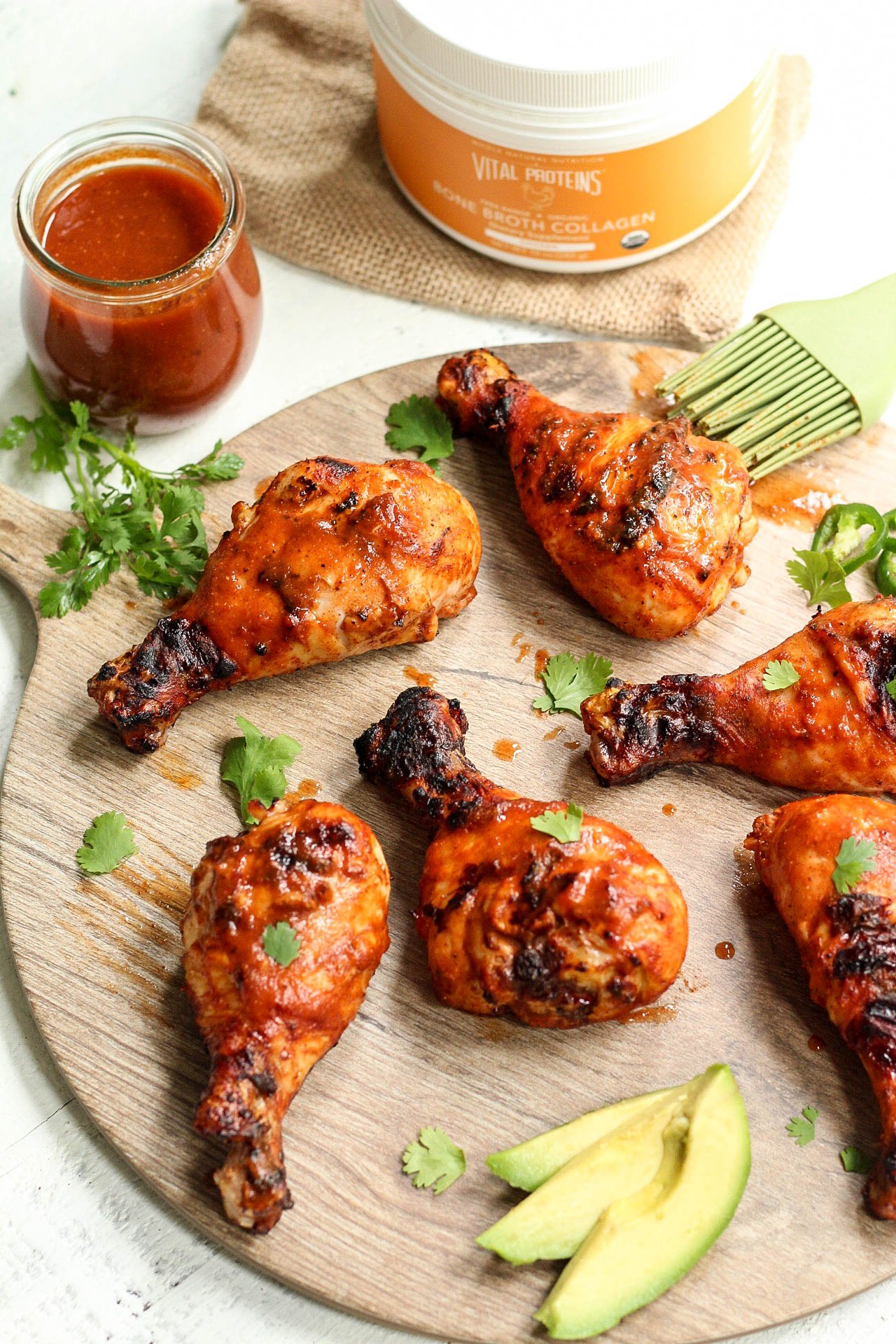 But, that being said, I haven't forgotten what that was like, so of course I'm including oven instructions here for these Whole30 chicken drumsticks as well for you if you're currently grill-less! Everyone should be able to make these Whole30 chicken drumsticks. Bonus, the homemade Paleo and Whole30 taco sauce is LEGIT, and can be used so many different ways. Like, you know, tacos.
For the Paleo homemade taco sauce, you only need a handful of standard ingredients. I love making my own because I know it's not filled with junk like taco sauce from the store. Aside from the spices, all you'll need is tomato sauce and some bone broth. I used Vital Proteins Chicken Bone Broth Collagen, which I've been keeping on hand for over a year now.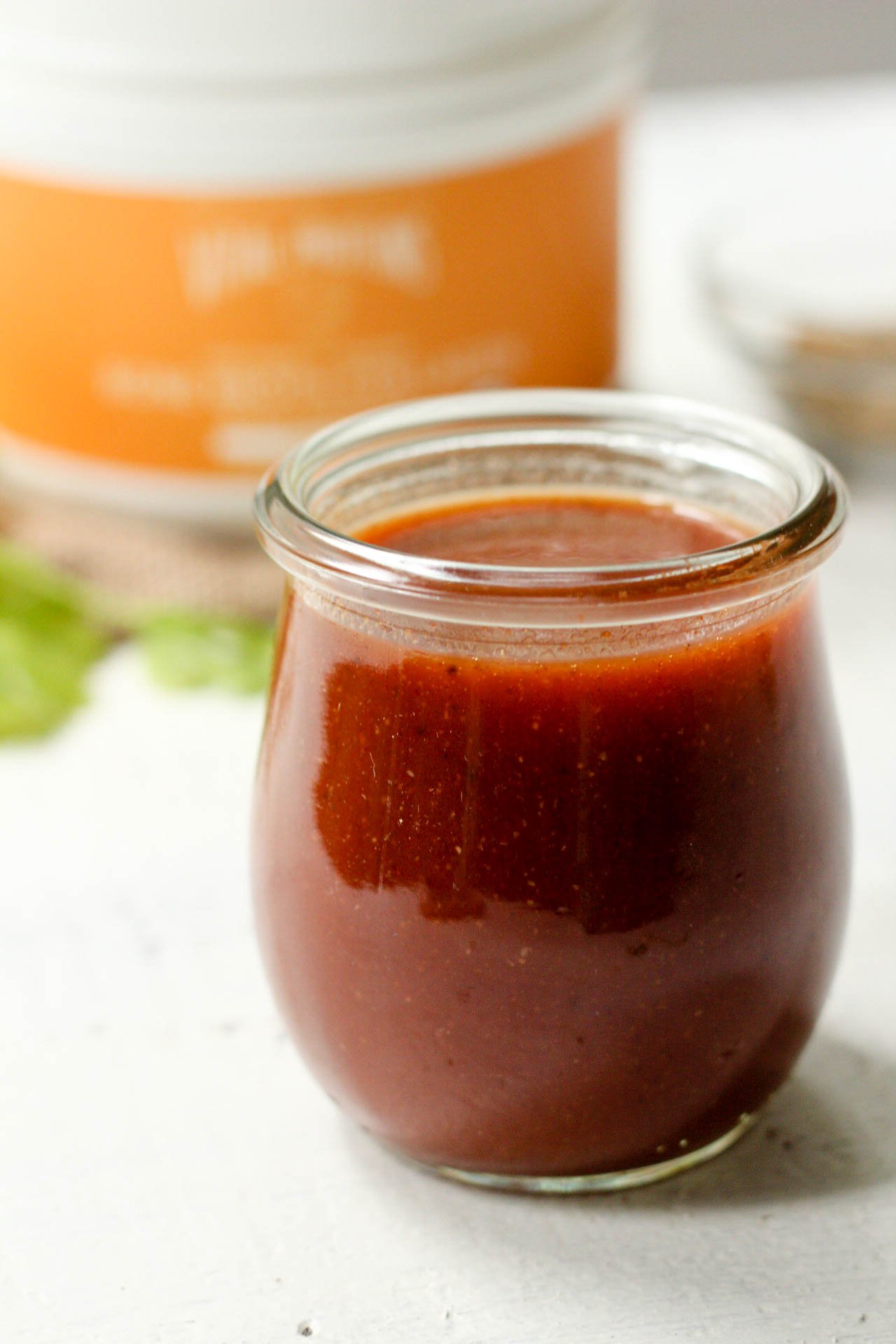 Vital Proteins bone broth is a powdered broth, which honestly saves me so often when I want to make something but don't have any cartons of liquid broth left in the cupboards. I also used to always open a carton, use 1 or 2 cups, and then forget it was in the fridge. Being they are only good for 7 days, I ended up wasting a ton of money.
Not to mention, this takes up way less space than cartons, lasts for months, and I don't waste one penny! Whole30 or Paleo broths are SO hard to find in most grocery stores, and both the Vital Proteins beef and chicken bone broth collagen only has one ingredient – the powdered bone broth!
I love the health benefits of added collagen, too. It's great for digestion, joint health, your skin, hair and nails. Collagen is the most abundant protein in our body. As we get older, though, our body's natural production of collagen decreases, which is linked to wrinkles, weakening of joint cartilage and decreased mobility and flexibility, and a whole host of other issues. Adding in collagen to your daily routine can do wonders for so many things, from joint pain to recovery from workouts.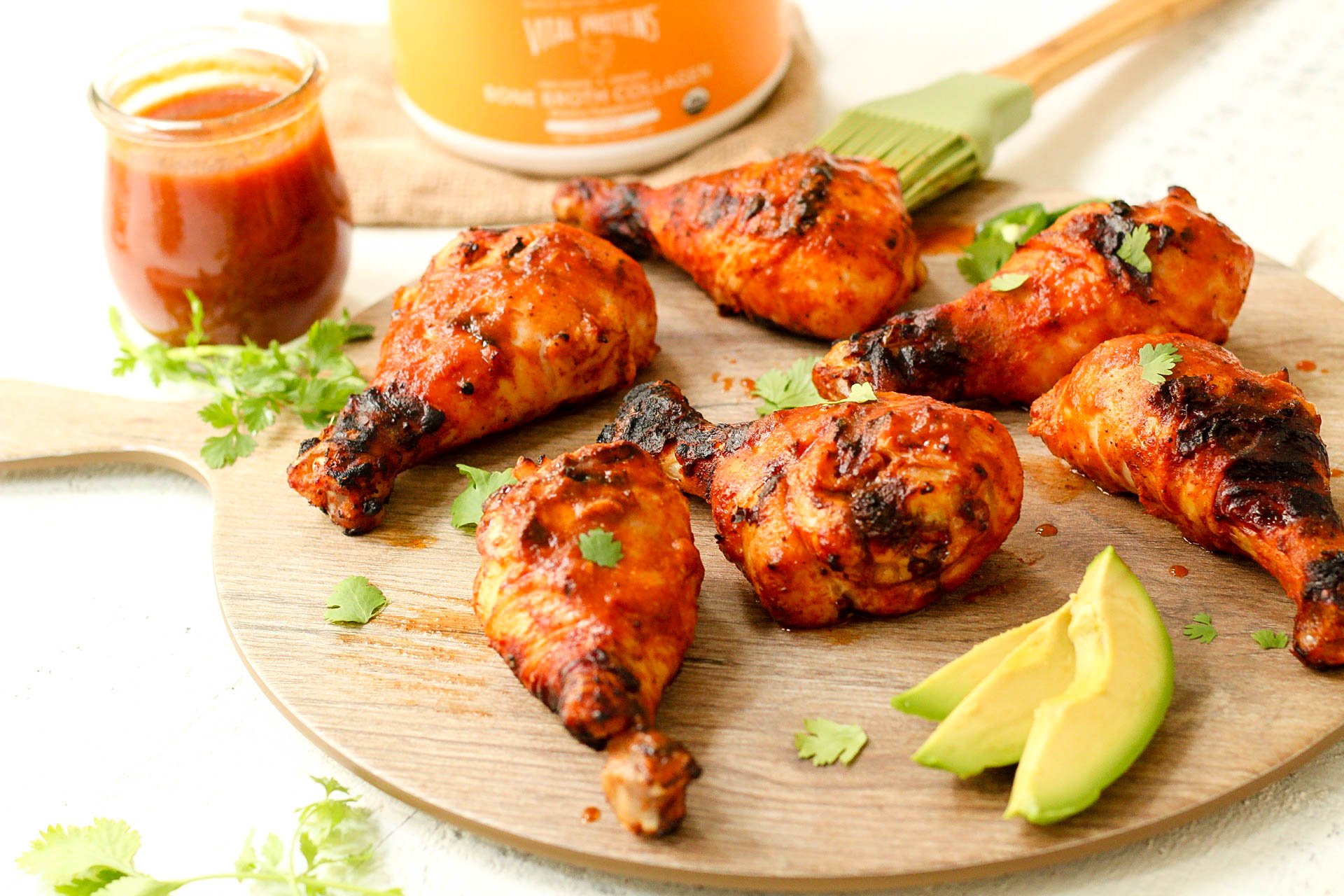 The easiest (and fastest) way to make these Whole30 chicken drumsticks is of course the grill, or even a grill pan if you have one. As I mentioned, the oven totally works too! You can also use the sauce and the same instructions but swap the drumsticks for wings or tenders. Whatever you're feeling or whatever you've got on hand!
Print
Fiesta Whole30 Chicken Drumsticks & Paleo Homemade Taco Sauce
Prep Time: 10 minutes
Cook Time: 20 minutes
Total Time: 30 minutes
Yield: Serves 4-6 1x
Category: Appetizer, Main Dish
Cuisine: American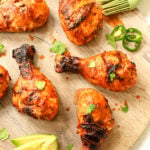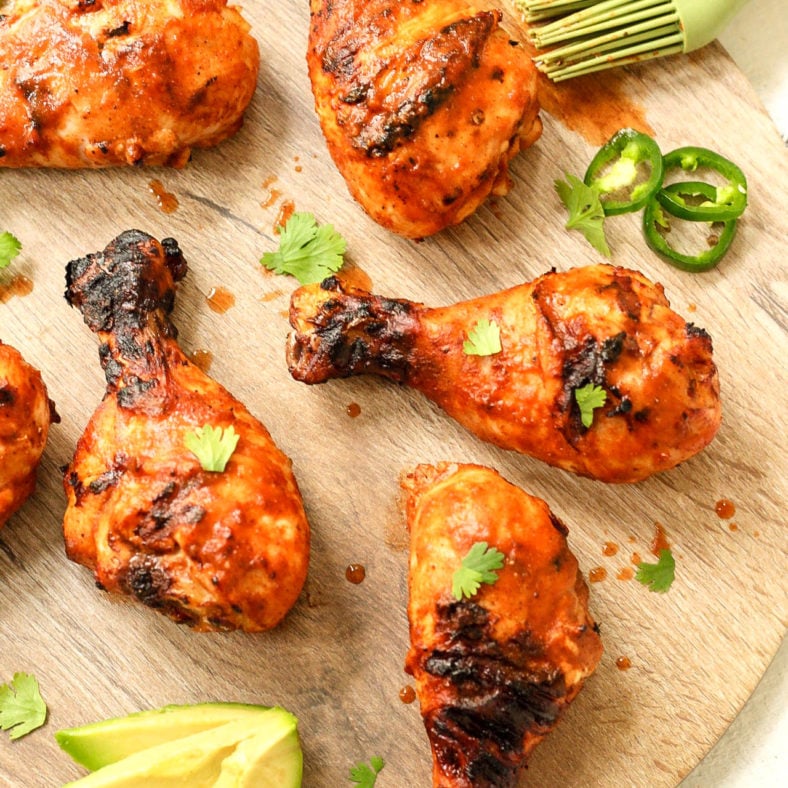 Ingredients
2.5 pounds chicken drumsticks
1 13.4oz can tomato sauce
1 cup chicken broth (or 1 cup water mixed with 2 scoops Vital Proteins Chicken Bone Broth Collagen)
1/2 tablespoon apple cider vinegar (or white wine vinegar)
1 tablespoon chili powder
2 teaspoons paprika
1 teaspoon garlic powder
1 teaspoon cumin
1 teaspoon salt
1 teaspoon dried basil
1/2 teaspoon black pepper
1/2 teaspoon cayenne
1/2 teaspoon chipotle powder
1/2 teaspoon onion powder
Instructions
In a small bowl, mix water and bone broth powder together to create the broth
Add broth, tomato sauce and spices to a medium sauce pan over medium heat
Combine and let cook for 10 minutes or until sauce has thickened a bit
Remove from heat and let cool until no longer steaming
In a large ziplock bag or a large bowl, combine chicken drumsticks and 1 and 1/2 cups of sauce, or until dummies are covered and coated completely
Refrigerate and let marinate for at least a half hour, or overnight
The remainder of the sauce can be covered and stored in the fridge for up to a week, or frozen
Heat grill to medium, or preheat oven to 350 degrees F.
Grill for 7 minutes on each side, or until fully cooked to 165 degrees F. internal temp.
Or, bake on a baking sheet for 40 minutes, flipping halfway through, or until fully cooked
Notes
The remainder of the sauce can be covered and stored in the fridge for up to a week, or frozen.
Oven times may vary.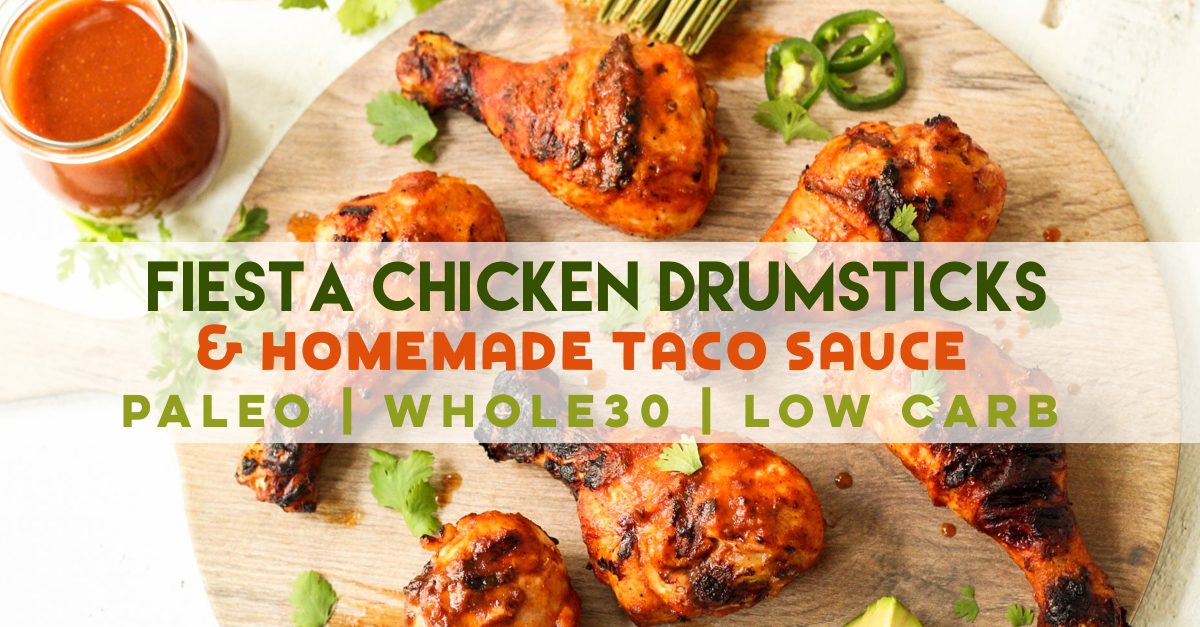 This Whole30 chicken drumsticks post may contain some links that are affiliate links, though products are ones I use personally and recommend. When you purchase anything using my links, it costs you absolutely nothing extra, but it does give wholekitchensink.com a little financial support which helps to keep this blog running. Thank you for your continued support, both with your dollars and your interest.