Slow cooker kielbasa soup is one of the easiest hearty soup recipes out there. Plus, it is naturally gluten free! The kielbasa and veggies combine in the slow cooker with the cheese and broth into the perfect soup to serve as a standalone dinner. It also reheats well, so it's perfect for meal prep or making ahead to freeze for later.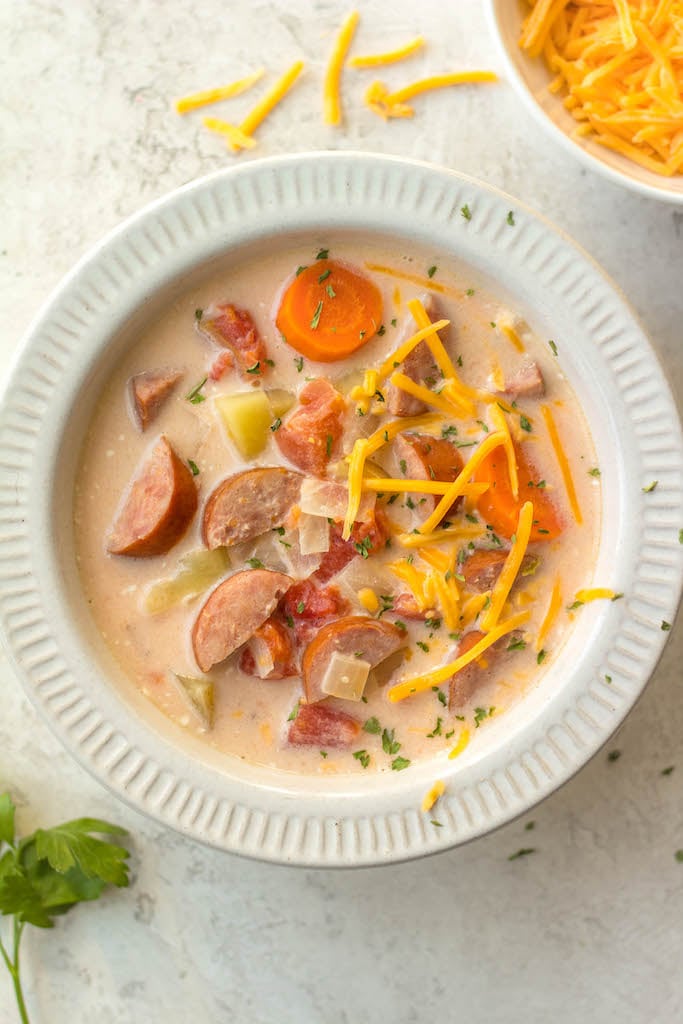 This post is in proud partnership with ALDI. I'm happy to work with a company I love, use and believe in so much. Thanks for your support here on the blog and your support for ALDI!
Why This Recipe Works:
Easy: Slow cooker recipes are great because they're an easy way to make a delicious meal with low effort and very little hands on time.
Hearty: This kielbasa soup is a great, hearty, soup season recipe that will fill you up without overdoing it.
Perfect meal prep: Meal prepping with a soup like this one is a great idea. It can be frozen or stored in the refrigerator and reheats really well and tastes just as good reheated as it does the first time.
Customizable: The customization possibilities of this recipe are nearly endless. You can substitute, add, or omit ingredients to your liking and still have a tasty dinner.
Slow Cooker Kielbasa Soup Ingredients
To make this slow cooker kielbasa soup you will need fresh ingredients, a few pantry style staple ingredients, and spices/seasonings. All of the ingredients needed for this recipe can be found at your local ALDI store! They offer a huge variety of quality products, including lots of organic produce and high-quality meat that fits everyone's needs at an incredible price. ALDI is a leader in providing better-for-you choices and removed partially hydrogenated oils, synthetic colors and added MSG from its ALDI-exclusive products!
For the fresh ingredients, you'll need a 14-ounce Parkview Polska Kielbasa that has been cut into rounds and halved, diced gold potatoes, 2 large sliced carrots, and a diced medium yellow onion.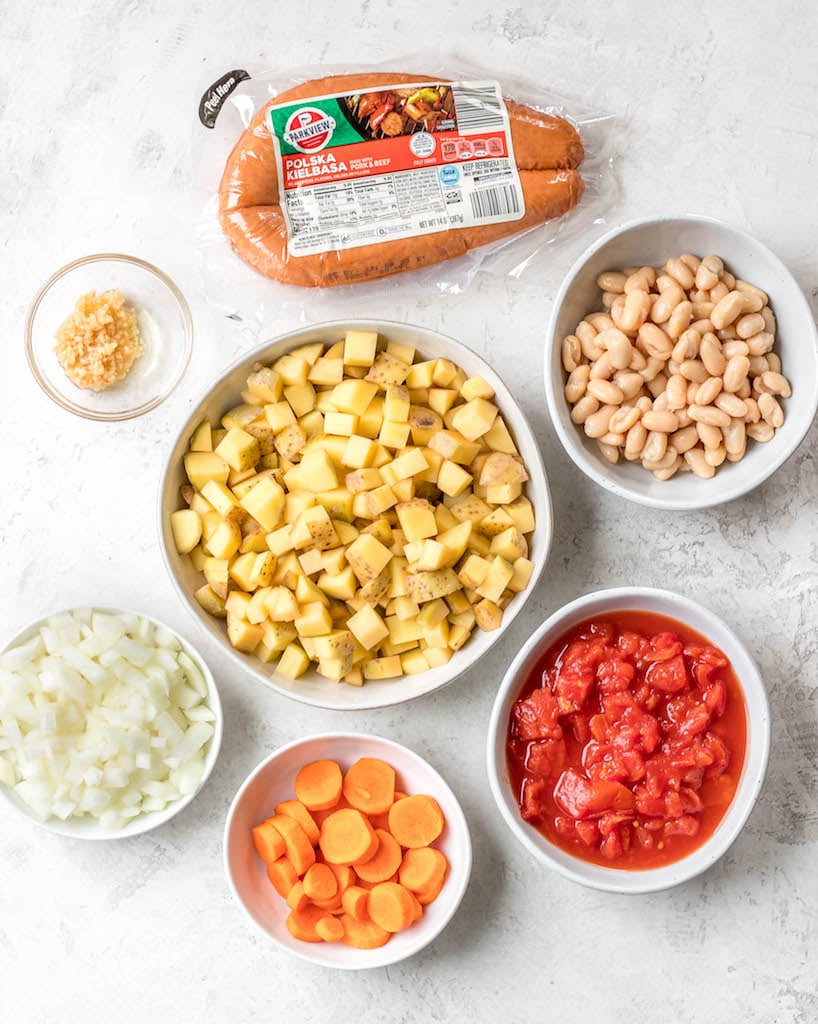 For dairy products, you'll need one and a half cups of Happy Farms Mild Cheddar Shredded Cheese, a cup of Friendly Farms Half & Half, and four ounces of Happy Farms Cream Cheese.
The spices and seasonings required for this recipe are Stonemill Minced Garlic, salt, dried parsley, and pepper.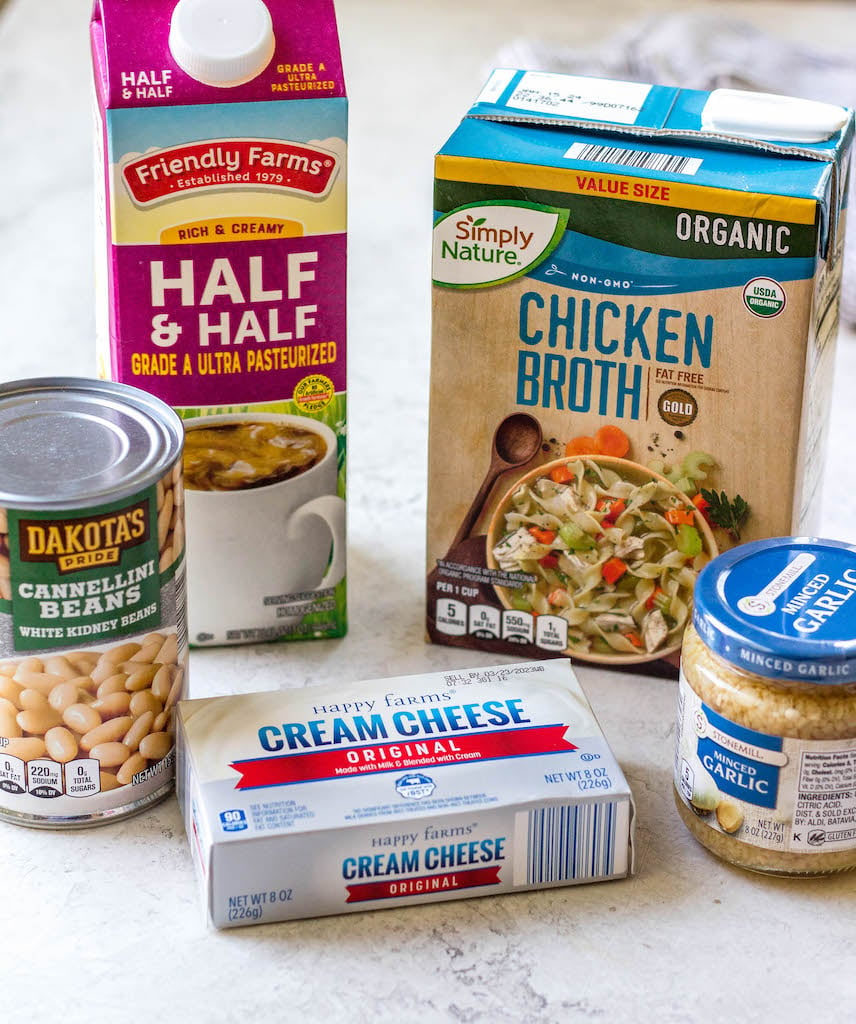 Lastly, the pantry staples you will need are one drained 15-ounce can of Dakota's Pride Cannellini Beans, a 15-ounce can of Happy Harvest Canned Diced Tomatoes with liquid, and 6 cups of Simply Nature Organic Chicken Broth or 4 cups of chicken broth plus 2 cups of water.
Make sure to check out one of the many convenient ALDI locations in the Minneapolis area for guaranteed quality, prices you'll love and an easy grocery shopping experience! They also offer online ordering for delivery or curbside pickup which makes taking advantage of all they offer so simple!
Substitutions and Additions
You can substitute the cheddar cheese with a shredded pepper-jack or a shredded mozzarella if you'd prefer. While cannellini beans are my favorite for this recipe, you could use great northern beans instead as well. Though the chicken broth works best for this recipe, you could also use vegetable broth or beef broth if you'd like to.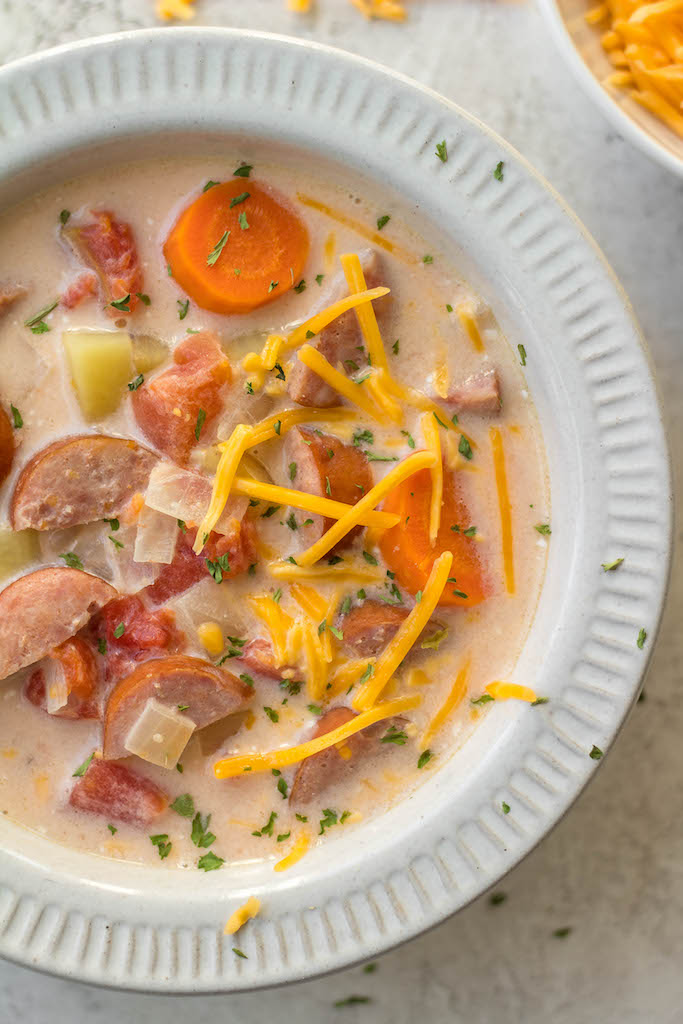 If you want to add some veggies to make this an even heartier soup than it already is, you could try adding in a can of corn that has been drained, a diced bell pepper, 2 sliced celery stalks or even a drained can of green beans.
Adding an extra sliced carrot at the start or a cup of frozen peas when you add in the dairy is a great option also!
How to Make Kielbasa Soup in the Slow Cooker
Thanks to the ease of the slow cooker, this entire recipe can be made in 3 easy steps with minimal preparation or hands on cook time. Once the ingredients are prepped, you'll simply need to dump everything into your slow cooker and let it do the work!
Step 1
The first step for this soup is to gather and prep your ingredients. Slice the kielbasa into roughly 1/2-inch slices and then cut them in half. Peel and slice your carrot, dice your onion, and pull the cream cheese out of the fridge to soften it slightly so it is easier to work with later on.
When dicing your potatoes, try to remember to dice them into a size that isn't too huge so they cook through right. Remember, if they're large chunks, they will work fine but they will take a bit longer to finish cooking. One they're diced, however, you're ready for step 2.
Step 2
Secondly for the slow cooker kielbasa soup, add all of the non-dairy ingredients to your slow cooker insert. Pour in the chicken broth (or chicken broth and water if that's what you chose) and give it a good stir. Set the slow cooker to low for 6-8 hours or high for 3-4 hours depending on how fast you want your soup to be ready.
Step 3
When the slow cooker is about 30-35 minutes to the end of the cook time, cut your 4 ounces of cream cheese into smallish cubes. Add the cream cheese and all the rest of the dairy products into the slow cooker and give it a stir. Cutting the cream cheese into those smaller cubes help it melt into the soup much faster and keeps you from having a surprise clump of cream cheese when serving.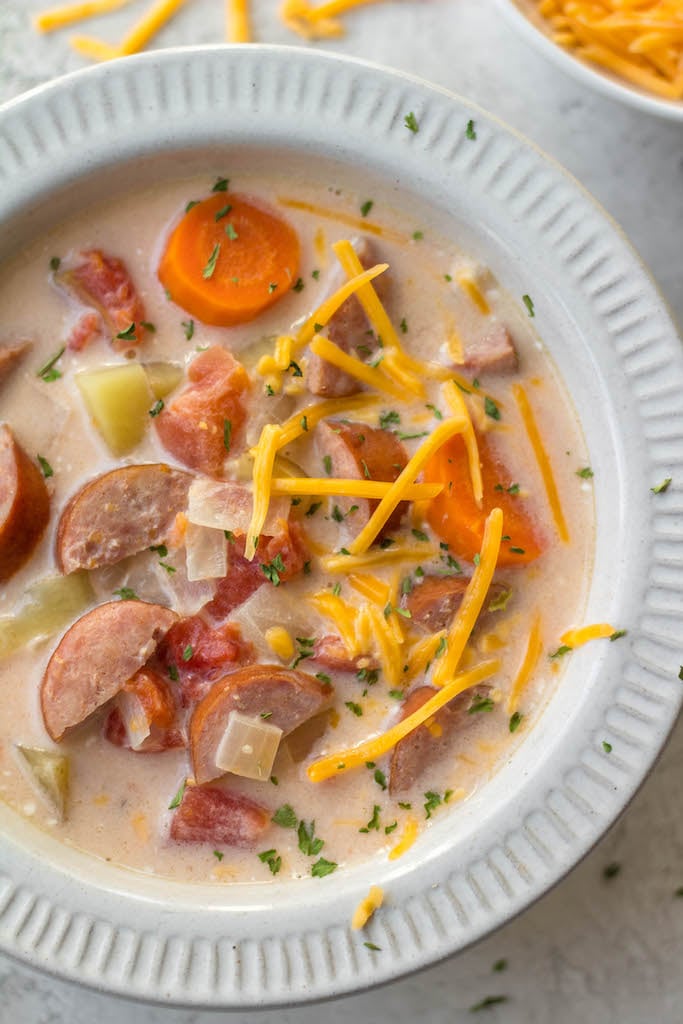 Serving Instructions
Garnish your soup with some dried parsley, a sprinkling of cheddar cheese, or some ground black pepper. I, personally, love to serve this soup with breadsticks or garlic toast so that works great if it fits into your dietary choices.
This is one of those soups that can be a main course without the need for sides and is a full meal in itself but can easily be served with any veggie option as well, such as a fresh side salad.
Storing Instructions:
To store the kielbasa soup, you'll first let it cool to room temperature. Then place it into an airtight container and refrigerate. Using this soup for meal prep is a great call as well, it reheats super well for a meal or snack later on that will fill you up and taste as great for round two as the first serving.
Freezer Instructions:
Freezing this recipe is both easy and a good call. I tend to like to freeze it in souper cubes or in smaller plastic containers with lids so that you can easily pop the soup out of the containers once it's frozen and transfer it into plastic bags or tin foil wraps to save room in the freezer.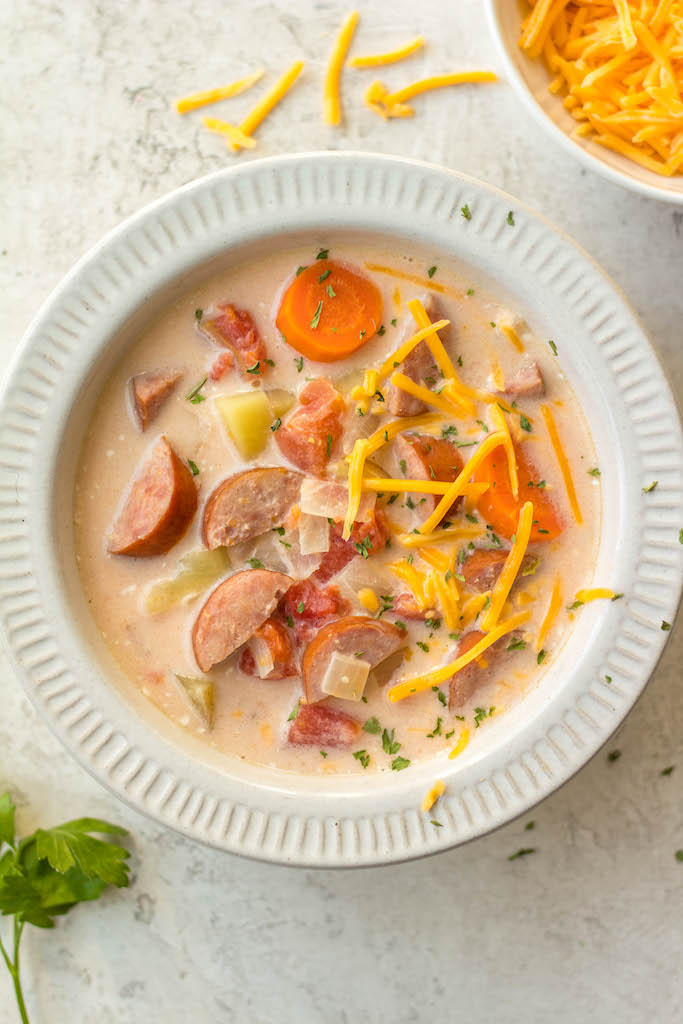 Other Slow Cooker Soups You'll Love:
Print
Hungry for more? Subscribe to my newsletter to get new recipes delivered straight to your inbox! And be sure to stay in touch on Facebook, Pinterest and Instagram for all of the latest updates.
Slow Cooker Kielbasa Soup
Slow cooker kielbasa soup is one of the easiest hearty soup recipes out there. Plus, it is naturally gluten free! The kielbasa and veggies combine in the slow cooker with the cheese and broth into the perfect soup to serve as a standalone dinner. It also reheats well, so it's perfect for meal prep or making ahead to freeze for later.
Author:
Prep Time: 10 minutes
Cook Time: 4 hours
Total Time: 4 hours 10 minutes
Yield: 6 servings 1x
Category: Pork
Method: slow cooker
Cuisine: american
Diet: Gluten Free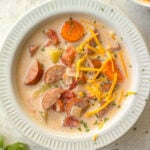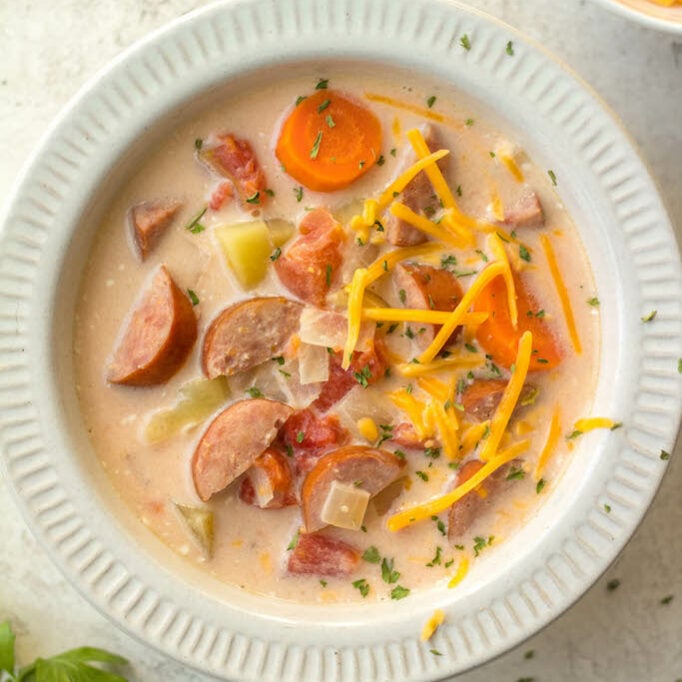 Ingredients
14-ounce Parkview Polska Kielbasa, cut into rounds and halved
1.5 pounds gold potatoes, diced
2 large carrots, peeled and sliced
1 medium yellow onion, diced
1.5 tablespoons Stonemill Minced Garlic
1 (15 ounce) can Dakota's Pride Cannellini Beans, drained
1 (15 ounce) can Happy Harvest Canned Diced Tomatoes with liquid
6 cups Simply Nature Organic Chicken Broth (or 4 cups chicken broth plus 2 cups water)
1 teaspoon salt
1 teaspoon dried parsley
1/2 teaspoon pepper
1.5 cups Happy Farms Mild Cheddar Shredded Cheese
1 cup Friendly Farms Half & Half
4 ounces Happy Farms Cream Cheese
Instructions
Prep your ingredients
Add all non-dairy ingredients to the slow cooker insert and stir
Cook on low for 6-8 hours or on high for 3-4 hours
30 minutes before the end of cook time, cut the cream cheese into smaller cubes and add that and all other dairy ingredients and stir.
Garnish and serve
Keywords: slow cooker kielbasa soup, slow cooker cheesy kielbasa soup, crock pot kielbasa soup