This recipe for slow cooker beef stew is super simple and convenient. Nothin' fancy with this but it reminds me of winters when I was younger. It's a comfort food for me. My mom used to have this waiting for us at home and during the cold months. There was nothing that made my insides warmer after playing outside in the snow. She would use venison sometimes, too, after deer season. Feel free to throw in any meat you want but beef or venison are definitely my favorites!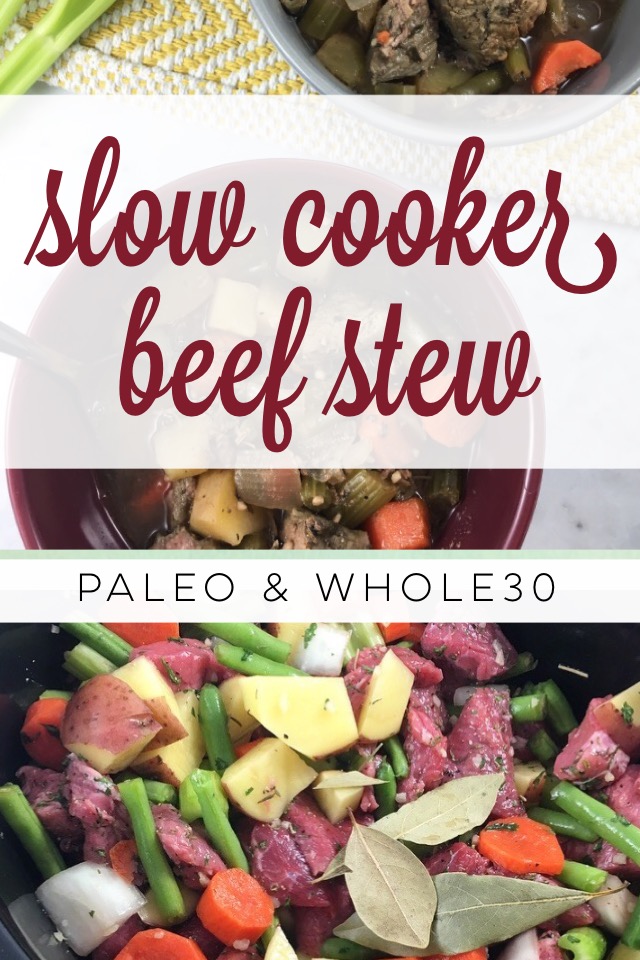 I first start out by getting all of my veggies cut up. I chop my veggies in various sizes for this. Roughly dicing and slicing them before throwing it all in the slow cooker makes the finished product feel more homemade and heartier for whatever reason. Not to mention it makes the whole thing even quicker to put together.
I bought pre-cut stew meat this time. If that option isn't available or I already have meat in the freezer, I just chop that up into 1 or 1 1/2 inch cubes. I don't preseason the meat, but of course go for it if you have time!
Once I combine all the ingredients and put the cover on it, I don't really touch it again for a few hours. Just let it do it's thing. I usually come home to a perfectly cooked soup and an amazing smelling house. I almost feel bad that my dog has to be teased by the beef stew smell in the house all day!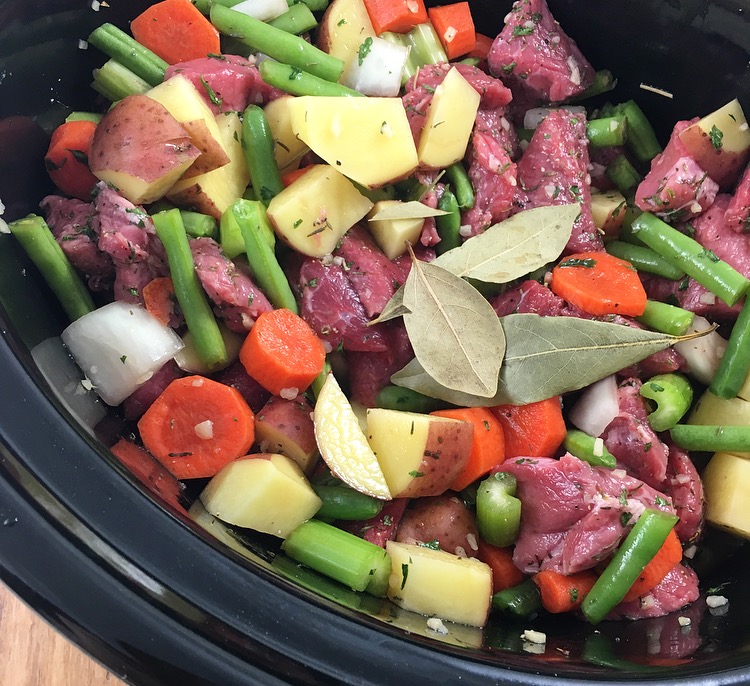 This stew freezes really well, too! It's a great option as a back-up meal when you're planning ahead for not planning ahead. 😉
Print
Hungry for more? Subscribe to my newsletter to get new recipes delivered straight to your inbox! And be sure to stay in touch on Facebook, Pinterest and Instagram for all of the latest updates.
Slow Cooker Beef Stew
Prep Time: 10 minutes
Total Time: 10 minutes
Yield: Serves 4 1x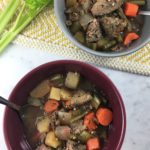 Ingredients
1.5 pounds stew beef, roughly chopped into 1–1 1/2 inch cubes
4 red potatoes, diced
5 long carrots, diced
5 stalks celery, diced
1 1/2 cups green beans, diced (a can of green beans works, too!)
1 yellow onion, diced
2 teaspoons parsley flakes
1 teaspoon salt
1 teaspoon pepper
1 teaspoon thyme
1 teaspoon rosemary
2 teaspoons minced garlic
2–3 cups beef broth (depending on how much your veggies yield)
2–3 bay leaves
Instructions
Chop all the veggies and place in slow cooker
Chop meat and place in slow cooker
Add in spices and broth
Give it a good stir to combine
Cook on low for 4-6 hours or high for 2-3
Enjoy!