Growing up, my best friend's mom would always make this sesame chicken chopped salad. It was what she always brought to gatherings and what she always made us during the summer. I love it so much so I decided to make a healthy, Paleo version. You know, without the sugary dressing and wonton strips mixed in. 😉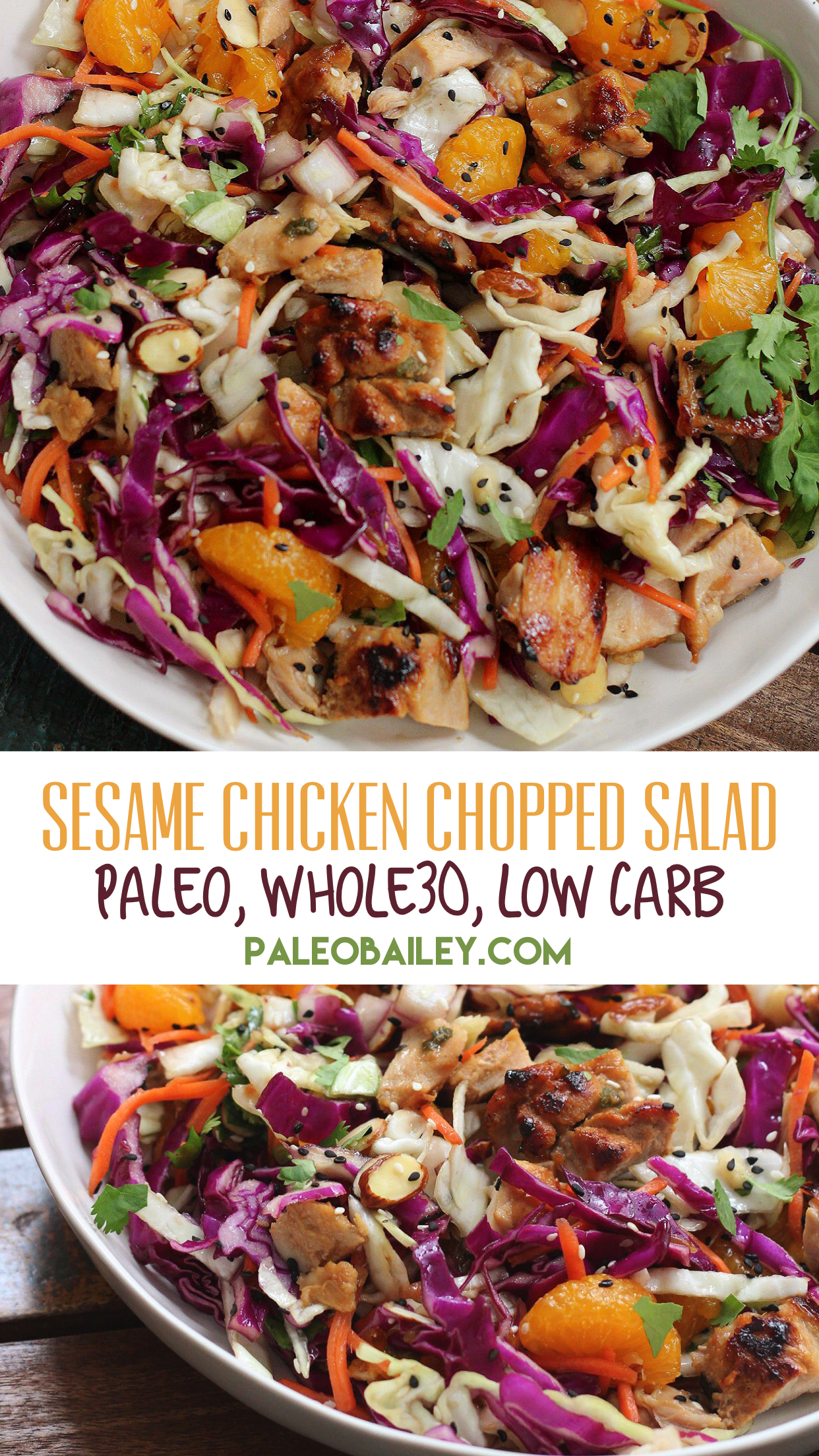 A few months ago I needed a salad to bring to a party. Not only do I hate showing up empty handed, but it's always best practice to bring something you know you can eat when you're trying to eat healthy. This salad is always a crowd pleaser. It's also a pretty quick one to make in a large batch.
I prefer to use chicken thighs for sesame chicken chopped salad because they tend to absorb a lot of flavor and stay really juicy. You can totally use chicken breasts too if you'd rather. You'll first want to mix up the dressing because you're going to use a few tablespoons of it to marinade the chicken. I hardly ever have enough foresight to marinade it longer than 20 minutes. If you have longer, great. If not, oh well. No one is gonna ask you. Probably. 😉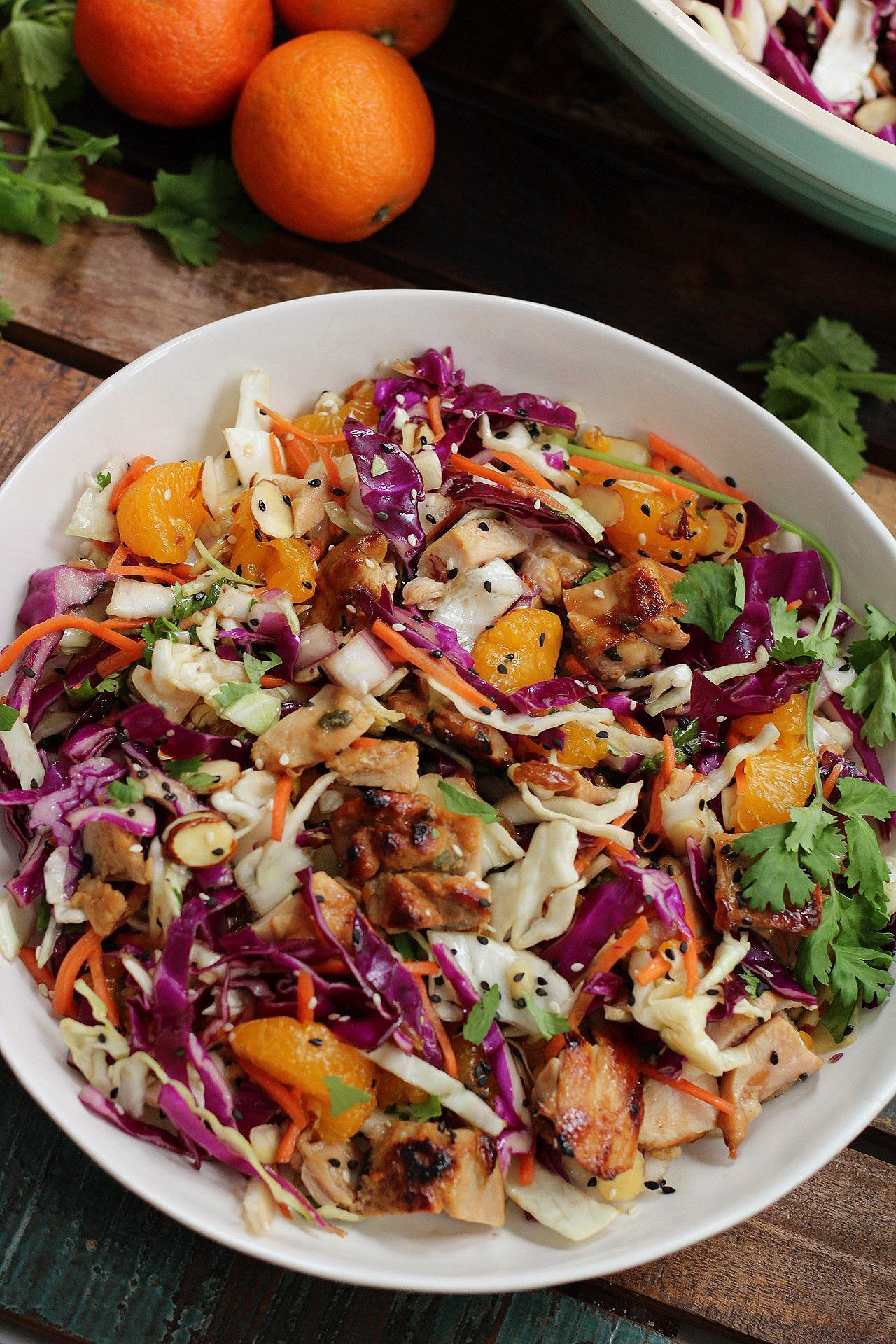 Almost all of the ingredients I used I ordered from Thrive Market which makes feeding a crowd (or making a ton of meals for myself) really cheap. Plus they offer 20% off of your first 3 orders which is a deal that's hard to pass up.
If you don't like a heavily dressed salad, wait to add the dressing until you're ready to eat. I just mix it in a glass Pyrex bowl that I can bring with me along with the Tupperware the salad is in or store in the fridge. If you want the cabbage to absorb the dressing and become more of a coleslaw, add the dressing in and refrigerate for a few hours before serving! It's awesome either way!
Other Salads You'll Love:
Blackened Chicken Chopped Salad
Recipe Tutorial Video
Print
Healthy Sesame Chicken Chopped Salad: Paleo & Whole30
Prep Time: 15 minutes
Cook Time: 15 minutes
Total Time: 30 minutes
Yield: 6 1x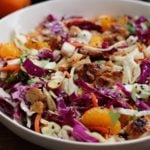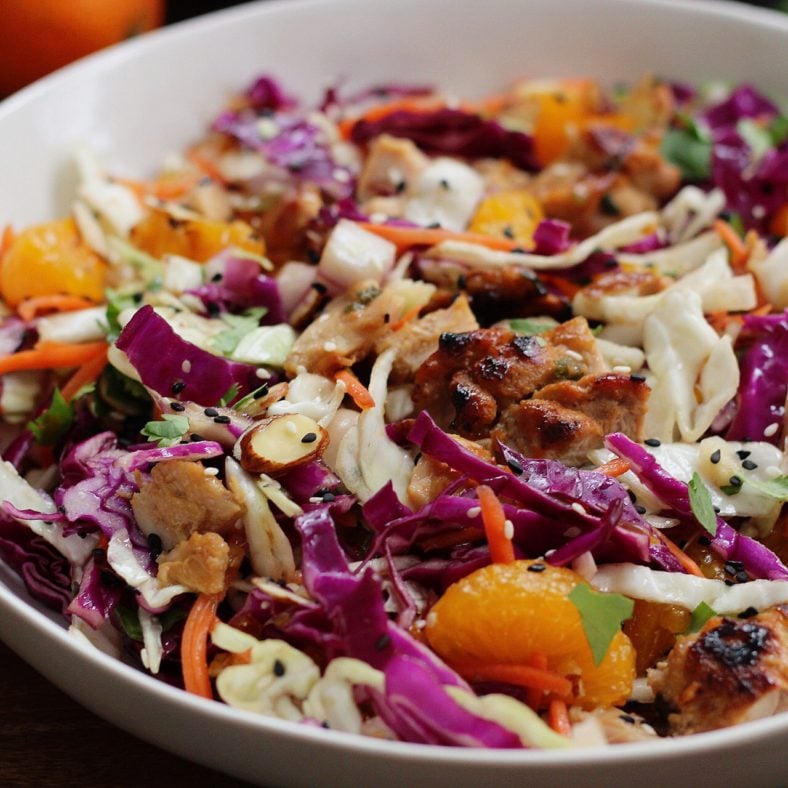 Ingredients
For the Dressing:
1/3 cup coconut aminos
1/4 cup red wine vinegar (or apple cider vinegar)
3 tablespoons avocado oil
2 tablespoons toasted sesame oil
2 tablespoons minced ginger
1 teaspoon onion powder
1 teaspoon salt
1/2 teaspoon pepper
For the Salad:
1.5 pounds boneless, skinless chicken thighs
4 diced green onions (can sub for 1/2 red onion finely diced)
1/2 large green cabbage, thinly sliced, or one whole green cabbage if it's small
1/2 red cabbage, thinly sliced
2 cups shredded or matchstick carrots
1 cup sliced almonds
1 can Mandarin oranges (no sugar/syrup – check labels!)
1/2 cup chopped and loosely packed cilantro
1 tablespoon black sesame seeds
1 tablespoon white sesame seeds
Instructions
Combine all the ingredients for the dressing in a bowl
In a plastic baggie, add about 3-4 tablespoons of dressing with the chicken
Allow to marinate for at least a half hour
Add chicken with the dressing into a large skillet and cook over medium heat for 6-8 minutes on each side or until cooked thoroughly or grill
Allow to cool to room temperature before chopping and adding to the salad
Combine all other salad ingredients besides dressing and chicken in a large bowl
When chicken is cool, add to the salad
Stir in dressing well and enjoy!
Nutrition Facts:
Calories: 432
Sugar: 9
Fat: 32
Carbohydrates: 16
Protein: 26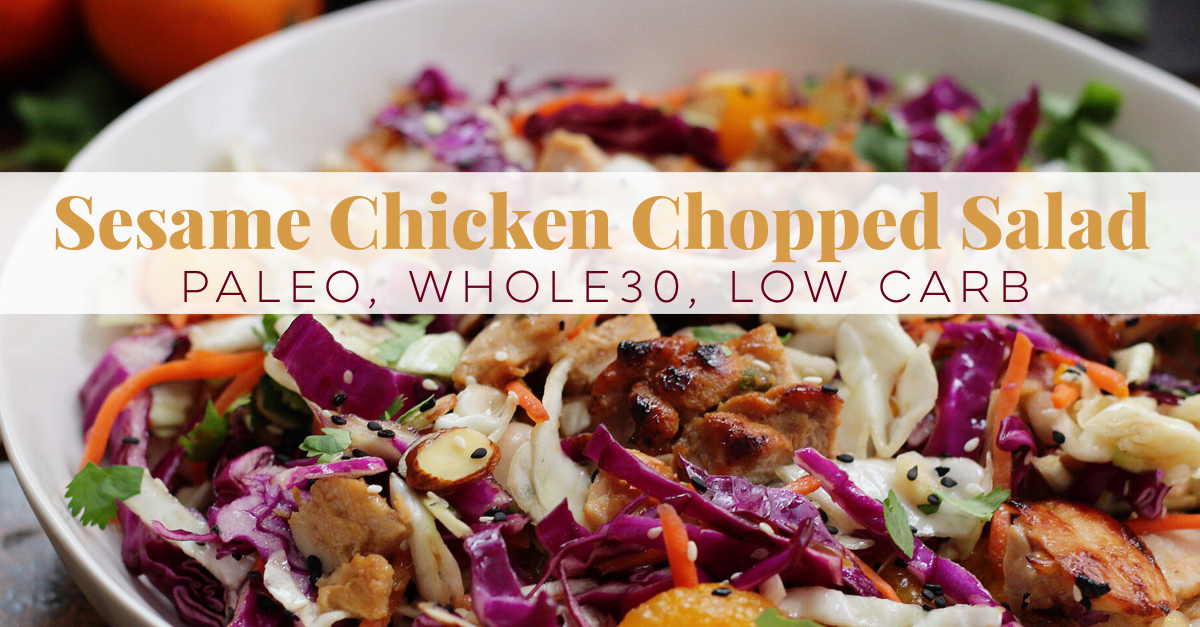 This post may contain some links that are affiliate links, though products are ones I use personally and recommend. When you purchase anything using my links, it costs you absolutely nothing extra, but it does give wholekitchensink.com a little financial support which helps to keep this blog running. Thank you for your continued support, both with your dollars and your interest.