An easy Paleo egg-free breakfast recipe is always a simple go to meal. This sausage and sweet potato skillet is a Whole30 egg-free breakfast, along with being packed full of healthy vegetables, flavorful spices and sausage! Whether you need an egg-free breakfast because you can't eat another egg on your Whole30, or if you avoid eggs in your Paleo lifestyle, this simple recipe will tick all of your boxes.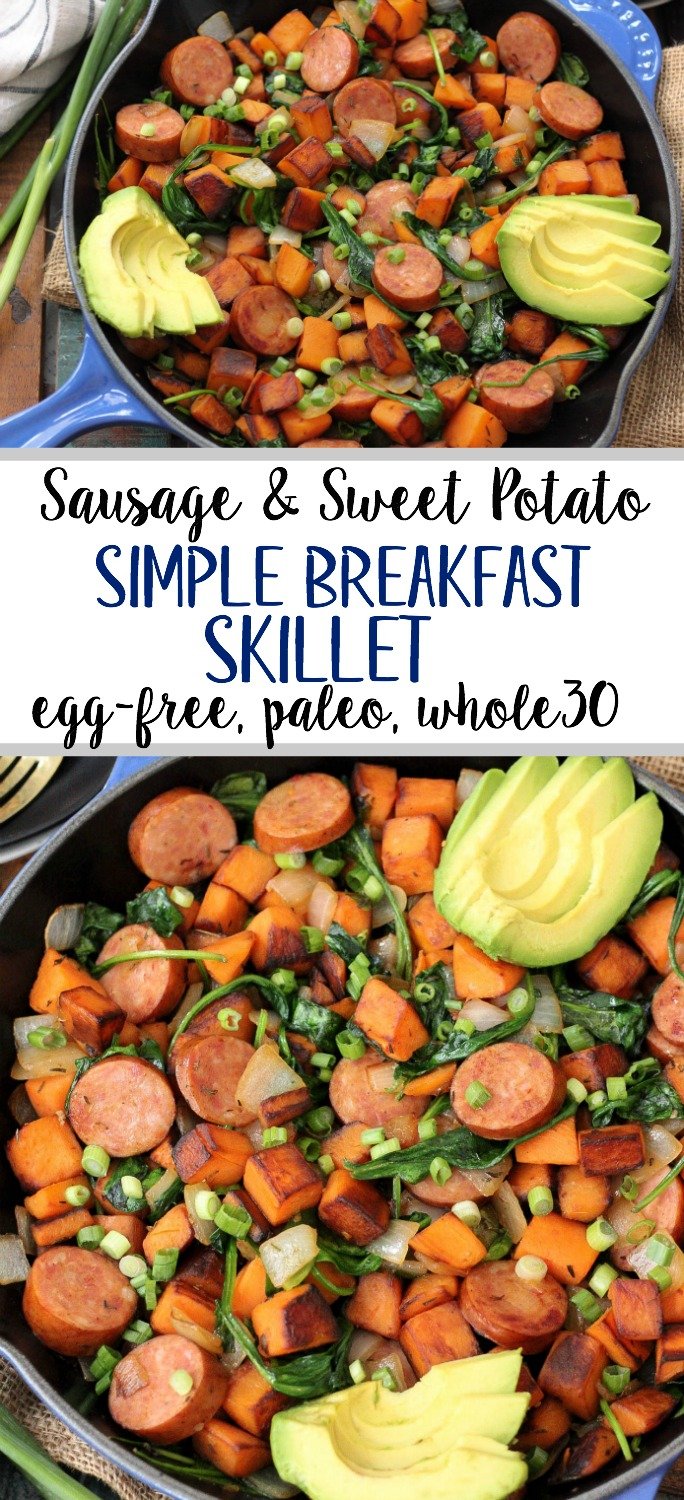 Besides being a Paleo egg-free and Whole30 breakfast, this skillet, and really, most breakfast skillets, don't require much effort. Start to finish it will only cost ya 20 minutes time, which is perfect for early mornings or for meal prepping breakfast for the week. The best thing about paleo breakfast skillets though, in my opinion, is that there really is no wrong way to make one.
They are the BEST clean out the fridge meals to use up the veggie odds and ends. Or if I get home late, didn't think about dinner, don't want to "cook"? Yep, you guessed it. I'm making a breakfast skillet! When it comes to Paleo egg-free breakfast recipes, I often feel silly even writing them down here. You really can't do it wrong, and any vegetable you have can most likely be subbed for any vegetable used in someone else's breakfast skillet recipe.
As if that wasn't enough? You're only going to use one pan. PRAISE THE LORD!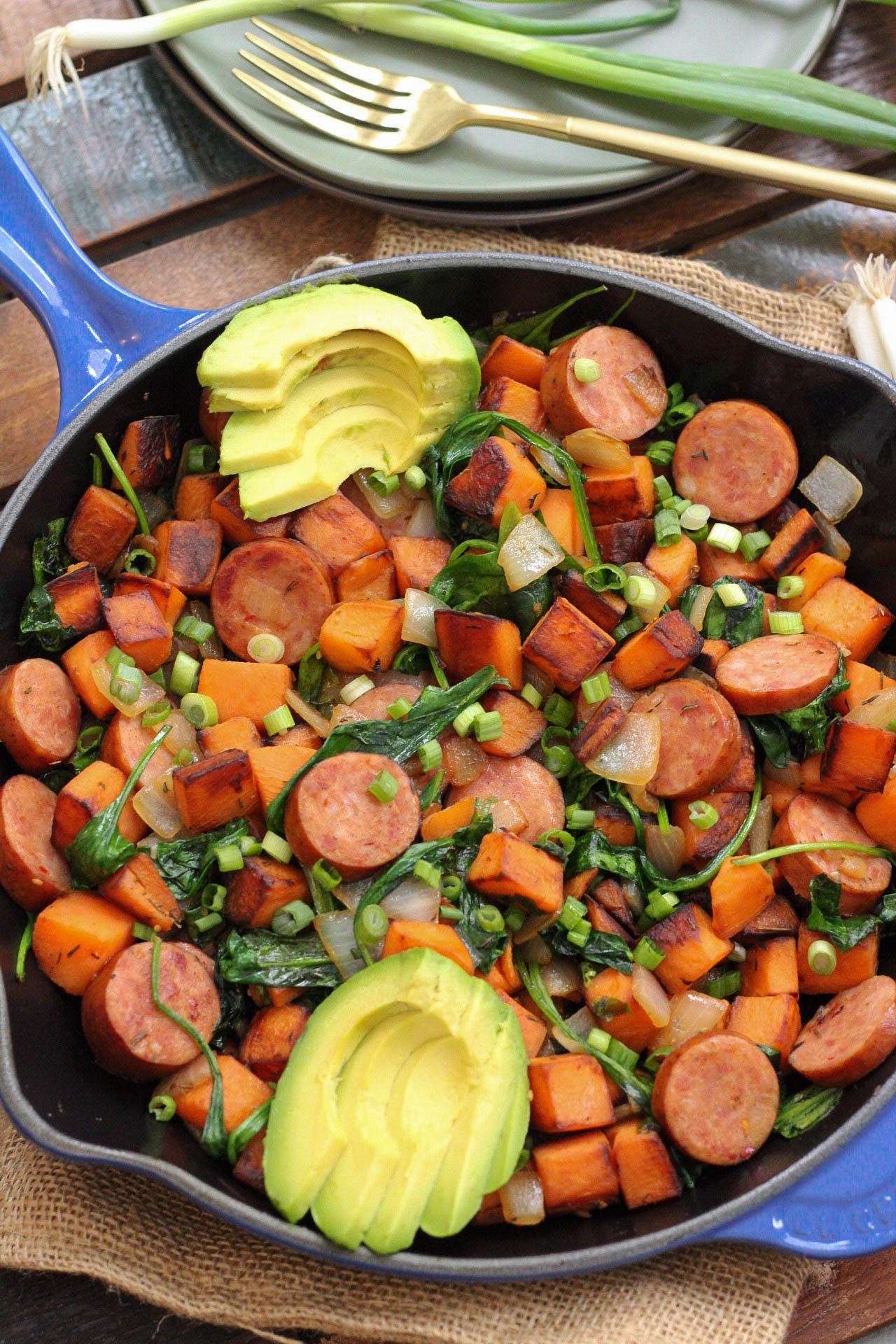 Oh wait! It gets better! If you have a spouse who does want eggs, it's the easiest thing ever to #throwaneggonit and everyone's happy. Or conversely, if you're meal prepping this Paleo egg-free breakfast, and then decide mid-week you changed your mind on that whole egg-free thing, it's an easy fix.
You could also just meal prep this along with some hardboiled eggs and have the best of both worlds! The breakfast world is your oyster! Or something like that anyway.
Alright now that you are well versed in my love of breakfast skillets, let's talk about Paleo sausage (Whole30 sausage too while we're at it). This recipe only takes 15 minutes partly with the help of the pre-cooked sausages that are widely available in grocery stores. That means all you have to do is slice it up, toss it into the skillet and let it heat up for a minute or two.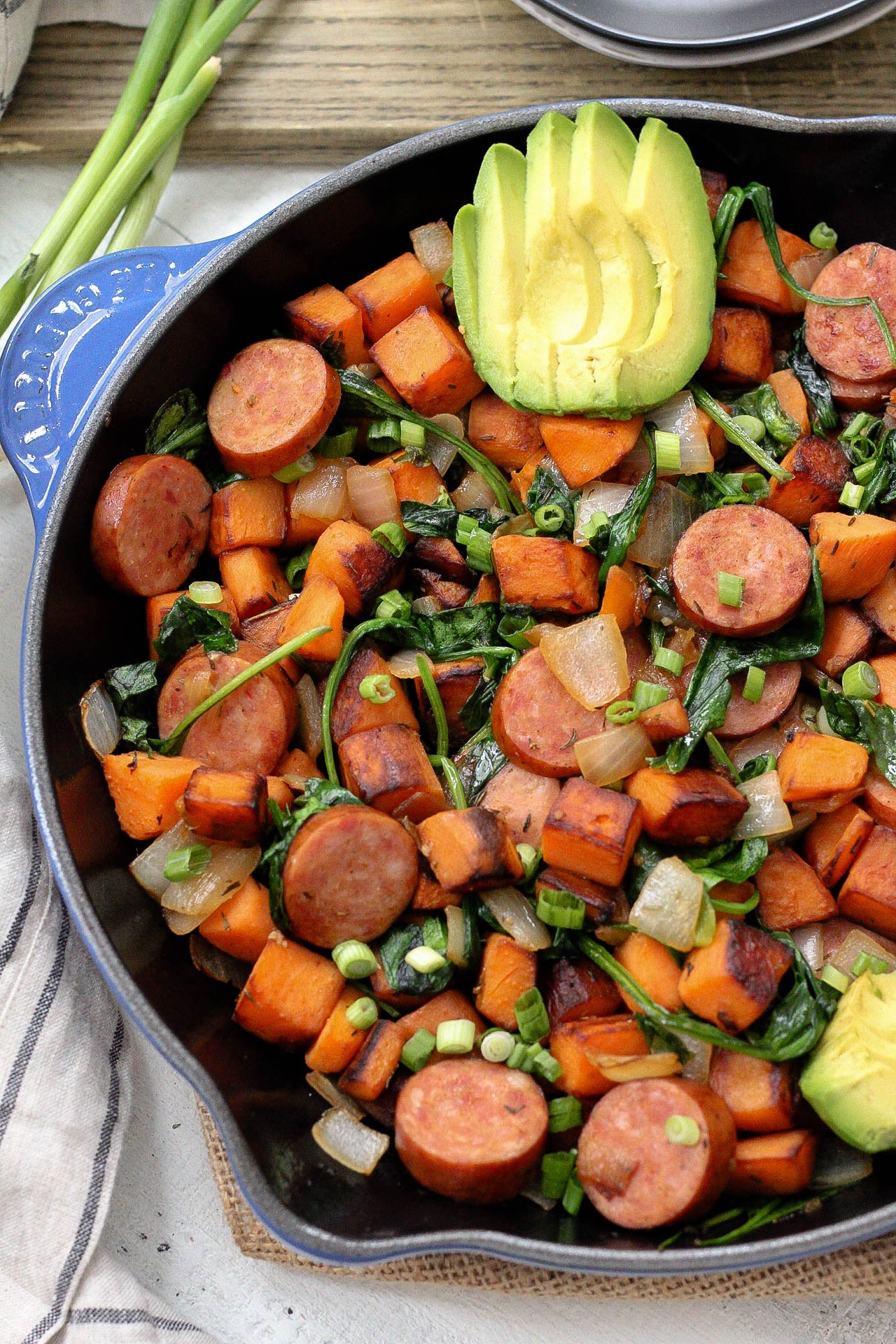 On the day I photographed this beloved Paleo egg-free breakfast recipe, I ended up choosing kielbasa from Pederson's Farms. They're in many grocery stores local to me, but, a few of the options that you could use are Aidell's, Applegate Farms, Teton Waters, Trader Joe's brand, Whole Foods 365 Everyday brand, Mulay's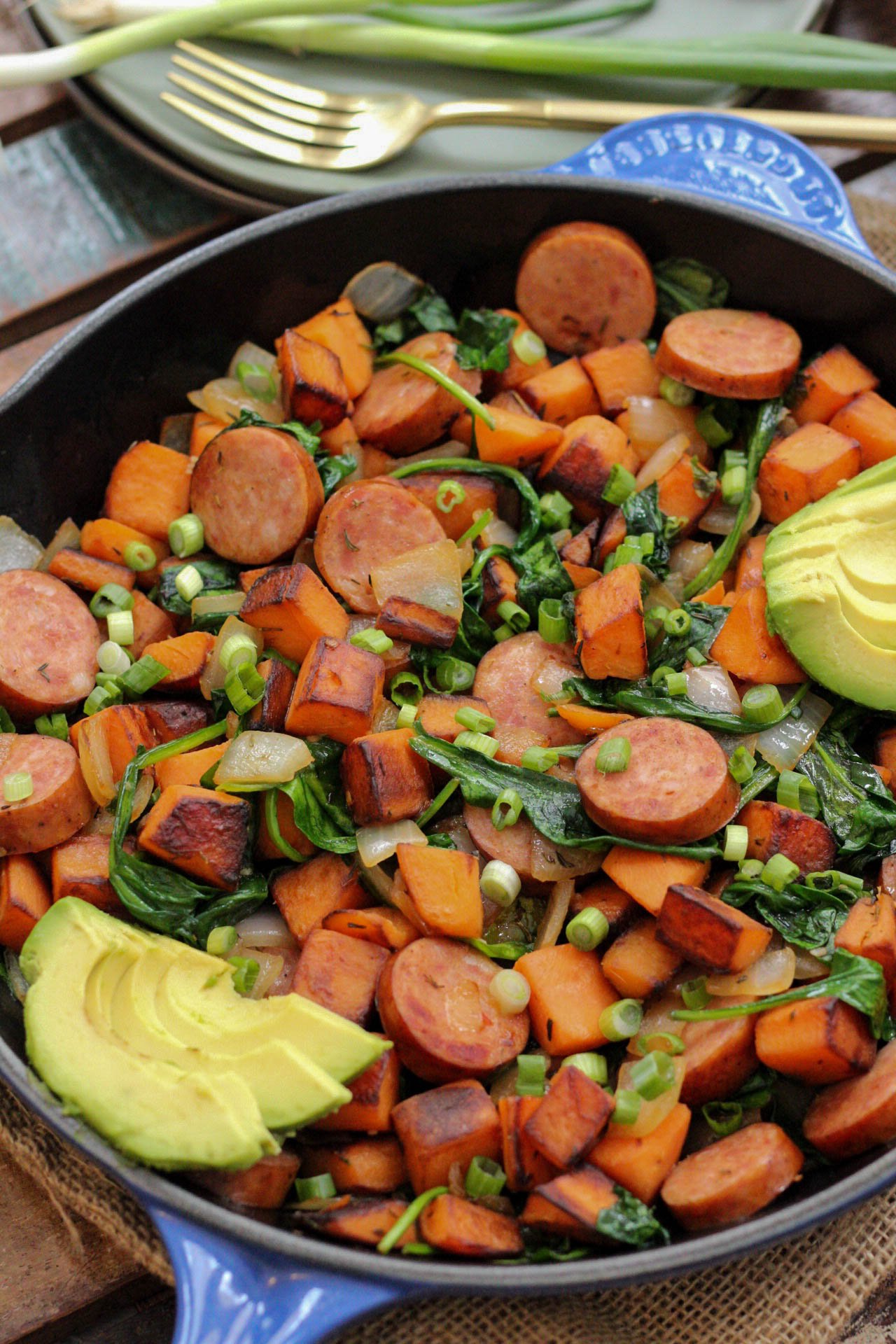 Even though the pre-cooked sausages makes this already quick and easy recipe even quicker and easier, just like I mentioned before, there's no wrong way to make a breakfast skillet. You can always use what you have on hand first, what you prefer, or what you're just in the mood for instead, and that doesn't apply to just substituting veggies. If you have ground pork to use up, use that, but add it and just start browning it after the potatoes have begun to soften. Easy peasy, Whole30 egg-free breakfast recipe easy.
Other Egg-Free Paleo and Whole30 Breakfast Recipes You'll Love:
Bacon, Veggie and Lemon Whole30 Egg-Free Breakfast
Sausage Breakfast Skillet with Dried Cranberries
Print
Hungry for more? Subscribe to my newsletter to get new recipes delivered straight to your inbox! And be sure to stay in touch on Facebook, Pinterest and Instagram for all of the latest updates.
Sausage and Sweet Potato Paleo Egg-Free Breakfast Skillet: Whole30 and 15 Minutes
Prep Time: 5 minutes
Cook Time: 15 minutes
Total Time: 20 minutes
Yield: 2-4 1x
Category: Breakfast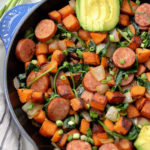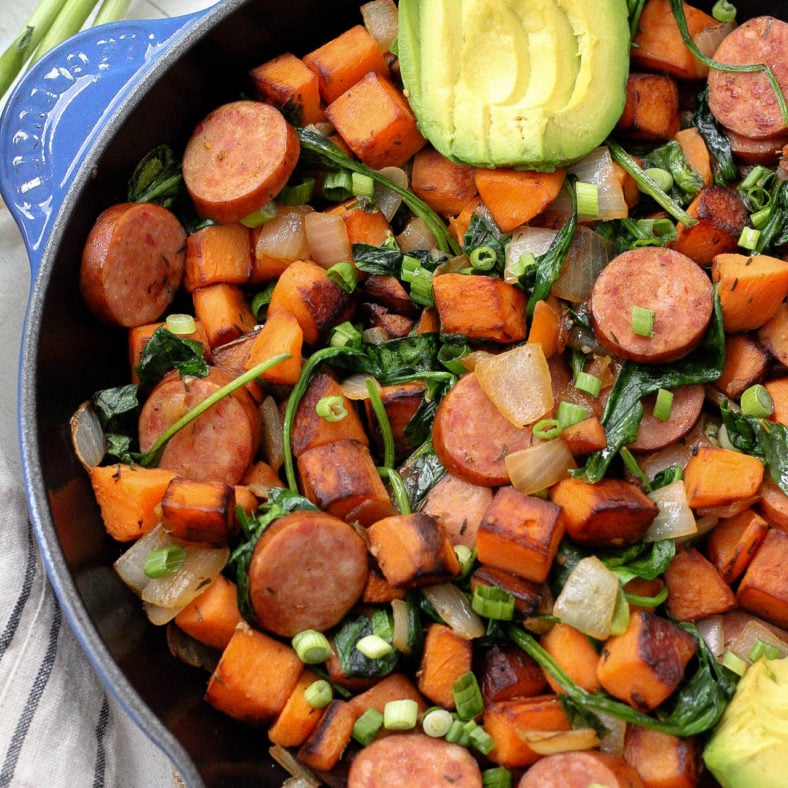 Ingredients
12–14 ounces (1 package) of pre-cooked sausage (I used Pederson's), sliced
3 cups diced sweet potato (roughly 1 fairly large sweet potato or 2 medium sweet potatoes)
3 cups baby spinach or kale
1 medium yellow onion, diced
1 tablespoon minced garlic
2 tablespoons avocado oil
2 teaspoons dried basil
2 teaspoons dried oregano (or thyme)
1 teaspoon salt
1/2 teaspoon pepper
Optional: green onions, avocado, parsley or eggs for topping/garnish
Instructions
Add oil to a large skillet over medium heat
Once oil is hot, add the diced potatoes and let cook for 5 minutes, stirring occasionally
Add in the diced onion, minced garlic, and spices
Cook an additional 5 minutes until onions are translucent and sweet potatoes are about done, stirring occasionally
Add and stir the sliced sausage into the skillet and additional oil if needed
Let cook for 2 minutes, then adding in the spinach
Fold the spinach into the skillet as it wilts down, about 3 minutes
Once the sausage is hot, potatoes are cooked thoroughly and spinach has wilted but is still bright green, remove from heat
Top with any optional garnish and enjoy!
Notes
Double the recipe for a larger crowder or bigger meal prep!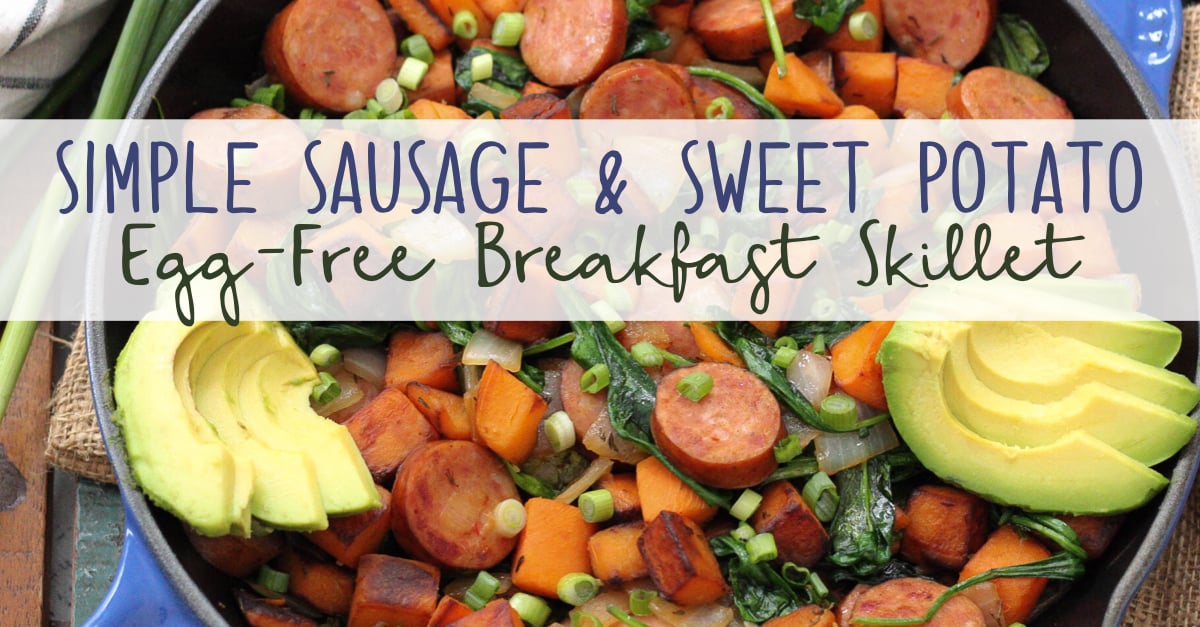 This post may contain some links that are affiliate links, though products are ones I use personally and recommend. When you purchase anything using my links, it costs you absolutely nothing extra, but it does give  wholekitchensink.com a little financial support which helps to keep this blog running. Thank you for your continued support, both with your dollars and your interest.