This roasted delicata squash, sweet potato and cranberry recipe is an easy, healthy side dish that has all of the best seasonal fall and winter flavors. Made with real ingredients, it's a simple option for your gluten-free, paleo and Whole30 Thanksgiving sides or holiday vegetable dish that makes a beautiful statement on the table.
Perfect Whole30 Thanksgiving Side Dish
What I love about this Whole30 side dish is that it's naturally a colorful, beautiful addition to your holiday meal. It comes out of the oven and onto a platter looking festive and delicious. It's everything you want in a Thanksgiving recipe – easy to prepare, pretty looking, and flavorful without much effort. Even if you're making this for a weeknight meal, there's something so warm and homey about roasted seasonal produce and the inviting aroma from cinnamon and thyme.
I can't get enough of using delicata squash for both holiday meals and for my own meal prep purposes once it's back in stores. It's inexpensive this time of year, easy to prepare, and unlike other squash varieties, it has a more mild, less "squash-y" flavor. I've had family who claims to "hate squash" try this out and end up being surprised to really enjoy it. With it being more sweet and mild, it ends up absorbing more of the flavors from the spices and appealing to even those who skip over the veggies when loading their Thanksgiving plate up!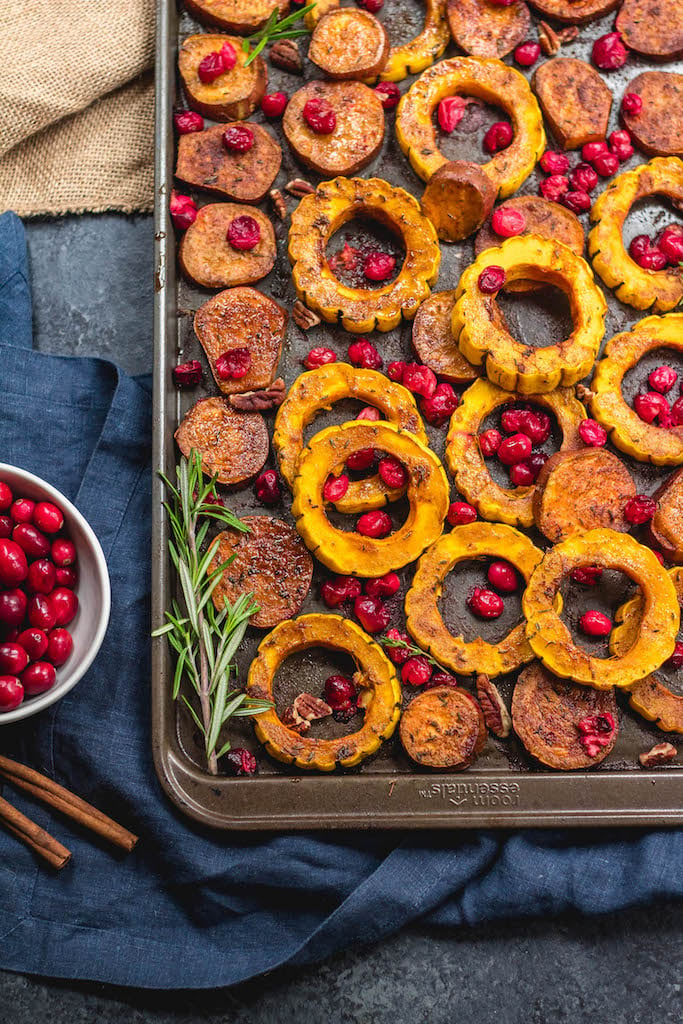 Fresh cranberries are widely available now and much cheaper than in off-seasons. I pick up the large bags, because even though this recipe only calls for 1 and 1/2 cup, they stay fresh for quite a while for other recipes (try them with a chicken bake!), and they even make cheap centerpieces for holiday parties.
Cooking Delicata Squash
If you've never cooked with delicata squash before or tried roasting it, it might seem intimidating at first. However, it's super easy to prepare, soft to cut through and doesn't require any skinning or peeling. The sink on delicata squash is really thin, and when it's roasted it becomes nice and tender, so it's totally edible (and good for you!).
For this recipe, you can either cut the delicata squash in half length-wise and then into half moon slices after pushing the seeds out with a spoon. Or, as pictured, you can leave the squash whole, trim edges, push the seeds through and out, and then slice length-wise to keep in full circles and then remove the seeds. Either one results in a really pretty roasted vegetable platter, it simply depends on your preference.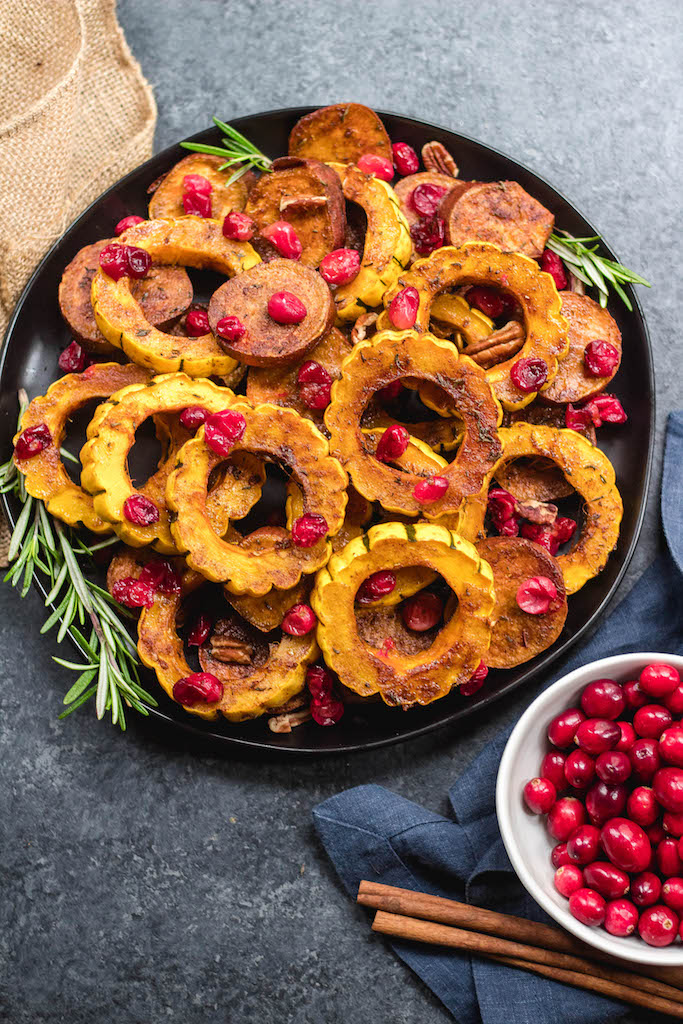 That's the hardest part of this Whole30 delicata squash Thanksgiving side dish, and even that isn't hard. After that, you're just going to toss everything onto a sheet pan, coat evenly with the oil and ghee mixture, and pop it into the oven. I recommend not skipping out on the melted ghee.
Ghee is a paleo and Whole30 option for "butter", being it's butter that's had the milk solids strained out. I think it really makes a difference by adding a hint of buttery, nutty flavor to balance out the cinnamon! You can pick up ghee at most grocery stores, even Target! I buy the Thrive Market brand or Organic Valley off of Thrive Market because it tends to be cheaper per ounce but great quality. Check out my Target Whole30 shopping list, and my Thrive Market shopping list for more.
The last tip for roasting delicata squash is to give the sheet pan what's called a "hot start". This is totally optional, but putting the empty sheet pan into the oven while it's preheating and while I'm slicing the squash and sweet potatoes results in a deeper flavor. It gives the slices on the bottom layer a slight caramelization which adds a nice flavor when all of the veggies get mixed together on the serving platter and guests get a few pieces with that richer taste!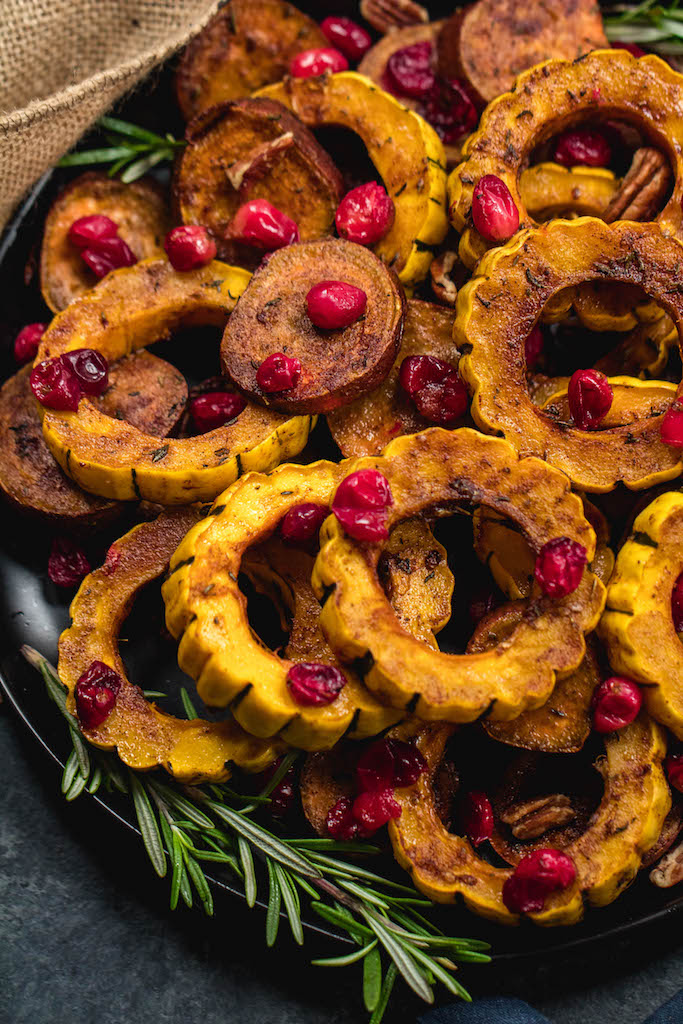 Happy, Healthy Holidays
Overall, this Wh0le30 delicata squash side dish is really straightforward and simple. There's a few tweaks you could make depending on your preference, such as using cubed butternut squash instead of sliced sweet potatoes, or leaving out the ghee if you'll be having any vegan guests at the table. You could also add green beans and red onion if you want a heartier vegetable medley.
If you can't find delicata squash, you could substitute it for peeled and cubed acorn squash. If you're not doing a strict Whole30, this dish is great with a tablespoon of maple syrup or coconut sugar. If you opt to go for the coconut sugar, you'll want to dissolve it into the oil and ghee mixture prior to coating the vegetables. Adding a paleo sugar substitute isn't necessary, it just creates a more caramelized end result and works well with the slight tartness of the cranberries. Either version is tasty as satisfying.
I hope you enjoy this simple side all through the season! I know I'll be roasting up all of the winter squash I can!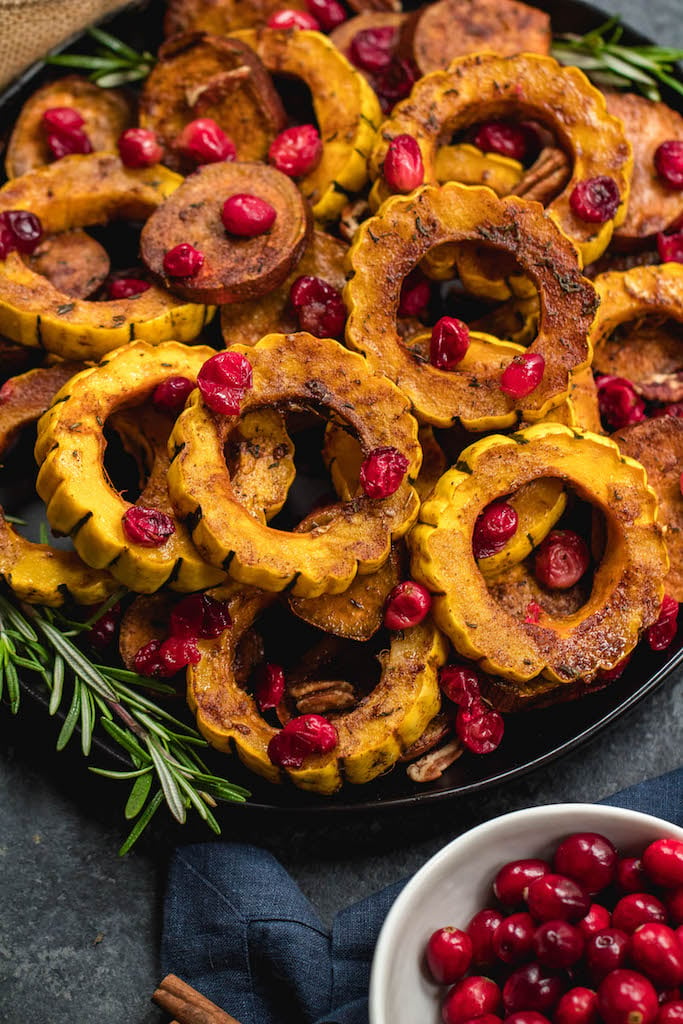 If you're looking for another delicious recipe to add to your Thanksgiving side dishes, check out my dairy-free, Whole30 scalloped potatoes!
Print
Roasted Delicata Squash, Sweet Potato and Cranberry (Whole30, Paleo, GF)
This roasted delicata squash, sweet potato and cranberry recipe is an easy, healthy side dish that has all of the best fall flavors. Made with real ingredients, it's a simple paleo and Whole30 Thanksgiving or holiday vegetable dish that makes a beautiful statement on the table.
Author:
Prep Time: 10
Cook Time: 25
Total Time: 35 minutes
Yield: Serves 6-8 1x
Category: Side Dish
Method: Oven
Cuisine: Paleo, American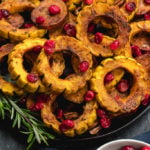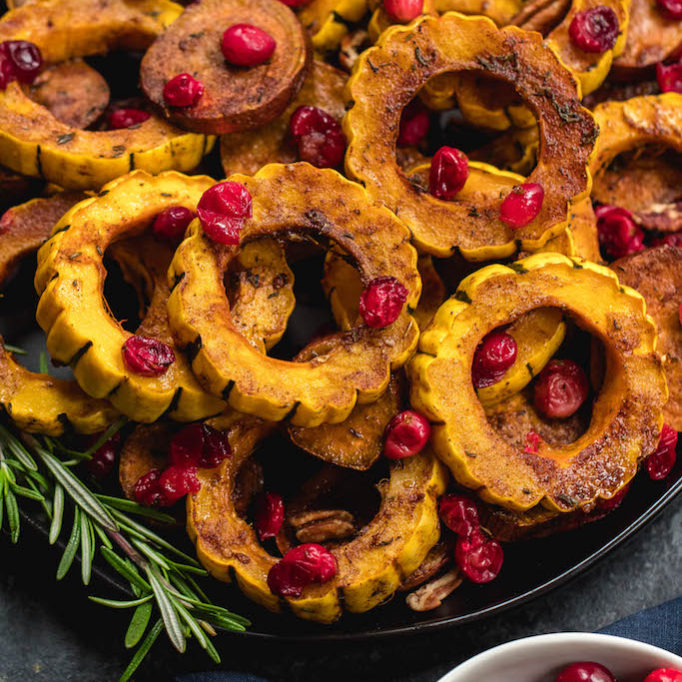 Ingredients
2 delicata squash, ends trimmed and seeds scraped out and then sliced into rings
2 medium sweet potatoes, peeled or unpeeled, cut into 1/4" thick slices
1–1.5 cups fresh cranberries (more or less depending on preference)
3 tbsp melted ghee
1 tbsp olive oil
1.5 tsp cinnamon
1 tsp dried thyme
1 tsp pumpkin pie spice
1/2 tsp salt
Optional:
Crushed pecans or sliced roasted almonds to top
Instructions
Preheat oven to 400 degrees F. and prepare sweet potatoes and squash
In a small dish, combine melted ghee, oil, and all spices and mix together well
Place squash and potatoes on a rimmed baking sheet and pour mixture over the vegetables. Using your hands, mix around and evenly coat all sides of the squash and potatoes.
Arrange squash and potatoes on the sheet pan so they're mostly in one layer, with giving priority to the potatoes being on bottom. Squash rings can be slightly overlapping on top of the potatoes.
Evenly distribute cranberries over the sheet pan. Place in the oven on a middle rack.
Roast for 20-25 minutes, or until squash and potatoes are fork tender. Remove from oven and serve immediately.
Notes
Use the optional "hot start" by letting your empty sheet pan heat in the oven while it's preheating for a more caramelized result. If you heat the sheet pan first, you'll want to use a mixing bowl to coat the vegetables instead of doing it right on the sheet pan, as the pan will be hot to the touch.
For a sweeter, more caramelized flavor and if not doing a strict Whole30, add 1 tablespoon maple syrup or coconut sugar into the melted ghee mixture.
Oven times may vary and depend on the thickness of the sweet potatoes and squash. To ensure an even cook time, keep the vegetable slices as close to the same thickness as possible.
Keywords: whole30 side dish, delicata squash, whole30 side dish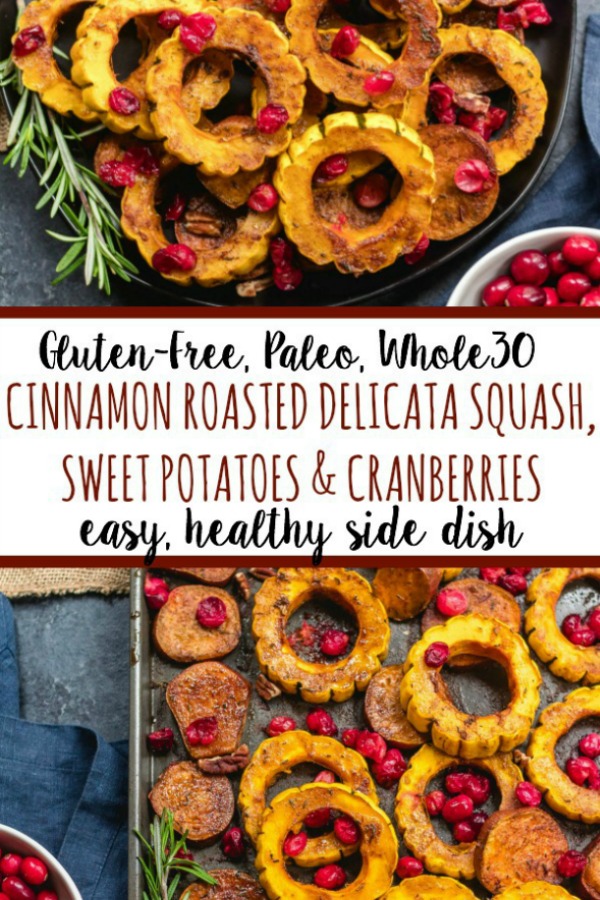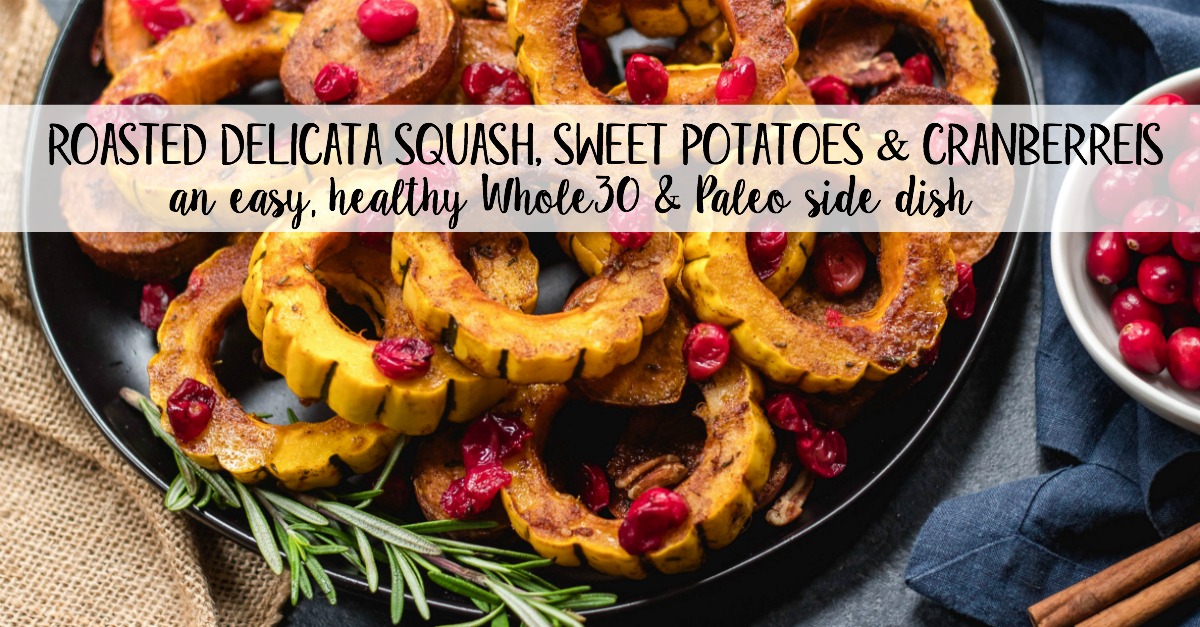 This Whole30 delicata squash recipe post may contain some links that are affiliate links, though products are ones I use personally and recommend. When you purchase anything using my links, it costs you absolutely nothing extra, but it does give wholekitchensink.com a little financial support which helps to keep this blog running. Thank you for your continued support, both with your dollars and your interest.