This homemade peri peri seasoning recipe is full of flavor from an easy mix of spices and herbs. It can be used on beef, chicken, pork, and vegetables like potatoes, broccoli and corn! The spices are all simple to find and likely already in your pantry, and the peri peri seasoning is sugar free, gluten free and healthy!
Why You'll Love This Homemade Peri Peri Seasoning Recipe
It's super easy to control the salt and sugar content in making your own spice blends! This peri peri recipe is made with no sugar, and the salt can be reduced even further if you're eating low sodium.
Homemade peri peri seasoning is also gluten-free, Whole30 and low carb.
This peri peri seasoning makes about 1/2 cup, or 4 ounces, which is the perfect amount to keep in the pantry to have on hand! It's also very easy to halve the recipe if you'd rather only have a smaller amount for fewer uses.
It's a homemade take on the peri peri seasoning that originates in South African and Portuguese cuisine and is a great way to add tons of flavor to proteins, vegetables or sauces!
Peri Peri Seasoning Ingredients
Homemade peri peri seasoning is comprised of a blend of spices and herbs. These include smoked and regular paprika, garlic powder, cayenne, onion powder, ginger, coriander, parsley, oregano, and a few more.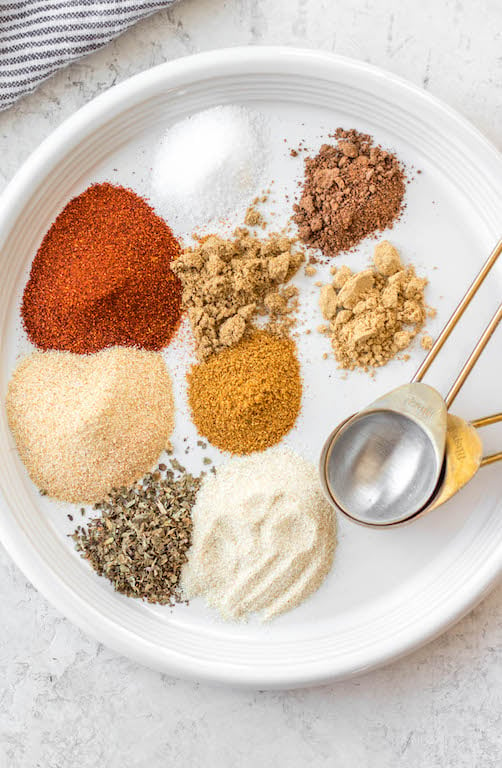 If this feels like a lot of spices, don't worry! It takes less than 5 minutes to measure out, and they are all common enough that you likely already have them in your spice cabinet, and they are for sure at all major grocery stores! You can also buy spices online for a discount at retailers like Thrive Market.
Traditional Peri Peri Spice
A peri peri spice blend or sauce traditionally uses the peri peri pepper (or also known as piri piri pepper). The spelling variations stem from differences in pronunciation across different countries in Africa and to the north in Portugal. These are a type of hot pepper in the same pepper family as tabasco and they grow and thrive in hot climates found in Africa and Southern Europe.
They are many times hotter than the jalapeño pepper – up to 10 times hotter, in fact! They are also very hard to find on their own, so in it's place, cayenne pepper is substituted in this recipe. If you prefer more spice, you can add additional cayenne to your tastes. You can add up to 1 extra tablespoon for a really spice peri peri.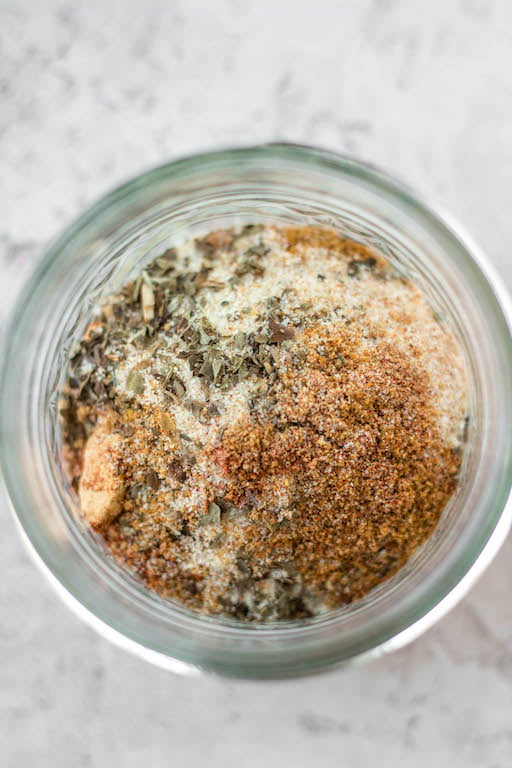 Steps to Make Homemade Peri Peri Seasoning
The steps to making peri peri seasoning couldn't be more easy. All you'll need to do is measure out your spices into the container you'll be storing them in (or a bowl first, if you'd prefer).
Once all the spices are in the container, you can use the handle end of a spoon or fork and stir really well to combine them. Or, simply secure the lid onto the container and shake really well!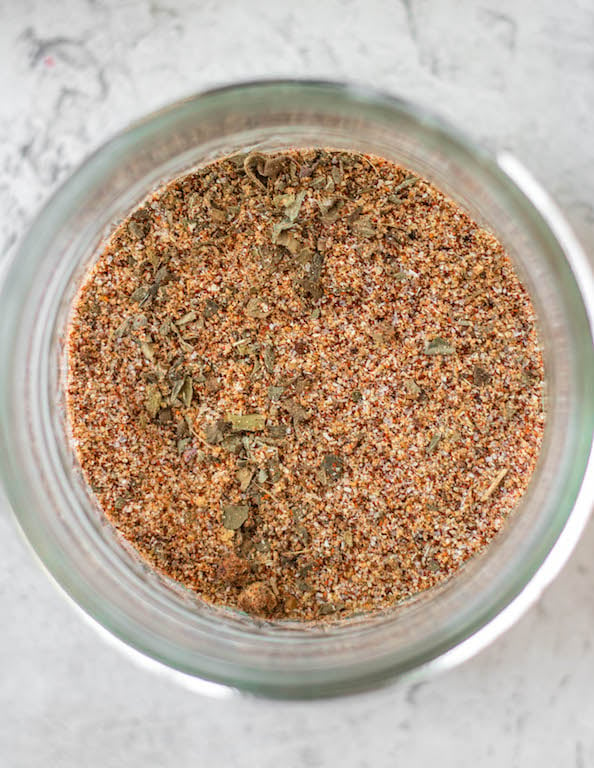 Tips for Storing Homemade Seasonings:
When you make your own spice blends like this peri peri seasoning, the one important thing to do when it comes to storing them is to make sure you're using an airtight container. Keeping your spices and seasonings stored in airtight containers ensures that you'll have the longest shelf life possible and the freshest tasting herbs and spices possible! This spice blend is good in your pantry or spice rack for up to 6 months.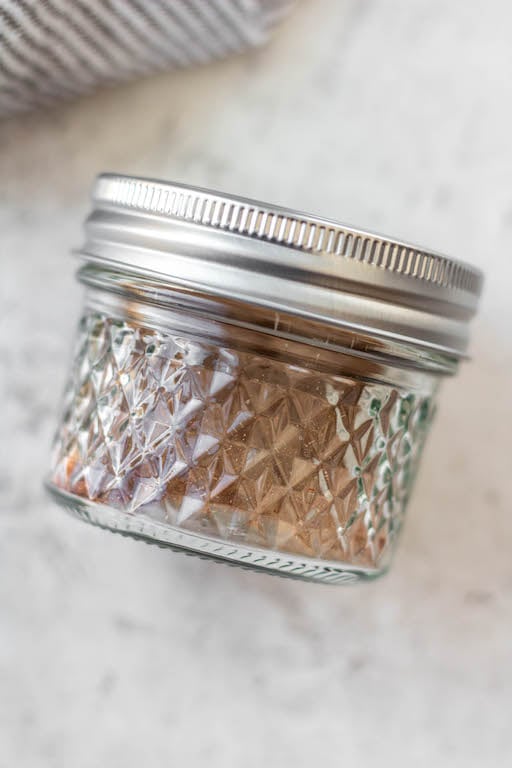 FAQ
What is peri peri seasoning?
Peri Peri seasoning is blend of spices and herbs traditionally found in Portuguese and South African cooking and is used as a seasoning or added to a base to make a marinade. Peri Peri (or Piri Piri) is a type of hot chili pepper and is a key ingredient in marinades for grilled meats in Portuguese cuisine using what is called a pili pili sauce.
How to use peri peri seasoning?
There are so many uses for peri peri seasoning! You can use it as a seasoning for steak, pork, chicken breasts, wings or thighs. It's a great seasoning to use on proteins to be oven baked, grilled or air fried. You can use it on baked, mashed, sautéed or smashed potatoes. Try it on a smoked butterfly chicken or a roasted butterfly chicken, or mixed into the marinade for mayo marinated chicken thighs!
You can even use it on vegetables like roasted or steamed broccoli, corn on the cob, crispy brussels sprouts, or mixed into mayo, Greek yogurt or sour cream for a dipping sauce. In many countries like Singapore and India, McDonald's even serves their french fries seasoned with peri peri seasoning!
Where to buy peri peri seasoning?
If you'd rather buy peri peri seasoning instead of making it yourself, you can do so in a number of places. While making it yourself gives you much more control of the ingredients and allows you to make it with less sodium and no sugar, you can purchase it already made from grocery stores like Walmart, Target, or online from Amazon.
Is this peri peri seasoning spicy?
This recipe for peri peri seasoning is very mild. It's made that way in order to be flexible to fit your taste preferences. By increasing the amount of cayenne, you can increase the spice level until it's to your family's taste.
How long can you store homemade peri peri seasoning?
When stored in an airtight container this peri peri spice blend keeps for 6 months. If you don't think you'll use it all in that time, I recommend halving the recipe.
Other Seasonings and Sauces You'll Love:
Print
Peri Peri Seasoning
This homemade peri peri seasoning recipe is full of flavor from an easy mix of spices and herbs. It can be used on beef, chicken, pork, and vegetables like potatoes, broccoli and corn! The spices are all simple to find and likely already in your pantry, and the peri peri seasoning is sugar free, gluten free and healthy!
Author:
Prep Time: 10 minutes
Total Time: 10 minutes
Yield: 1/2 cup 1x
Category: Spices
Method: No Cook
Cuisine: Portuguese, South African Inspired
Diet: Gluten Free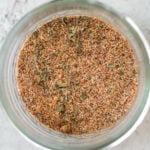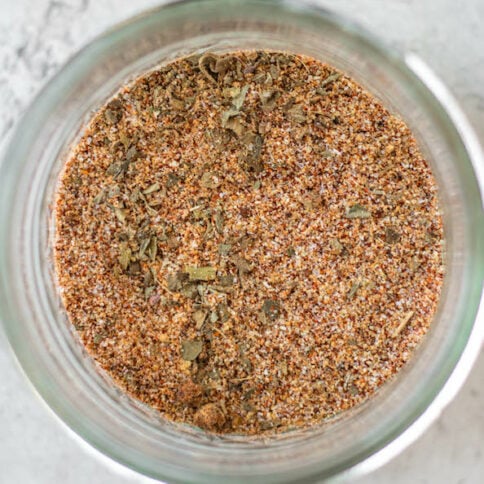 Ingredients
2 tablespoons garlic powder
2 tablespoons onion powder
2 tablespoons paprika
1 tablespoon dried parsley
1 tablespoon dried oregano
1 tablespoon coriander
2 teaspoons ground ginger
2 teaspoons cayenne (see note section)
1 teaspoon nutmeg
1 teaspoon cardamon
1 teaspoon smoked paprika
Optional: 1 teaspoon salt
Instructions
Add all of the spices into a storage jar and stir or shake until well combined. Cover and store for up to 6 months
Notes
Increase the spice level by adding additional cayenne pepper until desired spice level is reached, up to 1 tablespoon for a very spicy peri peri seasoning
This recipe makes 1/2 cup (4 ounces). You can halve the recipe by dividing each spice amount in half for a yield of 1/4 cup (2 ounces)
Optional ingredients include 1 teaspoon of salt, and 1 tablespoon white sugar, if desired but neither is necessary
Keywords: peri peri seasoning, homemade peri peri, peri peri recipe, peri peri spice, peri peri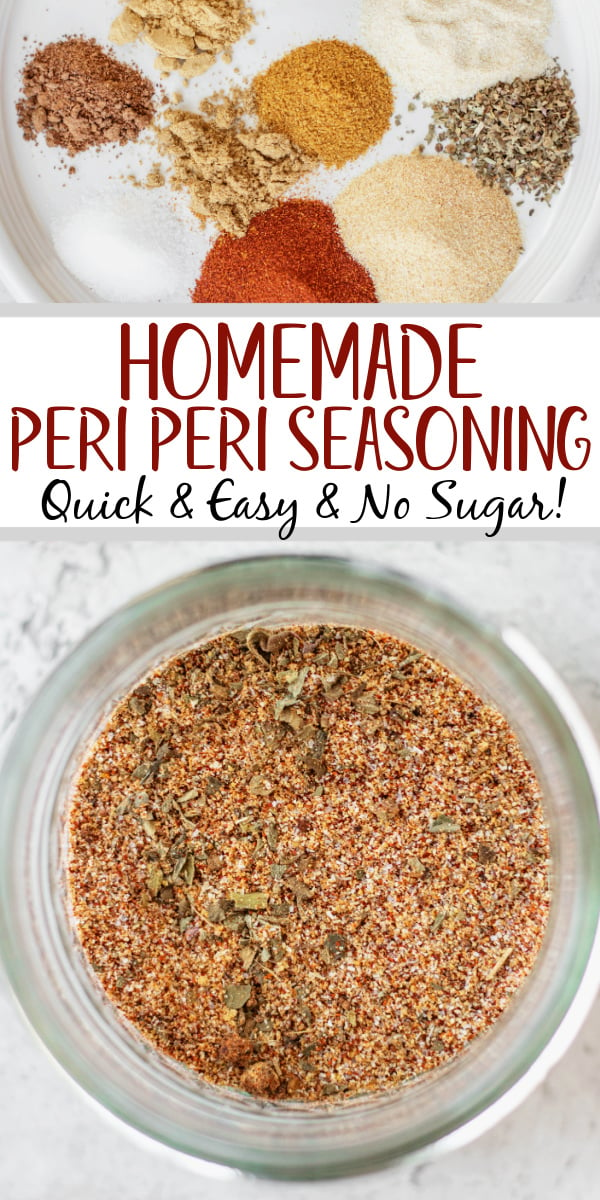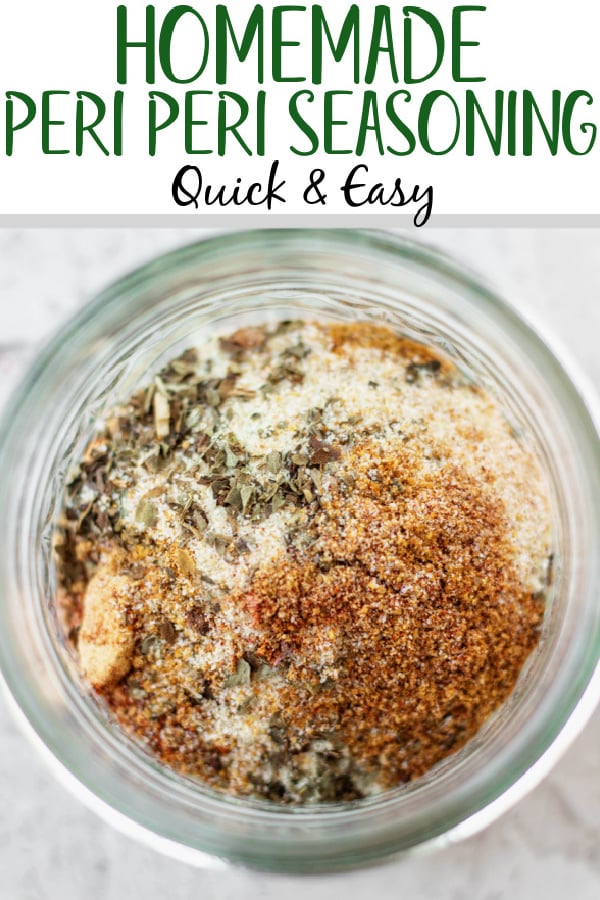 This homemade peri peri seasoning recipe may contain some links that are affiliate links, though products are ones I use personally and recommend. When you purchase anything using my links, it costs you absolutely nothing extra, but it does give wholekitchensink.com a little financial support which helps to keep this blog running. Thank you for your continued support, both with your dollars and your interest.