This easy Whole30, keto and Paleo instant pot carnitas recipe only needs a few simple ingredients and less than an hour to cook perfectly! This is a great Whole30 pork recipe for meal prep, or as a family friendly recipe for tacos or burritos without the clean up. You'll have plenty of carnitas meat for the week for easy lunches, which is my favorite thing to use it for!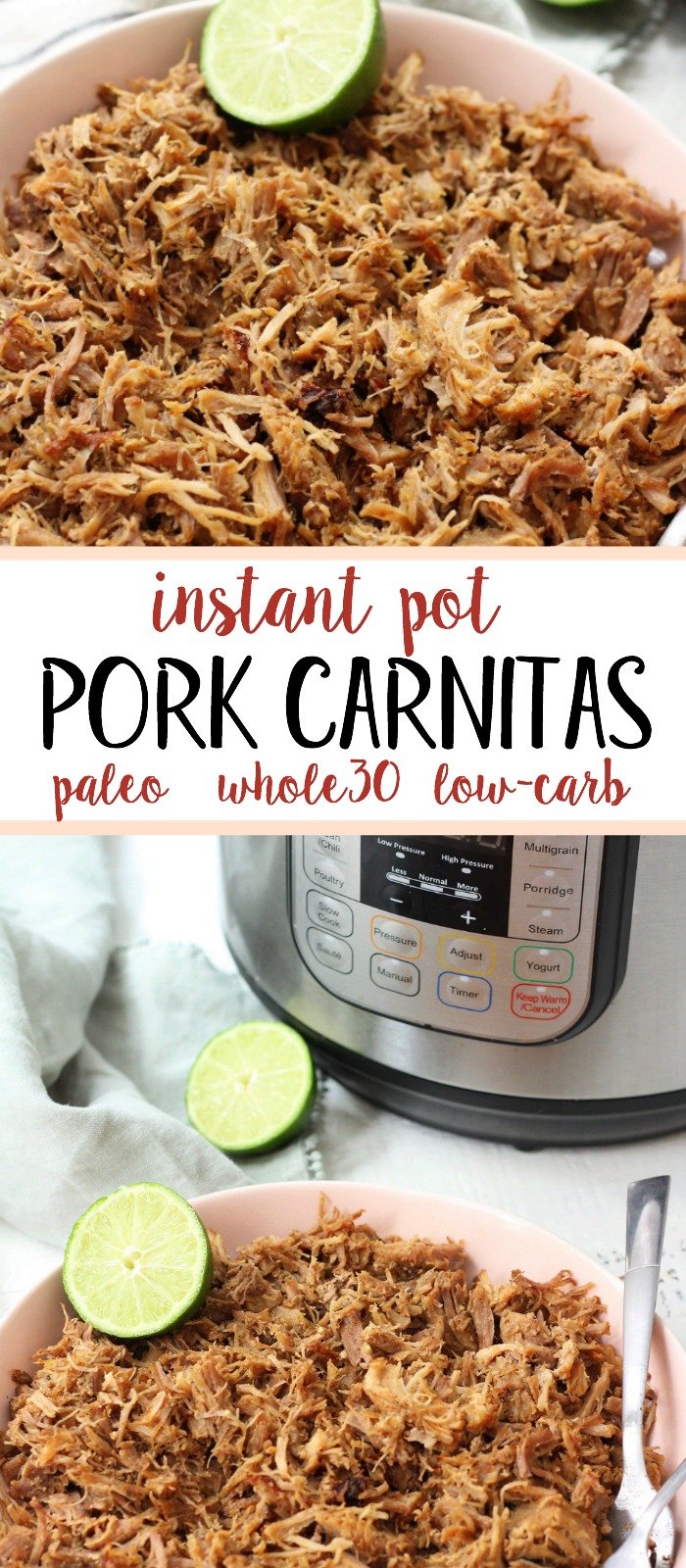 I know I'm not alone here, but I just can't stop using my instant pot. At first I thought I would hate it and never get used to how "complicated" it was. I'm horrible with change, okay?! Soon I found myself loving all of the functions of it more and more and today I don't think it leaves my counter.
This Paleo instant pot carnitas recipe is the perfect example of why it's so superior (in my opinion) to other methods of cooking. To both cook the pork, and then crisp up the Whole30 carnitas meat once it's done cooking, I don't have to dirty any other pans! Switch the instant pot to sauté mode and you're good to go. When I'm doing a Whole30, or just eating home most of the time in general, if I can get away with doing as few dishes as possible I'm going to.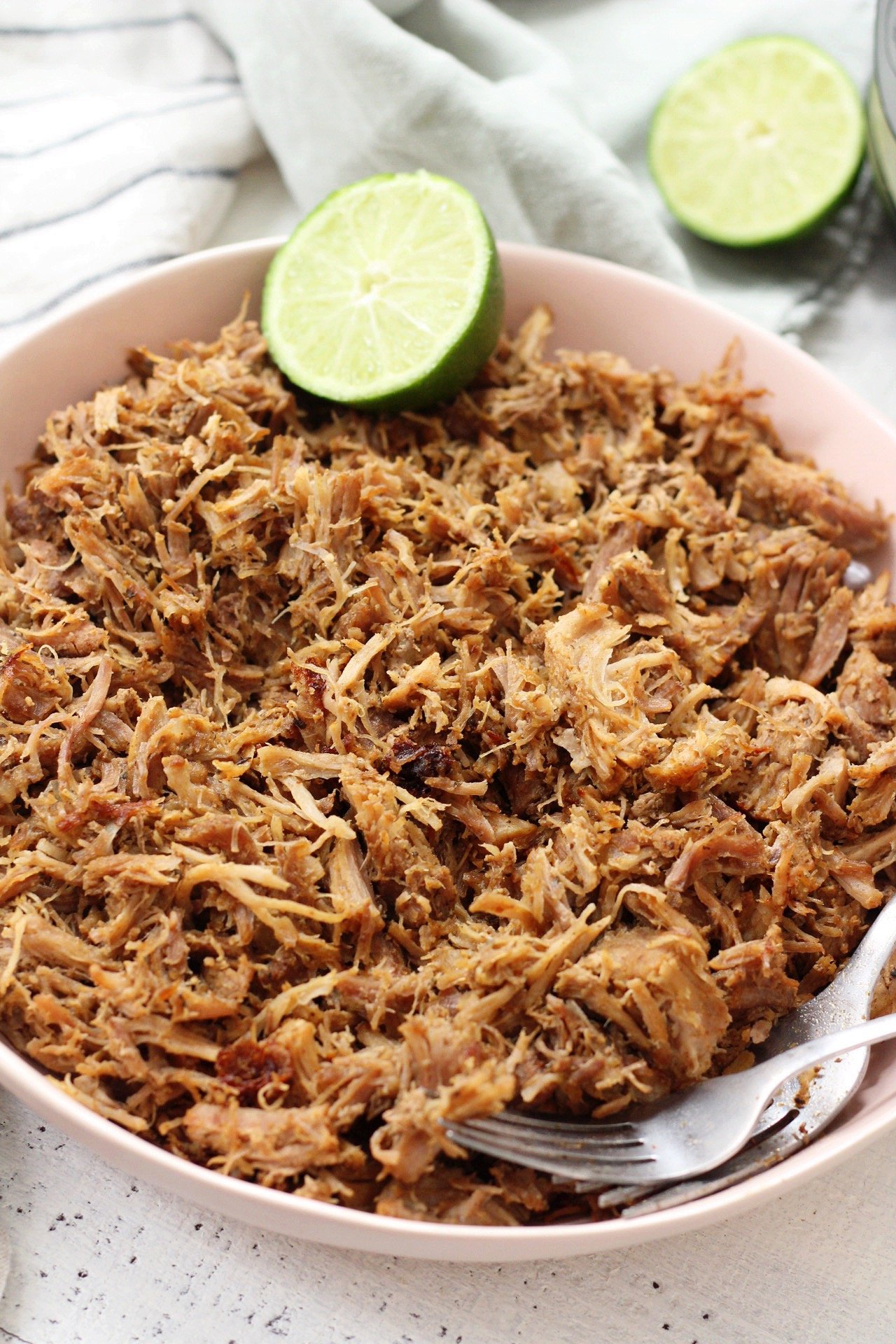 Some people say you have to put an orange into Paleo instant pot carnitas, however, I disagree. Feel free to do that if you'd like. For me, that makes the meat much too sweet and I'm not into that. I do love juicing half of a small lime into the instant pot before you close'er up though.
This Whole30 instant pot carnitas recipe makes a lot of meat. So plan to have leftovers, or use it for meal prepping taco bowls. Or, if you'd rather, you can use a smaller pork shoulder, or freeze the leftover meat. You could make this in the slow cooker using the same ingredients, however you'd want to cook for 4-6 hours on low. Then transfer the meat after you've shredded it to a large skillet. In the skillet you'll let the Paleo carnitas meat crisp up over medium-high heat for about 5-8 minutes, stirring or using tongs to move around.
You can use these Whole30 instant pot carnitas in salads, burrito bowls, lettuce tacos, collard wraps, breakfast skillets, you name it! Enjoy!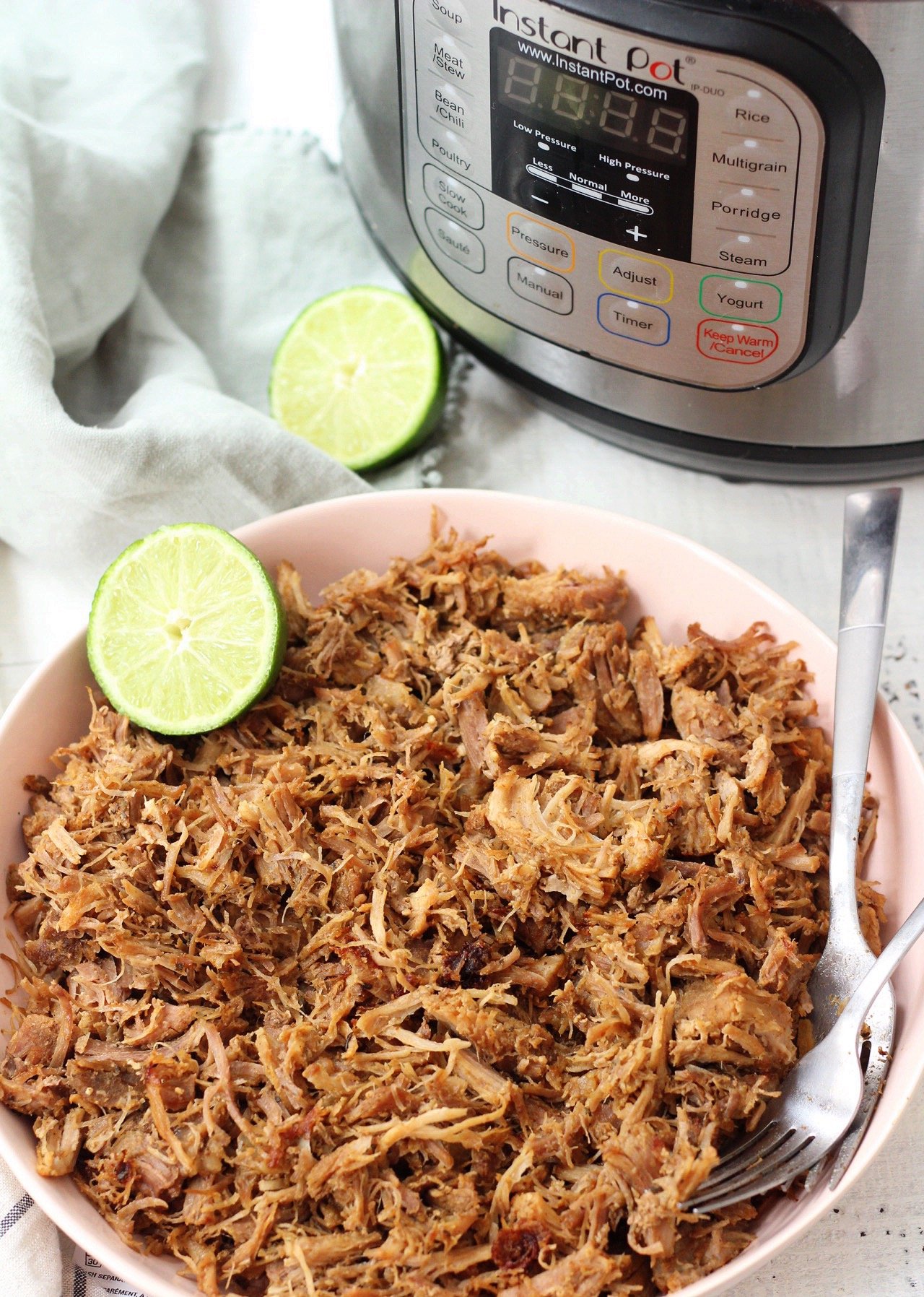 Other Whole30 Instant Pot Recipes You'll Love:
Whole30 Instant Pot Beef & Broccoli
40 of the Best Whole30 Instant Pot Recipes
Print
Paleo Instant Pot Carnitas (Whole30, Gluten-Free)
Prep Time: 10 minutes
Cook Time: 45 minutes
Total Time: 50 minutes
Yield: 6-8 1x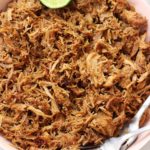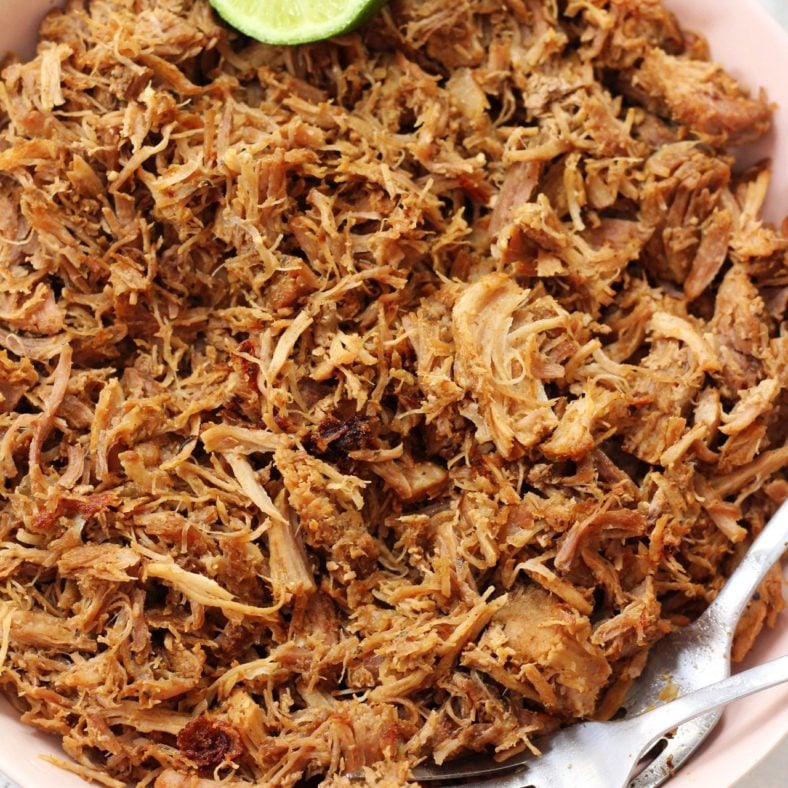 Ingredients
3–4 pound pork shoulder
1 onion, diced (about 1 cup)
1 lime, juiced
1/2 cup chicken broth
2 tablespoons olive oil
2 tablespoons minced garlic
1 tablespoons oregano
1 tablespoon cumin
1 tablespoon chili powder
2 teaspoons salt
2 teaspoons paprika
2 teaspoons pepper
Instructions
Cut the pork shoulder up into chunks (about 2″x2″) and add to instant pot
In a small bowl, combine the dried seasonings
Add seasonings, oil, minced garlic, onion, broth, and lime juice to the instant pot over the pork
Using your hands, mix ingredients together to evenly coat pork
Close the lid, set to seal, and set to manual high pressure for 45 minutes
After time is done, set to quick release, and open lid
Pork should easily shred, if not, close and set to 15 more minutes
Shred pork, set instant pot to sauté mode
Excess liquid will first steam off, then pork will begin crisping
Cook on sauté for 10-15 minutes, until pork as as crisp as you prefer
Notes
Slow cooker Instructions:
Cut the pork shoulder up into chunks (about 2″x2″) and place them in the slow cooker
2. In a small bowl, combine the dried seasonings. Add seasonings, minced garlic, onion, broth, and lime juice to the slow cooker over the pork
3. Using your hands, mix ingredients together to evenly coat pork
4. Cover and cook on low for 6-8 hours until pork is tender and shreds easily
5. Shred pork and remove from slow cooker. Serve with burrito bowls, salads, tacos
6. Optional: for crispy pork carnitas, sauté for 10-15 minutes over medium heat until pork is crisp
Nutrition Facts:
Calories: 154
Sugar: 1
Fat: 12
Carbohydrates: 2
Protein: 9
This post may contain some links that are affiliate links, though products are ones I use personally and recommend. When you purchase anything using my links, it costs you absolutely nothing extra, but it does give wholekitchensink.com a little financial support which helps to keep this blog running. Thank you for your continued support, both with your dollars and your interest.