Medlie Veggie Drinks are drinkable, portable and convenient way to get in vegetables without any prep work, or any unnecessary junky ingredients. Medlie Veggie Drinks are Whole30 Approved, Paleo, Certified Organic, low carb, and made without added sugar, preservatives or stabilizers. Medlie has taken the freshest veggies, combined them into awesome flavors and bottled them up to make it easy for anyone and everyone to never skip their vegetables, no matter where they are.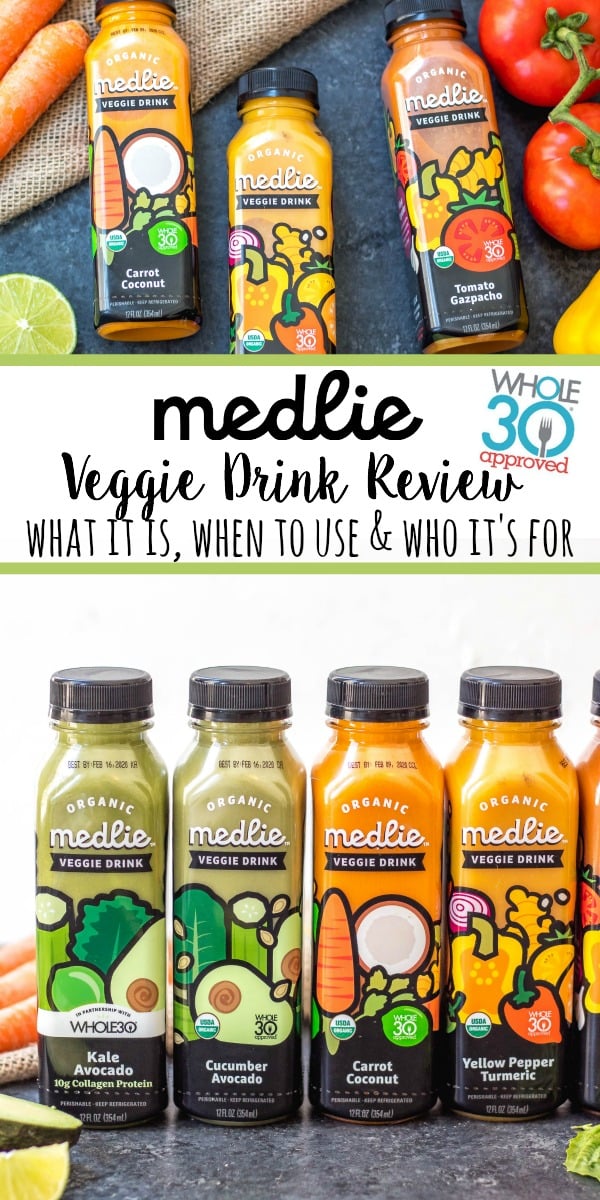 This post is in partnership with Medlie Veggies, and all opinions are my own. I'm happy to work with a company I love, use and believe in so much. Thanks for your support here on the blog and your support for Medlie Veggies! They're giving Whole Kitchen Sink readers 15% off their order with the code "wholekitchensink" at checkout!
What are Medlie Veggie Drinks
Medlie Drinks are veggie-packed bottles and shots that help you get in all of the vegetables you know you need in a day. They help bridge the gap for people who are living busy lifestyles but want to feel their best through consuming a wholesome, healthy diet. They offer an alternative way to get your vegetables in that doesn't require preparing them, chopping them or cooking them yourself.
Medlie Veggie Drinks come in 7 different drink flavors, including Cucumber Avocado, Tomato Gazpacho, Kale Avocado, Coconut Carrot, Yellow Pepper Turmeric, Beet Orange Basil and Tomatillo Kale Jalapeno. They also have 3 different veggie shot options that target different nutritional needs, including Carrot Ginger Turmeric for immunity, Tomato ACV for digestion, and Kale Cucumber Jalapeno for metabolism.
My personal favorites are Kale Avocado, Tomato Gazpacho and Cucumber Avocado because I love the smooth and refreshing taste of them, while my husband prefers Tomatillo Kale Jalapeno and Beet Orange Basil because he enjoys how those flavors help jumpstart his day or rejuvenate him after a hard workout. There's flavors everyone will enjoy, and they're all worth giving a try to find which ones you love!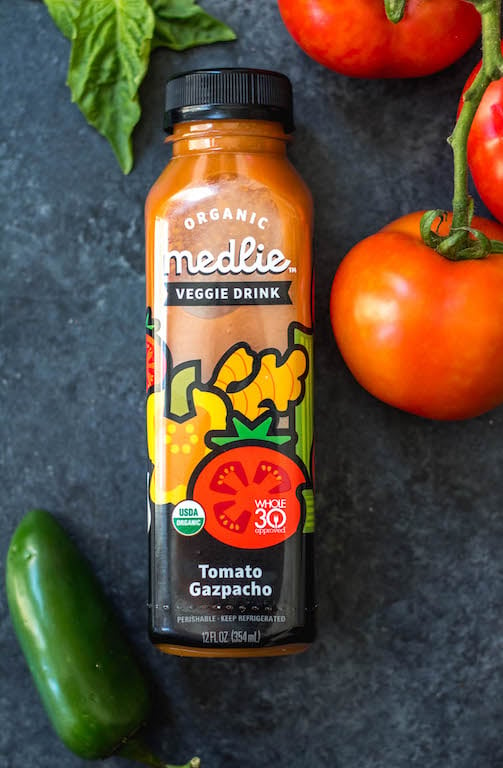 Medlie offers a variety of different bundles to give them all a try, or bundles depending on your preferences, and they also have a create-your-own bundle, which makes having veggies ready to go in the fridge for you so easy!
Medlie Veggie Ingredients
Medlie uses only the highest quality organic vegetables, with an emphasis on sustainable farming practices, and they use high pressure processing instead of heat to ensure that the quality, nutrition and flavor is always top notch. Each drink is chalk-full of vitamins and minerals from the superfood veggies that are put into each bottle.
During blending, they use the entire vegetable, from seed to skin, which makes it unlike any other vegetable based drink because they offer maximum nutrition from the vegetables, and none of the gut healthy fiber is lost during processing. Not only is this healthier for us, but it also helps to reduce food waste. The only other ingredients they use aside from organic vegetables are a few organic spices, organic vinegar or organic olive oil.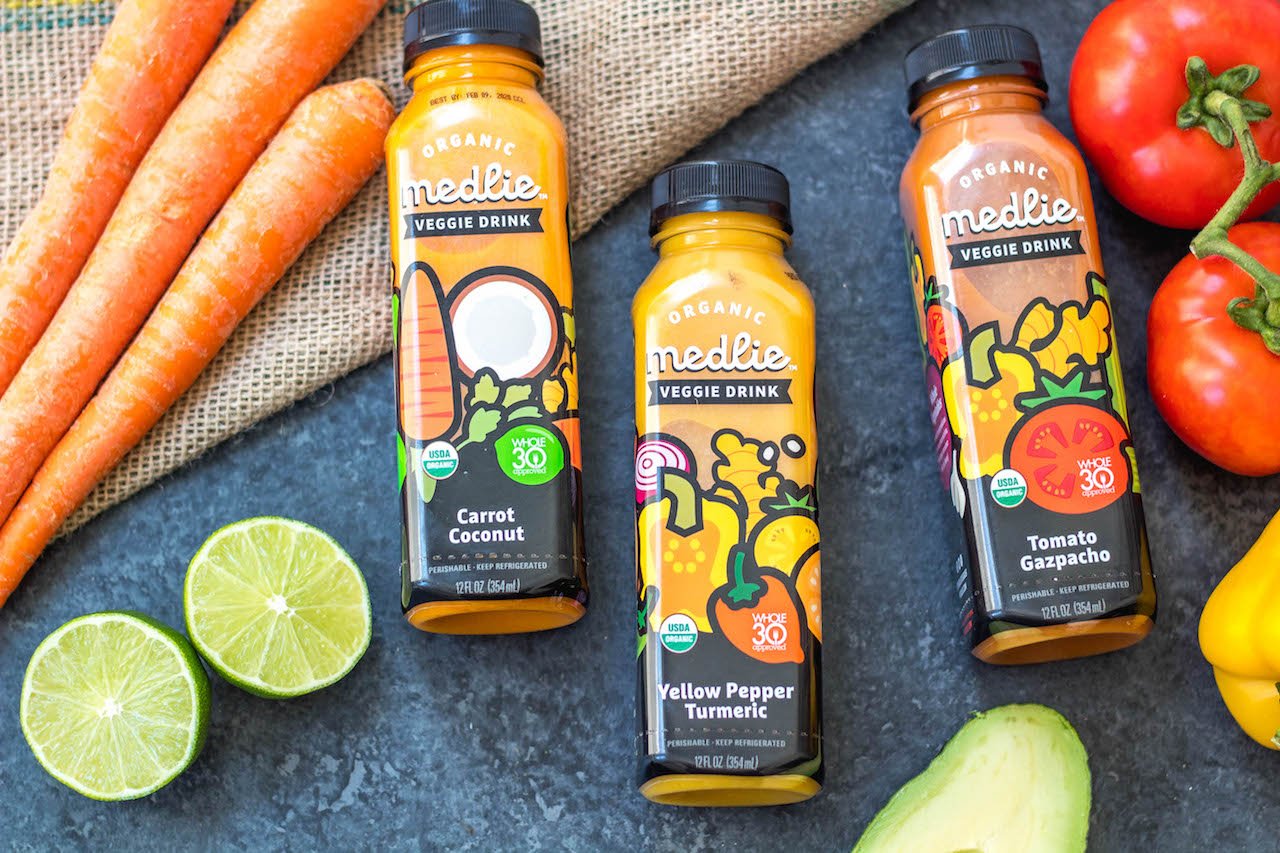 A few of the Medlie Veggie Drinks also have added collagen protein, which makes those drink varieties even more filling and are a great option for after a workout or to tide you over between meals. Collagen is also incredibly beneficial for almost all organ systems (it's the most abundent protein in the human body!), and it helps keep joints healthy, helps with muscle recovery after exercise, promotes healthy skin, nails and hair, and much more. I love that having this in some of the veggie drinks is available. 
You can find collagen in the Kale Avocado Medlie Drink, and the seasonal flavor of Butternut Cinnamon! Check them out here!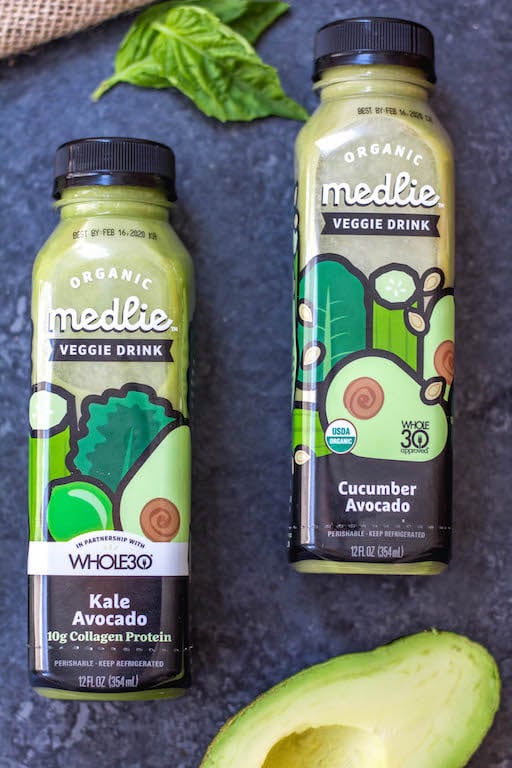 When and What to use Medlie Veggie Drinks For
Medlie drinks are perfect for anyone, really. We all have days where things don't go as planned, or we don't get to the store, have to run out the door without getting to sit down to eat breakfast, have to take long car rides or sit in traffic, or have busy days at work that don't allow for a nice long lunch break.
Medlie Drinks fill all of those needs. They're also a great alternative to juice for kids, being that they're made with zero sugar and incorporates the entire vegetable. They come in so handy to have on hand regardless of what industry you work in, or how diligent you are about prepping vegetables. It truly is a grab-and-go option that requires zero prep work.
They've also become essential to have during a Whole30 as an emergency food option, and even essential after a round of Whole30 to support and help to keep those new healthy habits. These are something you'll feel good about, and that will fill you up while also making you healthier. It's hard to go wrong when you're getting in the nutrient-rich vegetables you know you need in a day!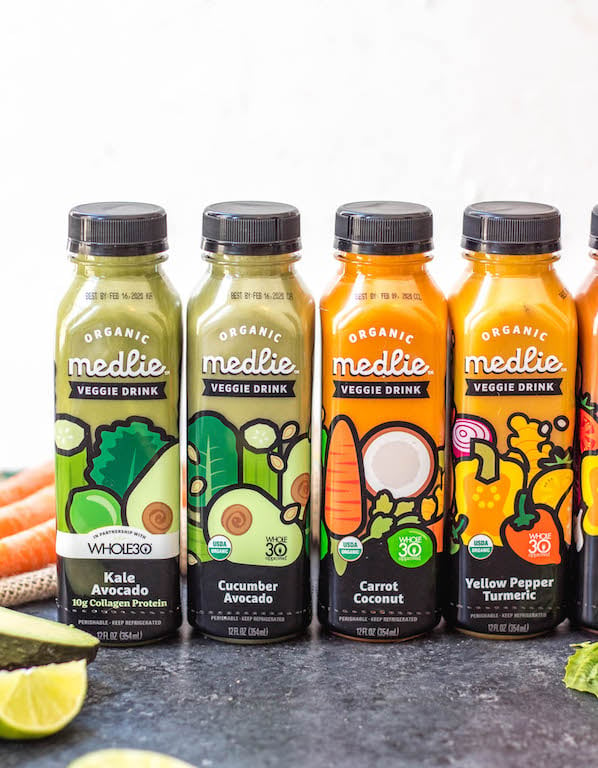 After exercise for hassle-free post workout fuel
During a busy shift at work to bridge the gap between meal times or as a mini-meal during meetings that doesn't require a fork or microwave
In the morning to jumpstart your day and get additional vegetables in
As a healthy snack or sippable nutrition on the road or during travel
If you haven't made it to the grocery store or didn't have time to prep and chop vegetables
For those who have do shift-work hours, like overnights, and have a hard time eating during the night
As an emergency food during a round of Whole30, and to support healthy habits afterwards
For new moms or busy parents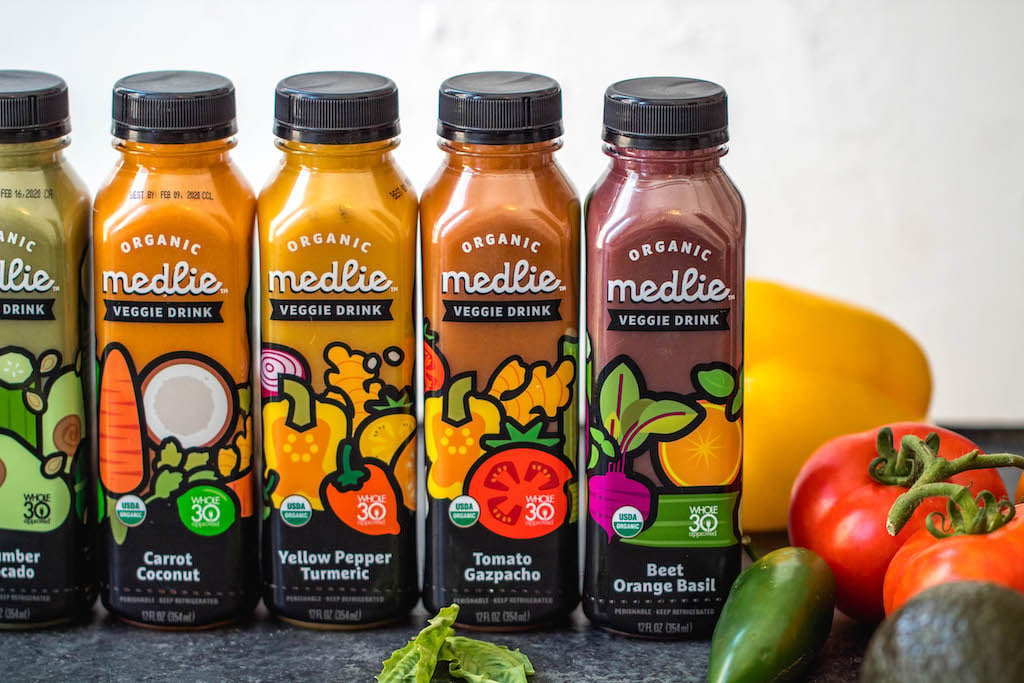 Check out all of the Medlie Veggie Drink Bundles, or create your own HERE! Use the code "wholekitchensink" to save 15% off at checkout!
Medlie Shots
Medlie shots are a great way to kick off your day with a bit of extra nutrition that supports your health goals. My favorite is the Digestion Shot, which is the Tomato ACV flavor. I've tried to get on board with ACV before, because I know how great it is for your digestion and gut health, but I could never do it. These ACV shots, when combined with the tomatoes and cucumber make it easy.
It's not miserable like straight ACV, and instead I now love the bit of tang and little kick of heat. Each of the shots serve their purpose, such as the Metabolism shot which gives the body a boost of capsaicin from the jalapeno which is proven to boost metabolism. Medlie has made reaping these benefits a simple addition to a health routine.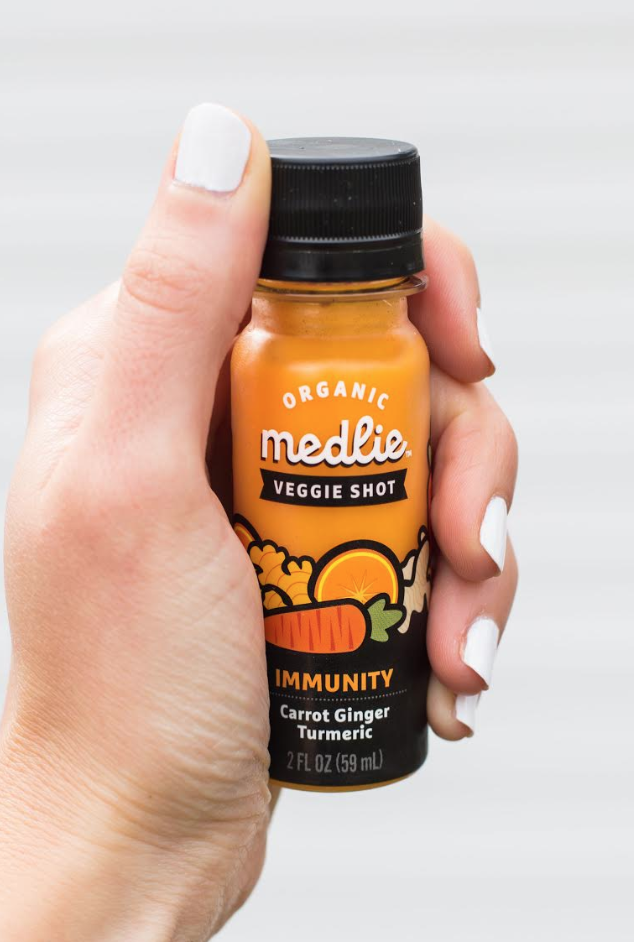 Overall, Medlie Veggie Drinks are a great investment in your health, your time and making sure you're always prepared and able to stay on track with your nutrition needs and goals.
Whether you're doing a Whole30, cutting out sugar, in a busy season of life, or just find yourself lacking in the veggie department, these portable veggies are your answer. Plus, you'll get to have fun trying all of the flavors and finding which ones are going to be your favorites and go-tos!
Take a look at all of the organic, Whole30 Approved on-the-go veggie options Medlie has to offer on their website and let me know which are your favorite!