The thought of heating up my house when it's warm outside sends me running outside to fire up the grill. Today was no exception. The first "real" HOT day here in Minneapolis was reason enough to celebrate with a delicious summer recipe! Grilled Mahi-Mahi was on the menu and it did NOT disappoint.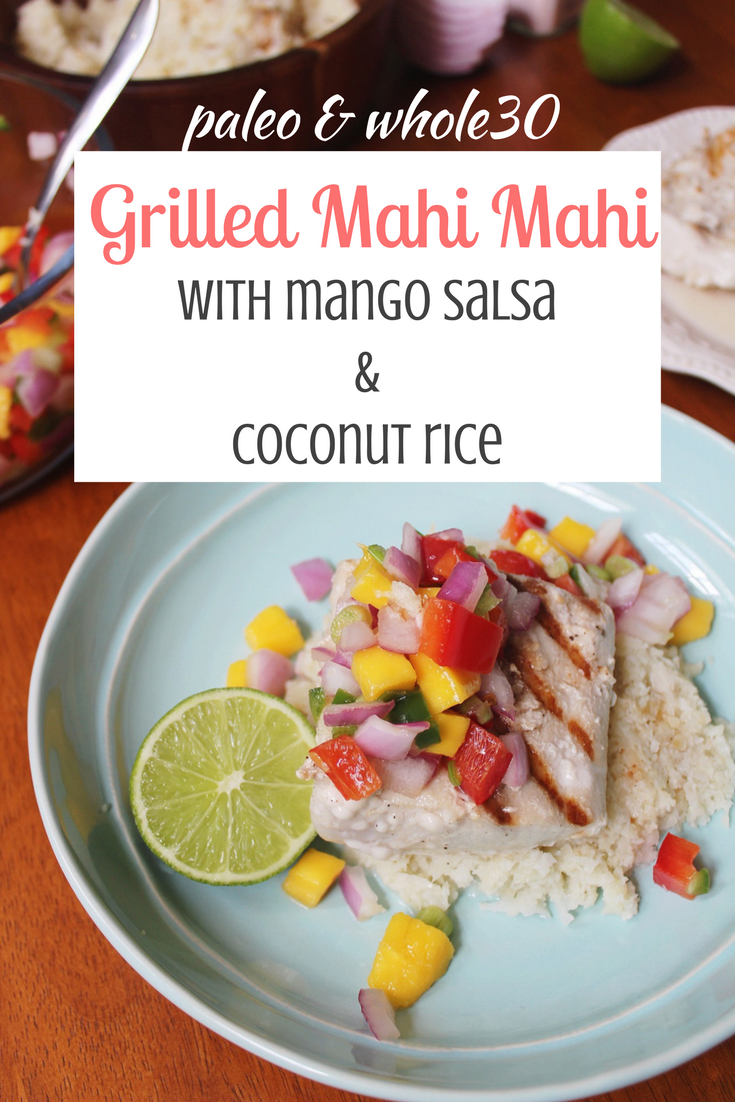 Mahi-mahi is one of my favorite fish meals to make and I generally always do it with a tropical-esque theme while pretending I'm on an island somewhere… which I most definitely am not. Anyway, to add to the light, fresh taste that this fish has, I paired it with a mango salsa which is all tied together with lime juice and some cauliflower rice.
The cauliflower rice was made with coconut flavors which was the perfect addition to the rest of the meal. I used canned coconut cream but canned coconut milk works just as well. I also added some shredded coconut but you don't really *need* that if you don't have any. Please don't run out and buy some just for this rice! Totally not necessary. Use whatcha' got, people!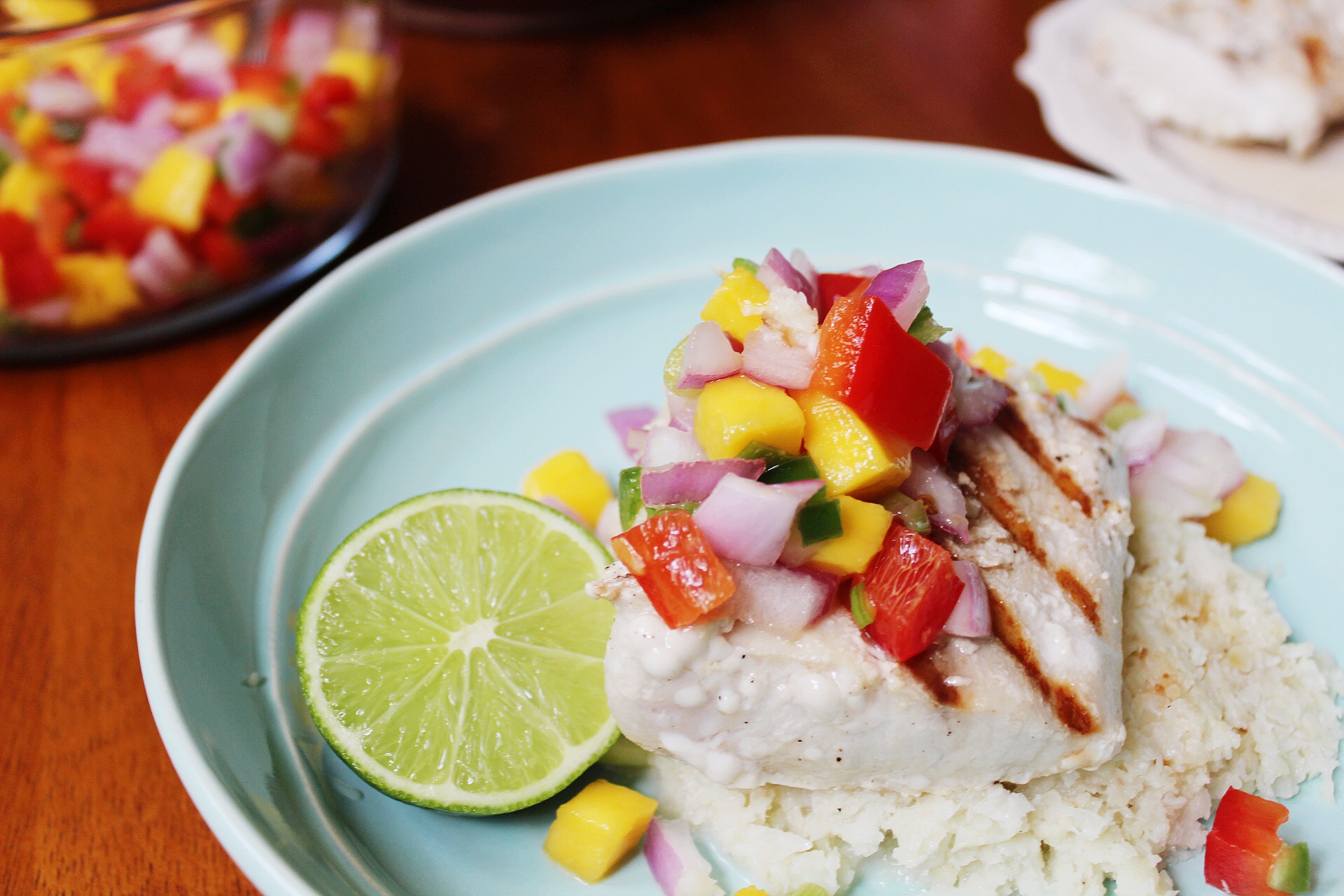 Before I grilled the mahi-mahi, I lightly coated each fillet with coconut oil spray, brushed melted ghee on it and threw just a pinch of salt and pepper on each side. They don't take long on the grill, so make sure you're paying attention! Only a few minutes on each side and they're ready to eat.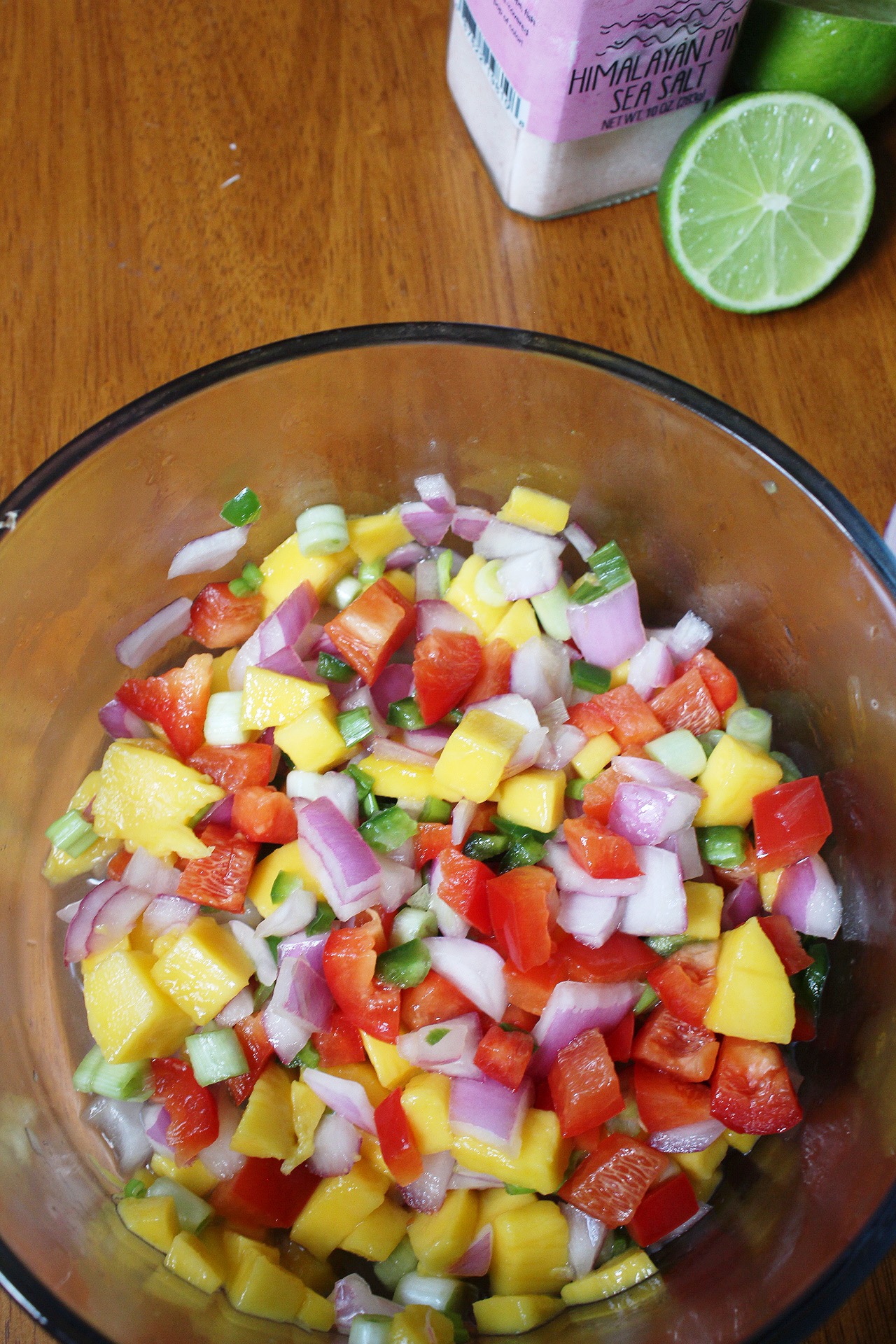 I made the salsa and rice beforehand because of that. Just pop the salsa in the fridge while you're making the mahi-mahi.  This will help it all marinade together with the lime juice too. I usually make this salsa with diced avocado and I totally urge you to throw that in there! Because I was eating this with someone who doesn't like chunks of avocado, I left it out but it adds a lot of healthy fat and awesome taste.
If you're new to making cauliflower rice, check out how to do it here. I use my trusty food processor but you can certainly do it without one!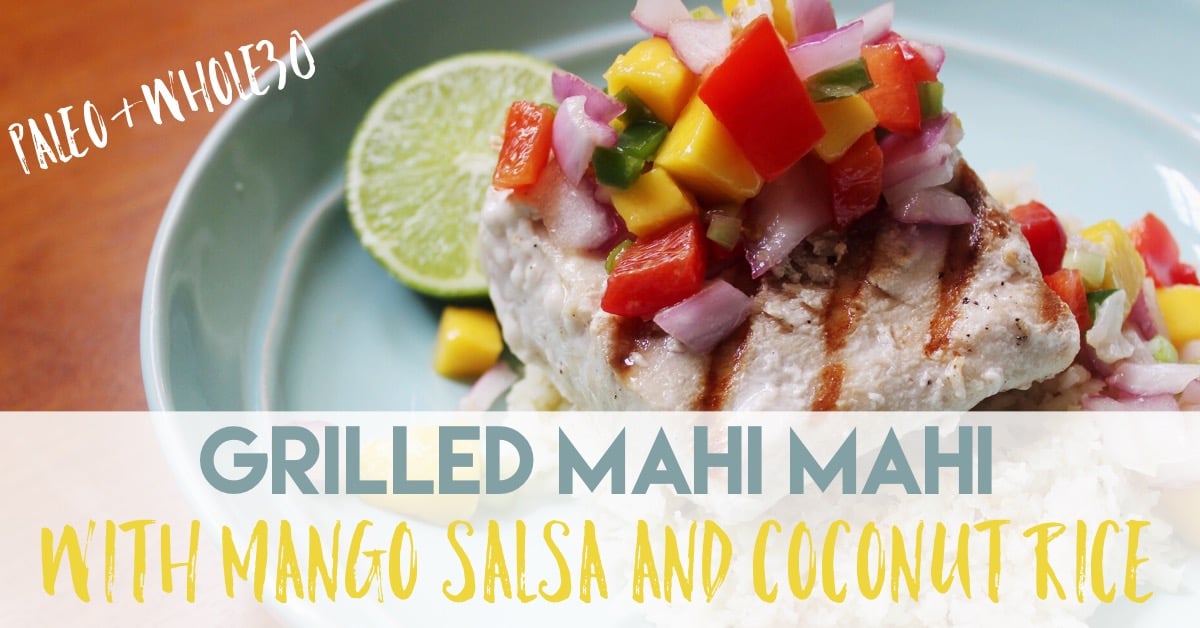 Print
Grilled Mahi-Mahi with Mango Salsa and Coconut Cauliflower Rice
Prep Time: 15 minutes
Cook Time: 25 minutes
Total Time: 40 minutes
Yield: Serves 2-3 1x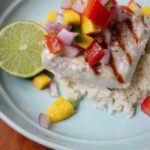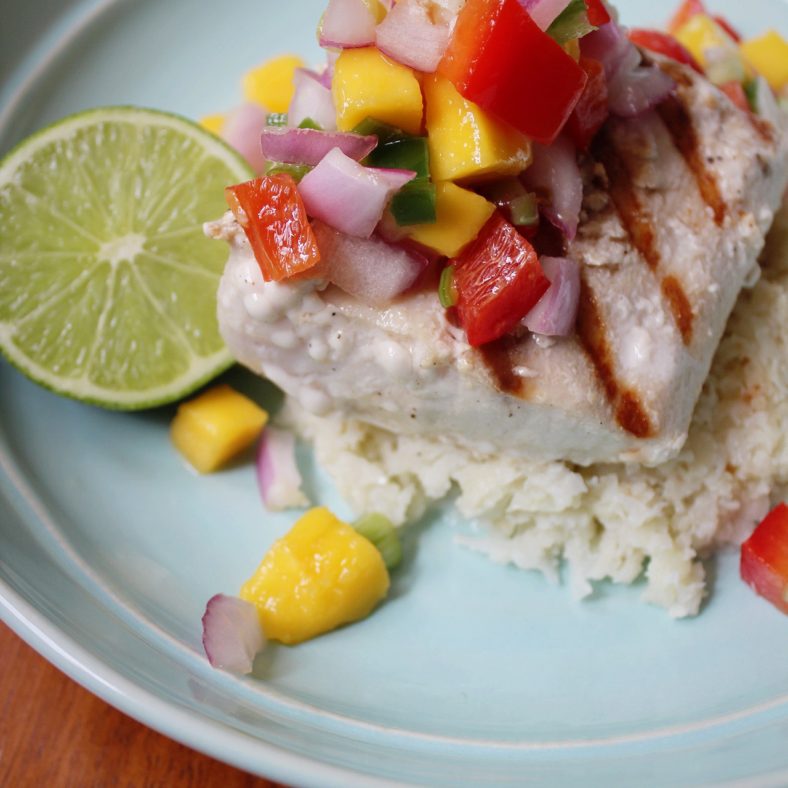 Ingredients
For the Mahi-Mahi
2–3 fillets mahi-mahi
Oil to coat (I used coconut oil spray)
2 tablespoons melted ghee
A pinch of salt and pepper
For the Cauliflower Rice:
1 head cauliflower, riced
3/4 cup of the thick white coconut cream from canned coconut cream or canned coconut milk
2 tablespoons coconut oil
1/3 cup shredded coconut flakes
For the salsa:
1 large mango or 2 small mangos, skinned and diced
1/2 cup diced red onion
1/2 medium red pepper, finely diced
2 green onions, diced
1/2 jalapeño, seeded and finely diced (can also use a Serrano pepper)
Juice of 1 lime
1 teaspoon salt
Optional: 1 avocado, diced
Instructions
Combine everything for the salsa and set aside in the refrigerator
In large skillet, heat coconut oil and add in cauliflower rice
Let cauliflower cook for about 5 minutes and then add the coconut cream and shredded coconut
Stir to combine and let sit for another 5 minutes, stirring occasionally
While the cauliflower rice is cooking, get the fish ready
Spray and brush on the oil and ghee (butter) and lightly salt and pepper
Once the cauliflower rice is finished, turn stove off but leave rice there
On the grill or a grill pan, grill mahi-mahi for 4-6 minutes on each side
Turn the stove back on and just reheat the cauliflower rice
Remove from heat, plate the fish over the rice and top with the salsa!
Serve and enjoy!
This post may contain some links that are affiliate links, though products are ones I use personally and recommend. When you purchase anything using my links, it costs you absolutely nothing extra, but it does give wholekitchensink.com a little financial support which helps to keep this blog running. Thank you for your continued support, both with your dollars and your interest.