Welcome to the latest edition of the food blog income reports! That's right, there IS a business side of things. As much as I wish it was dairy free cheesecakes and fish tacos, there's a lot more that goes into running a food blog as a business. This is a way that I can take you on that journey to figure it out with me. If you've been following along, I started posting these income reports as a way to share honestly with you about my growth.. and the struggles and successes along the way.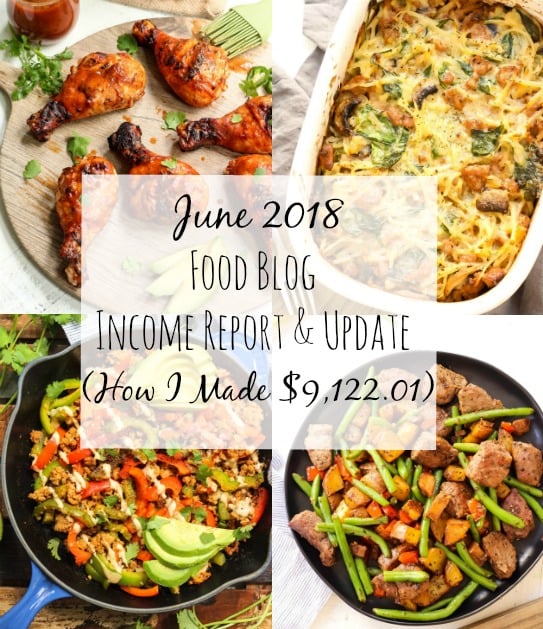 If you've never read an income report before, read more about why I'm doing them. The short of it is that before I started this blog, other blogger's monthly reports were so helpful for me when I was figuring all of this out for myself. And I've wanted to do it since the first month this blog started, the month I made $0.27, as a personal blog diary about all I'm changing, growing and learning along the way.
I really hope the information in this post gives you a little insight and motivation if you're new to this whole blog thing. And check out my post on how to start a blog  for a step-by-step of how I did it if you're interested in giving it a go too! It was truly one of the best decisions I've made, even though I had no idea it would be back then!
The end of June marks 6 whole months since I quit my job at the hospital working long 12 hour overnight shifts! Is my sleep still normal?! Nope! But that's okay. I'm still every bit in love with what I'm doing as I was when I sat on the couch crying on Christmas Eve wondering if I was making the right decision to go after it. What a ride. It feels like so long ago but also like yesterday and I know I'm just getting started. SO. COOL. I've said it a million times, but that is hands down my favorite part of this job. There's no end to the possibilities I can create.
Obviously, it's work. But we knew that by now right? This month was no exception. I've been nose-to-the-grindstone lately trying to keep all of my ducks in a row with the projects I've got going on. The rebrand (woot woot!) is happening in just a few short days, the podcast is launching, things are moving right along. I also have BIG BIG news that I can't share yet, and it's killing me that I can't. But there's a lot of moving parts happening around here!
This month is higher than others because, as I've mentioned in past income reports, I have a partnership that pays out quarterly. So, I do the work, and then every three months I get paid for the past three months. I've since added a few more long term partnerships, because I really just like the stability in terms of income planning, and the trust with my audience is way better when it comes to things I talk about a lot, rather than one-off posts. Even if I do USE that product in the one-off post all the time, it's still a different experience for the reader knowing I don't have a real relationship with that brand/product/service. So, all around, long term is my preference. Better for you, me and the brand. Can't lose.
I also got paid this month from an invoice I have been waiting on for a while that should have been on last month's report. But that's the way she goes, bubs. Other than that, everything else is pretty standard in terms of ad revenue and affiliate income. As noted, the ad revenue is from 90 days ago, and is based on the page views on my site 3 months prior to when I receive it.
We're also in what's called "the summer slump" for bloggers, which means that RPMs for networks tank and page views aren't at all time highs either. What this means for my business personally, is that in 3 months my ad revenue will be less than normal, even if my page views are great. Thankfully those haven't taken too much of a dump, just my RPMs that aren't so hot. So I'll have to keep that in mind in October when making sure I'm financially planning for that or do some other type of work to make up for it.
That's pretty much the extent of my updates this month. With being in the thick of everything happening right now, I'm basically just trying to power through, learn, get things done and hopefully once we're out of this crazy period I can go into more detail with the redesign, podcast launch, all that good stuff!
Here's the deets:
Income is counted as what I have physically received in the month of June, not for the work I did. Typically sponsored posts don't pay out for 30 days, affiliates don't pay out for 30-60 days, and ad networks don't pay out for 60-90 days.
Meaning, income from ads this month was in relation to my page views from March.
INCOME:
Sponsored Posts: $5,250
Affiliates: $1,375.04
Ads: $2,496.97
Total: $9,122.01
EXPENSES:
Food: I'm working on 2 big projects that I'm buying food for right now as well, so between that and the blog (3 sources), I didn't separate out what amount of money went to which.
Assistant/Content Manager: $560.00
MailChimp: $30.00 (monthly)
Tailwind (Pinterest scheduler): $10 (monthly)
Lightroom/Photoshop: $10 (monthly)
Total: $610
*I want to note a LOT of my income the last few months has gone directly back into the business in the form of this redesign that's happening. It's a BIG investment (like 8k if we're putting it all out there), but one I'm excited about and think is so, so worth it for you AND me!
Once again, this month I'm STILL excited that I'm pretty much hands off pinterest and facebook. They are my biggest pain points in terms of time suck away from actual content creating, and having my assistant (I hate that word) handle that part of the scheduling frees me up to work on the content and projects that I'm truly passionate and excited about! If you want to read more about hiring her, check out this post!
CAN YOU MAKE MONEY BLOGGING?
Yes! Like I mentioned earlier in this post, there's room for everyone. I'm still SO NEW at this compared to a lot of people and even I'M telling you, go for it! I'm more than happy to help you, too! I have a really detailed step-by-step guide to setting up a blog, and a growing list of blog resources that I use on my own blog. If you need any further help, don't hesitate to ask me in the comments!
'Til next month! And, as always, thank you for your support. I wouldn't be living my dreams if it wasn't for you!