This Paleo and Whole30 Creamy Paprika Chicken and Veggies One Pot Meal is the perfect recipe to throw together for a busy weeknight meal, or easy meal prep! It's dairy free but still so creamy and filling. It's loaded with veggies and tons of flavor, so it's one the whole family will love.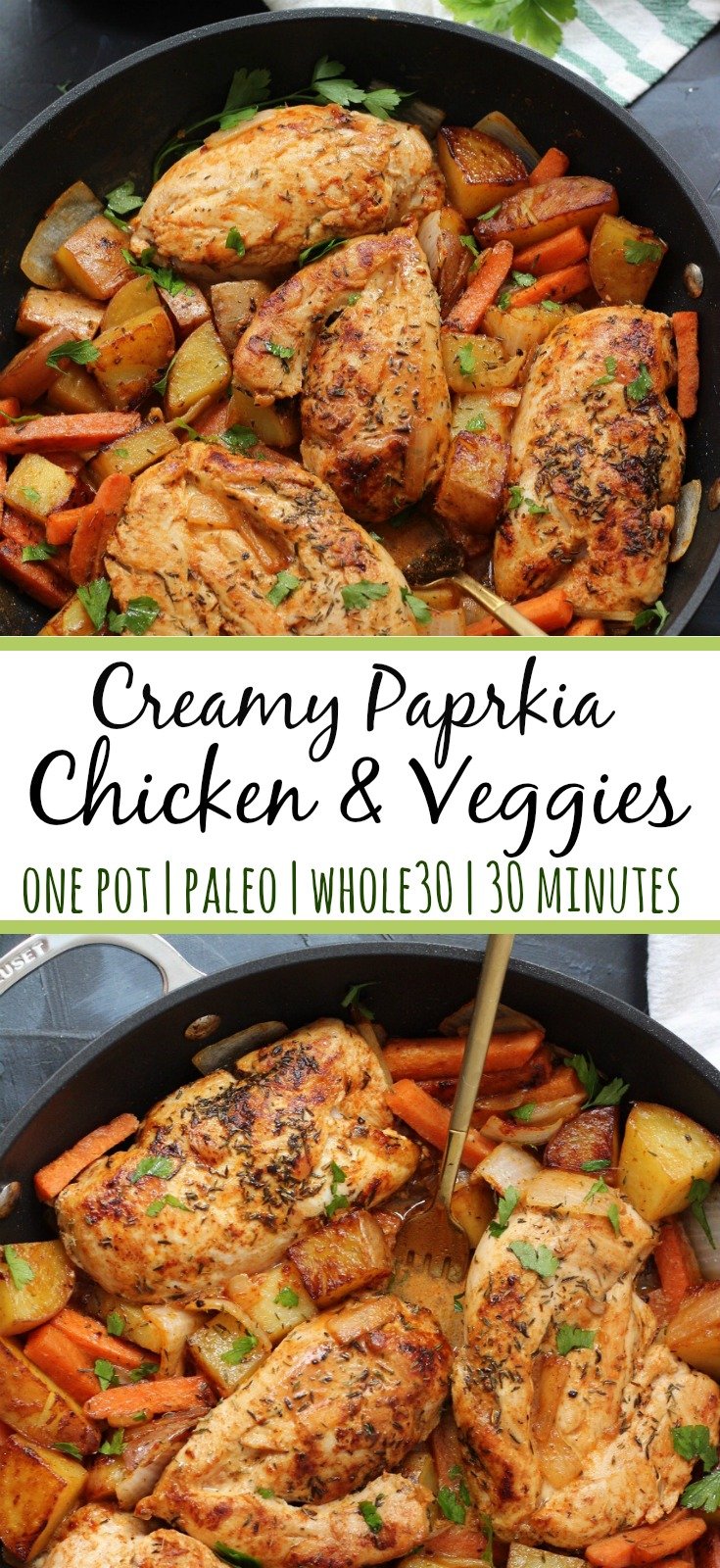 Somedays I wish I was the type of person to enjoy spending hours on one meal but… reality is most days I'm like "what is in this refrigerator that is still edible and can I cook it in one pan?"
Case in point: this creamy paprika chicken & veggies one pot meal that is a lifesaver more times than I care to admit. It really is just tossing things into a pan, but, in like the most delicious combo ever.
Paprika on it's own is often too much for me and it's not my favorite flavor. But when you add it to some chicken and veggies, and mix paprika into a creamy sauce, it's pretty magical. Just saying.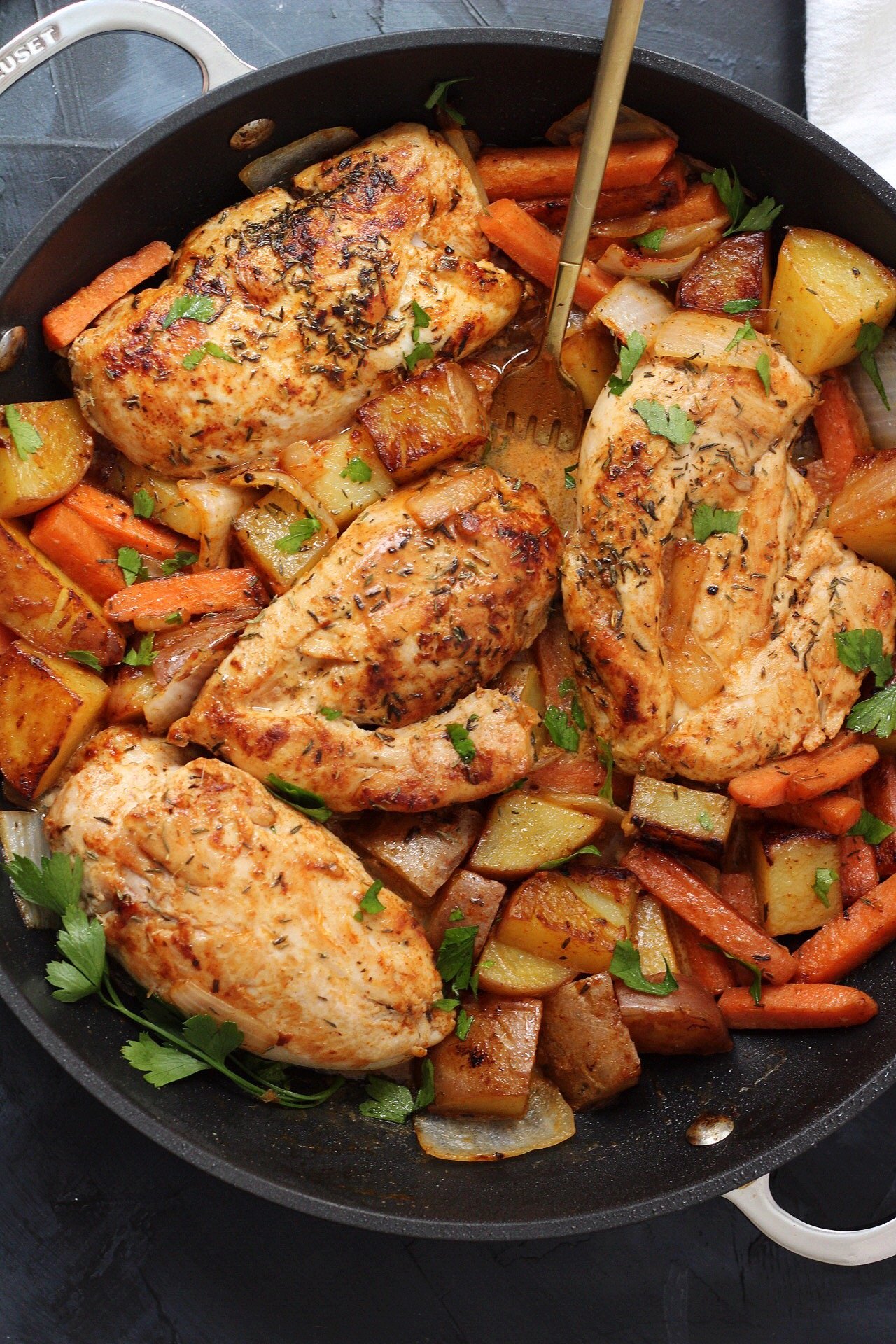 Another thing I love about one pot meals is that you can really change out any of the meat and veggies. I guess that's what I love about all recipes though. Recipes are just templates you can use depending on what you have or what you like. Don't want the chicken in this creamy paprika chicken skillet? No problem! Use pork chops! Use zucchini instead of potatoes if ya' got them!
While I love this creamy paprika recipe, I also love it about a million other ways, so don't be afraid to play around your kitchen. You might just discover a winning combo!
The recipe calls for tapioca flour, which is a cornstarch replacement. If you have arrowroot flour or coconut flour, those will work too. I always get my flours from Thrive Market, which is just a cheaper option. But they also have them at Whole Foods and some other health oriented grocery stores.

Gelatin is also a great thickener for sauces. Just remember with gelatin, the sauce has to start cooling before it thickens. It won't thicken while it's over heat so don't keep just adding more to the creamy paprika chicken because it's not getting thick!
It's also important to add the flour you're using in slowly while whisking with a fork. Dumping it in will lead to the liquid in the creamy paprika chicken clumping. Slow and steady wins the race!
Other posts you might be interested in:
My Thrive Market Whole30 Staples
Bacon and Veggie Breakfast Skillet
One Pan Honey Mustard Chicken Skillet
Print
Paleo Creamy Paprika Chicken and Veggies One Pot Recipe
Prep Time: 5 minutes
Cook Time: 30 minutes
Total Time: 35 minutes
Yield: 4 1x
Category: Entree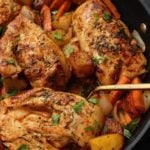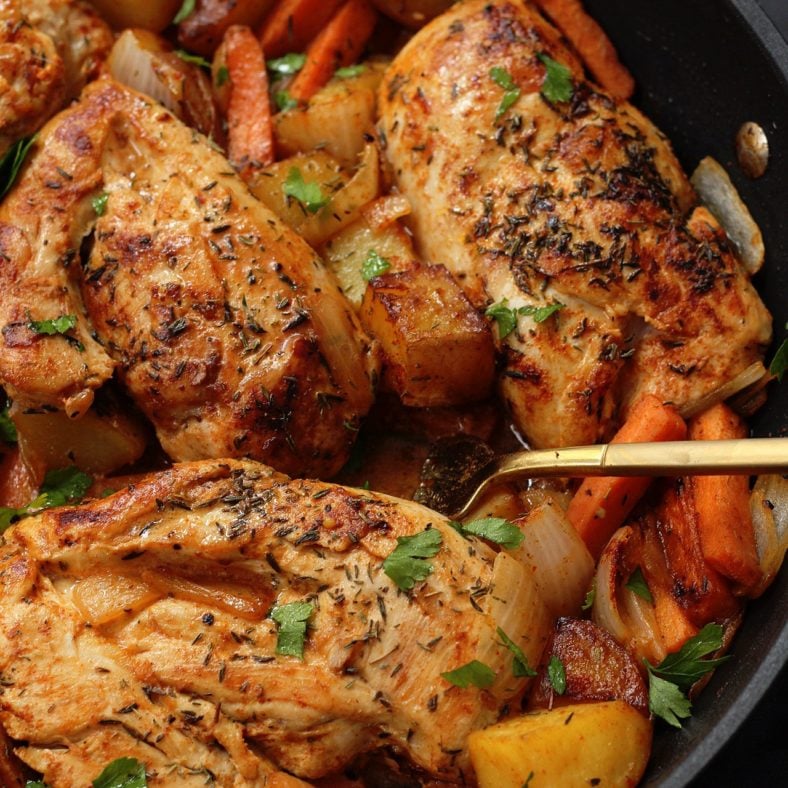 Ingredients
4 chicken breasts
2 cups cubed red potatoes
1.5 cups sliced or diced carrots
1/2 cup diced onion
1/2 cup each chicken broth
1/2 cup almond milk
2 tablespoons paprika
2 tablespoons olive oil
1 tablespoon minced garlic
1 tablespoon dried thyme
3 teaspoons tapioca flour
1 teaspoon salt
1 teaspoon pepper
Instructions
Add oil and chicken to large skillet over medium heat
Cook for 5 minutes each side and remove from pan
Add potatoes, salt, pepper and a bit of additional oil if needed to prevent burning
Once potatoes soften, add carrots, cook for 5 minutes and add onion
Add chicken back in then add garlic, broth, thyme & paprika. Stir to combine
Let cook another 10 minutes until chicken is cooked completely
Clear a space in center of pan, and add nut milk
Whisk in tapioca flour with a fork first to nut milk, then stir into the rest of the dish
Bring to a simmer to thicken sauce
Remove from heat & enjoy!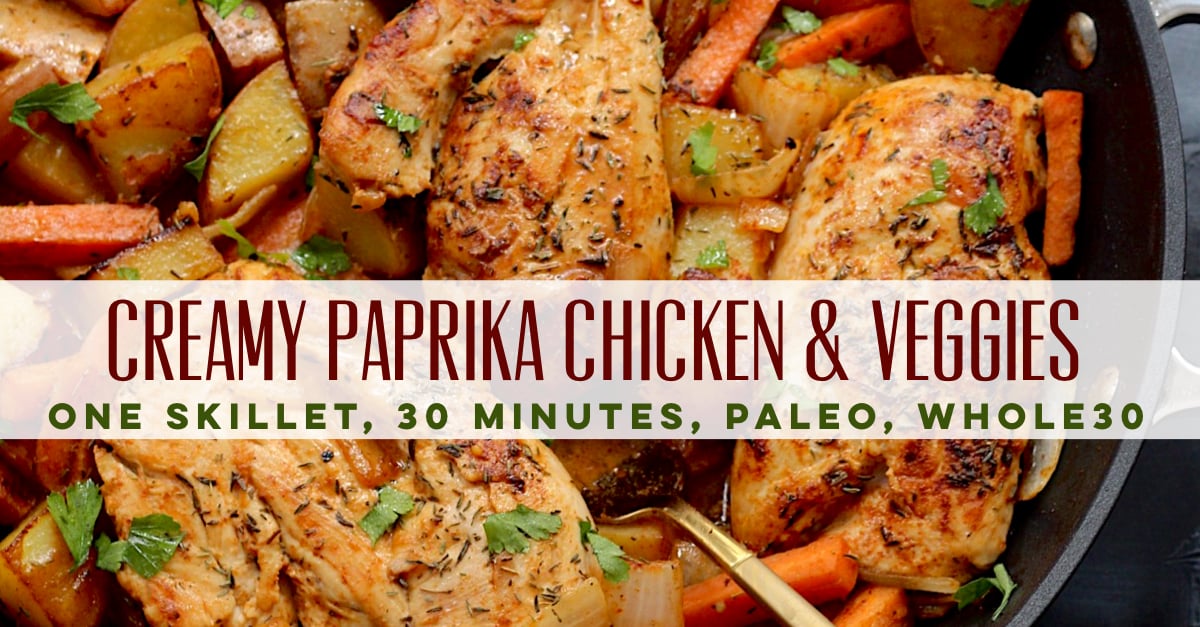 This post contains affiliate links, though all products are ones I use personally and recommend. When you purchase anything using my links, it costs you absolutely nothing extra, but it does give wholekitchensink.com a little financial support which helps to keep this blog running. Thank you for your continued support, both with your dollars and your interest.