It was a ways into my sparkly new Paleo life that I discovered the not-so-secret about spaghetti squash. I arrived late to that party. Better late than never, right? Since then, I've been using it in my meal rotation in some form or another almost weekly. I hit the jackpot when I realized I could take my favorite Caesar dressing I've got in the fridge to transform this magical veggie yet again.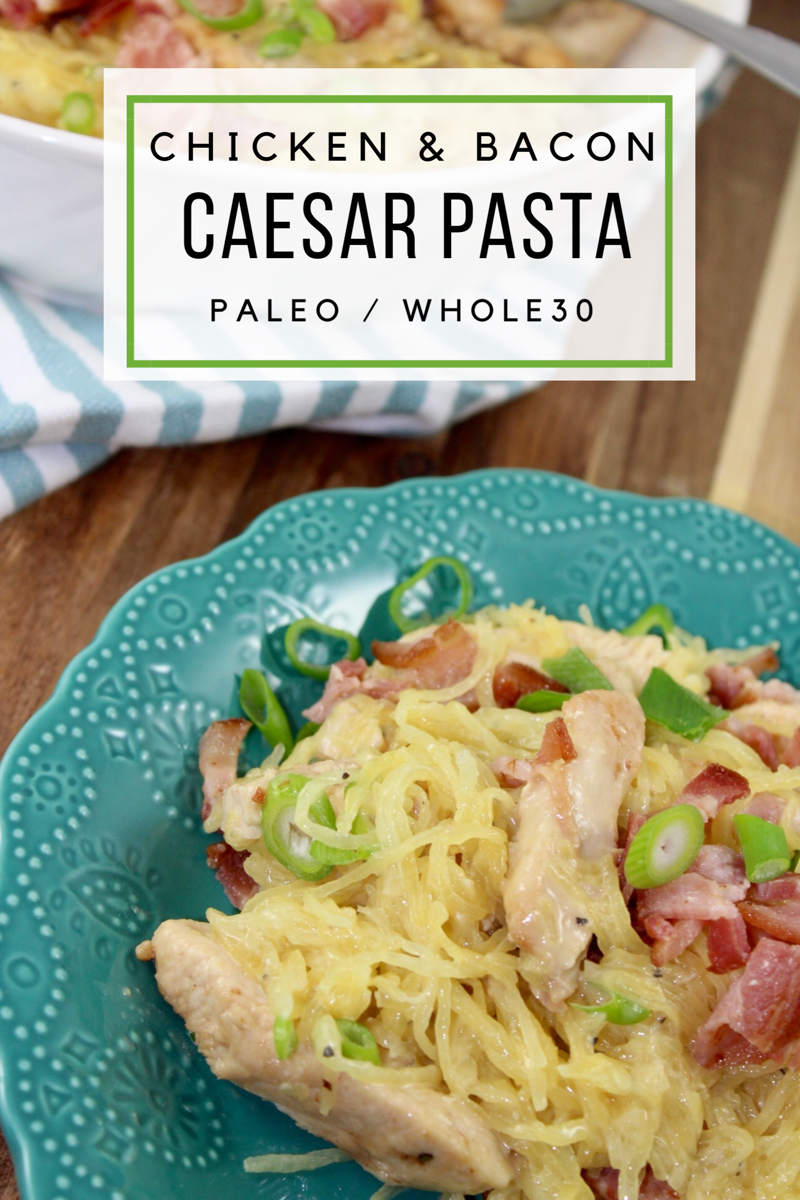 The Caesar dressing that I always use is from Primal Kitchen. Their dressings are so versitle and have tons of applications in my kitchen. They're all made with avocado oil, a super-duper healthy fat, so I can feel good about throwin' it on everything. Take this pasta for example. Whole30 and Paleo too, of course.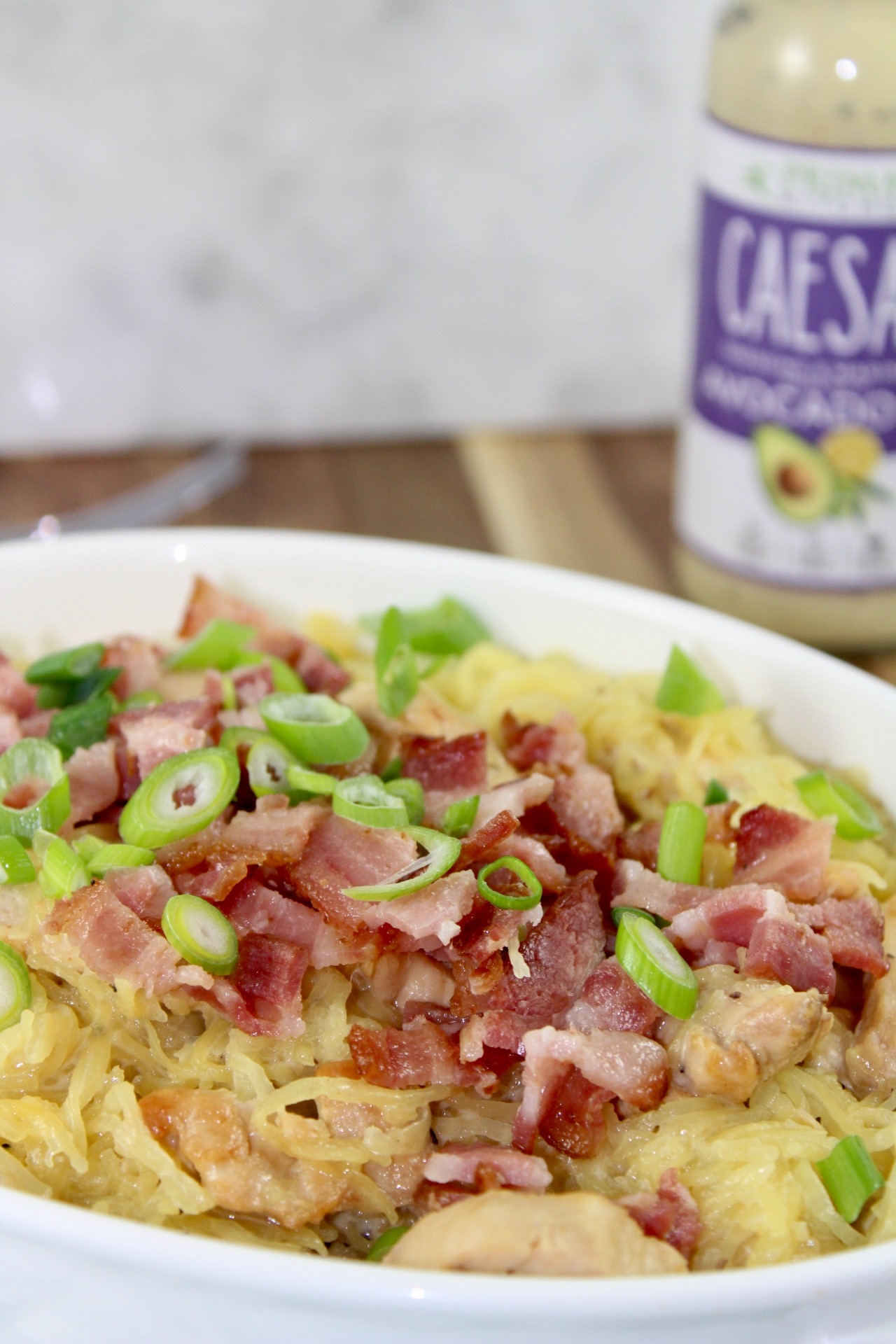 It's quick and easy to make. Especially if you already have the spaghetti squash threads pre-cooked, like I usually do. When I'm going to be baking one of these bad guys, I always double it and bake two. That way I can save the extra one for an easy dinner or a simplified meal prep session. Just freeze the threads from the extra squash and defrost it when you're ready to use!
There's a few ways to prepare a spaghetti squash to get the threads. I typically bake them but it's not the fastest way to do it. Check out the other methods for cooking spaghetti squash. Once you have the threads removed and ready to go, this recipe is smooth sailing.
Make sure to squeeze out all excess water from spaghetti squash noodles if you're using threads that have been frozen. To do this, I just place them in a strainer and squeeze individual handfuls over the sink. I set each handful aside in a separate bowl until there's no more squash left in the strainer.
I prefer to cook up the sliced chicken breasts after I've finished the bacon so I can cook the chicken in the bacon fat. Extra juicy, extra tasty chicken for this girl, please! If you've already got the bacon made, no biggie! Just heat up a few tablespoons in a skillet before adding the chicken then. You could also marinade the chicken in some Caesar prior to cooking for added flavor if you're not cooking it in the bacon fat.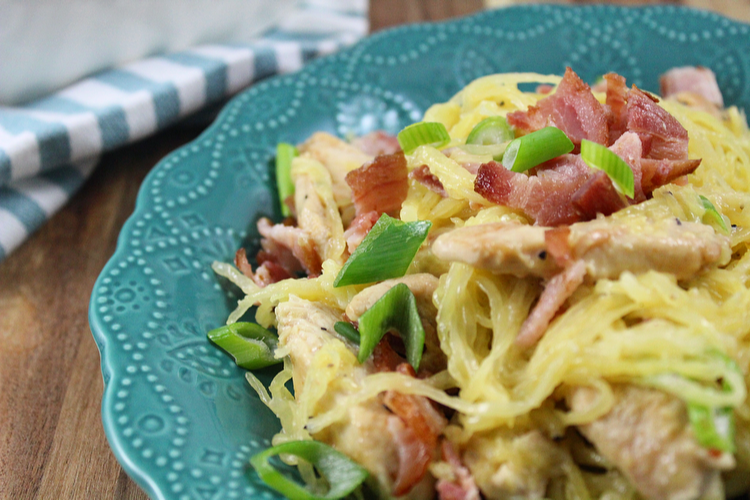 For a regular, medium sized spaghetti squash you'll need about 1 cup of Caesar dressing. If you have a larger squash or it's not saucy enough for your preference, just add a bit more! This dish is highly customizable. You could add halved cherry tomatoes, red onion, arugula, whatever you have on hand that sounds good. Go on and get creative with your chicken bacon Caesar spaghetti squash pasta!
Print
Hungry for more? Subscribe to my newsletter to get new recipes delivered straight to your inbox! And be sure to stay in touch on Facebook, Pinterest and Instagram for all of the latest updates.
Chicken and Bacon Caesar Spaghetti Squash Pasta
Prep Time: 5 minutes
Cook Time: 20 minutes
Total Time: 25 minutes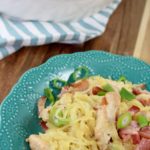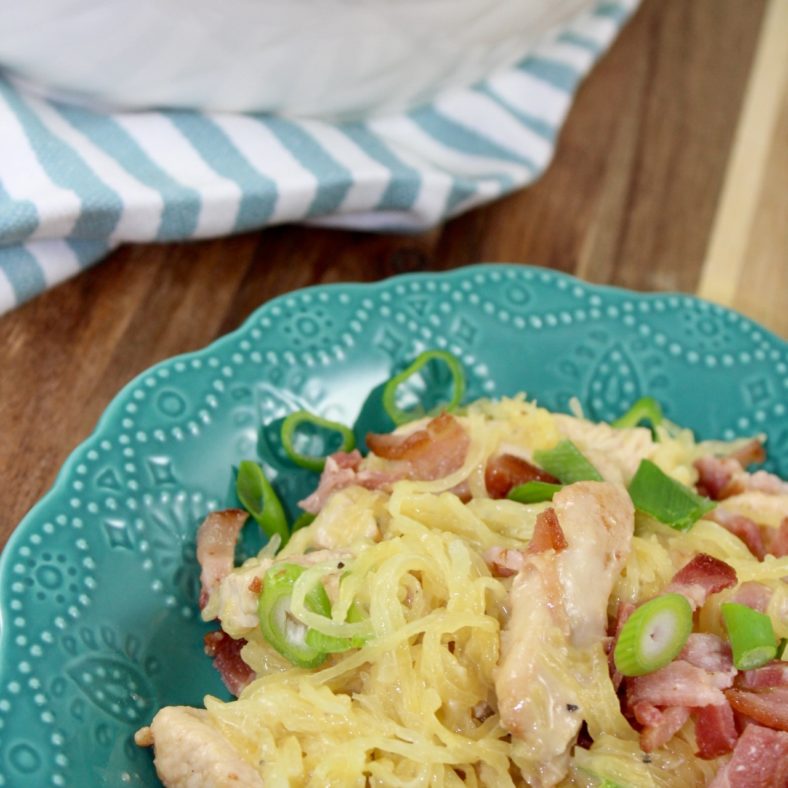 Ingredients
Threads from 1 medium spaghetti squash (for ways to cook, check here)
2 large chicken breasts, sliced
6–8 slices bacon, cooked and chopped
1 teaspoon salt
1 teaspoon pepper
1/2 tablespoon minced garlic
Sliced green onions and bacon to garnish
Instructions
In a large pan, cook the bacon, removing once done but leaving bacon fat in pan
Add sliced chicken and garlic
Cook about 4 minutes on each side, or until cooked thoroughly
While chicken is cooking, chop up the bacon
Remove chicken from pan one completed and set aside
Remove excess bacon fat from pan and add spaghetti squash threads, salt and pepper
Once it begins heating, add in Caesar dressing
Heat "pasta and sauce" and stir in chicken and bacon, leaving a little bit of the bacon out to garnish if desired
Once the pasta is hot, remove from heat and serve!
This post contains affiliate links, though the products are ones I frequently use personally and recommend. When you purchase anything using my links, it costs you absolutely nothing extra, but it does give wholekitchensink.com a little financial support which helps to keep this blog running. Thank you for your continued support, both with your dollars and your interest.