The best meals are meals that don't require a zillion ingredients and even more dirty dishes. That's why I take advantage of making one pan meals as often as I can. This one pan roasted Caesar salmon and romaine gives me my veggie and my protein all on one sheet pan, all at one time. Who doesn't love killing two birds with one stone on a busy weeknight?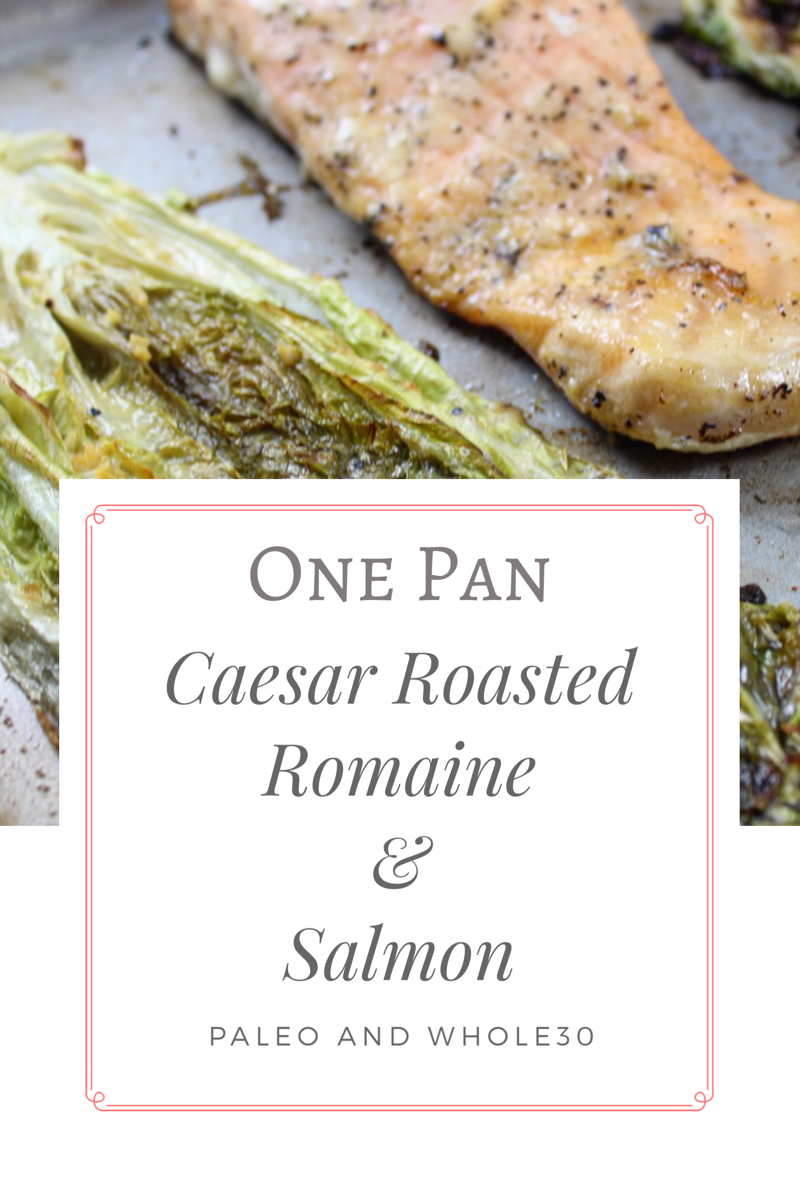 If you've never roasted romaine before, you totally have to try it. Roasting it chars the edges while softening the inner layers. It's a totally different way to enjoy a veggie that's commonly consumed raw. Changing things up and trying something new is always a good thing and you never know! It could become your new favorite roasted veggie.
What adds even more to love about roasted romaine is brushing it with some Caesar dressing before throwing it in the oven. It caramelizes the outside and is warm and creamy in the bottom layers. Perfect for throwing the salmon on top of to eat as a roasted salmon Caesar salad!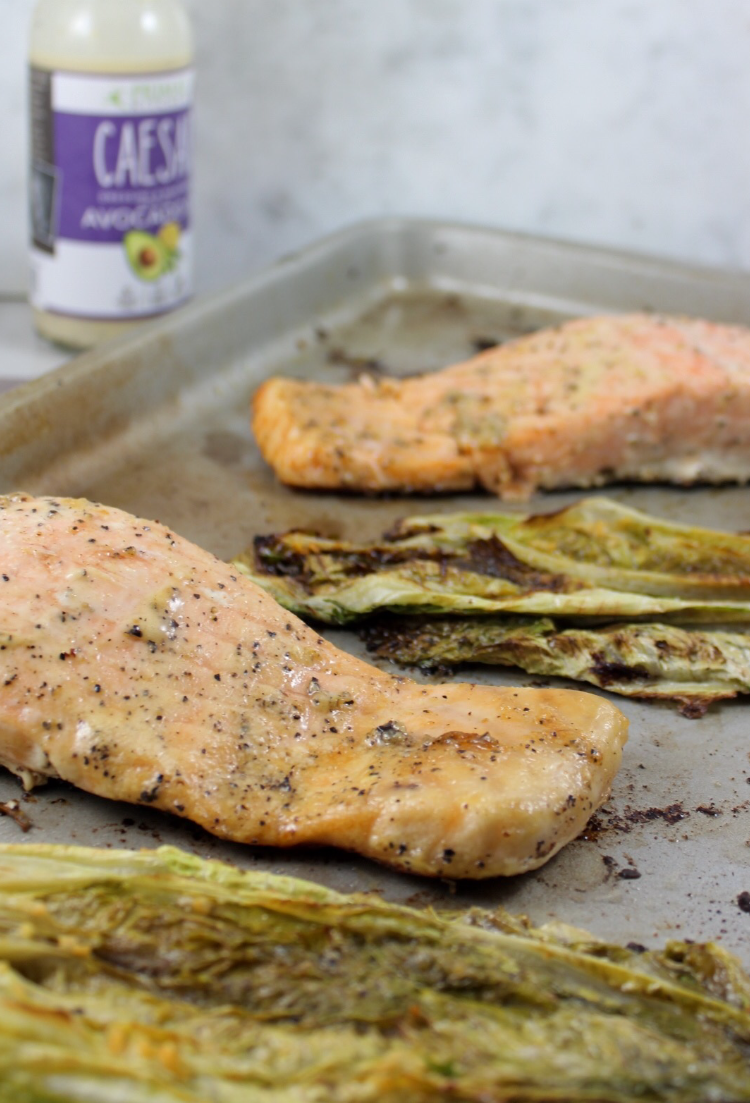 I also love baking salmon with Caesar dressing too. I get bored with the same lemon pepper salmon I often fall back on. The nice thing about using Caesar dressing with this dish is that I only need to have one ingredient that's used for the entire meal. If you've been following along, you know less work for me (and you) is the main goal here.
I made this Caesar salmon on a smaller sheet pan, but you could totally use a larger one and double the salmon and romaine for a larger meal prep. You could also add more veggies like cherry tomatoes, red onions or potatoes. Just thinking about Caesar potatoes is making me hungry right now!
Ever since I got my hands on Primal Kitchen's new Caesar dressing (use code GROK15 to get 15% off your order!), I can't stop day dreaming about it. It's the best Caesar that's Paleo and Whole30 approved ever and I'm putting it on basically everything right now until I get sick of it… Which will likely be never.
When you're cutting the romaine in half, make sure to make them as evenly sliced as possible. You want them to cook equally and they burn more easily if they're too thin. If that's the hardest part about this one pan meal, I think we're doin' pretty well 😉 If the Caesar salmon is done but you want your romaine a little more crispy like I did, just remove the salmon and continue to bake the romaine hearts for a few more minutes!
Print
One Pan Caesar Roasted Romaine and Salmon
For easier clean up, line the baking sheet with tinfoil
Prep Time: 5 minutes
Cook Time: 15 minutes
Total Time: 20 minutes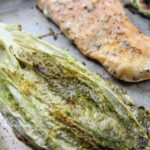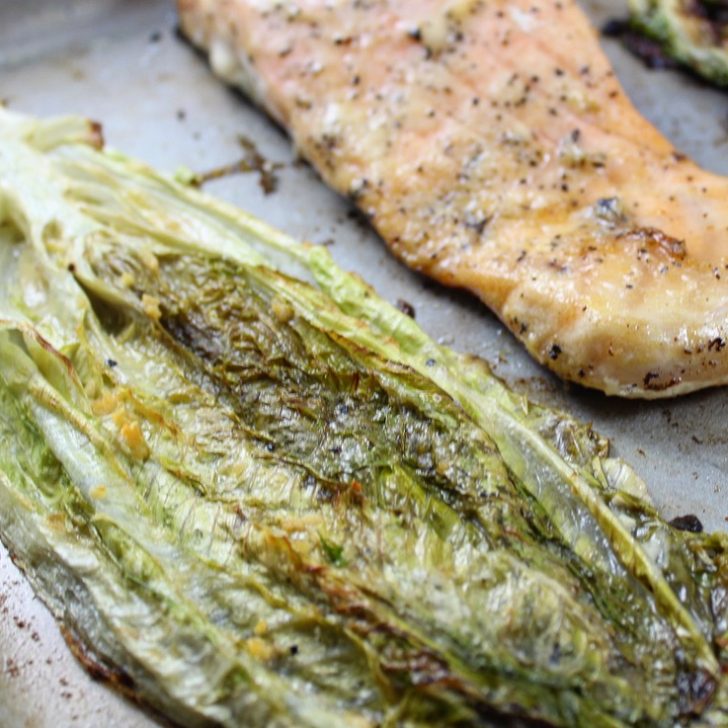 Ingredients
3 salmon fillets
2 large hearts of romaine, sliced lengthwise
2 tablespoons avocado oil or olive oil
3–4 tablespoons Caesar dressing
1/2 tablespoon minced garlic
1 teaspoon salt
Instructions
Preheat oven to 400 degrees F.
Use a paper towel or brush 1 tablespoon oil over pan to grease
Use remaining tablespoon of oil to brush fish and both sides of the romaine slices
Place romaine and salmon on the sheet pan, skin side down
Sprinkle salt and minced garlic over both the fish and romaine on the pan
Use a brush to coat salmon and romaine with the dressing, making sure to get inside the leaves of the romaine
Place in oven and bake for about 15 minutes, until fish is cooked to your desired flakiness
This post contains affiliate links, though the products are ones I frequently use personally and recommend. When you purchase anything using my links, it costs you absolutely nothing extra, but it does give wholekitchensink.com a little financial support which helps to keep this blog running. Thank you for your continued support, both with your dollars and your interest.