These balsamic glazed Paleo chicken wings are so good it'll be hard to believe they're so healthy! After realizing (very quickly) that traditional restaurant wings were out of the question if I were looking for Paleo options, I started playing around with tons of variations of my own. I've made them dozens, if not hundreds, of times in all different flavors and baking methods. Even with all of the different kinds I've made, my killer buffalo wing recipe only shares the title as my favorite recipe for chicken wings with these balsamic wings.
What makes these Paleo chicken wings even better is that I never have to make a special trip to the store to make them. All of the ingredient are pantry staples that I always have on hand. They're pretty basic stuff so most likely you will, too. These chicken wings are my boyfriends favorite so they're easy to whip up for an easy lunch or a night in on the couch.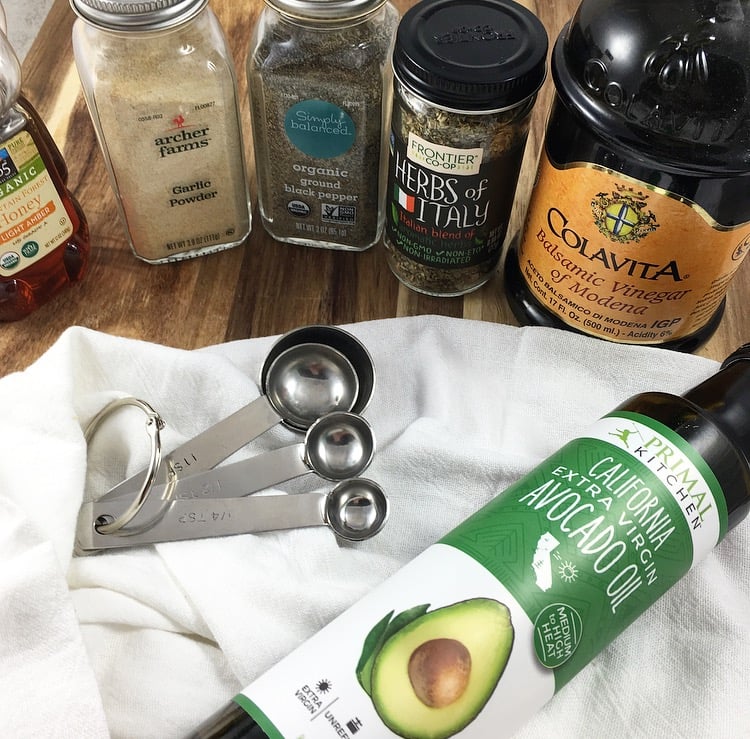 The best way I've found to make wings at home is to place a wire rack on top of a baking sheet instead of setting them directly onto the baking sheet itself. This allows the fat to drip off during baking, making the wings crispy but still juicy. When they bake in the fat that comes off during cooking they end up greasier than you wanted.
Pro tip: do not forget to line the baking sheet with tin foil before you bake them. It makes clean up SO much easier. You'll make this mistake once and then never make it again. Trust me.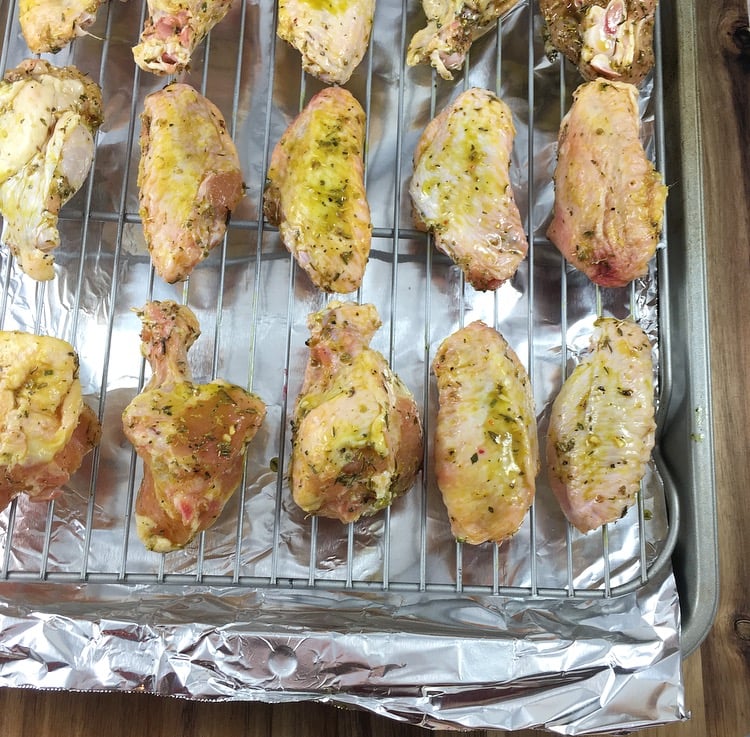 I use Primal Kitchen's Extra Virgin oil because it's an avocado based oil. It's an easy way to sneak in better-for-you healthy fats. It also has a high smoke point, making an even better glaze in the last step of these balsamic glazed Paleo chicken wings. Any EVOO will do, but I've been using this stuff for over a year now with no plans on slowin' down. The last step may seem complicated but it's super quick and simple. The actual balsamic glaze it's self is only 3 ingredients, making it no hassle to whip up. You can omit the honey if you're doing a Whole30.
The actual work you're doing for the recipe doesn't take more than 10 minutes. Most of the time required comes from simply baking the wings in the oven. After you've reduced the glaze down, instead of finishing the wings up on the stovetop, you could just coat the wings and place them back into the oven for an additional 5-10 minutes if you want to. In my opinion, it's doesn't save you much time. You'll get a better "glaze" by cooking the chicken wings in the pan for a few minutes.
Print
Hungry for more? Subscribe to my newsletter to get new recipes delivered straight to your inbox! And be sure to stay in touch on Facebook, Pinterest and Instagram for all of the latest updates.
Balsamic Glazed Chicken Wings: 6 Ingredients You Already Have
Prep Time: 5 minutes
Cook Time: 1 hour
Total Time: 1 hour 5 minutes
Yield: Serves 4-6 1x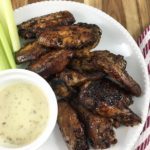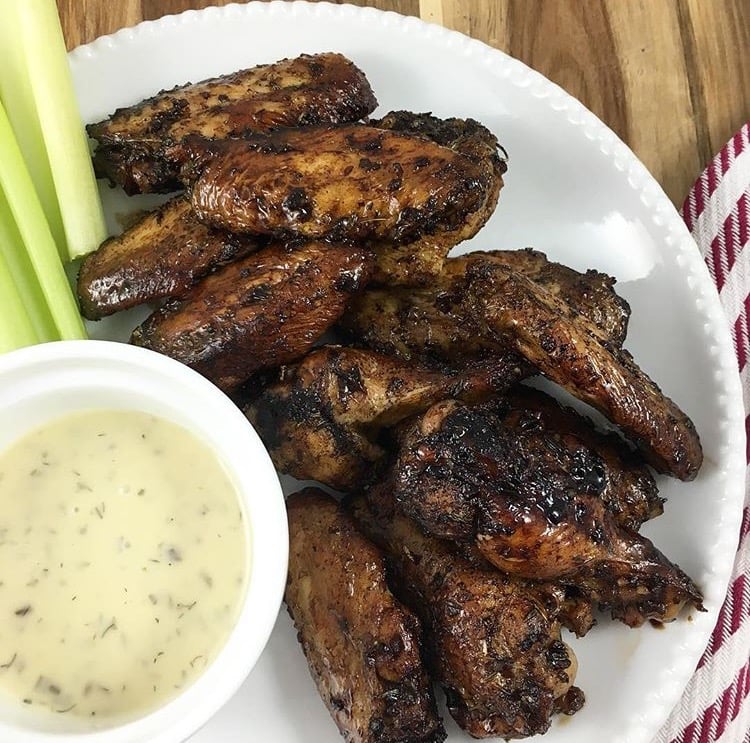 Instructions
Preheat oven to 350 degrees F.
Line a baking sheet with tin foil and place a wire rack on top
In a large bowl, coat wings with extra virgin olive oil, Italian seasoning, salt and pepper
Place wings onto wire rack in single layer, ensuring wings aren't touching each other
Bake for 50 minutes
Towards the end of the 50 minutes, add balsamic, honey and garlic to a small sauce pan and bring to a simmer for about 5 minutes
Place wings in a large bowl and pour in the sauce
In the same sauce pan, place as many wings as will fit in a single layer, with sauce, back into the pan over medium-low heat cooking for 2 minutes on each side
Repeat the last step until you've completed it for all of the wings (usually two times, depending on amount of wings used)
Nutrition Facts:
Calories: 395
Sugar: 5
Fat: 28
Carbohydrates: 5
Protein: 28
Have you made these balsamic glazed Paleo chicken wings? Who liked them more, you or your S/O!?
This post contains affiliate links, though the products are ones I frequently use personally and recommend. When you purchase anything using my links, it costs you absolutely nothing extra, but it does give wholekitchensink.com a little financial support which helps to keep this blog running. Thank you for your continued support, both with your dollars and your interest.