This Whole30 Lemon Chicken and Squash Skillet is Paleo, under 30 minutes, low carb and only made in one pot. This is a perfect summer dish for meal prep, or for a family friendly weeknight meal you won't have to heat up your kitchen for. What I love about this meal is it's filling and full of seasonal veggies, but it's also light and fresh at the same time!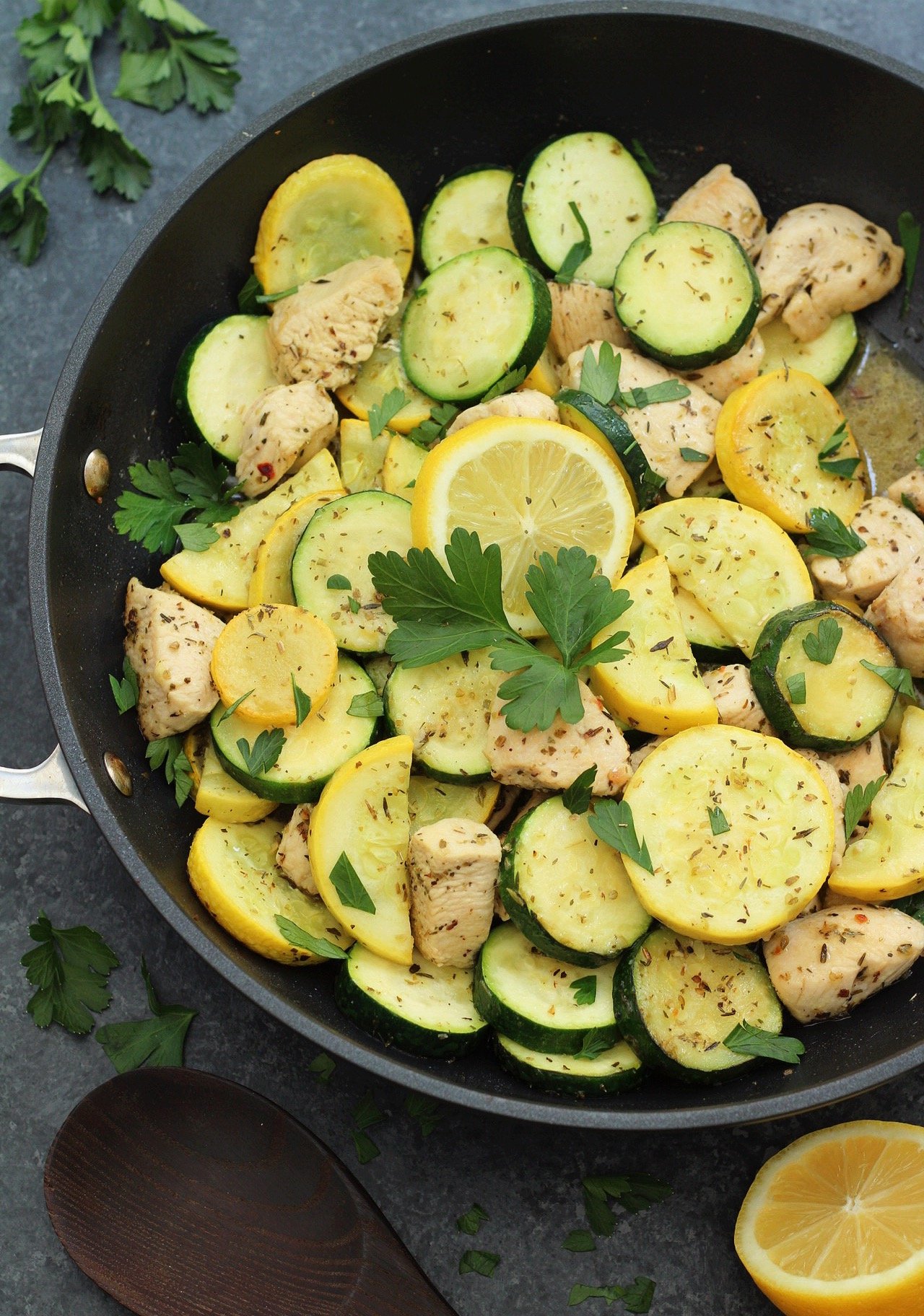 This time of year I'm constantly finding awesome sales on zucchini and summer squash at the grocery stores or farmer's market. That, and my Nana sends me home with what seems like dozens of them from her garden. Now that we're in our first house, this is going to be my first summer where I'm able to garden! My Nana assures me that zucchini and summer squash are easy to grow, even for someone like me who has killed every plant I've ever had.
Any gardening tips, I'm all ears! I really want to start growing some of my own veggies and seeing how much I can help cut down on my food costs.. because budget, ya know?!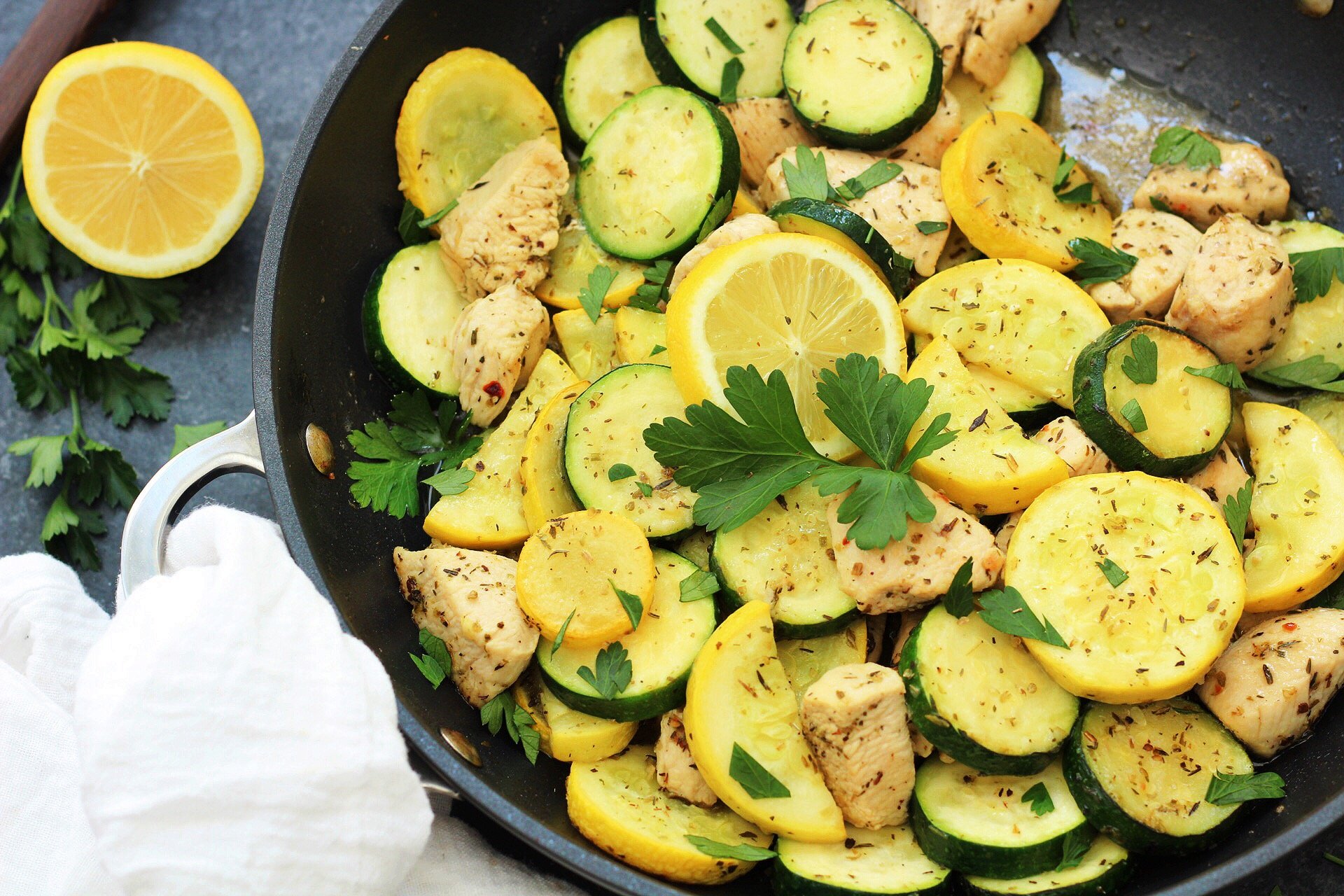 Back to this tasty Whole30 lemon chicken one pan meal. It's really only a few simple ingredients, and some spices you'll already have hanging out in the kitchen. You're going to want to cook the chicken a little more than halfway first. This is to ensure the summer squash and zucchini doesn't overcook and get way too mushy.
Another tip there, if you're making this for meal prep and not for a quick weeknight meal, you'll maybe even want to take the pan off the heat prior to the squash being cooked fully. Leaving the veggies a bit "al dente" or just fork tender prior to putting them in meal prep containers is the way I prefer it. This will make sure that when you reheat your lunch, the squash will just cook thoroughly, instead of overcook and get soggy.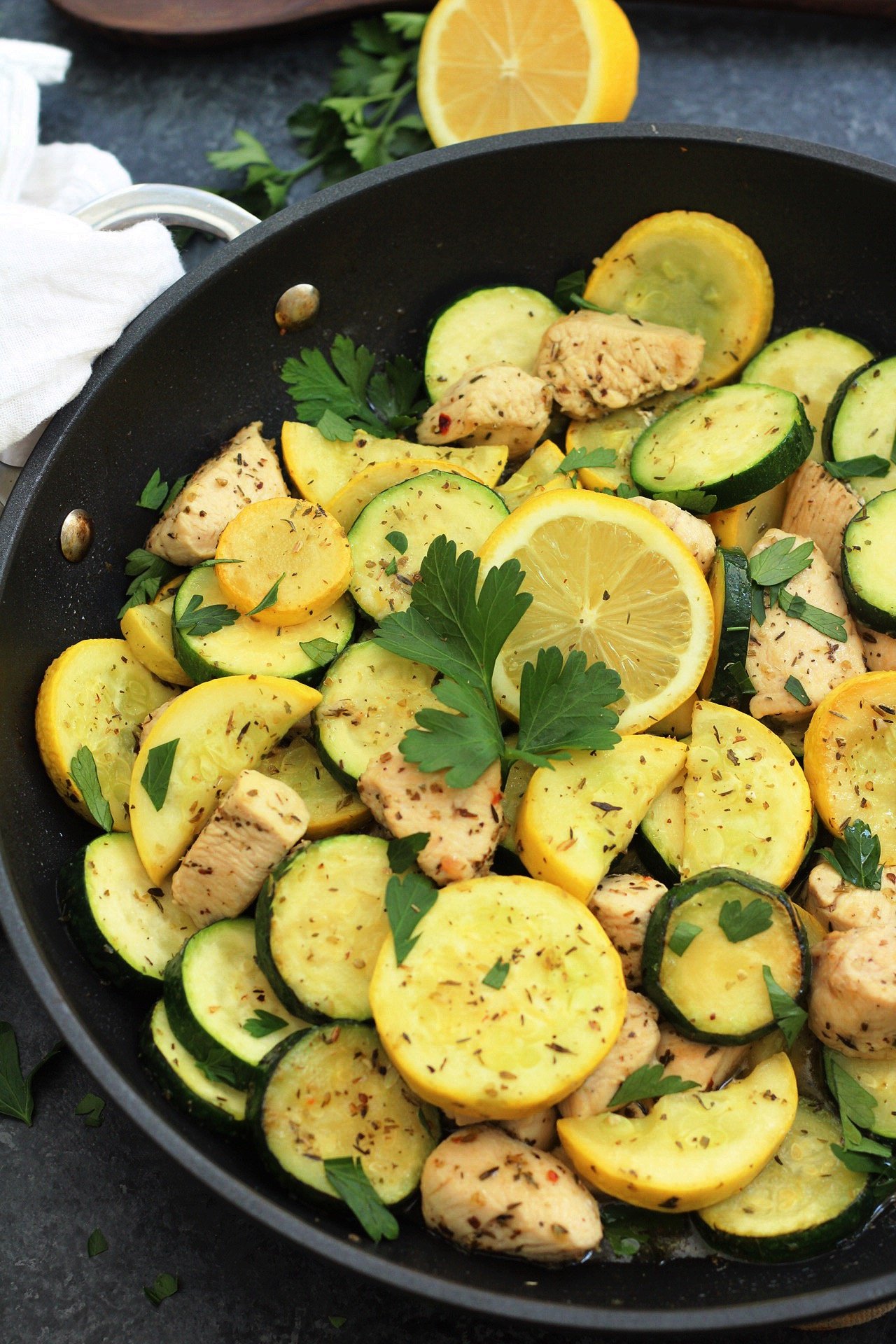 For meal prep, I also add a folded paper towel to the top of each container prior to closing the lid. This is a good practice to get into with veggies that have a high water content. It helps to absorb the water that the veggies naturally release. I also do this with cauliflower rice, sweet potatoes (noodles, too!), steamed broccoli, etc.
Other One Pan Whole30 Recipes You'll Love:
Print
Hungry for more? Subscribe to my newsletter to get new recipes delivered straight to your inbox! And be sure to stay in touch on Facebook, Pinterest and Instagram for all of the latest updates.
Whole30 Lemon Chicken and Squash Skillet (Paleo, Low Carb)
Prep Time: 10 minutes
Cook Time: 20 minutes
Total Time: 30 minutes
Yield: 4 1x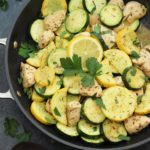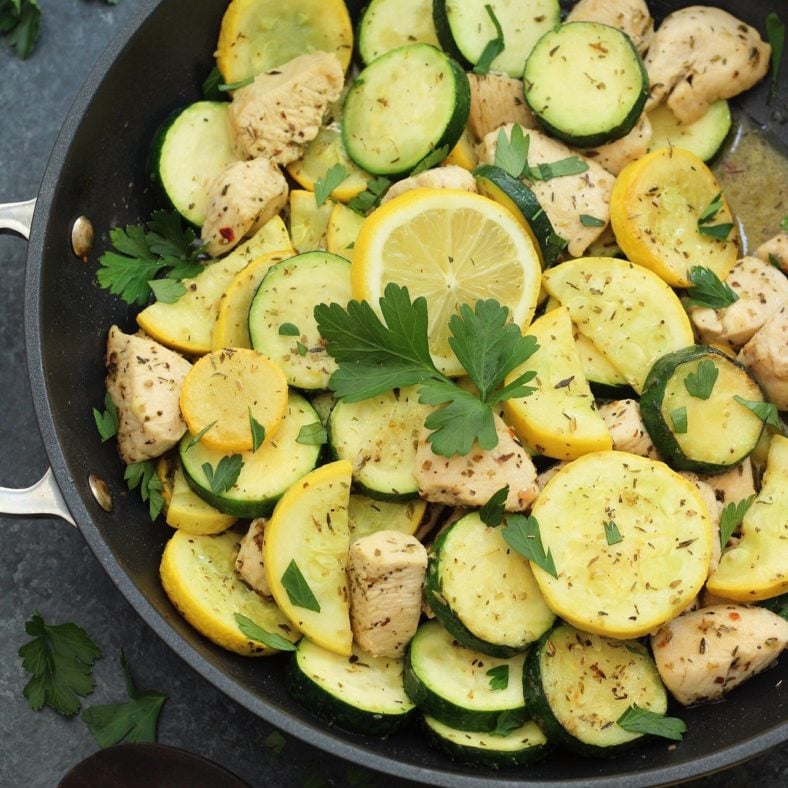 Ingredients
1.5 pound boneless chicken breasts, diced into 1–2" cubes
2 small, or 1 large zucchini, thinly sliced (about 2 cups)
2 small, or 1 large summer squash, thinly sliced (about 2 cups)
1/4 cup chopped parsley
2 tablespoons Italian seasoning
2 tablespoons avocado oil
2 tablespoons ghee
1 tablespoon minced garlic
1/2 tablespoon dried basil
1 teaspoon onion powder
1/2 teaspoon salt
1/2 teaspoon pepper
Juice of 1/2 lemon
Instructions
Heat ghee and 1 tablespoon oil in a large skillet over medium heat
Add diced chicken, minced garlic, Italian seasoning, onion powder, salt and pepper to the pan
Stir well to season chicken, squeeze 1/2 of the halved lemon into the skillet, stir again to combine
Cook diced chicken about 4 minutes on each side until almost cooked thoroughly (a little opaque still is okay)
Add in zucchini, summer squash, dried basil, fresh parsley, and 1 tablespoon of oil. Stir to combine
Squeeze the last 1/2 of the halved lemon into the skillet
Cook about 5-7 minutes until squash has softened to desired taste
Garnish with additional lemon slices or parsley and enjoy!
Notes
*Slice zucchini and summer squash rounds in half if squash is wider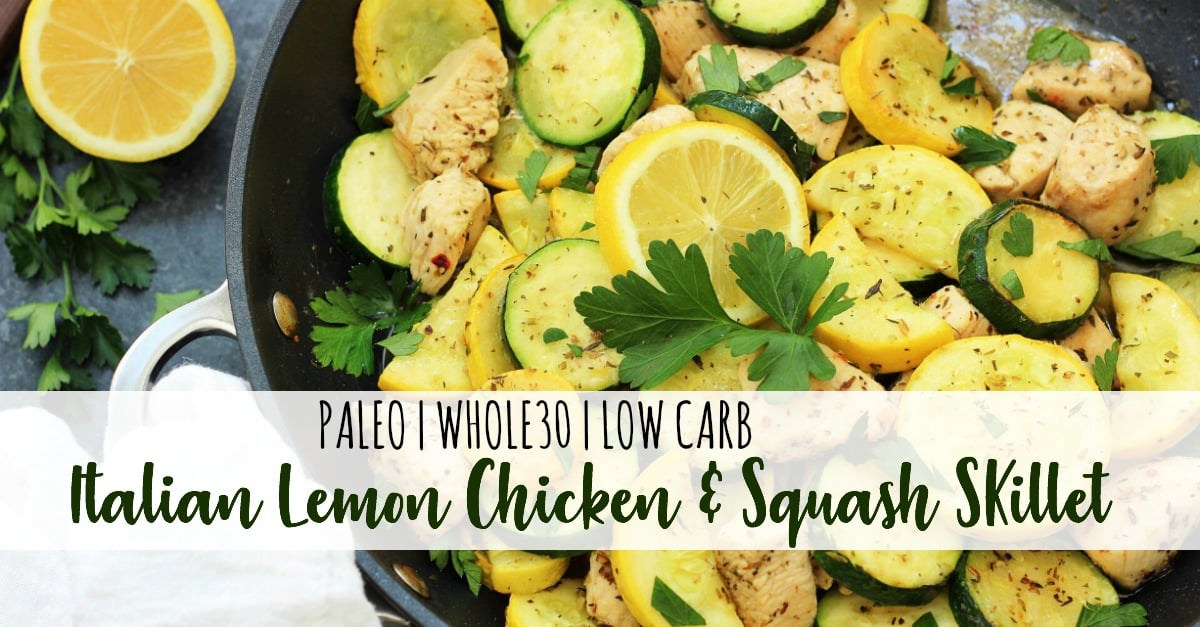 This Whole30 Lemon Chicken Skillet post may contain some links that are affiliate links, though products are ones I use personally and recommend. When you purchase anything using my links, it costs you absolutely nothing extra, but it does give wholekitchensink.com a little financial support which helps to keep this blog running. Thank you for your continued support, both with your dollars and your interest.