I know it's not summer, but can we all just pretend for a quick minute? A quick minute is all you'll really need to make this anyway. A quick minute is how fast this meal will be gone, too. This seared salmon with avocado salsa was one of my favorite things to make over the summer months when I would fire up the ol' grill. I didn't want to give it up just because it's too cold to even THINK of going outside. So I decided to pan-sear it instead!
I never used to cook salmon before I started taking care of myself and my health and if I did, it was just baked in the oven. Don't get me wrong, there's plenty of ways to making amazing fish in the oven. My point is that I never experimented with making different flavors and spice mixes. I'm glad I did because I would have seriously missed out on this if I had stuck with plain, baked salmon. This one has a little spice and makes for a nice mid-week change of pace. Or a great meal for a night on the deck with some beers.
Wait, did I just say that out loud? 😉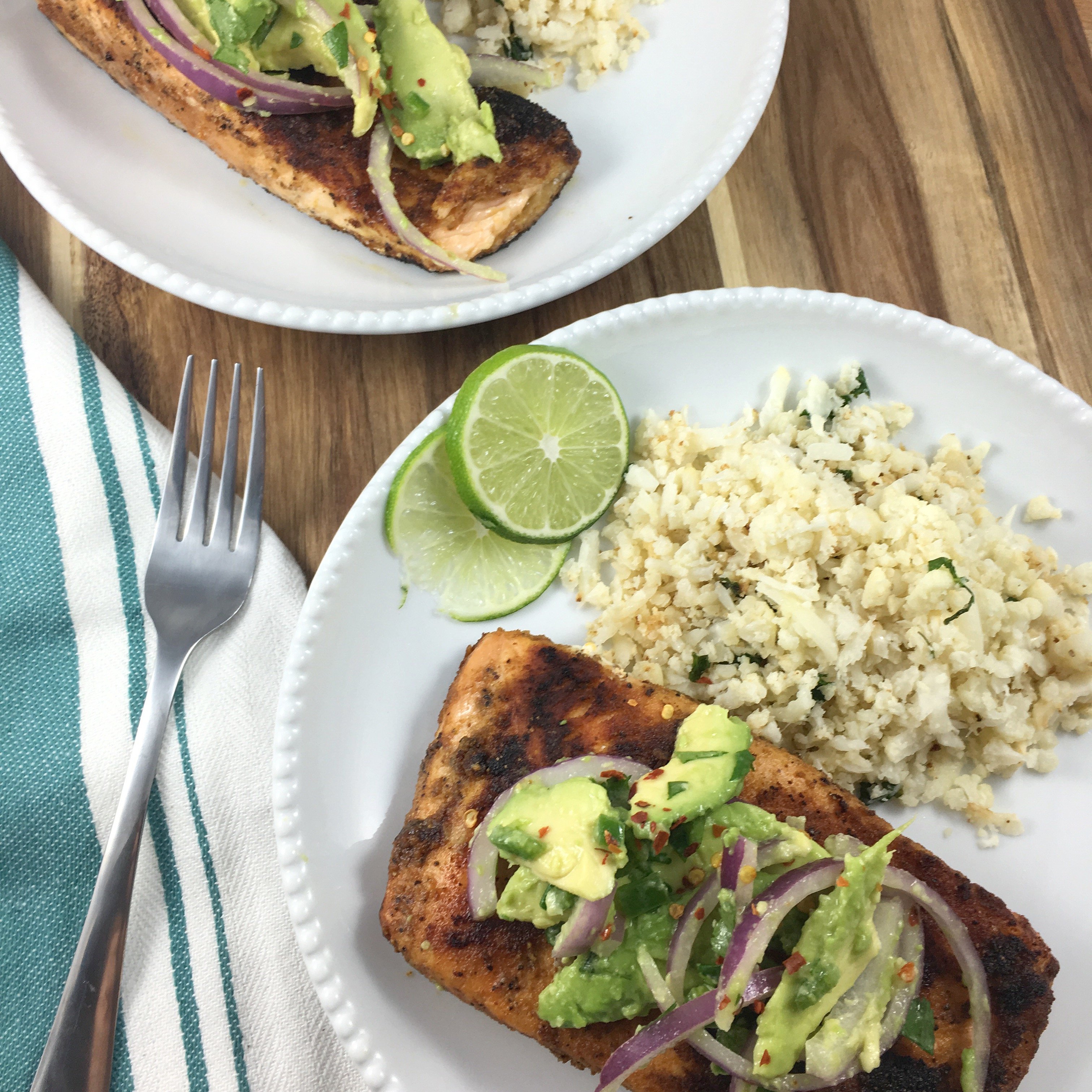 The avocado salsa isn't something you have to limit to this recipe either. Throw it on your fish/chicken/steak tacos next time. Add tomatoes, dice it a little smaller and use it for a dip for chips or veggies at your next party. It's a pretty universal side to have in your back pocket that you can change up easily as needed. It's quick to prepare while the fish is cooking and doesn't use many ingredients.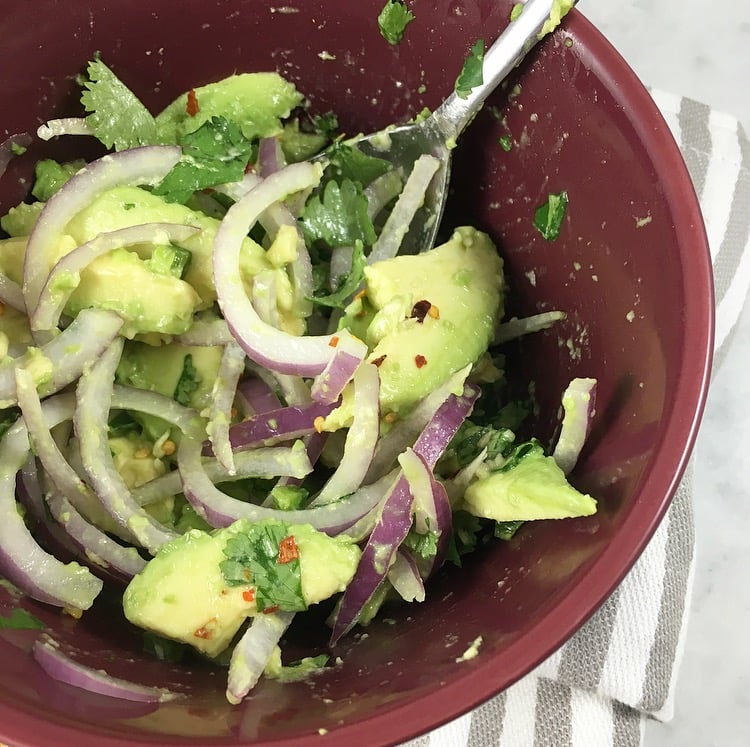 The recipe couldn't really get any more simple. You can grill or pan-sear depending on the season. Or, if you're reading this from sunny Arizona, go ahead and grill it now but just know I'm jealous and I hate you 😉
Let me know what you guys' think of this seared salmon with avocado salsa recipe!
Print
Seared Salmon With Avocado Salsa
Ingredients
For the Salmon
1 pound salmon
1 tablespoon olive oil or avocado oil
1 teaspoon pepper
1 teaspoon salt
1 teaspoon onion powder
1 teaspoon garlic powder
1 teaspoon cumin
1 teaspoon paprika
For the Avocado Salsa
1 avocado, pit removed, peeled and sliced
1/2 red onion, sliced
1/2 jalapeño, finely diced
1/4 cup chopped cilantro
2 tablespoons olive oil
Juice from 2 limes
1/2 teaspoon of salt, or to taste
Instructions
Mix ingredients for the salmon together in a small bowl, leaving out the olive oil
Rub the salmon with olive oil and the dry rub mixture
Allow to refrigerate for at least 30 minutes or make ahead the night before
Combine all ingredients for the salsa in a bowl, refrigerate until ready to serve, not longer than 30 minutes to avoid the avocado browning
Place on preheated skillet or cast iron pan for 4-5 minutes on each side, depending on thickness of fillet
*Apply the same method if grilling fish as well
Top seared salmon with the avocado salsa!
I served it here with cilantro-lime cauliflower rice
This post contains affiliate links, though all products are ones I use personally and recommend. When you purchase anything using my links, it costs you absolutely nothing extra, but it does give wholekitchensink.com a little financial support which helps to keep this blog running. Thank you for your continued support, both with your dollars and your interest.