This is thee easiest way to fancy up some veggies without having to do any extra work. Brussels get boring when they're roasted the same way over and over so I like to add in different things to keep them interesting. These roasted Brussels sprouts work for a simple meal prep all the way to up to a classy dinner you're throwing. Adding balsamic vinegar to this mixture ties it all together. It enhances the flavor a bit with a light glaze sort of feel. You can easily leave this out and just toss in a tiny bit of olive oil as well.
Most of these ingredients are things I always have on hand, too. It makes life easier when I can just open my cupboard and be ready to go. That's a big reason why most of the meals I make don't require any vanity or overly expensive items that you'll hardly ever use. I prefer functionality. And when I don't have one of the ingredients in here, I skip it or I add something different. No extra grocery store runs for this girl. I don't measure any of the ingredients out for these specific roasted Brussels sprouts either. It always depends on the amount of Brussels I'm working with. Just use a generous handful of each and toss in enough balsamic to coat. For a pound of Brussels, 3 slices of bacon is generally plenty!
Print
Hungry for more? Subscribe to my newsletter to get new recipes delivered straight to your inbox! And be sure to stay in touch on Facebook, Pinterest and Instagram for all of the latest updates.
Roasted Brussels Sprouts: Bacon, Cranberries and Walnuts, Oh My!
Prep Time: 5 minutes
Cook Time: 30 minutes
Total Time: 35 minutes
Yield: Serves 4 1x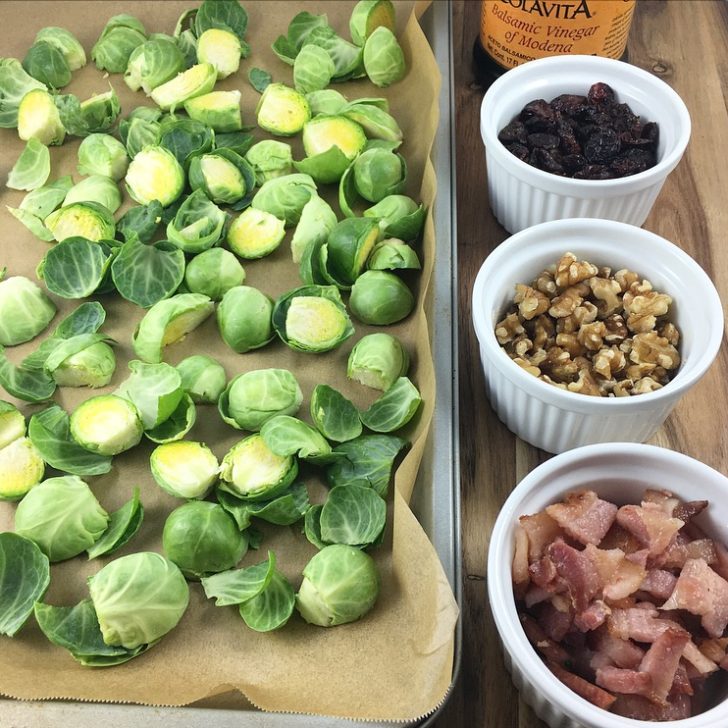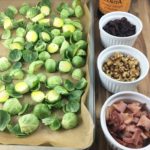 Ingredients
1 pound Brussels sprouts
1 handful dried cranberries (no added sugar)
1 handful chopped walnuts
3 slices bacon, chopped
Instructions
Preheat oven to 350 degrees F
Wash and cut Brussels
Either add them to a large bowl or right to a baking sheet
Add cranberries, walnuts and bacon
*can use uncooked bacon or lightly cook bacon prior to chopping if you want it to be crispier
Drizzle with balsamic and toss to coat and evenly distribute ingredients
Place on baking sheet in single layer
Bake for 30-40 minutes depending on preference of how roasted the Brussels are