This lime juice is refreshing, healthy and perfect for spring or summer! Known as limeade, this lime juice recipe only uses a few simple ingredients, and can be made with fresh lime juice or bottled, sweetened or unsweetened! You'll love having this lime drink ready to go in the fridge to make drinking water more fun!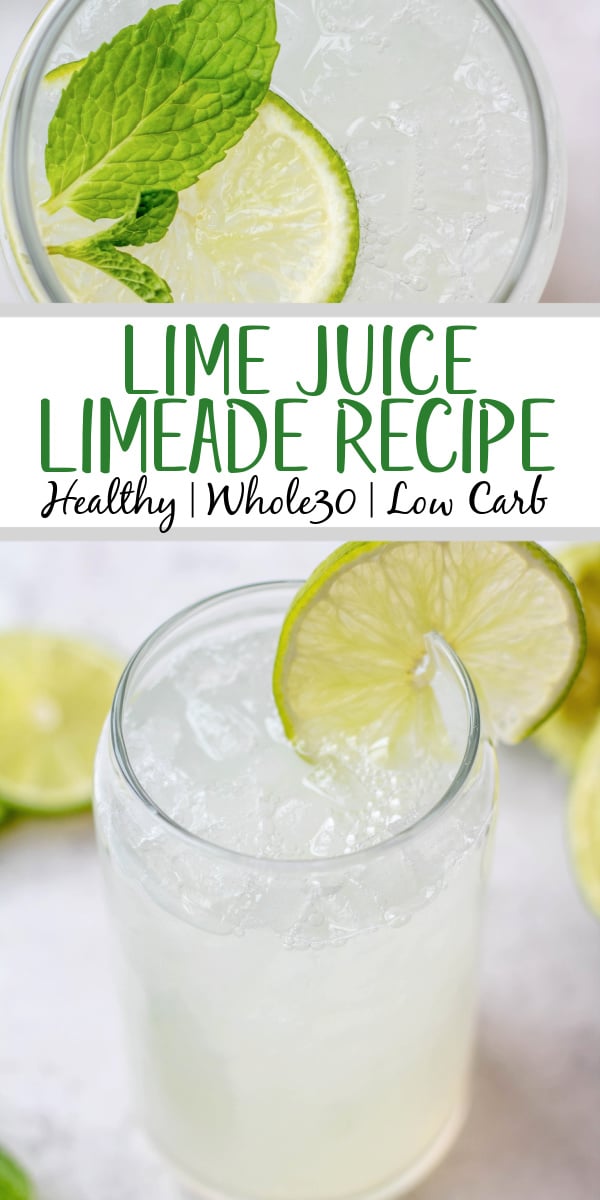 What is Lime Juice
This lime drink is made from lime juice, and commonly called limeade. It's made by taking pure lime juice and diluting it in water, and serving it cold over ice. A sweetener to reduce the bitter taste is also commonly mixed in but this can be served both sweetened or unsweetened.
It's become a popular drink to make in the summer or keep in the fridge because of how simple and refreshing it is! The lime juice can come from using fresh squeezed limes, or bottled 100% lime juice.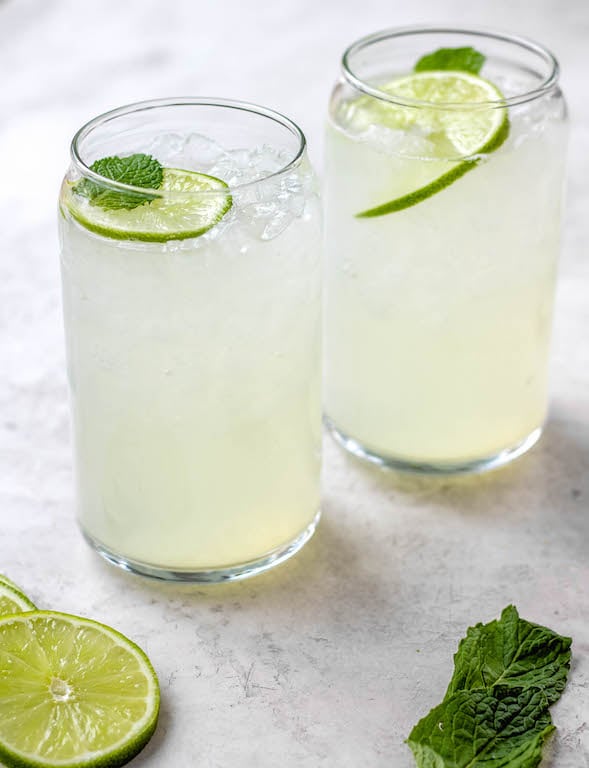 Benefits of Drinking Lime Juice
There are many potential benefits to drinking lime juice because limes are so full of nutrients. They only contain 20 calories per large lime, and have high concentrations of vitamin C, vitamin A, calcium, folate, magnesium and phosphorous.
They're a great source of antioxidants. Antioxidants, plus vitamins and minerals, are all important for our immune systems, heart health, reducing inflammation, and digestion.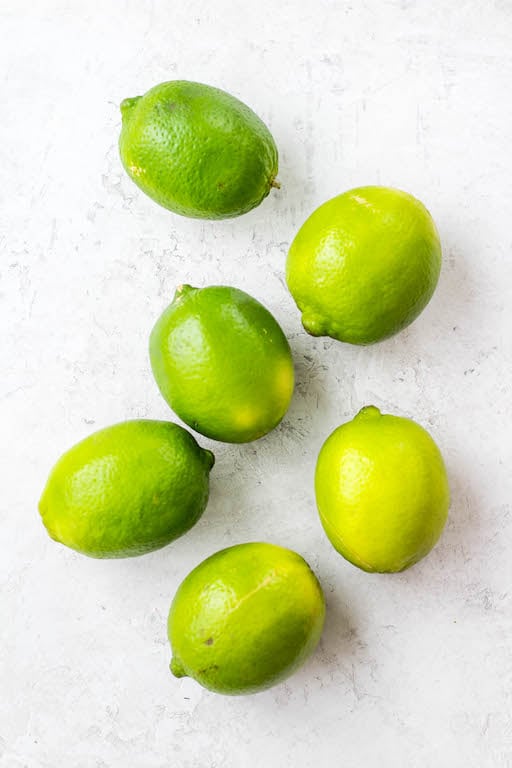 How Do You Make Limeade Lime Juice
To make this limeade recipe, all you need to do is juice your limes, add water, ice and a sweetener if you'd like. It is very easy, quick and straightforward to make. The only thing that needs to be prepped is your lime juice if you're using fresh limes. The lime juice is key for making limeade.
How to Easily Juice a Lime
Roll the Limes
An average sized lime yields 2 tablespoons of fresh lime juice. To make sure you get the most out of your limes, you want to first roll each one on a hard surface with the palm of your hand pressing down on the lime.
This softens the lime and makes it so much easier to get all of the juice out of the flesh. It's a very important first step. Alternatively, you can also place the lime in the microwave for a few seconds, which also softens the skin and flesh.
Use a Citrus Juicer or Reamer
A handheld citrus juicer or citrus reamer are the easiest ways to extract all of the juice out of a lime for your limeade. They are quick and easy to operate. After rolling the limes to soften them, you will cut your limes in half and twist around the juicer or reamer.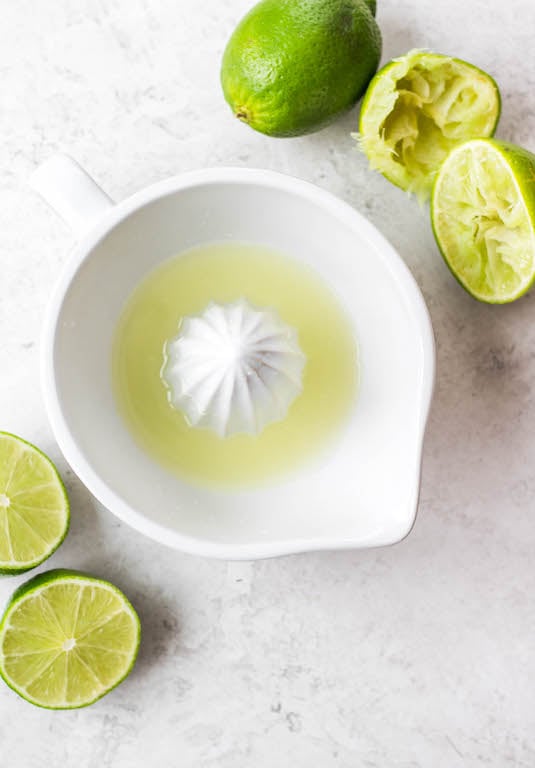 Use a Fork
After rolling the limes to soften them, you can use a fork in the same way you'd use a reamer. First, slice the lime in half. Then hold it firmly in one hand over a bowl. Stick the fork into the middle of the lime half, and squeeze the lime while turning the fork. The juice will easily be released from the flesh into the bowl.
More Sweetener Options to Use:
Making your own limeade recipe to fit with what ingredients you already have in the pantry and that works with your lifestyle is easy! No matter if you're keto, paleo, or simply trying to use less refined sugar, this lime juice recipe is for you. You can replace the white sugar with:
Honey
Your go-to sugar replacement
Modify the lime juice to your taste. If you prefer a more bitter limeade you won't need to add much. For a sweeter limeade, you can mix in just a bit at a time. A little sweetener goes a long way. If you add too much, you can add more water to the pitcher to dilute it.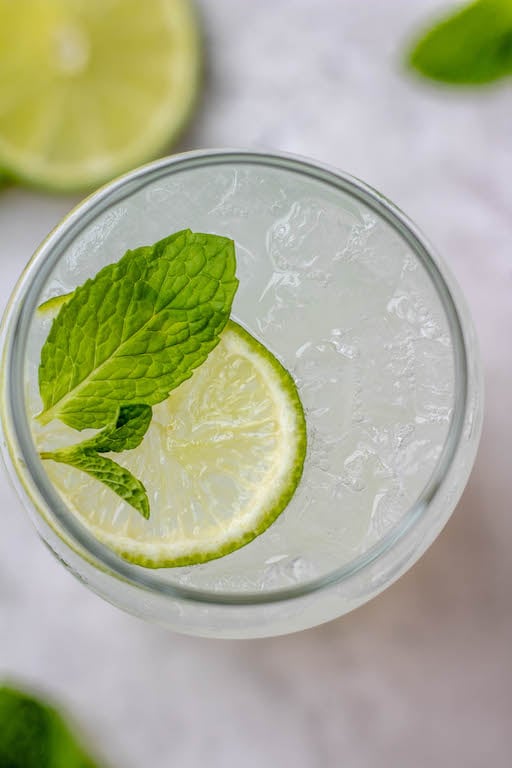 Lime Juice Substitutions and Additions
Additions that can be made to add extra flavor to your lime juice include herbs like mint or basil. You can muddle the basil or mint prior to adding it into each glass, or add whole leaves into the pitcher of lime juice.
Fruit makes a great addition to the limeade as well! Options I think make great flavor combinations include raspberries, strawberries, and blueberries. I recommend smashing up about 50% of the fruit and leaving the other 50% whole. This allows the flavor to be released into the lime juice, and makes each glass or pitcher look really fun and festive!
Using Lemons
If you don't have limes, but have an excess of lemons, lemon juice can be certainly be used. Lemon juice is a 1:1 replacement for lime juice. Lemons also have approximately 2 tablespoons of juice per lemon, so you will use the same amount of lemons here as you would limes.
Using Lime Zest
If you don't have enough lime juice for your limeade, you can supplement for by using lime zest. Lime zest is a more concentrated flavor and adds a bold taste without as much bitterness. You will want to use 1.5 teaspoons of lime zest for every 1 tablespoon of lime juice needed. This is about 3 teaspoons of lime zest to equal the juice of 1 lime.
Frequently Asked Questions
How Long to Can You Keep Fresh Lime Juice?
This lime drink is good in the refrigerator for up to 5 days. It's unlikely you'll have it around that long, though!
How Much Lime Juice Does 1 Lime Yield?
1 lime yields approximately 2 tablespoons of lime juice. You would need about 8 limes to make 1 cup of lime juice. Larger limes will produce more lime juice, so if you can purchase them by the item instead of by weight, you can get more for your money!
What is Lime Juice Good in?
This lime drink is great all on it's own as a refreshing beverage, especially in the summer! That being said, lime juice is commonly added to cocktails, mocktails and margaritas.
Can This Limeade Recipe Be Frozen?
Yes. You can freeze limeade, or you can juice the limes and freeze the lime juice on it's own to be added to water, ice and sweetener later. Freezing lime juice is a great way to get the most out of limes before they go bad. The juice can be frozen in a container, Ziplocks, or in ice cube trays.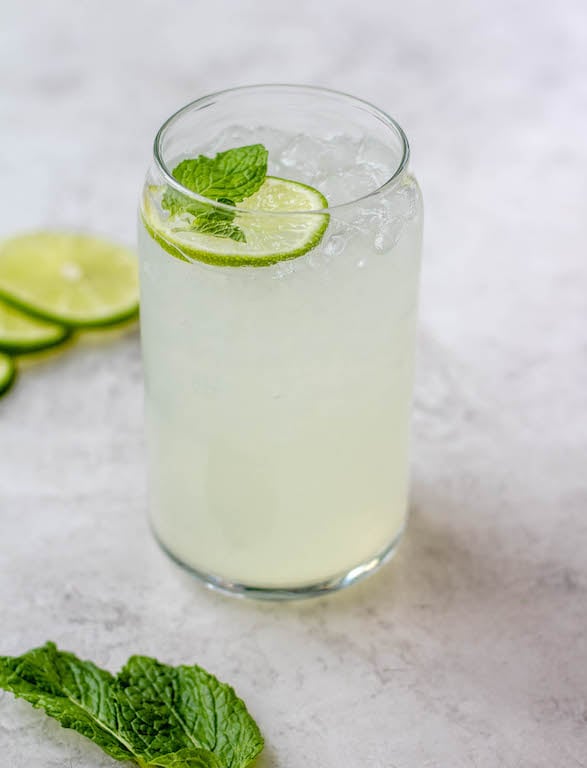 Other Recipes With Lime You'll Love:
Spicy Shrimp Salad and Lime Dressing
Slow Cooker Meatless Vegetable Curry
Print
Lime Juice (Limeade Recipe)
This lime juice recipe is refreshing, healthy and perfect for spring or summer! Known as limeade, this drink only uses a few simple ingredients, and can be made with fresh lime juice or bottled, sweetened or unsweetened! You'll love having this lime drink ready to go in the fridge to make drinking water more fun!
Author:
Prep Time: 5
Total Time: 5 minutes
Yield: 6 1x
Category: Drinks
Cuisine: American
Diet: Gluten Free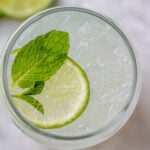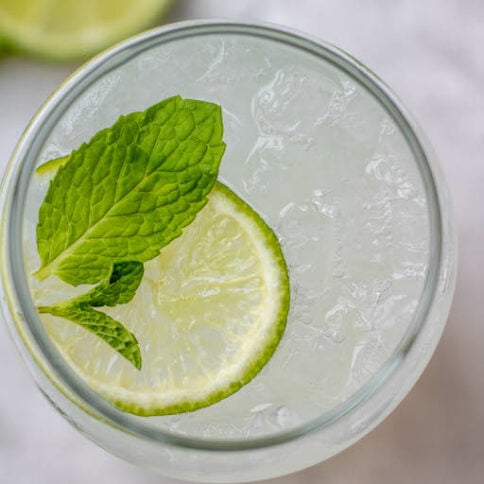 Ingredients
1/2 cup lime juice
6 cups water
2 tablespoons sugar, or alternative sweetener (or unsweetened)
Ice
Optional to garnish: lime slices, mint, basil, or fruit such as strawberries, raspberries or blueberries
Instructions
Juice the limes using a citrus juicer or citrus reamer
Combine the lime juice with water and stir
Add the sugar and stir to dissolve. Taste your limeade and adjust the sugar to taste if you'd like it more or less bitter. To dilute, you can add more water, or to sweeten more, add additional sugar 1 tablespoon at a time
Refrigerate until serving and serve over ice
Notes
Roll limes between your palm and the counter to soften them and loosen the juice. This makes them easier to work with and helps you get all of the juice out of the lime
Sugar can be replaced by honey, date Syrup, erythritol, stevia, or your go-to sugar replacement
Lemons can be used in place of limes with a 1:1 ration
Herbs such as basil or mint can be muddled and added to your lime juice
Fruit makes a great festive and flavorful addition. Use raspberries, strawberries or blueberries
Store in the refrigerator and stir before serving
Keywords: lime juice, lime juice recipe, limeade recipe, limeade
Nutrition Facts:
Serving Size: 1 cup
Calories: 40
Sugar: 6 g
Carbohydrates: 12 g
Fiber: 2 g
Protein: 1 g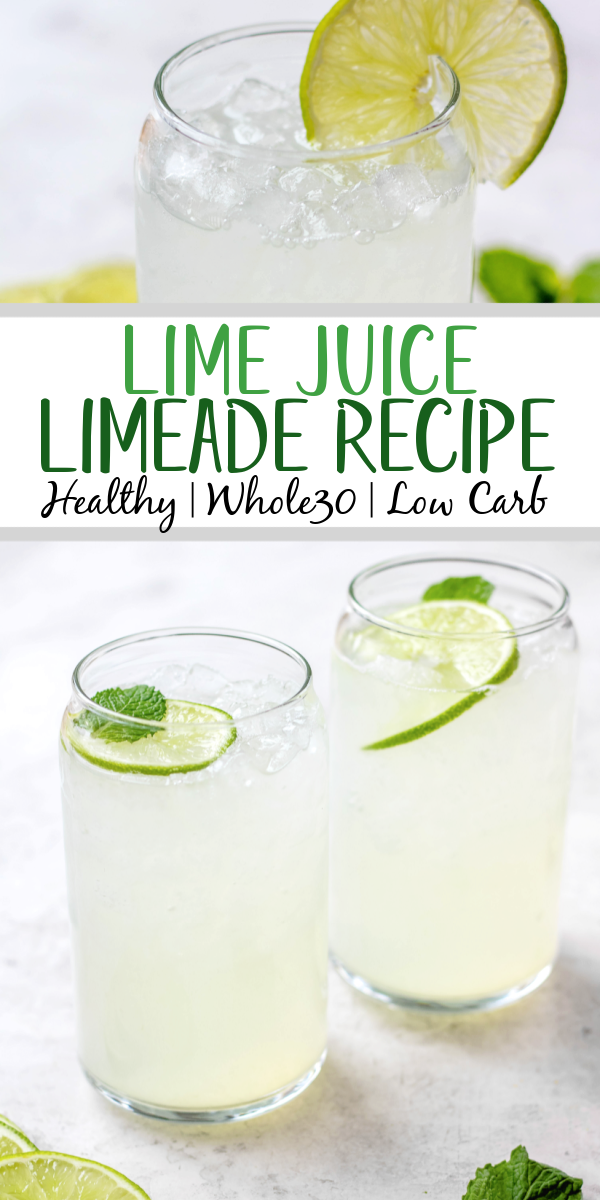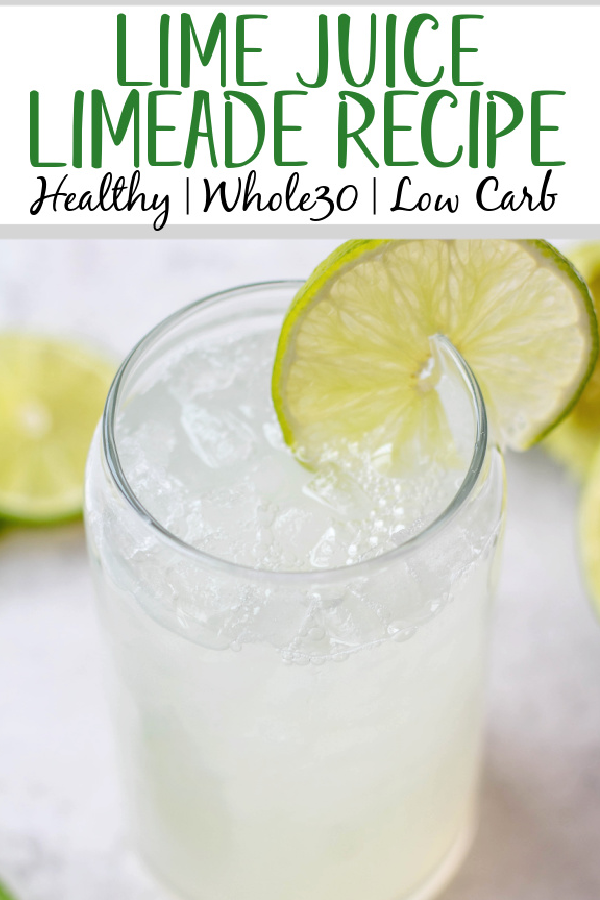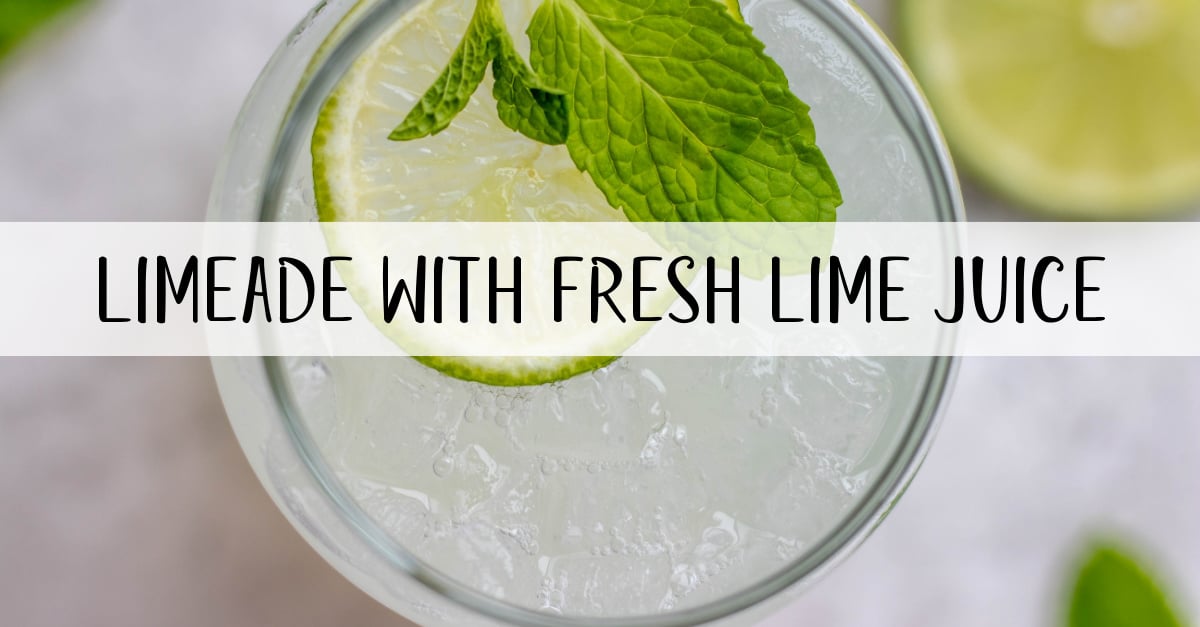 This limeade lime juice recipe may contain some links that are affiliate links, though products are ones I use personally and recommend. When you purchase anything using my links, it costs you absolutely nothing extra, but it does give wholekitchensink.com a little financial support which helps to keep this blog running. Thank you for your continued support, both with your dollars and your interest.