Korean beef bowls are the perfect option to add to your meal prep this week. Aside from a bit of chopping, it takes only a few minutes to whip up, throw in containers and be set for a few lunches. I also like making these because really, any veggies you have in your fridge will go well with the beef and cauliflower rice. Making these a good choice if you need to do a fridge clean out!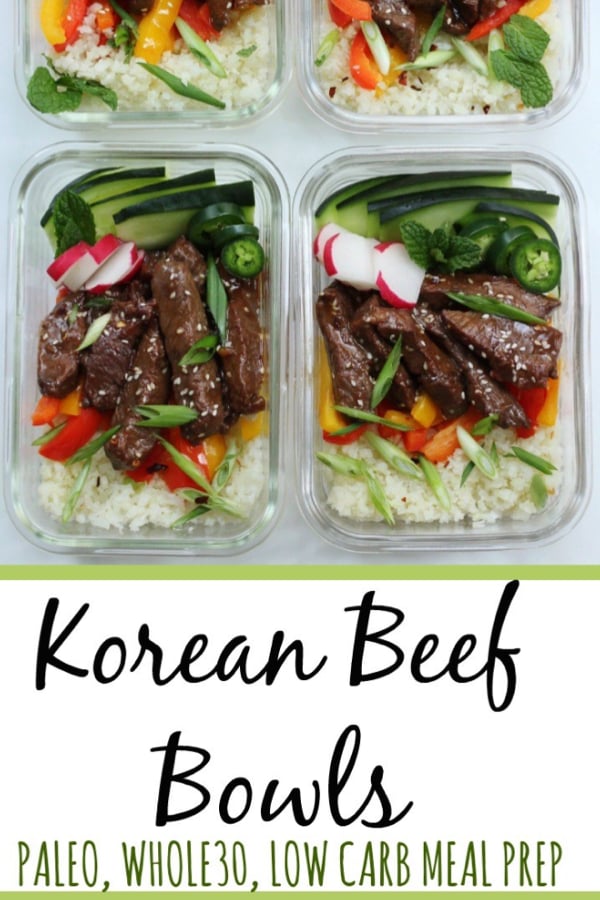 If you want the beef to have a bit more sauce to go with the cauliflower rice, or to even stir fry some of the veggies in, you can simply add a few extra tablespoons of coconut aminos, rice vinegar and sesame oil. These flavors are what gives the beef an Asian-inspired taste. You'll probably want to add an additional tablespoon of arrowroot flour to thicken it if you do double the sauce.
If you don't have arrowroot on hand, you can use tapioca starch, or even a 1/2 teaspoon of gelatin! When you're thickening a sauce for a meal like this using arrowroot or tapioca starch, you can either coat the beef prior to cooking, or add the thickener in closer to the end. Honestly, both options give you similar results. A thick sauce!
For the cauliflower rice, you can make your own, or buy frozen cauliflower rice. The rice you see in these photos was frozen (not ashamed to admit it). Keeping a bag or two of frozen cauliflower rice in my freezer is one of my favorite tricks. It's super helpful for pulling together quick dinners or making meal prep days less labor intensive.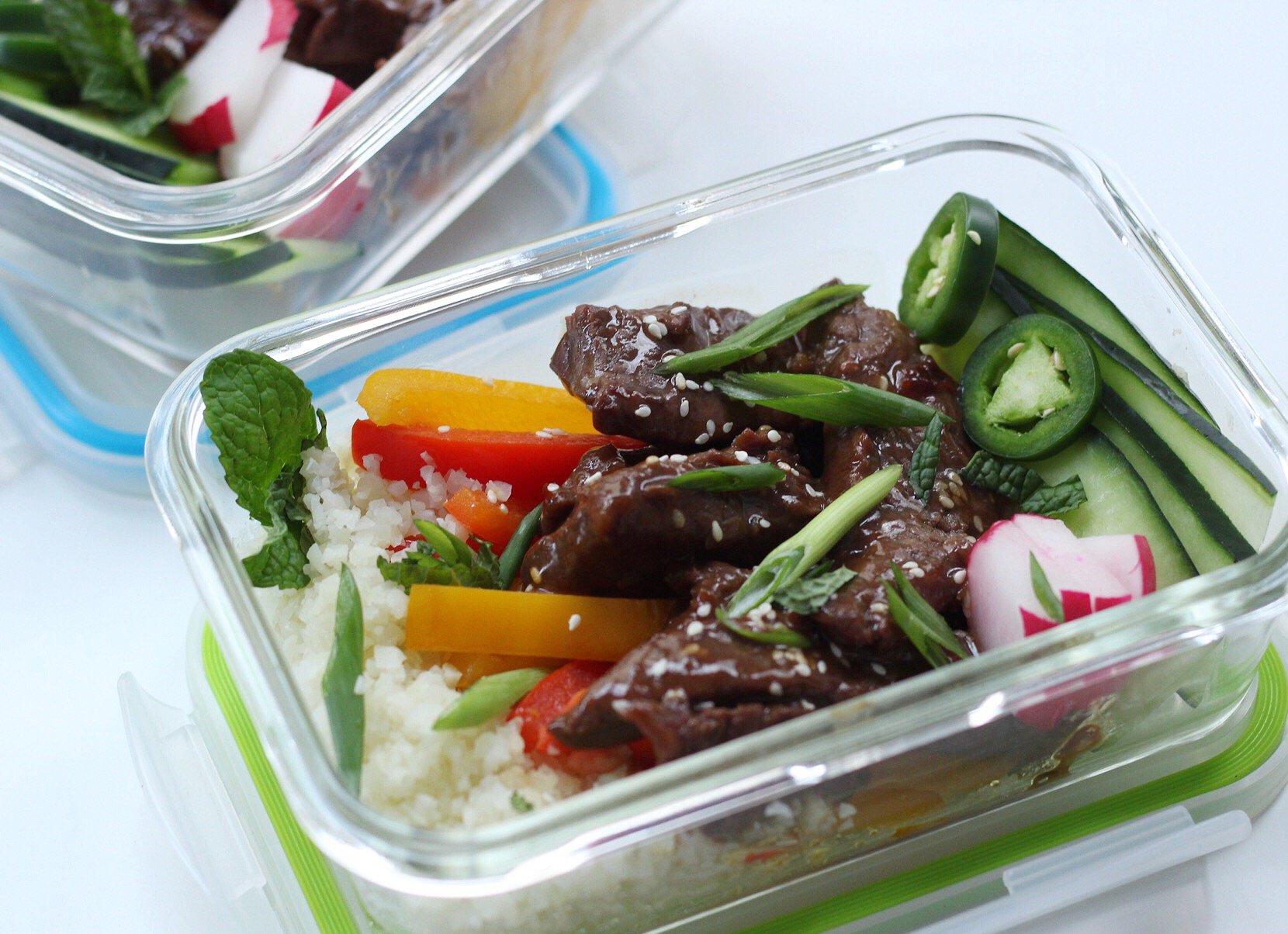 When you're making cauliflower rice, fresh or frozen, you're going to get a lot of excess water that's released after it's cooked. My tip for that is to squeeze all the excess water out using a nut milk bag. This trick works with veggie noodles too!
I promise you this is a game changer if you stay away from cauliflower rice or zucchini noodles because it leaves your meals all watery. This is the bag I use, mostly because it's dishwasher safe and has stood the test of time over the last 8 months. Once the cauliflower rice is cool enough to touch, I just put it into the bag and twist (or squeeze) all of the water out! Then add it to your Korean beef bowls and you're good to go without the water from the rice!
If you don't have a nut milk bag, you can do this same thing with paper towels. But I'd highly recommend the bag to really get all of the water out!
Enjoy!
Other Whole30 Asian-Inspired Recipes You'll Love:
Print
Korean Beef Bowls for Quick Meal Prep: Paleo, Whole30 & Low Carb
Prep Time: 10 minutes
Cook Time: 15 minutes
Total Time: 25 minutes
Yield: Serves 4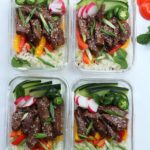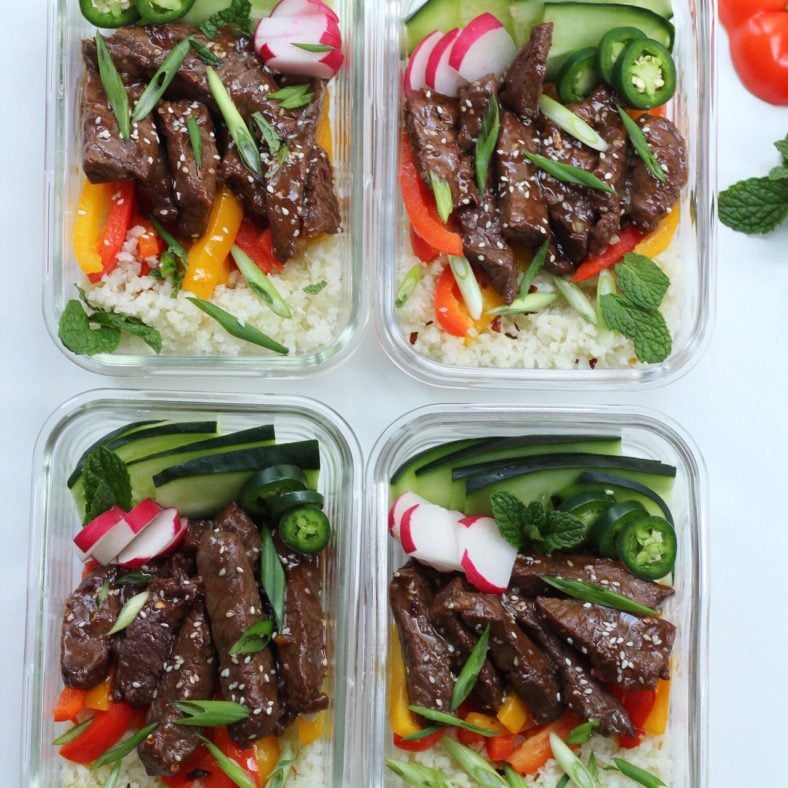 Ingredients
For the Beef:
Veggies for bowls:
1 bag frozen cauliflower rice or 1/2 head cauliflower, riced
1 red pepper, sliced
1 yellow pepper, sliced
1 cucumber, sliced
1 handful sliced radishes
2 green onions, chopped
1/2 jalapeño, sliced
Optional Bowl Ingredients:
Sliced and sautéed zucchini
Steamed or sautéed broccoli
Matchstick carrots
Soft boiled egg
Mint or cilantro
Instructions
Combine all ingredients for the beef, except steak and arrowroot, in a skillet over medium heat
Once hot, add in steak and whisk in arrowroot
Let cook 10 minutes, flipping halfway through after 5 minutes
Remove from heat once thoroughly cooked (or to your liking) and sauce is thickened
Add sliced peppers to the pan and sauté until soft, remove from pan
Cook frozen or fresh cauliflower rice in the microwave if frozen, or in the pan with 2 tablespoons oil if fresh for 3 minutes, or until translucent
Build your meal prepped beef bowls with cauliflower rice, sautéed peppers, cucumbers, radishes, jalapeño and green onion
Add or remove any veggies per your preferences!
Garnish with mint or cilantro, more sesame seeds, matchstick carrots or a soft boiled egg
Nutrition Facts:
Calories: 170
Sugar: 7
Fat: 8
Carbohydrates: 16
Protein: 9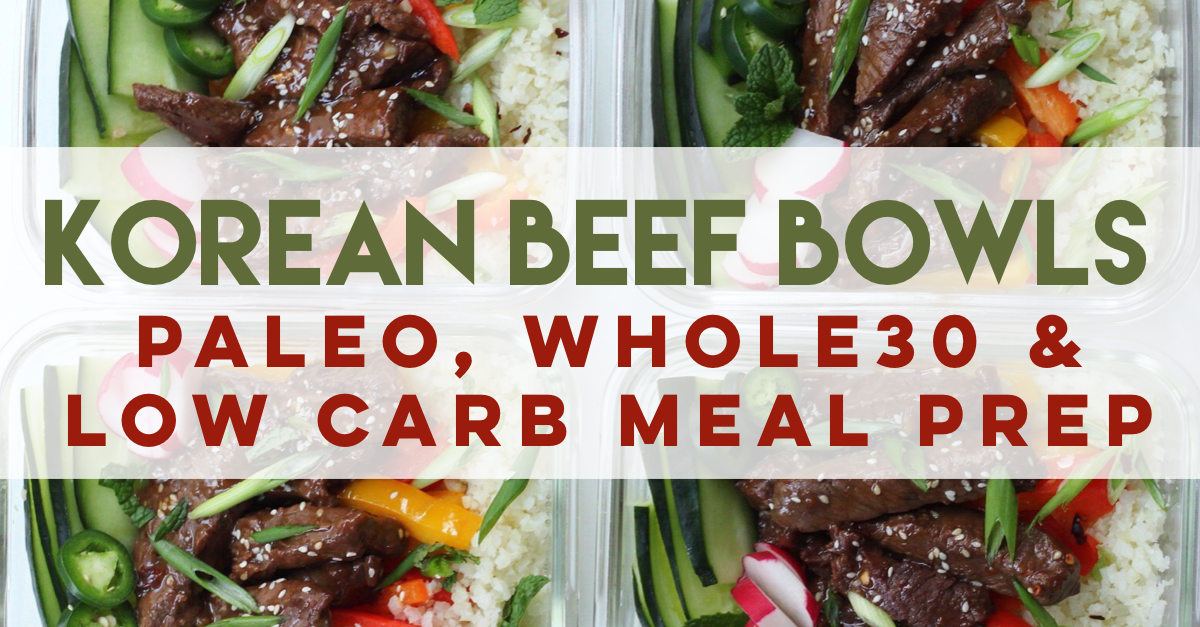 This post may contain some links that are affiliate links, though products are ones I use personally and recommend. When you purchase anything using my links, it costs you absolutely nothing extra, but it does give wholekitchensink.com a little financial support which helps to keep this blog running. Thank you for your continued support, both with your dollars and your interest.