This instant pot cashew chicken tastes like the familiar Chinese takeout we all love, but in a better-for-you, Whole30, Paleo, gluten-free version that only takes 30 minutes. No more waiting for your delivery! This instant pot paleo cashew chicken is a family friendly meal, I promise even those who don't adhere to a real food diet will love it.
My recipe for instant pot cashew chicken is the closest I could get to the real deal. Many healthy cashew chicken recipes out there have a bunch of veggies added (which is great! duh!). But when I'm craving those takeout cartons of cashew chicken, it's the chicken, cashews and rice I want, you know?! I wanted to have a go-to recipe that I know will satisfy those cravings in a healthy, Whole30 way!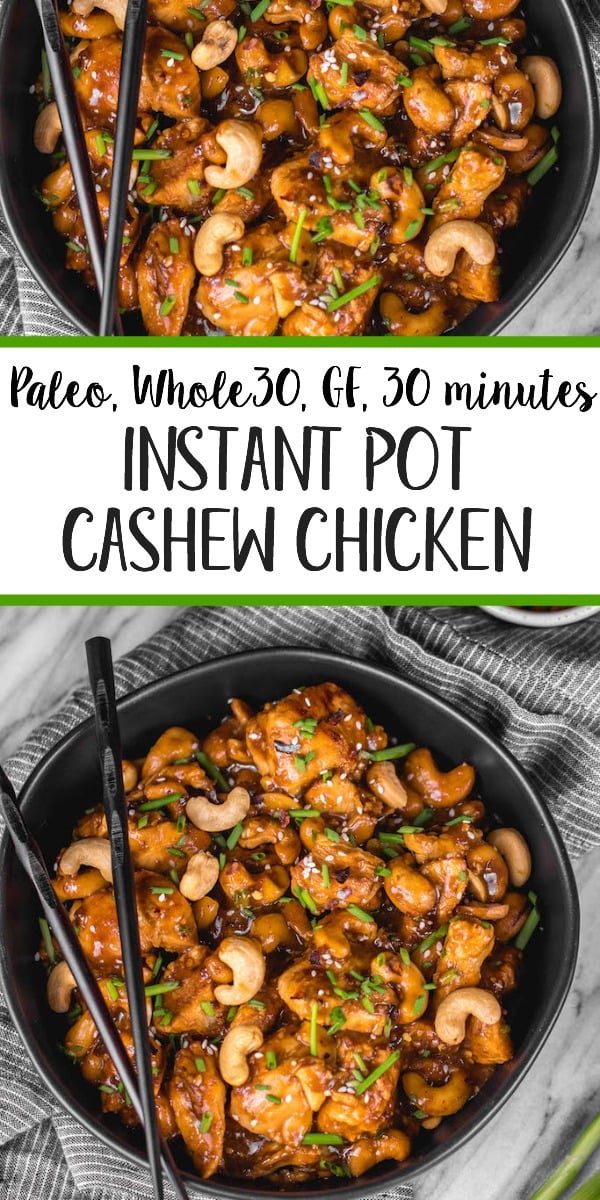 Especially when I can have it ready to eat in only a half hour.. much less time than it takes to order in. The recipe itself is super simple and would be great for a quick weeknight meal. While it looks like there's quite a few ingredients, I assure you it's largely the spices, seasonings and Paleo/Whole30 substitutes you already have hanging out in the pantry.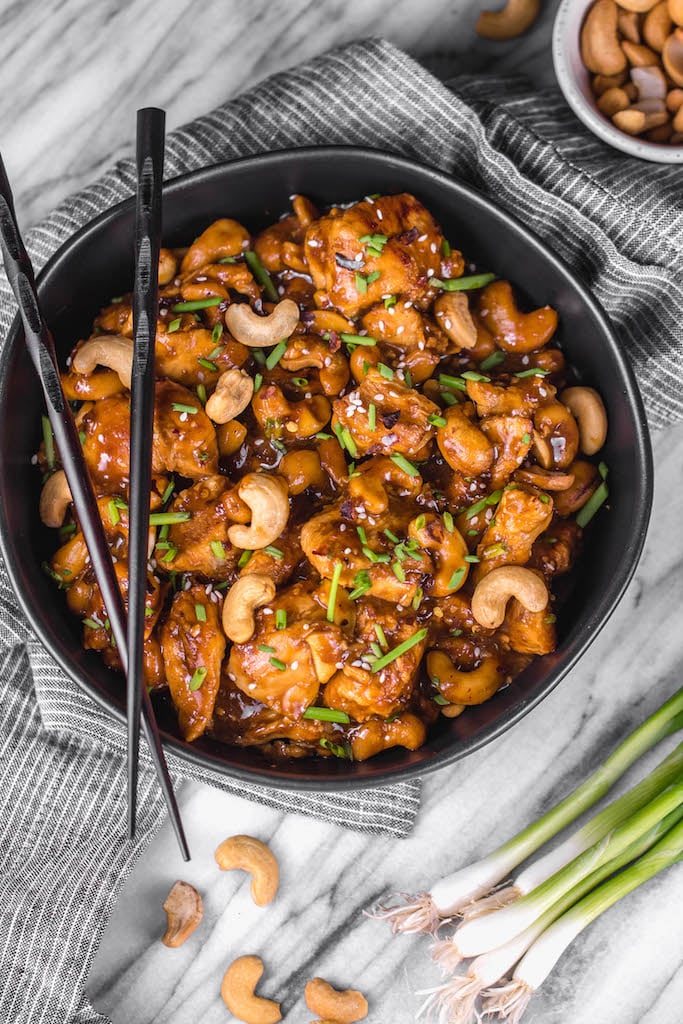 Some of the things you'll need is an instant pot, of course. But I'm assuming you already gathered that. The cashew chicken recipe also calls for coconut aminos, raw cashews (roasted or lightly salted is fine, whatever floats your boat), arrowroot flour for thickening, sesame oil and ketchup. Most of this can be found in the grocery store or cheaper on Thrive Market. You can also make your own Paleo and Whole3o ketchup, or grab a bottle of Primal Kitchen's Whole30 Approved ketchup.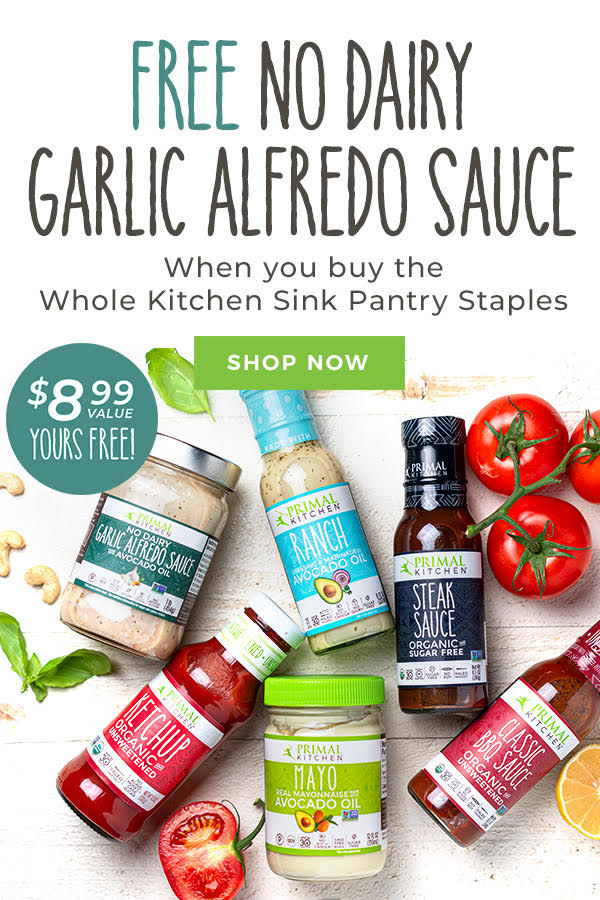 It's by far the best healthy, sweetener-free ketchup that's available. I'm not even just saying that. My (not Paleo) boyfriend goes through it constantly and won't touch the old stuff anymore. It's available at Whole Foods, or online on their website for 5 bucks (save 10% off your order with code "PALEOBAILEY" at checkout). I also really recommend not skipping out on the Chinese Five Spice either.

This spice, often just label "five spice" in the grocery store, is one that really adds so much flavor to Chinese-inspired dishes. It's what gives East Asian inspired recipes that familiar tangy-sweet flavor and basically it'll take your meals up a notch. Pretty much every grocery store has this, from Target to Whole Foods to Walmart either with all of the spices or the international items. I've linked it here so you can see what it looks like, but it's much more expensive on Amazon than it is in stores and I recommend grabbing it from there next time you're grocery shopping.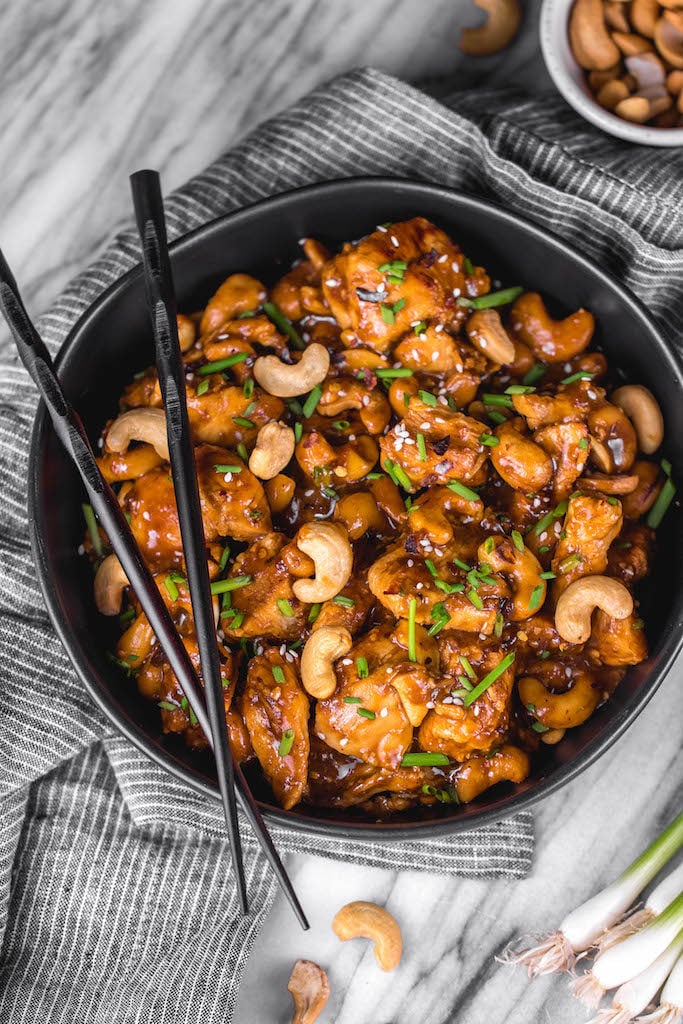 If you're on a Whole30, you can omit the sweeteners for the instant pot cashew chicken. Instead, you can opt for 2-3 tablespoons of fresh orange juice. If you're not currently doing a Whole30, the recipe calls for coconut sugar and honey. If you wanted to use only one, you can add an additional tablespoon of coconut sugar to replace the honey. I've tried it both ways or without both while testing this recipe, but I found that the honey helps make the sauce and chicken a bit more "sticky" and thicker. The coconut sugar adds a deeper, slightly sweet flavor to balance out the vinegar.
Other Recipes You'll Love:
Whole30 Instant Pot Beef & Broccoli
Whole30 Instant Pot Sweet & Sour Chicken
40 Whole30 Instant Pot Recipes
Print
Instant Pot Cashew Chicken: Whole30, Paleo, 30 Minutes
This instant pot cashew chicken tastes like the familiar Chinese takeout we all love, but in a better-for-you, Whole30, Paleo, gluten-free version that only takes 30 minutes. No more waiting for your delivery full of MSG!
Author:
Prep Time: 10
Cook Time: 12
Total Time: 22 minutes
Yield: Serves 4-6 1x
Category: Chicken
Method: Instant Pot
Cuisine: Chinese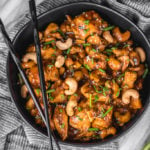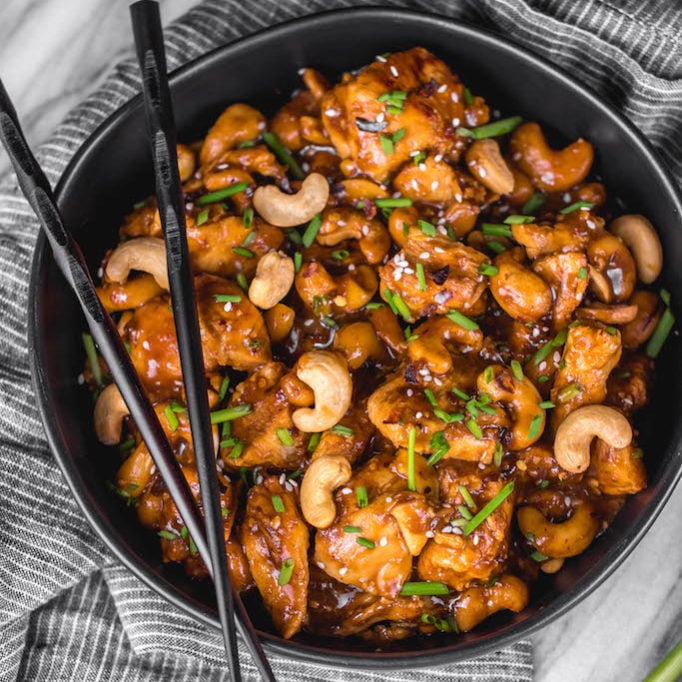 Ingredients
1.5–2 lbs boneless, skinless chicken breasts, cut into 1"-1.5" pieces
2 tbsp sesame oil, divided
1/2 cup coconut aminos
3 tablespoons sugar-free ketchup
3 tbsp rice vinegar
1 tbsp coconut sugar*
1 tbsp honey*
1 tbsp minced garlic
1 tbsp minced ginger
2 tbsp arrowroot flour, divided
1/2 tsp Chinese Five Spice powder
1/2 tsp red pepper flakes, or to taste
1/4 tsp salt, or to taste
1/4 tsp pepper, or to taste
2 tbsp water
1 cup raw (or lightly salted) cashews
Instructions
In a medium bowl, combine 1 tbsp sesame oil, coconut aminos, ketchup, vinegar, coconut sugar, honey, garlic, ginger, Five Spice, and red pepper flakes. Whisk well to combine and set aside.
In a bowl or baggie, coat chicken pieces with 1 tbsp of the arrowroot flour, salt and pepper. Add 1 tbsp sesame oil to the bottom of the instant pot and turn it to "sauté".
Allow oil to heat up and then sear chicken for 1-2 minutes. Press "cancel" and pour the sauce into the instant pot. Stir the sauce in with the chicken to evenly distribute. Cover, set the valve to "sealing" and press "manual" and adjust the time to 10 minutes.
Right before the instant pot is done, combine 1 tbsp arrowroot flour with 2 tbsp water and stir well to dissolve. Once the instant pot is done, do a quick release and open the lid. Press the "sauté" button and pour the water and flour mixture into the instant pot and whisk into the sauce.
Add the cashews and then continue stirring until the sauce has thickened. If you'd like it thicker after 1-2 minutes, add an additional 1/2 tbsp arrowroot dissolved in 1 tbsp water. Once the sauce has thickened, add any additional salt and pepper and serve.
Serve over broccoli, cauliflower rice, on it's own with a side, over spaghetti squash "lo mien" noodles, etc. Garnish with any additional cashews, green onion, or sesame seeds
Notes
*Omit for Whole30. Optional substitutions include 3 tbsp freshly squeezed orange juice, or 1-2 medjool dates, pitted and pureed in a food processor with 1/4 cup water to help blend.
If sauce gets too thick, you can easily thin it back out again by adding a few tablespoons of water. Only do a few at a time until at your desired consistancy.
Keywords: cashew chicken, instant pot, asian
Nutrition Facts:
Calories: 322
Sugar: 11
Fat: 16
Carbohydrates: 19
Protein: 26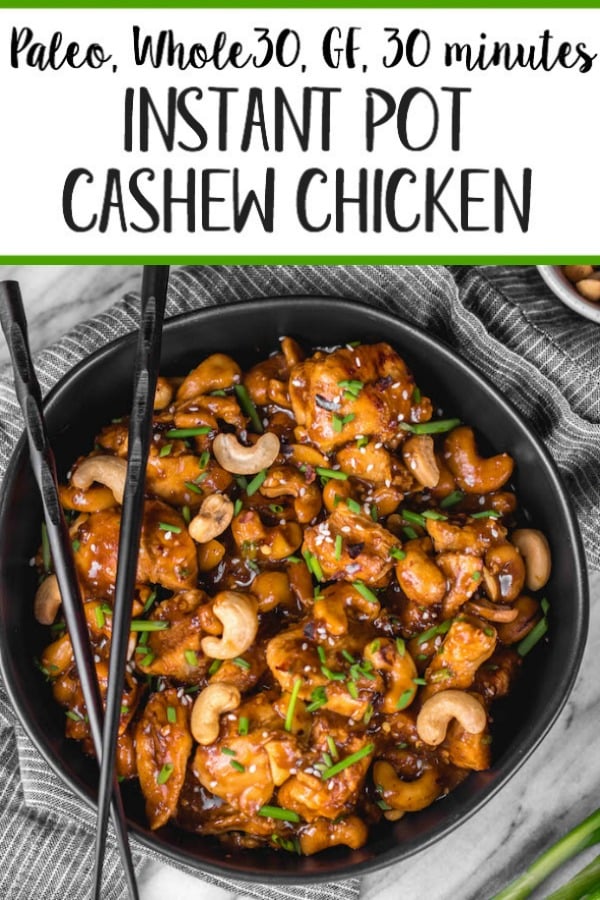 This Whole30 instant pot cashew chicken post may contain some links that are affiliate links, though products are ones I use personally and recommend. When you purchase anything using my links, it costs you absolutely nothing extra, but it does give wholekitchensink.com a little financial support which helps to keep this blog running. Thank you for your continued support, both with your dollars and your interest.