This harvest chicken salad is loaded with the best seasonal flavors like apples, pears, cranberries, pecans and thyme. It's a Whole30, Paleo, gluten and dairy-free version of a traditional mayo chicken salad that's been revamped to hold a spot on the holiday table or to be a new favorite meal prep recipe all fall and winter long.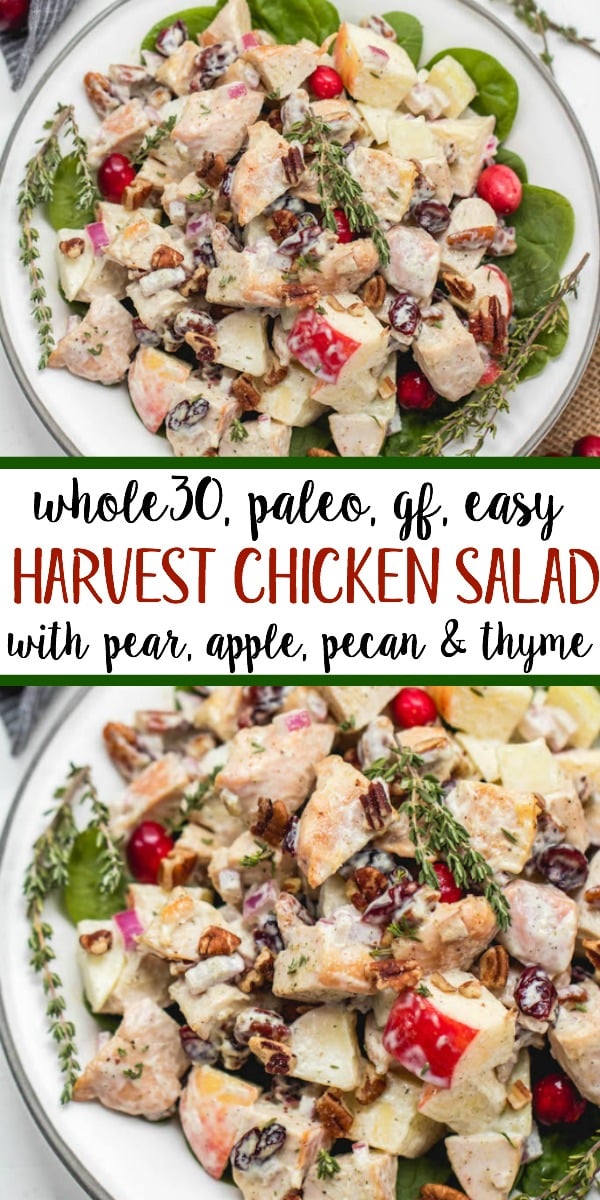 I make a lot of chicken salads. Typically at the start of the week I meal prep a batch so that I have something easy to throw over greens for a quick meal. But, let me tell you, there's only so many times you can eat the same mayo chicken salad with grapes, celery and nuts. It's delicious, but it gets old.
So when the seasonal produce hit the shelves at the grocery store I was on a mission to shake things up. I try to use all of the fall and winter fruits as much as possible, which just so happen to go wonderfully in a chicken salad! Not to mention they're usually pretty inexpensive when compared to summer fruits right now. Win win.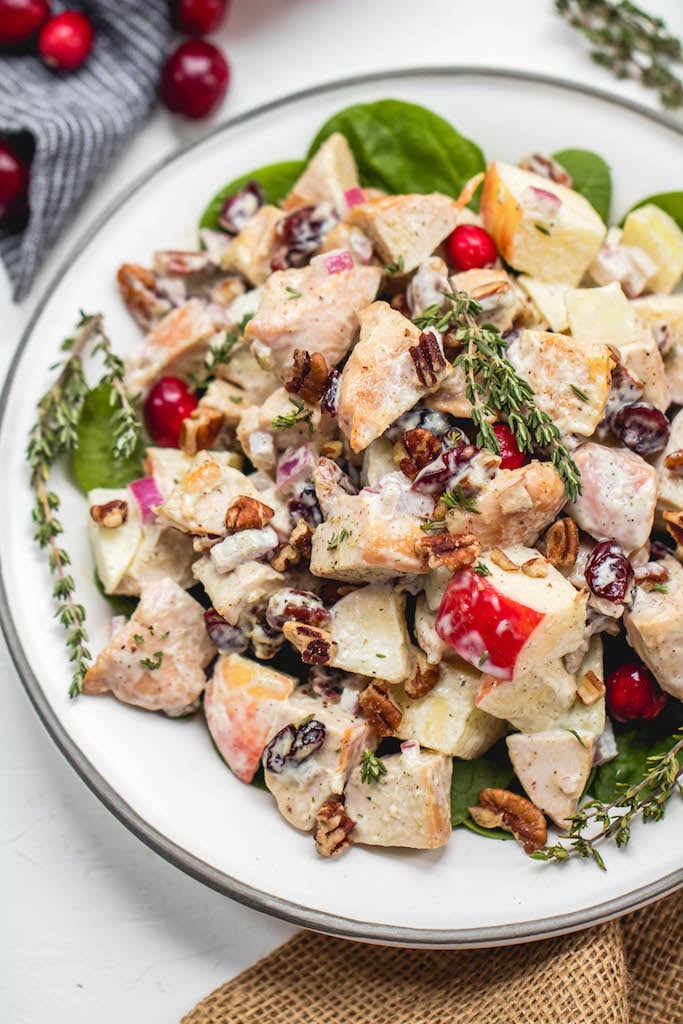 There's a ton of different pear varieties, but you'll want to choose a Bartlett, Anjou, or Concorde pear. These three are the sweetest that most of us can get at major grocery stores. The sweetness balances out the other flavors and keeps the salad Whole30 compliant still being there's no sweetener added! That being said, if you have the option, go with a Bartlett pear.
This sweet pear is also one of the most crisp, making it perfect for our harvest chicken salad. It holds up well over a few days in the fridge and still has that same great crisp texture while giving the sweetness of the pear a chance to combine with the thyme and lemon. As for the apple, you could get away with almost any variety, but I prefer a Honeycrisp for this salad.
The Whole30 harvest chicken salad also calls for dried cranberries. You could omit if you can't find any that are sweetened with apple juice and not sugar. The brand I always get is Eden. Their bags of no-sugar dried cranberries are available at Whole Foods, or on Amazon you can get them in a set of 5 packs or 2 packs. This is what I do when I need to stock up being they last so long and I rarely make it to Whole Foods and I don't want to be forced to go for just Whole30 compliant cranberries, you know?!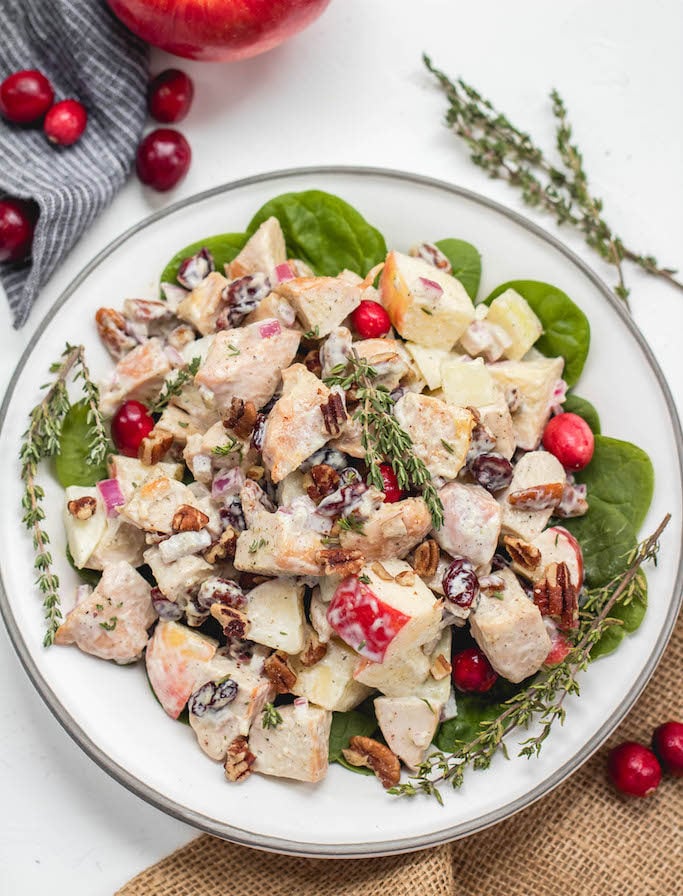 The Whole30 Approved mayo I use for this recipe, and most recipes that need mayo, is from Primal Kitchen. You can get it at health food grocers, on Thrive Market, from Amazon, or on their website (use code PALEOBAILEY at checkout for a 10% discount). Alternatively, you can make your own mayo.

Another thing that I really love about this chicken salad recipe is that it's seasonal while still being pretty light. Most of my typical "winter" recipes tend lean towards the heartier side of things. I find myself making more thick chilis, slow cooker meals, and piping hot dinners that make me feel all comfy cozy. Which is great and all, but sometimes a lighter lunch or meal prep option that doesn't give up any seasonal flavors is more than welcome!
Other Whole30 Chicken Salad Recipes You'll Love:
Taco Chicken Salad (+ video!)
40 Whole30 & Paleo Chicken Salad Recipes
Sesame Chicken Chopped Salad (+ video!)
Print
Whole30 Harvest Chicken Salad with Apple, Pear, Cranberry & Pecans (Paleo, GF)
This harvest chicken salad is loaded with the best seasonal flavors like apples, pears, cranberries, pecans and thyme and made in less than 30 minutes!
Author:
Prep Time: 15 minutes
Total Time: 15 minutes
Yield: Serves 4-6 1x
Category: Chicken
Method: Salad
Cuisine: American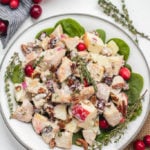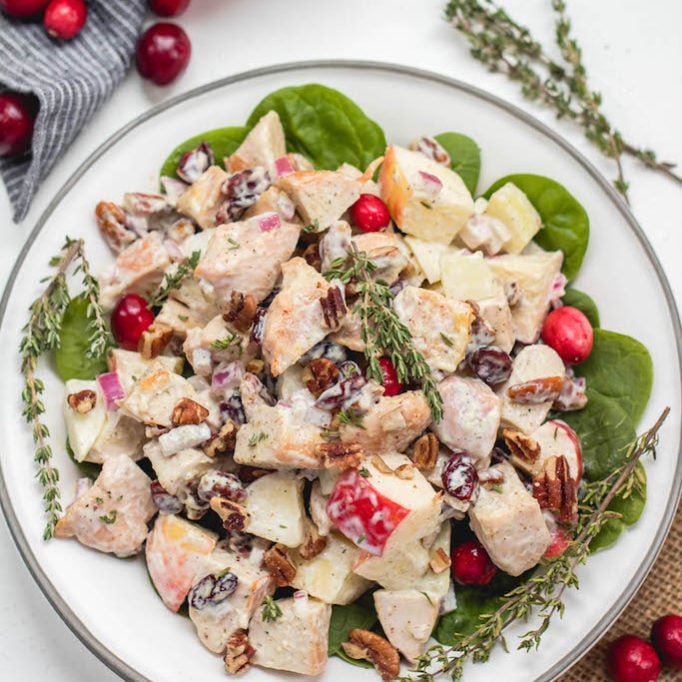 Ingredients
3–4 cups diced cooked chicken, or 1 pound
1/2 cup diced peeled diced pear (Bartlett pear)
1/2 cup diced Honeycrisp apple
1/4 cup sugar-free dried cranberries
1/4 cup pecan pieces (can substitute walnuts)
3 tbsp finely chopped red onion
1.5 tsp dried thyme, or leaves from 3-4 sprigs fresh thyme
1/2 cup mayo, more or less to taste
Juice of 1/2 lemon
1/2 tsp garlic powder
1/4 tsp salt, or to taste
1/4 tsp black pepper, or to taste
Instructions
Mix together mayo, lemon juice, thyme, garlic powder, salt and pepper in a large bowl.
Stir in the rest of the ingredients until evenly coated. Cover and refrigerate for at least 30 minutes.
Keywords: Whole30, Chicken Salad, Paleo, Harvest Chicken, Whole30 Salad
Nutrition Facts:
Calories: 206
Sugar: 6
Fat: 11
Carbohydrates: 12.5
Protein: 19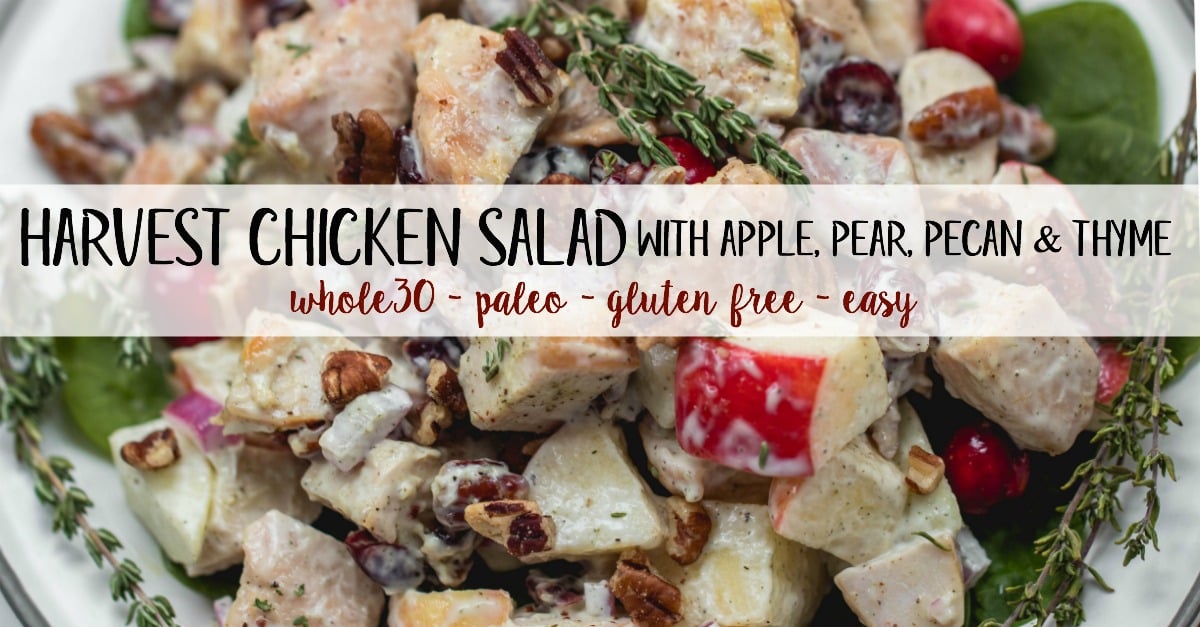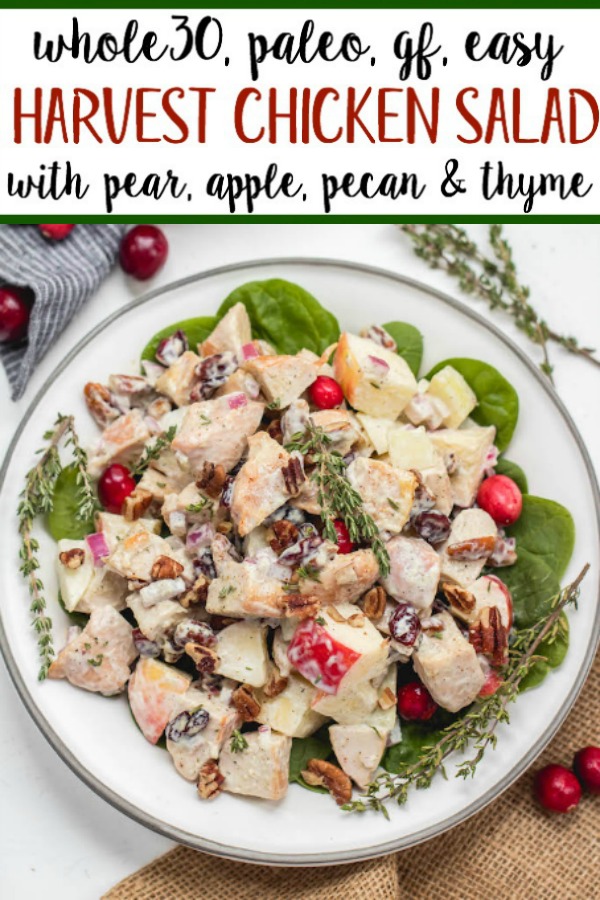 This post may contain some links that are affiliate links, though products are ones I use personally and recommend. When you purchase anything using my links, it costs you absolutely nothing extra, but it does give wholekitchensink.com a little financial support which helps to keep this blog running. Thank you for your continued support, both with your dollars and your interest.