This creamy skillet Whole30 salmon recipe remains one of my favorite options when I need a quick meal. Unlike some other proteins, salmon takes all of ten minutes from start to finish. Doubling as a Paleo salmon recipe, it only requires a few ingredients to take your salmon to the next level. All while still keeping it fast and easy!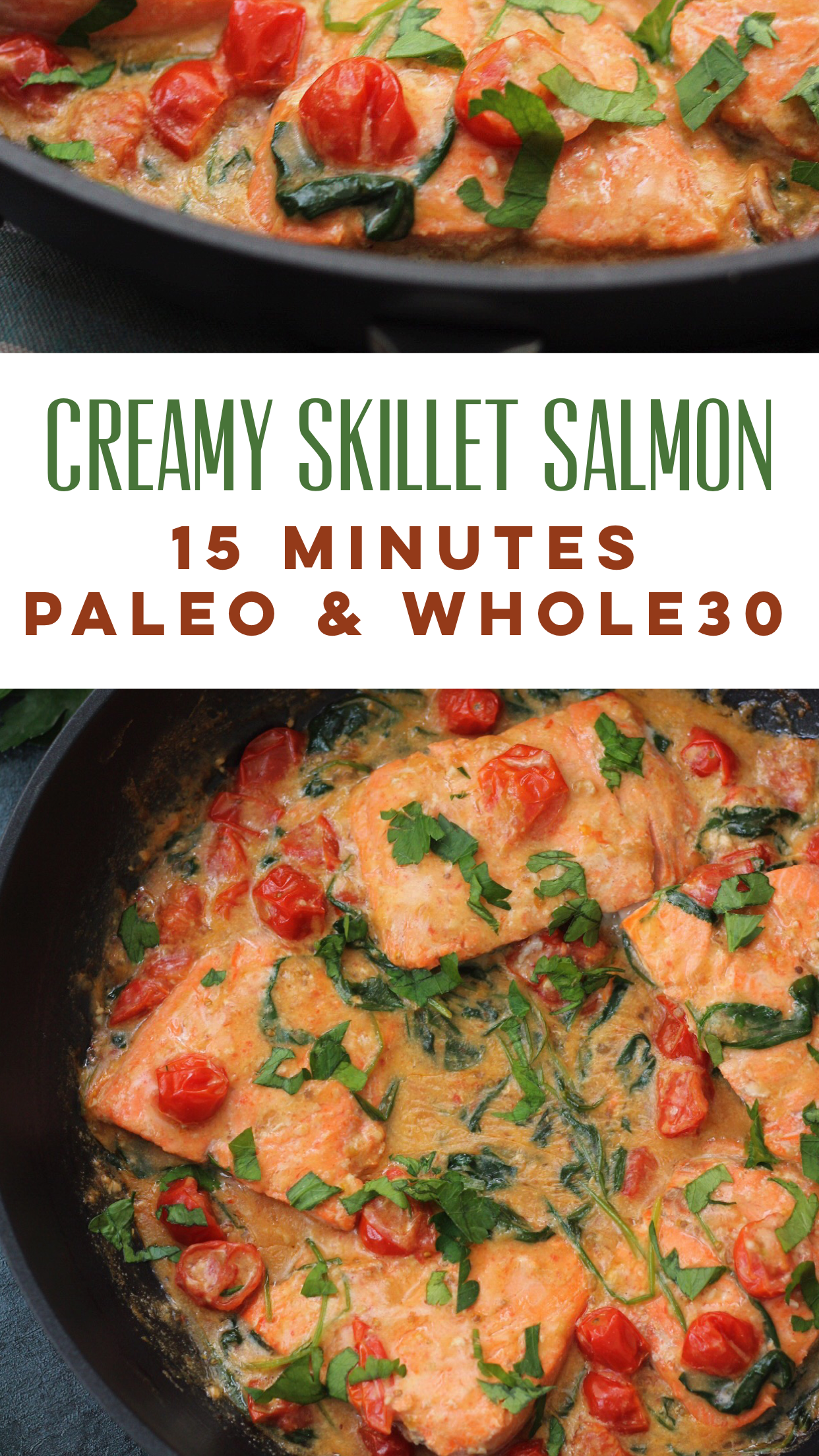 I'm pretty lucky that I get to cook (and eat) wild Alaskan salmon. No, I don't live in Alaska, but I do live in Minnesota. Which means I get my salmon from Surrender Salmon. AKA- the next best thing to actually living IN Alaska. If you're in Minnesota, check these guys out. They're a family owned business and they catch the salmon in Alaska with their bare hands (just kidding) and make sure to bring it back to Minnesota still in the same quality it came out of the water in. Their salmon unlike any store-bought salmon you'll find. TRUST.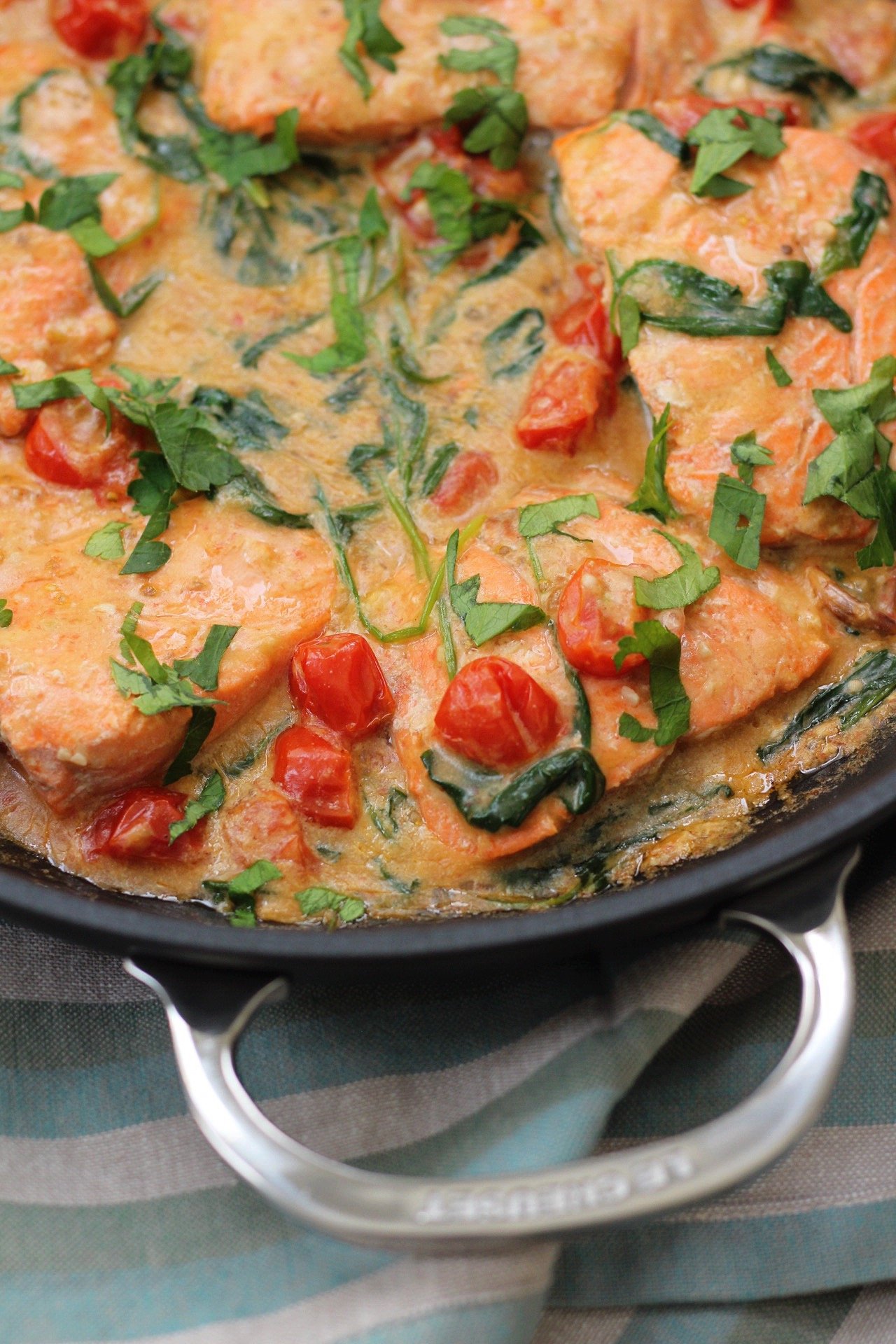 For this creamy skillet Whole30 salmon, you can use whatever form of dairy free milk you have on hand. I used almond milk creamer. But I've also made it with coconut milk and homemade almond milk! This recipe uses arrowroot flour as a sauce thickener in place of traditional cornstarch. You have a few other options here if you don't have arrowroot flour! You can use tapioca flour, or just simply reduce the amount of milk used in the recipe. The ghee I used was from Thrive Market, which is actually where I got the almond milk creamer and arrowroot flour from for 2 bucks each too!


For the veggies I like to use fresh cherry tomatoes, but another great and tasty option is to use sun dried tomatoes instead. I'd reduce the amount of tomatoes by half if you go this way for the creamy skillet Whole30 salmon, as these have a more pronounced flavor.
Enjoy!
Print
Hungry for more? Subscribe to my newsletter to get new recipes delivered straight to your inbox! And be sure to stay in touch on Facebook, Pinterest and Instagram for all of the latest updates.
Creamy Skillet Salmon: 15 minutes, Paleo & Whole30!
Prep Time: 5 minutes
Cook Time: 15 minutes
Total Time: 20 minutes
Yield: Serves 4 1x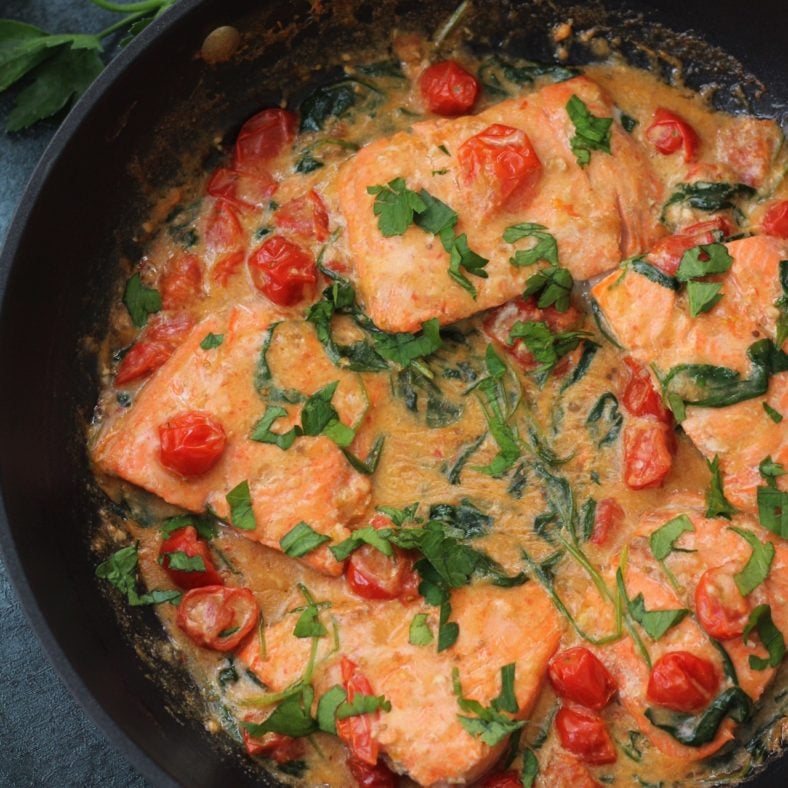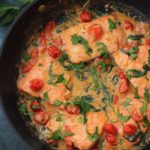 Ingredients
4 skinless salmon fillets
2/3 cup heavy cream replacement (coconut/almond milk)
1 cup halved cherry tomatoes
1 large handful arugula (or substitute for spinach)
2 tablespoons olive oil
2 tablespoons ghee
2 tablespoons minced garlic
1 tablespoon arrowroot flour
1/2 teaspoon salt
1/4 teaspoon pepper
Instructions
Heat oil in a large skillet and add salmon fillets to pan
Cook 5 minutes on each side and remove from pan
Add milk, garlic, ghee, salt and pepper
Once hot, slowly whisk in arrowroot flour
Add in tomatoes and arugula
Continue stirring for 2 minutes while sauce thickens and vegetables wilt
Add salmon back into the pan and let reheat
Cover with sauce, remove from heat and serve!
This post may contain some links that are affiliate links, though products are ones I use personally and recommend. When you purchase anything using my links, it costs you absolutely nothing extra, but it does give wholekitchensink.com a little financial support which helps to keep this blog running. Thank you for your continued support, both with your dollars and your interest.