This is a delicious and easy Whole30 ground beef casserole recipe that is a healthy take on a big mac! The classic flavors you know and love, all baked together in a paleo, gluten free Big Mac casserole that's loaded with veggies. It's great for a family friendly weeknight meal, or for meal prep lunches for the week.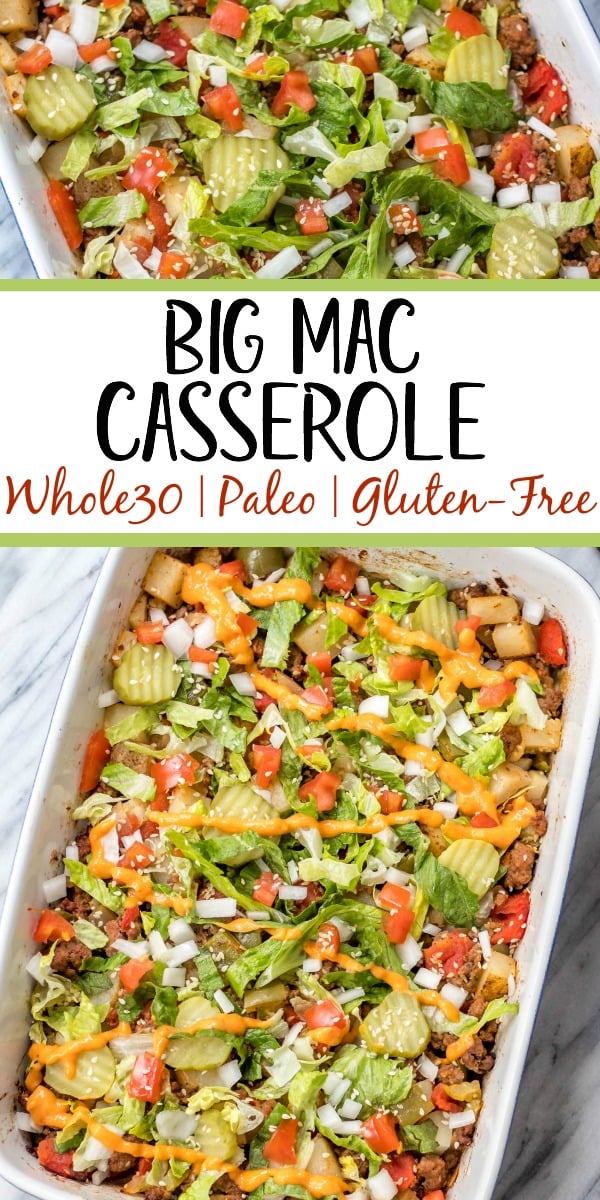 This post is in partnership with Primal Kitchen. They're giving you 10% off any of their products using the code "PALEOBAILEY" at checkout! I'm happy to work with a company I love, use and believe in so much. Thanks for your support here on the blog and your support for Primal Kitchen!
Big Mac Whole30 Casserole Ingredients
You won't believe it, but this casserole recipe is under ten ingredients, and most of them are vegetables! It also uses ground beef, so all in all, it's a pretty budget friendly recipe! Aside from the ground beef, you'll need 1 cup of diced white onions, 1 diced green pepper, 1 can of diced tomatoes, 2 potatoes, dill pickles, sesame seeds and Special Sauce.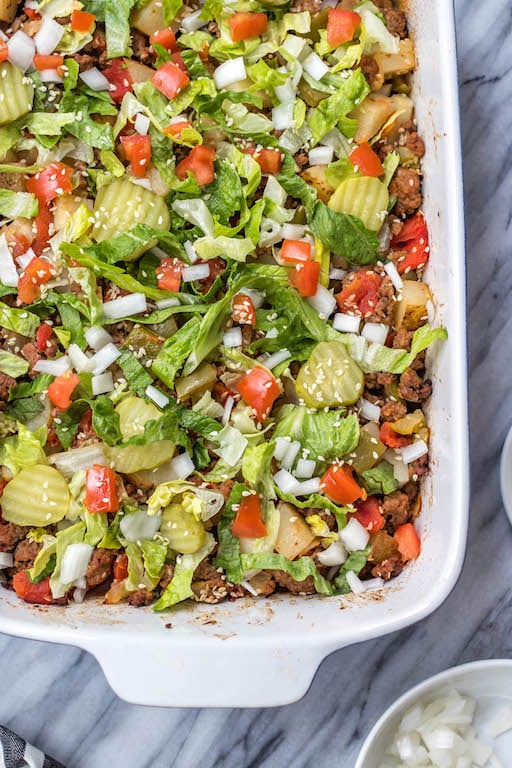 Two important things to note about these casserole ingredients are that first you'll want to get dill pickles that do not contain additives that aren't Whole30 compliant. There are many varieties at many different grocery stores, such as Target, Walmart, Whole Foods and more. The second thing is that you will want to make sure you drain both the canned tomatoes and the ground beef really well to prevent too much excess liquid from settling at the bottom of the Whole30 casserole.
How to Make this Whole30 Casserole
This Whole30 Big Mac Casserole couldn't be easier to prep. You're first going to start by preheating the oven to 350 degrees and then browning the ground beef with the onion. While the beef and diced onion mixture is cooking, add the potatoes, peppers, pickles and tomatoes into the casserole dish. When the beef has browned, drain the grease and return it to the pan or a separate bowl, where you'll mix in the Special Sauce.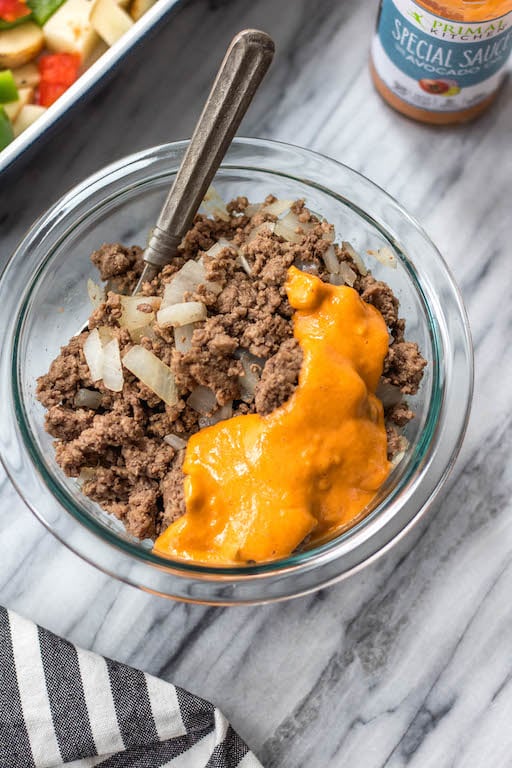 Once the beef, onion and sauce is mixed together, add that to the casserole dish with the vegetables. Then, add in the sesame seeds and after that you'll just give it all a quick mix to combine all of the ingredients. Leave it in an even layer in the dish, cover with foil and bake for an hour, or until the potatoes are cooked through.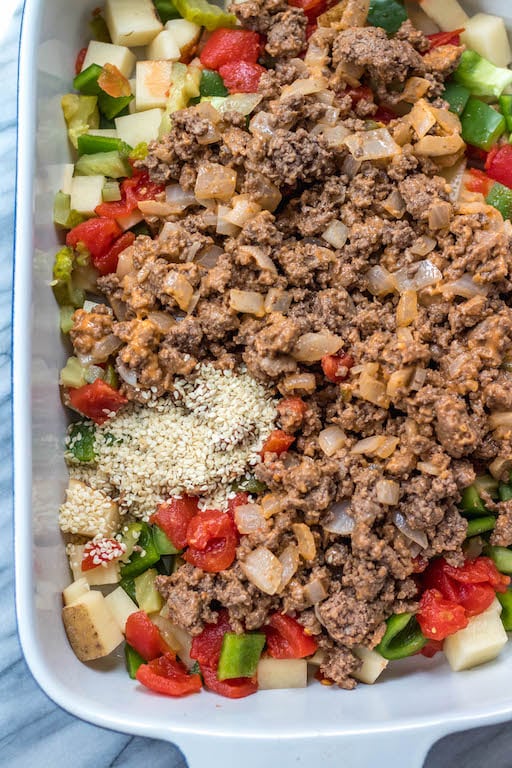 Once it's done, remove it from the oven and add any toppings you may want. If you're not doing a Whole30 or are not strictly Paleo/dairy-free, you can add some cheese to the top, or over half of the top, in the last half of the baking time to melt it over the top of the casserole. Adding cheese to half is a great option to make it even more family friendly!
The Secret's in the Sauce
Primal Kitchen's Whole30 Approved Special Sauce is newest favorite thing in my household. My husband can't stop making burgers just to find a reason to use it, and we can't stop prepping this big mac casserole for lunches because this sauce just makes leftovers so incredibly delicious! It's what ties this casserole together and truly gives it that big mac or cheeseburger taste!
You can make your own Whole30 Special Sauce with this recipe!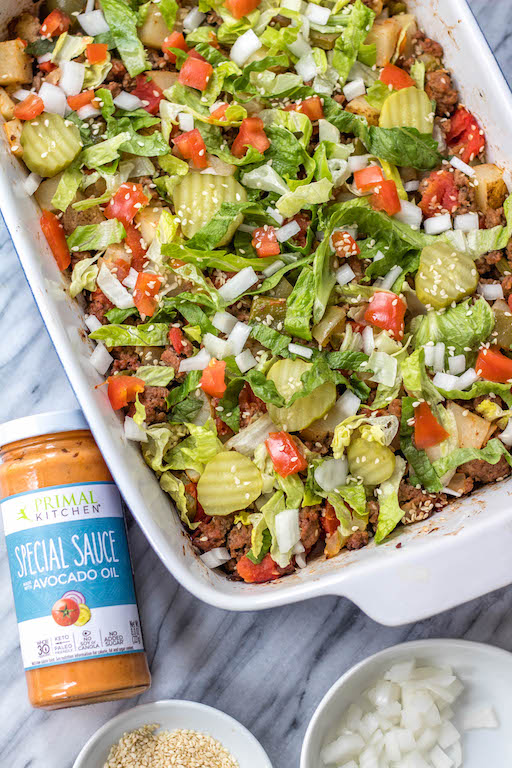 This Special Sauce is not only Whole30 Approved, but it's Keto and Paleo too! It's also great for dipping veggies, and it's awesome on fries and sweet potato fries! I love that the ingredients are all ones I know and trust, and it's made with no sugar and no canola oil. It's one of the best sauces that has a huge variety of ways to use!
You can grab it from Primal Kitchen's website, and make sure to use code "PALEOBAILEY" for an extra discount!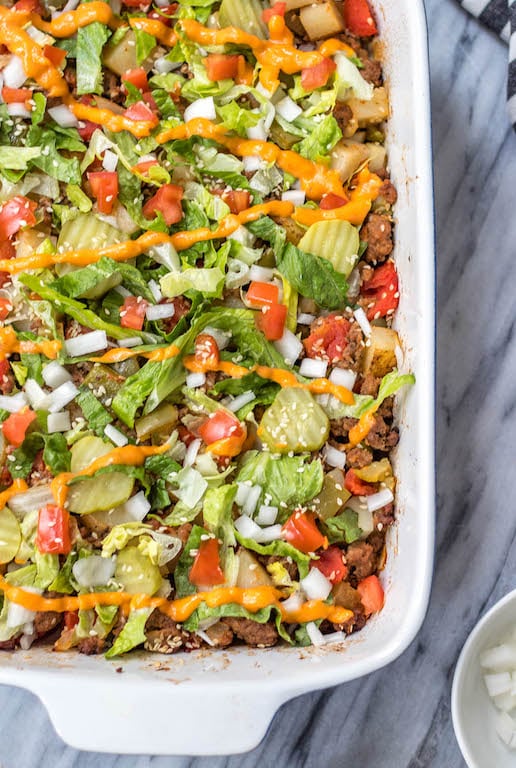 Whole30 Big Mac Casserole Toppings
When you're chopping up the veggies, reserve a bit of the diced onion to add as a topping once it's done baking. You'll also want some shredded romaine lettuce, extra pickles, sesame seeds, fresh tomato and a bit more Special Sauce to drizzle! You can really make it your own by adding any burger toppings you'd like. Crumbled bacon would be another excellent, and tasty, addition!
Other Whole30 Casserole Recipes You'll Love:
Chicken and Bacon Alfredo Casserole
Print
Hungry for more? Subscribe to my newsletter to get new recipes delivered straight to your inbox! And be sure to stay in touch on Facebook, Pinterest and Instagram for all of the latest updates.
Big Mac Casserole: Whole30, Paleo, Gluten-Free
This is a delicious and easy Whole30 ground beef casserole recipe that is a healthy take on a big mac! The classic flavors you know and love, all baked together in a paleo, gluten free Big Mac casserole that's loaded with veggies. It's great for a family friendly weeknight meal, or for meal prep lunches for the week.
Author:
Prep Time: 15
Cook Time: 1 hour
Total Time: 1 hour 15 minutes
Yield: Serves 6 1x
Category: Casserole
Method: Oven
Cuisine: American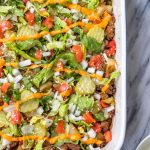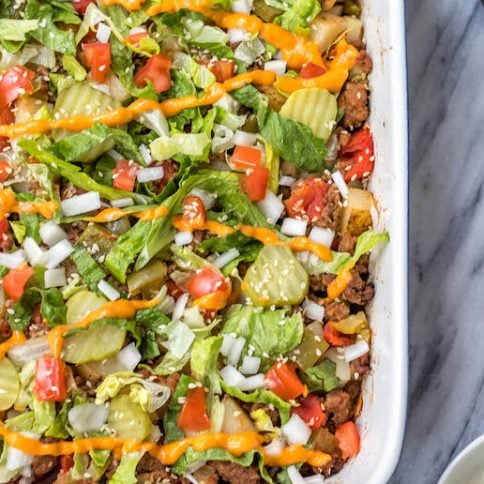 Ingredients
1 lb lean ground beef
1 cup white onion, diced
2 russet potatoes, diced (about 4 cups)
1 can diced tomatoes, drained well
1 green pepper, seeds and stem removed and diced
1/2 cup chopped dill pickles
1 tbsp white sesame seeds
1/2 cup Primal Kitchen's Special Sauce (or homemade Special Sauce)
For Topping:
Shredded romaine lettuce
Additional diced white onion, dill pickles, sesame seeds, diced tomatoes, extra drizzle of Special Sauce
Instructions
Add the diced white onion and ground beef into a large skillet over medium heat. Cook until the onion is translucent and the beef is browned. While it's cooking, preheat the oven to 350 degrees F., and add the diced potatoes, diced green pepper, chopped pickles and diced tomatoes into a large casserole dish
When the ground beef and onion mixture is done, drain well to remove the grease. Return it to the pan and then stir in the Primal Kitchen Special Sauce. Add it to the casserole dish with the veggies
Next, add the sesame seeds, and then stir everything together to combine the meat with the vegetables. Make sure the casserole is arranged in an even layer in the dish and then cover with foil
Place in the oven and bake for 1 hour, or until the potatoes are able to be pierced with a fork
Remove from the oven and top with your burger toppings and additional Special Sauce
Notes
If you're not strictly Whole30/Paleo/Dairy-Free, feel free to add 1 cup shredded cheese over the top of the casserole in the last 30 minutes of baking, or over 1/2 of it for family or kids who are not dairy-free, leaving the other half Whole30 compliant.
Keywords: whole30 recipes, whole30 dinner recipe, whole30 ground beef recipe, whole30 casserole, paleo casserole, paleo, gluten free, easy casserole, hot dish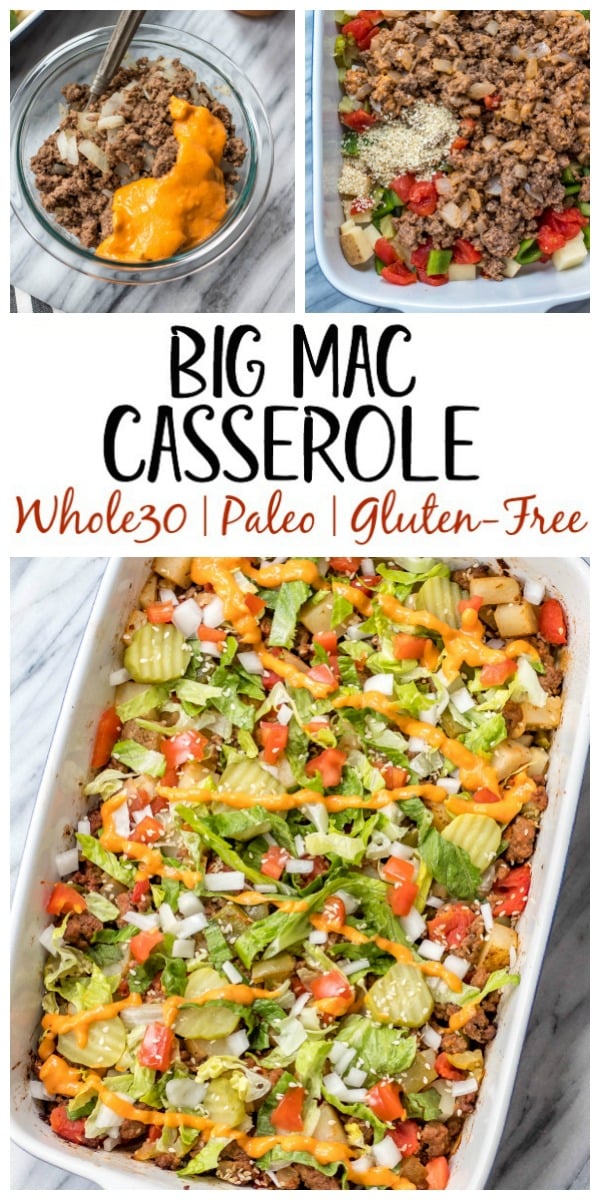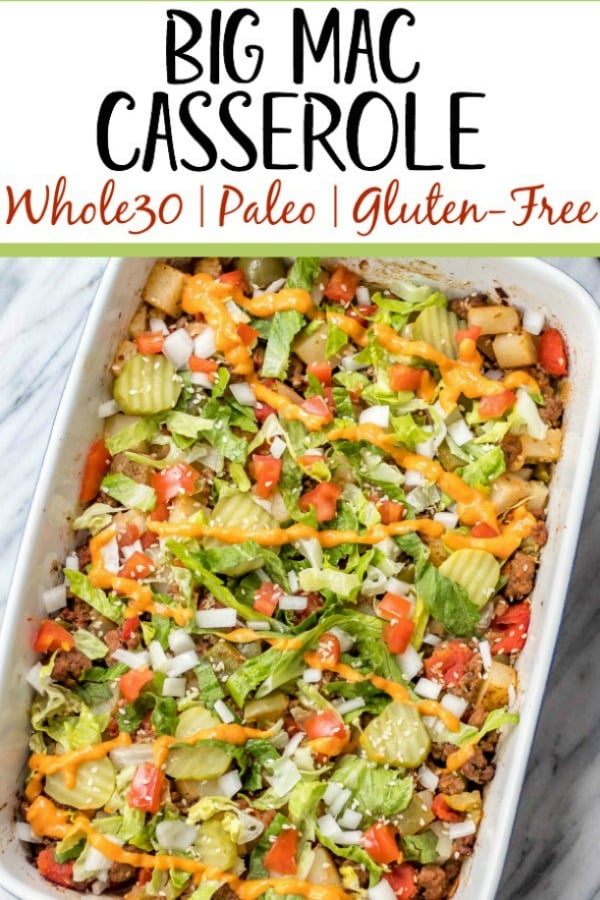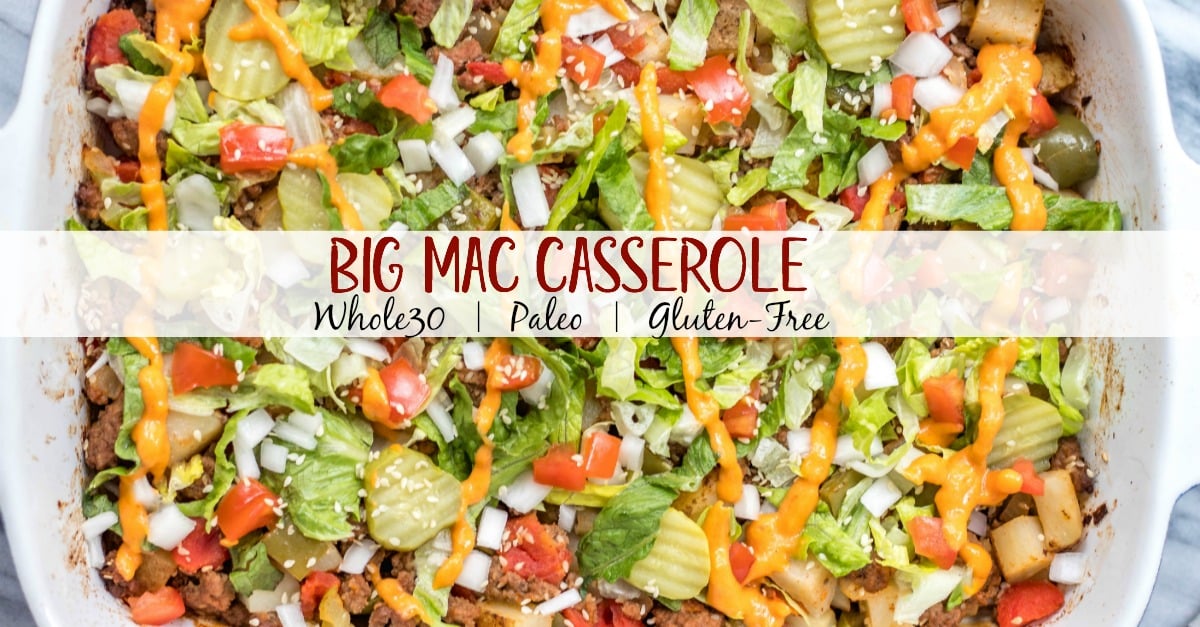 This Whole30 big mac casserole post may contain some links that are affiliate links, though products are ones I use personally and recommend. When you purchase anything using my links, it costs you absolutely nothing extra, but it does give wholekitchensink.com a little financial support which helps to keep this blog running. Thank you for your continued support, both with your dollars and your interest.