My slow cooker is by far my favorite kitchen appliance. Making this Paleo and Whole30 slow cooker egg bake with bacon, egg and hash brown on the counter on my meal prep day leaves my oven free for roasting veggies, making a sheet pan meal, or any other thing my slow cooker can't do. Appliance multitasking is one of my favorite meal prep tricks, and this slow cooker egg bake is a perfect example!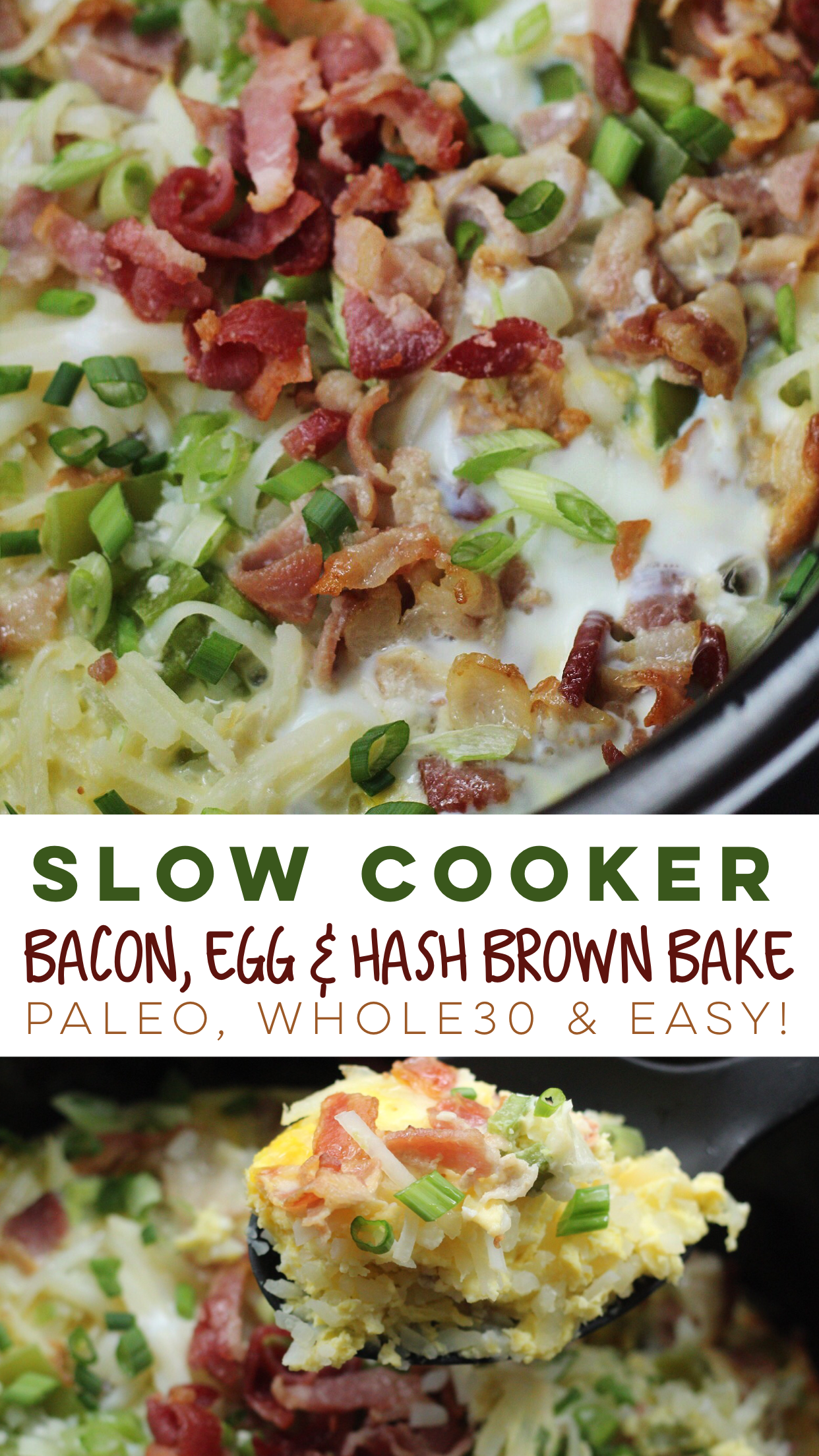 Cooking your Whole30 slow cooker egg bake is as easy as dumping ingredients into the crockpot. It frees your oven up, and also ensures you're not peaking in on the egg bake every 5 minutes to make sure you don't over cook it. I swear, a few extra minutes in the oven and suddenly your Whole30 egg bake is dried out and and half of it is stuck to the bottom of the baking dish.
This tasty Paleo slow cooker egg bake might not come out of the crock pot in nice slices, and it's more like a casserole, but the eggs are creamy, veggies are perfectly cooked and you didn't have to do any work!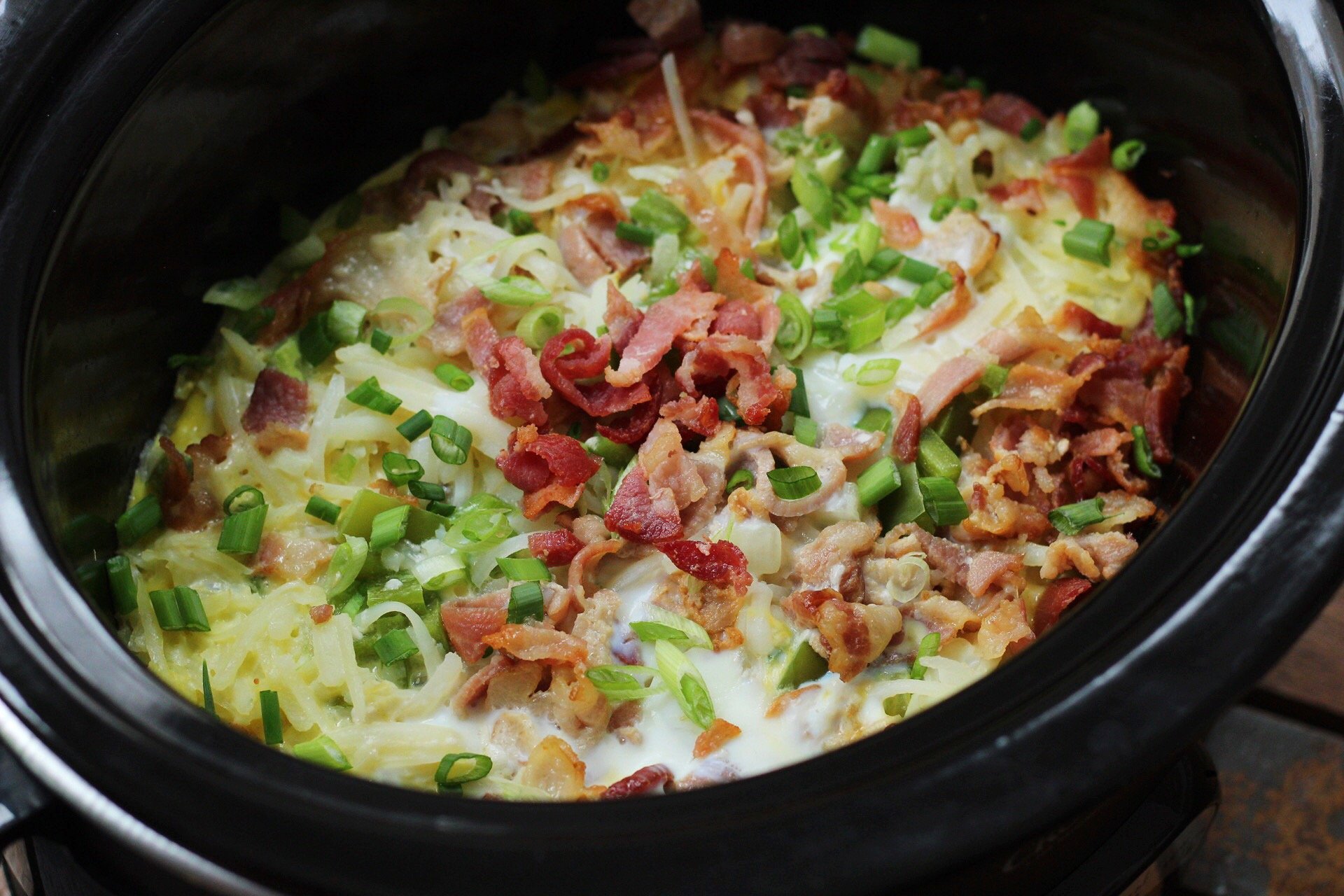 It's totally Whole30 compliant, but, if you're making this for yourself or someone who doesn't eat Paleo or Whole30, feel free to sprinkle some cheese over the top, or even over half of it! I do that for my boyfriend every once in a while, and it just goes to show you how easy it can be to please a variety of eaters by making slight adjustments!
Speaking of adjustments, you can add other veggies to this such as broccoli or spinach. Or, instead of bacon, switch it up by using sugar-free, Paleo and Whole30 ground sausage or kielbasa! Make sure you cook it prior to putting it into the slow cooker still though, if you're using ground sausage.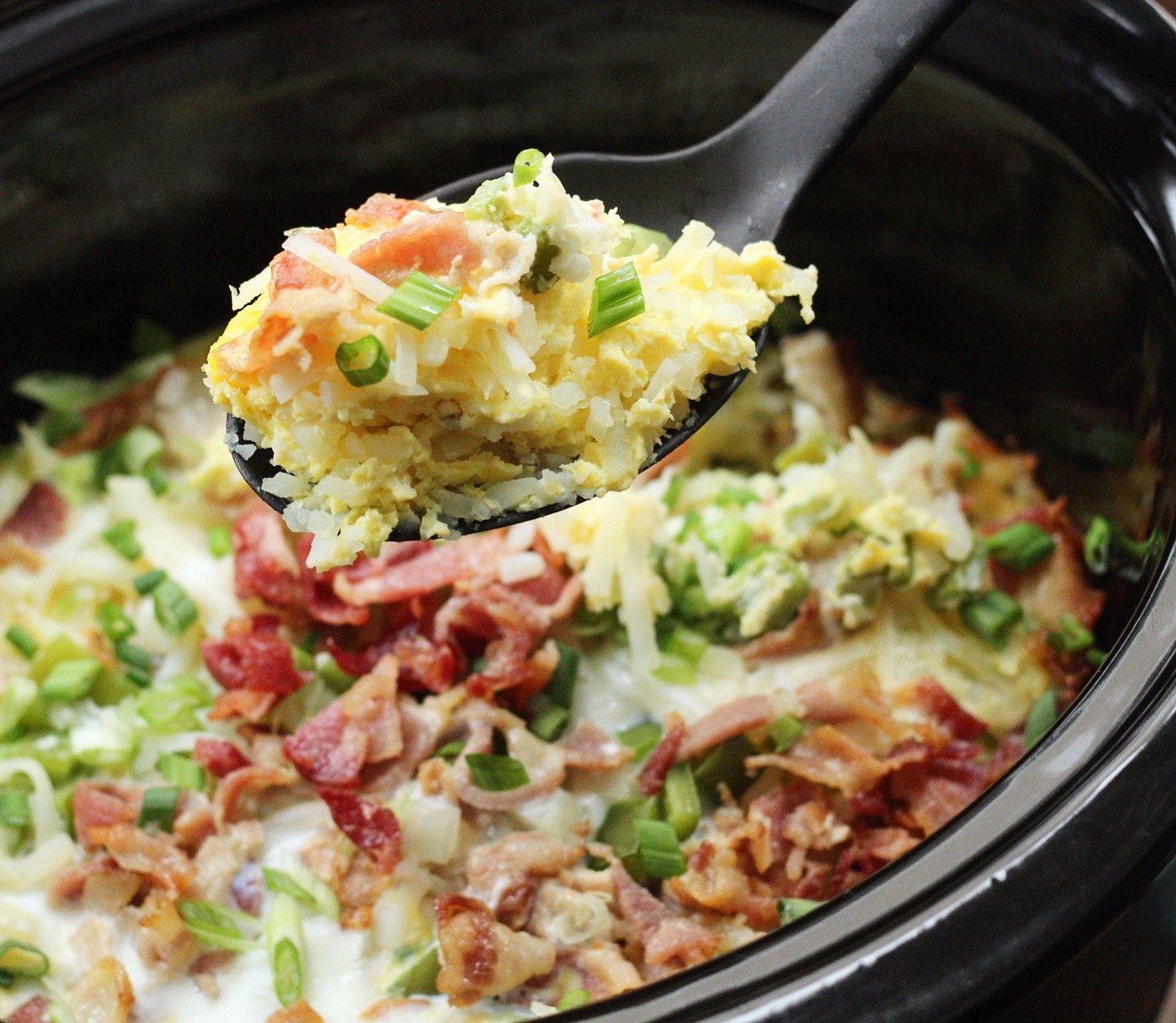 If you're going to try this Whole30 slow cooker egg bake overnight, I'd add a bit more coconut milk and maybe a few extra eggs and cook it on low. I have *not* tested this method, but those would be my recommendations to avoid having eggs that are super dry when you roll out of bed the next day.
Print
Slow Cooker Bacon, Egg & Hash Brown Bake: Easy Hands-Free Breakfast
Prep Time: 5 minutes
Cook Time: 2 hours
Total Time: 2 hours 5 minutes
Yield: Serves 4
Category: Breakfast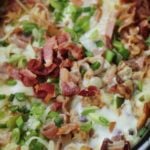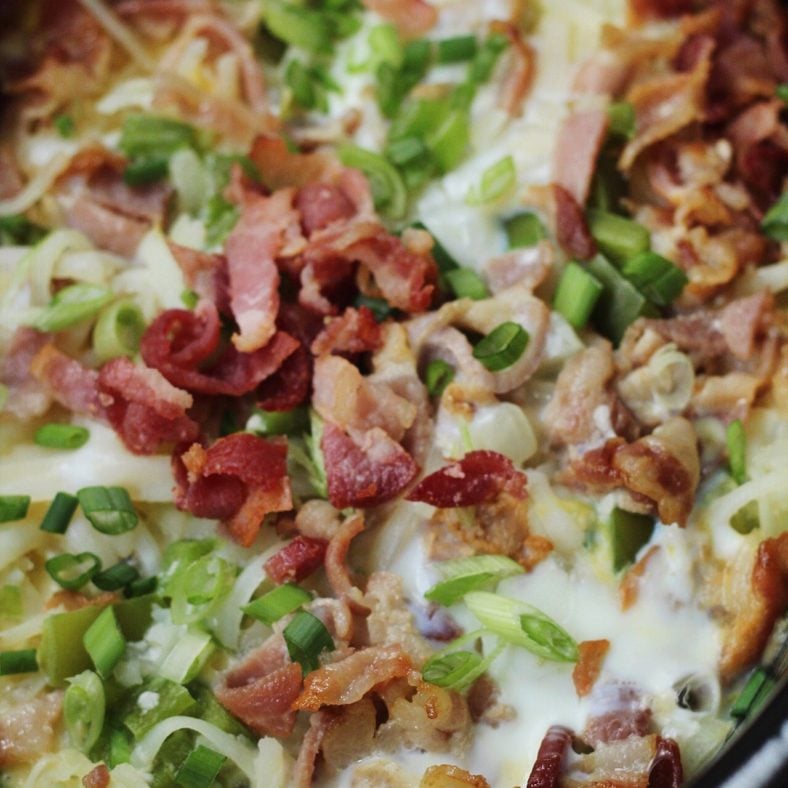 Ingredients
10 eggs
1 pound fresh hash browns
2 green peppers, diced
1 white onion, diced
1 package sugar-free bacon, cooked and chopped
1/3 cup canned coconut milk
1/2 teaspoon salt or to taste!
1/2 teaspoon pepper or to taste!
Cooking spray to coat slow cooker
Optional: green onions to garnish, additional salt and pepper, or top with hot sauce!
Instructions
Lightly coat slow cooker with oil
Mix hash browns, green peppers and onions and add to slow cooker
Top with chopped bacon, evenly coating hash brown and veggie mix
In a bowl, beat eggs with coconut milk, salt and pepper
Pour over bacon and veggies in the slow cooker
Cover and cook on high for 2 to 2.5 hours
Notes
You can use frozen hash browns, but let them thaw first and remove any excess water with a paper towel
Nutrition Facts:
Calories: 369
Sugar: 4
Fat: 17
Carbohydrates: 27
Protein: 24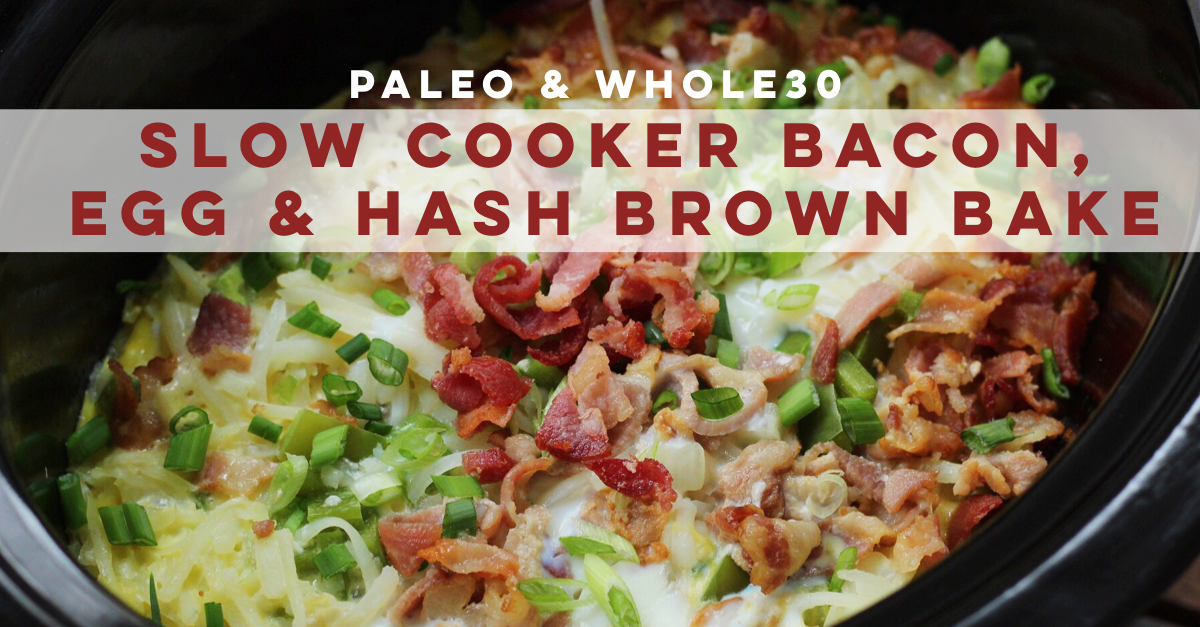 This Paleo slow cooker egg bake post may contain affiliate links, though all products are ones I use personally and recommend. When you purchase anything using my links, it costs you absolutely nothing extra, but it does give wholekitchensink.com a few pennies which helps to keep this blog running. Thank you for your continued support, both with your dollars and your interest.