My shrimp and kielbasa skillet is the perfect combination of creamy and spicy. Bonus: no dishes! One pan meals are my go-to when I'm meal prepping, crunched for time or just OMG-so-hungry-need-food-now. I usually make them for lunches or dinners and meal prep the leftovers for meals the following few days. This one cooks up quickly and makes a ton. I got 6 massive portions out of it that were just as good reheated.
I've made it with other veggies before, but these ones are my favorites. The flavors end up coming out so well once it's done cooking. The Old Bay seasoning is essential here, and frankly, should be a staple in your spice cupboard anyway! It's one of the easiest ways to spice up shrimp or tuna dishes. It's super cheap to buy so throw it in the cart next time you're at Target!
Yes, I know I'm obsessed with Target. I can't help it though! Gotta support my Minnesota companies, right?!
Most kielbasa is generally the same size and for this recipe you'll only need 1/2 of it! For the kielbasa, I use Pederson's Farms. They're Whole30 approved and made without any of the crap most pork products contain.
I can get the kielbasa from a co-op near me which is pretty convenient. Or, use your favorite kielbasa if you have one! If you know of any other brands without the junk, please let us all know in the comments! I've had a hard time finding them myself.
Once you get the veggies chopped up, it's smooth sailing from there. The recipe looks like it's got a lot of steps but I promise you, they're all ridiculously easy. The whole thing will take less than a half hour! Enjoy!
Print
Hungry for more? Subscribe to my newsletter to get new recipes delivered straight to your inbox! And be sure to stay in touch on Facebook, Pinterest and Instagram for all of the latest updates.
Shrimp and Kielbasa Skillet
Prep Time: 5 minutes
Cook Time: 15 minutes
Total Time: 20 minutes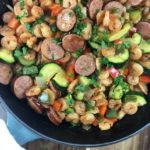 Ingredients
1 pound shrimp, thawed, tail-off
1/2 average size kielbasa sausage link (about 8 ounces), sliced
1/2 green pepper, diced
1/2 red pepper, diced
1/2 onion, diced
1 zucchini or summer squash, halved the long way and sliced
1/2 cup chicken stock
2 tablespoons avocado oil or regular olive oil
1 tablespoon Old Bay seasoning
1/8 teaspoon salt
1/8 teaspoon pepper
1/8 teaspoon red pepper flakes
1 teaspoon tapioca flour/starch
1/2 cup Nutpods Original or almond milk
Parsley or cilantro to garnish
Instructions
Heat skillet over medium heat with 1 tablespoon olive oil
Add shrimp and 2 teaspoons Old Bay seasoning
Cook for 2 minutes until opaque
Remove from skillet and set aside
Add 1 tablespoon oil, onions and pepper to skillet
Cook 4 minutes until they start to soften
Add in zucchini, kielbasa, salt, pepper and red pepper flakes
Cook for 4-5 minutes
Add shrimp back in with chicken stock. Bring to a simmer
Allow to simmer for 2 minutes, stirring occasionally
Move meat and veggies to the side, creating a small open space on the skillet
Add Nutpods or almond milk with the tapioca starch
Use a fork to combine together until starch isn't clumpy
Stir into meat and veggies with remaining 2 teaspoons of Old Bay seasoning, giving it a nice creamy consistency
Remove from heat, garnish and serve!
If you made this and love it, let me know! Someone just told me that it was a huge hit for her whole family and it made my day! Tag me on Instagram @paleobailey!
This post contains affiliate links, though all products are ones I use personally and recommend. When you purchase anything using my links, it costs you absolutely nothing extra, but it does give wholekitchensink.com a little financial support which helps to keep this blog running. Thank you for your continued support, both with your dollars and your interest.