This easy shredded chicken salad recipe is so easy to make, and a great way to use leftover chicken or rotisserie chicken. It's made in under 20 minutes, with fewer than 10 ingredients and is awesome for lunch meal prep or shredded chicken salads. This salad is also Whole30, gluten free, dairy free, paleo and keto.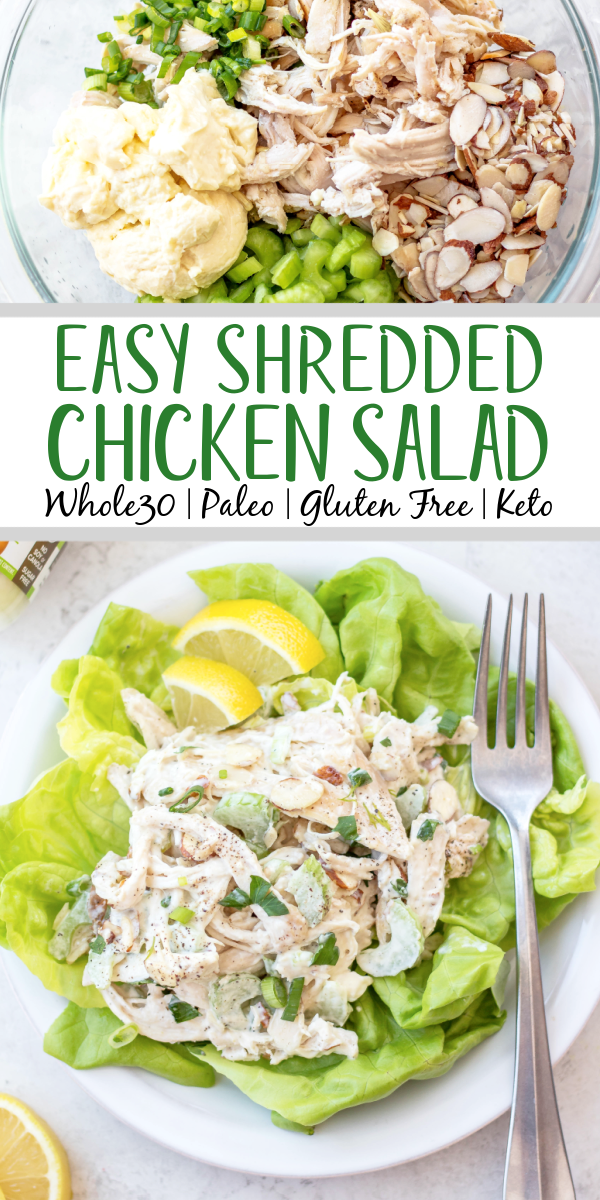 This post is in partnership with Primal Kitchen. They're giving you 10% off any of their products using the code "PALEOBAILEY" at checkout! I'm happy to work with a company I love, use and believe in so much. Thanks for your support here on the blog and your support for Primal Kitchen!
Why You'll Love this Chicken Salad
It's easy! This recipe is under 10 ingredients so it's perfect when you're short on time!
There's very little prep work or hands on time required. It comes together in less than 20 minutes.
It's great for meal prep. It lasts well in the fridge and is a delicious lunch to enjoy for a few days after you make it.
This shredded chicken salad is Whole30, gluten free, keto and low carb, dairy free, paleo, and sugar free. This means it's great for anyone in your family to enjoy no matter how they need or choose to eat!
Shredded Chicken Salad Ingredients
The ingredient list needed to make this salad is very short. You will need sliced almonds, diced celery, lemon juice, green onions, parsley, salt and pepper. Besides those, the two main ingredients are the shredded chicken and the mayo.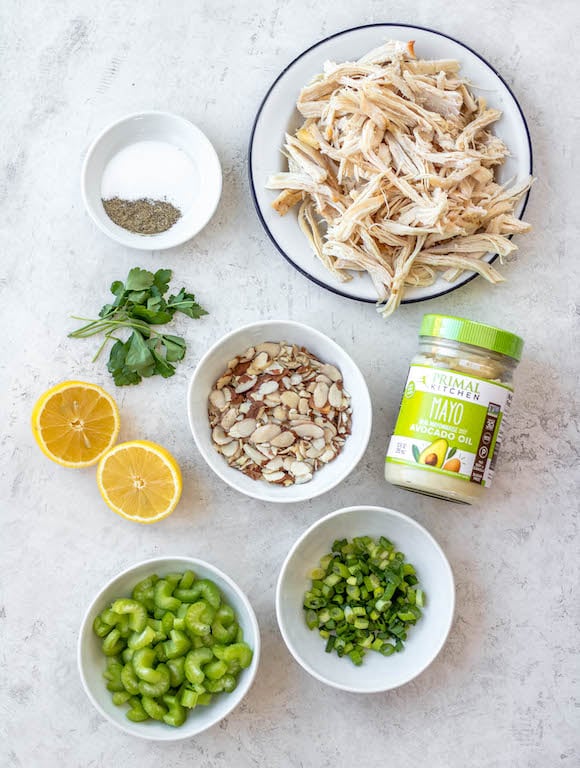 This recipe is really flexible and great for using what you have on hand. Go ahead and make any of these substitutions:
Instead of fresh lemon juice, you can use bottled
Diced white or red onion can be used in place of green onions
Slivered almonds can be used instead of sliced almonds, or other nuts such as walnuts or pecans can be substituted
Dried parsley can replace fresh chopped parsley
Sugar Free Mayo
To keep this recipe Whole30, paleo and keto, using a mayo without sugar is key. Primal Kitchen Mayo is made without additives like sugar, and with avocado oil and organic cage free eggs. It's ideal for those who don't want condiments with canola oil or artificial ingredients, and it's Whole30 Approved, and Certified Keto and Paleo.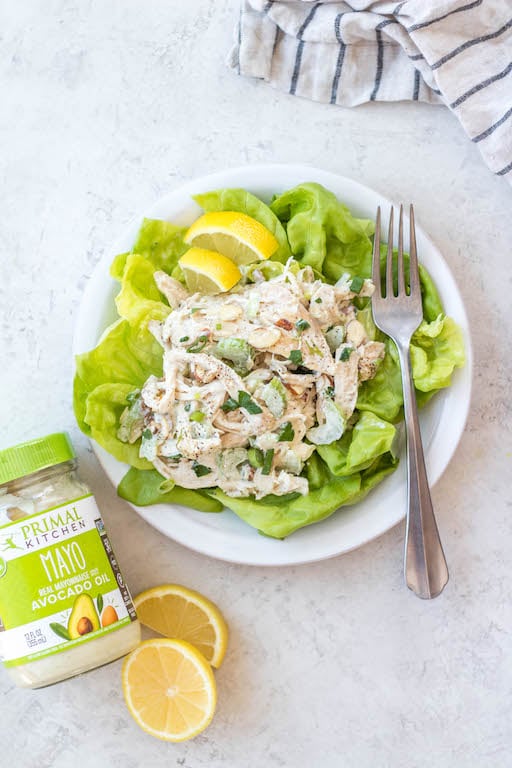 Primal Kitchen Mayo is available at many major retailers nationwide, and online from Thrive Market, or their website. The code PALEOBAILEY gives you a discount at checkout on their site!
Other recipes to use mayo in: mayo marinated chicken thighs, bang bang shrimp, homemade ranch dressing, homemade tartar sauce, mustard potato salad
How to Make Chicken Salad with Shredded Chicken
There are only two main steps to making your salad. First, you will chop the celery, green onions and parsley. Then, everything will get combined together in a large mixing bowl. It really is that simple!
Make sure to mix everything together really well to evenly coat the chicken with the mayo and spices. You can add more mayo to make the shredded chicken salad wetter, or less if you like your chicken salad more dry. Make sure to give the salad a taste and adjust the salt, pepper or lemon juice to your preferences.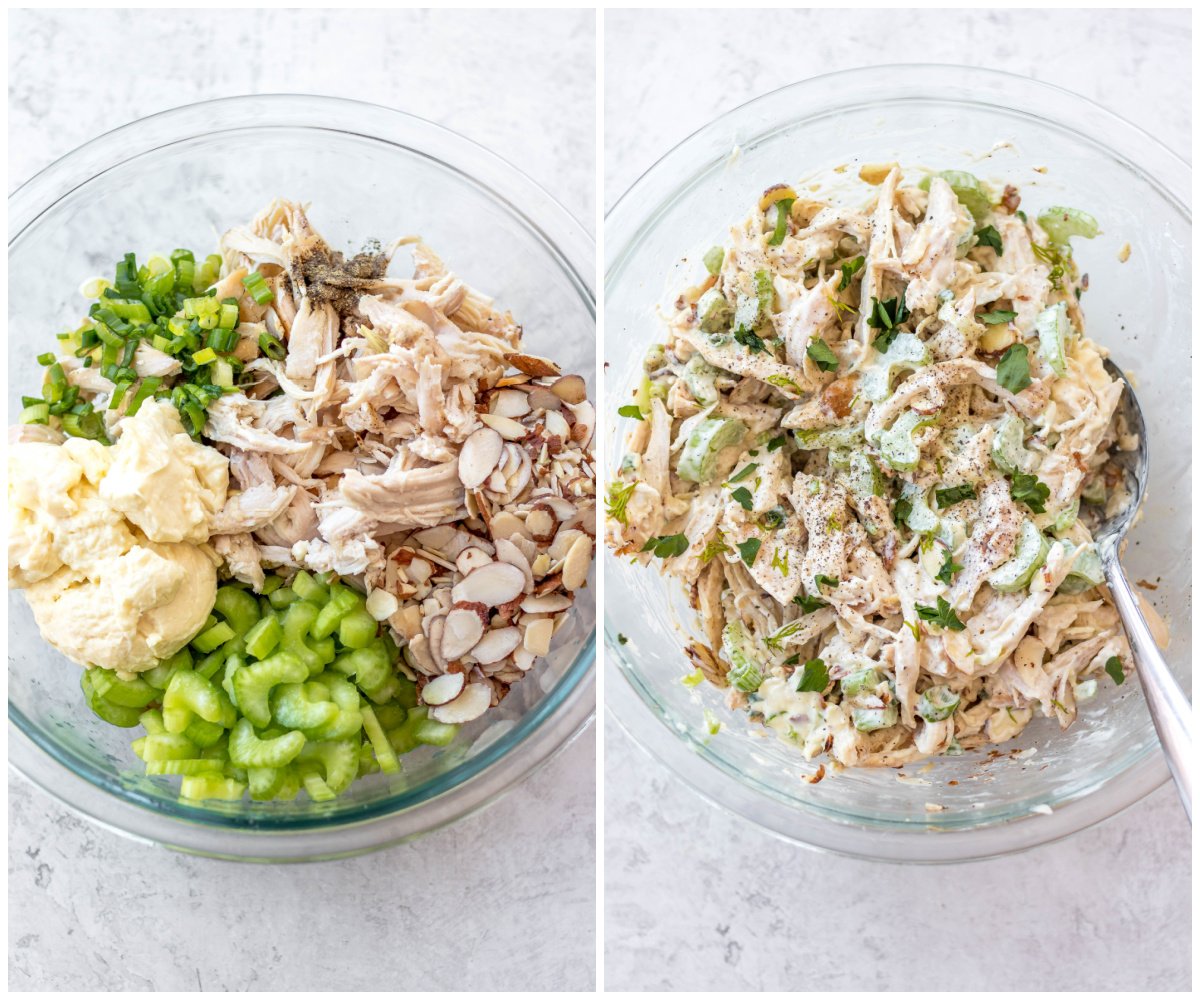 How to Cook the Chicken for Shredded Chicken Salad
This recipe really is a great use for leftover chicken you may have. However, f you don't already have leftover chicken you need to use up, there are a few easy ways to get your chicken cooked. You can do this while you're prepping the other ingredients so it keeps the prep time short.
1. Bake the Chicken
Preheat your oven to 375 degrees F., and place your chicken breasts on a sheet pan. Spray them with a bit of avocado oil or olive oil, and lightly season each chicken breast with salt and pepper. Then place the sheet pan into the oven and bake the chicken for 30 minutes, or until cooked through.
The cook time will slightly depend on how thick your chicken breasts are and the time may vary +/- 5 minutes, so keep an eye on it while you're prepping the rest of the salad ingredients. Remove the sheet pan from the oven, let cool for a few minutes so they can be handled, and then shred the chicken.
2. Poach the Chicken
You can poach chicken on the stovetop while you're prepping the other salad ingredients. To poach chicken, you will bring a pot of water to a boil, add a light sprinkle of salt, and then let the chicken breasts cook in the boiling water for 10 to 15 minutes. A trick to poaching chicken and making sure to not overcook it is that once the chicken breasts float to the top, they are done cooking and should be removed from the water.
Once they're done, let them cool for just a few minutes until they can be handled, and then you can shred the chicken breasts.
3. Rotisserie Chicken
If you're pressed for time, or planning a trip to the grocery store, you can pick up a rotisserie chicken. With a rotisserie chicken, there is no cooking needed or involved with this chicken salad recipe at all. You'll just need to remove the meat from the bone, remove the skin and shred the rotisserie chicken to add it into your bowl for mixing. The bones and skin can be discarded, or saved for making your own chicken broth.
How to Shred Chicken for Chicken Salad
Shredding chicken is super easy to do. I find that it's easiest when the chicken is warm instead of just out of the fridge, but either way it is a very simple process. There are a few different ways that chicken can be shredded.
1. With forks
This is probably the most popular method. You can use two forks to drag across the chicken breast in a scratching motion to shred it. It's very easy to do and takes a few minutes per chicken breast.
2. With your hands
This method is very easy and my preferred way to shred chicken. Our hands are our oldest and best tools, after all! I find it's much quicker to just use your hands to pull apart the chicken to shred it and you have more control over how thin you want to shred it.
3. With a handheld mixer or stand mixer
Many people like to use a handheld mixer or stand mixer to shred their chicken breasts. To do this, you place the chicken breasts into a bowl (or your stand mixer), and turn the mixer on low to medium. The beaters will shred the chicken for you in a matter of minutes. I find this method cumbersome because I don't have a mixer out and it takes more time and dishes than just simply using my hands or forks, but it does work very well.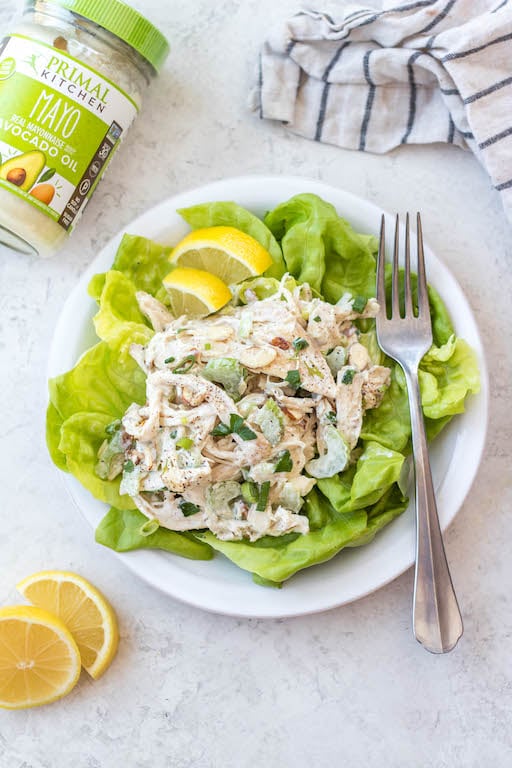 What Goes Well with Shredded Chicken Salad
Shredded chicken salad can be served with so many different things, which is truly what makes it so ideal for keeping in the fridge for easy lunches or meals that can be quickly thrown together. Shredded chicken salad can be served on sandwiches, over greens as a salad, on it's own with sliced fruit or on it's own with vegetable sides and a dipping sauce like ranch. It's great in wraps or served in lettuce cups, bell pepper halves or grain free tortillas.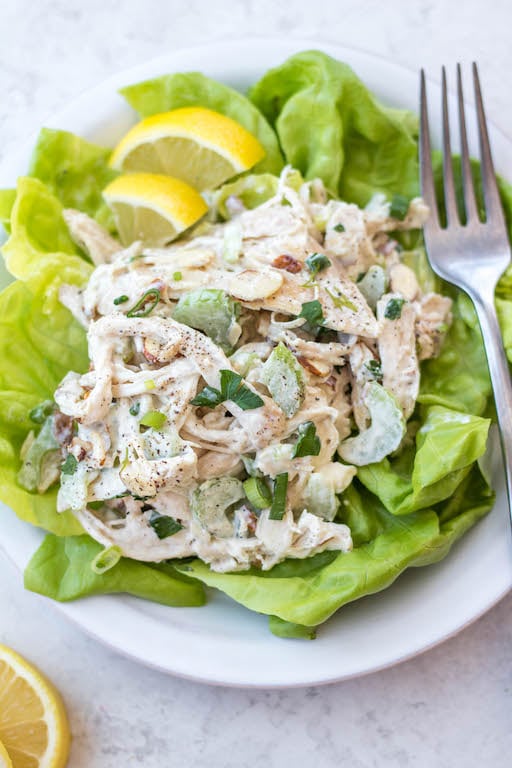 FAQ
How long can I keep shredded chicken?
Having shredded chicken on hand during the week helps to cut down meal prep time because you can pull it out of the refrigerator and easily make salads, wraps, soups or really anything! Shredded chicken can be cooled and then stored in an airtight container in the refrigerator for up to 4 days.
Can I freeze shredded chicken?
Yes, you can! Shredded chicken can be frozen, and it's best to wrap it tightly in freezer wrap to protect it from freezer burn, and then place it in freezer-safe bag or container. Shredded chicken can be frozen for up to 3 months and still taste fresh if stored properly!
Can I freeze rotisserie chicken?
Yes! However, instead of freezing the entire chicken bones and all, it's best to break the chicken down by removing it from the bones and shredding it first. This saves on freezer space and reduces the likelihood of freezer burn because you're able to remove excess air.
Why is my leftover chicken dry?
Dry chicken is usually overcooked chicken, or cooked chicken that has been sitting in the fridge stored improperly. If your chicken is too dry, you can heat a few tablespoons of broth in the microwave, and put the chicken in a shallow dish. Spread the chicken out into an even layer and then pour the broth over the chicken. Let it soak for about 10 minutes. The broth should rehydrate the chicken and it won't taste dry!
Why is my chicken rubbery?
This happens most frequently when chicken has been poached or microwaved, and was overcooked. It can be easy to over-boil chicken if you don't check it about every 5 minutes. Once the chicken breasts is floating at the top when poaching, it's likely done. Check that the thickest part is cooked to 165 degrees F.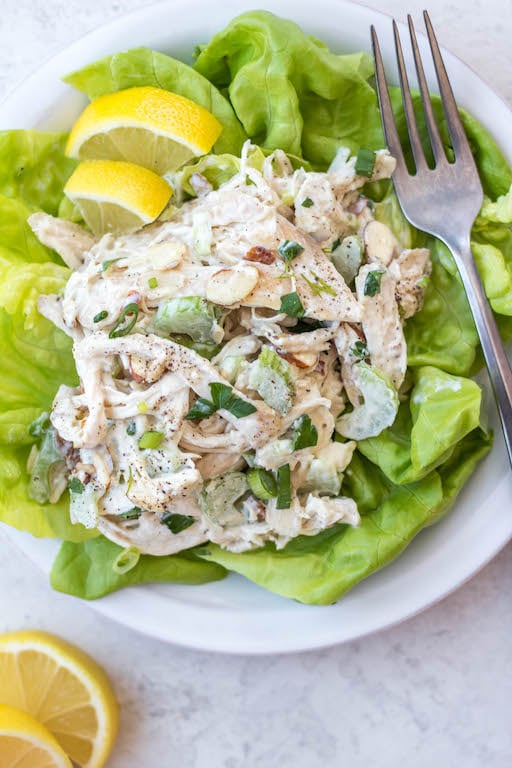 Other Chicken Salad Recipes You'll Love:
Print
Shredded Chicken Salad (Whole30 and Paleo)
This easy shredded chicken salad recipe is so easy to make, and a great way to use leftover chicken or rotisserie chicken. It's made in under 20 minutes, with fewer than 10 ingredients and is awesome for lunch meal prep or shredded chicken salads. This salad is also Whole30, gluten free, dairy free, paleo and keto.
Author:
Prep Time: 15 minutes
Total Time: 15 minutes
Yield: Serves 4
Category: Chicken
Method: Salad
Cuisine: American
Diet: Gluten Free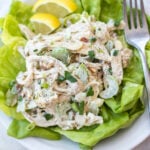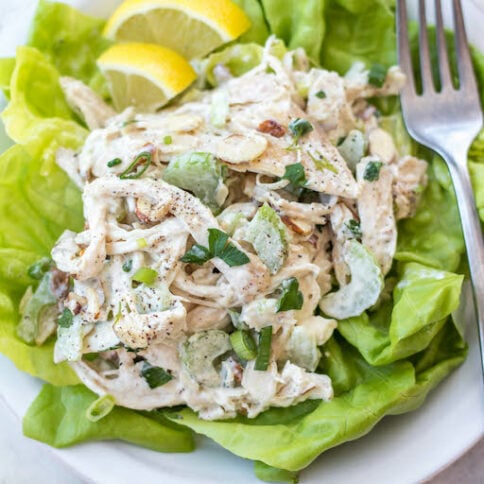 Ingredients
4 cups shredded chicken (approximately 2 chicken breasts)
3/4 cup Primal Kitchen Avocado Oil Mayo
Juice of 1 lemon
1 teaspoon salt
1 cup diced celery (about 2 stalks)
1/2 cup sliced almonds
1/3 cup chopped green onions
1/3 cup chopped parsley, or to taste
Pepper to taste
Instructions
Combine all of the ingredients in a large mixing bowl
Stir to combine and taste to add more salt and pepper as desired
Cover and refrigerate for at least 1 hour prior to serving to let the flavors come together. Serve over greens, in wraps, on sandwiches, or on it's own
Keywords: shredded chicken salad, whole30 chicken salad, easy shredded chicken salad, paleo chicken salad, keto shredded chicken salad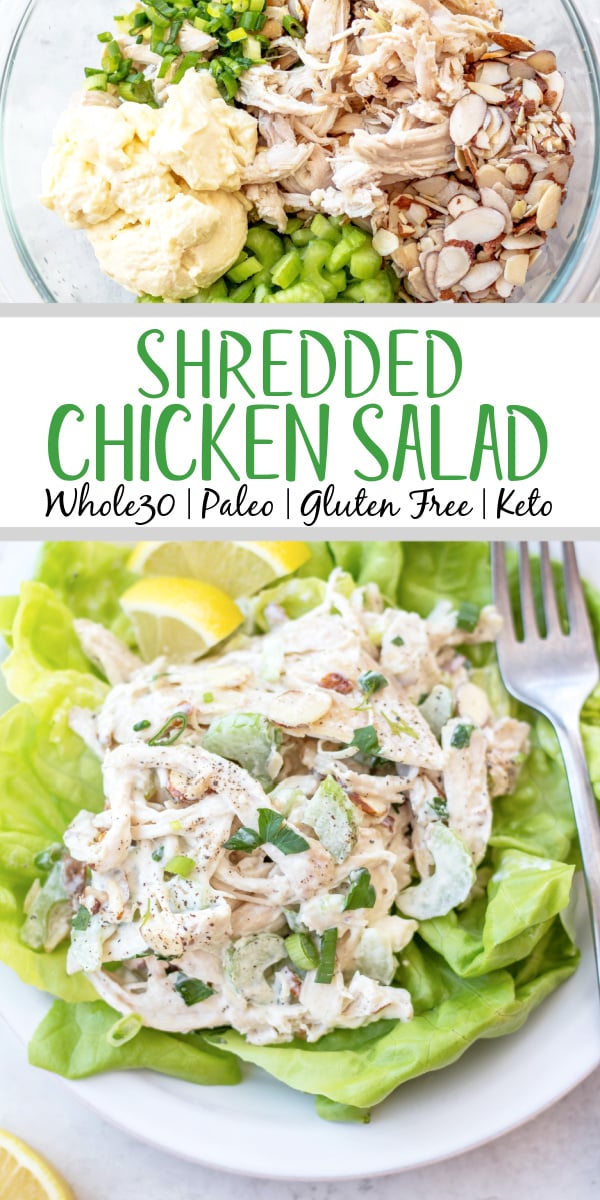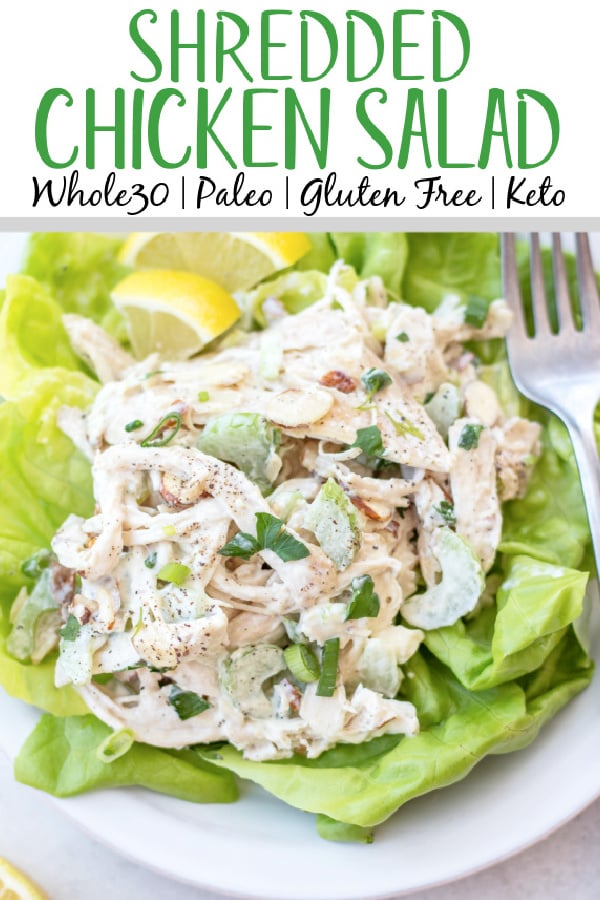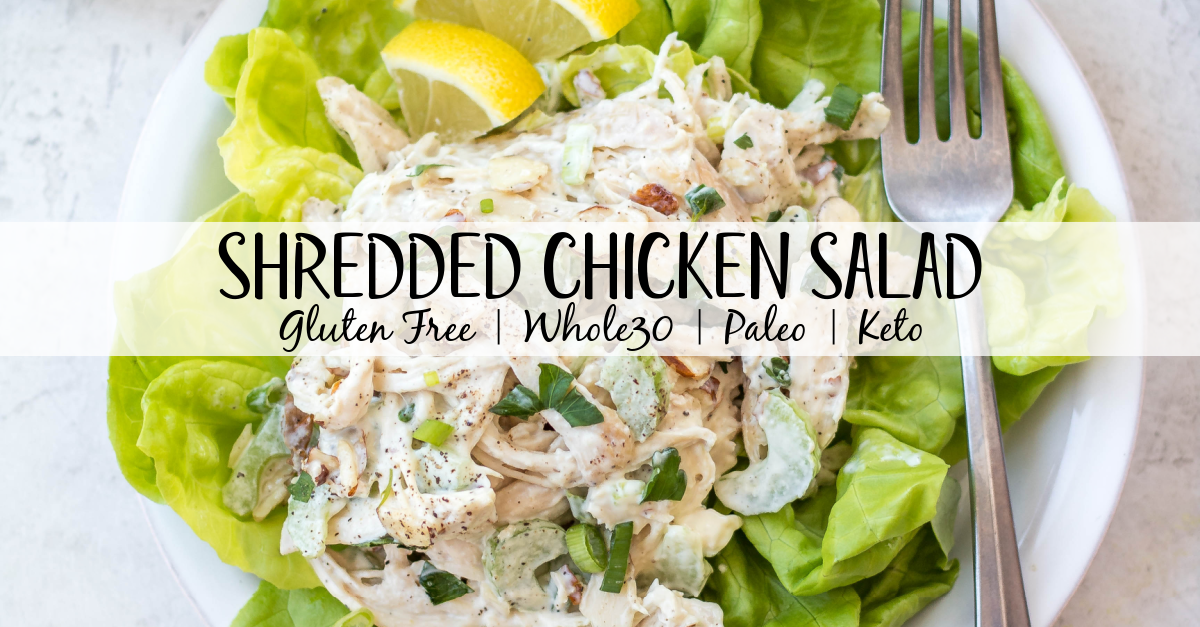 This shredded chicken salad recipe contains affiliate links, though all products are ones I use personally and recommend. When you purchase anything using my links, it costs you absolutely nothing extra, but it does give wholekitchensink.com a little financial support which helps to keep this blog running. Thank you for your continued support, both with your dollars and your interest.