Stir fry is one of my favorite meals to make (and eat). It's one of those meals where you don't have to sacrifice time for flavor. I went ahead and made it even easier to make tonight by just throwing it all on a sheet pan and letting the oven do the work. This sheet pan stir fry is a great option for anyone who's not trying to spend a ton of time inside the kitchen on a weeknight. Especially now that it's summer!
I usually make this with broccoli but I'm a huge believer in just using what you have and making it work! So no broccoli with this one but I did add mushrooms instead. That's the beauty of stir fry. Anything goes, really.
I've also made this with shrimp, snap peas, water chestnuts.. the options are endless.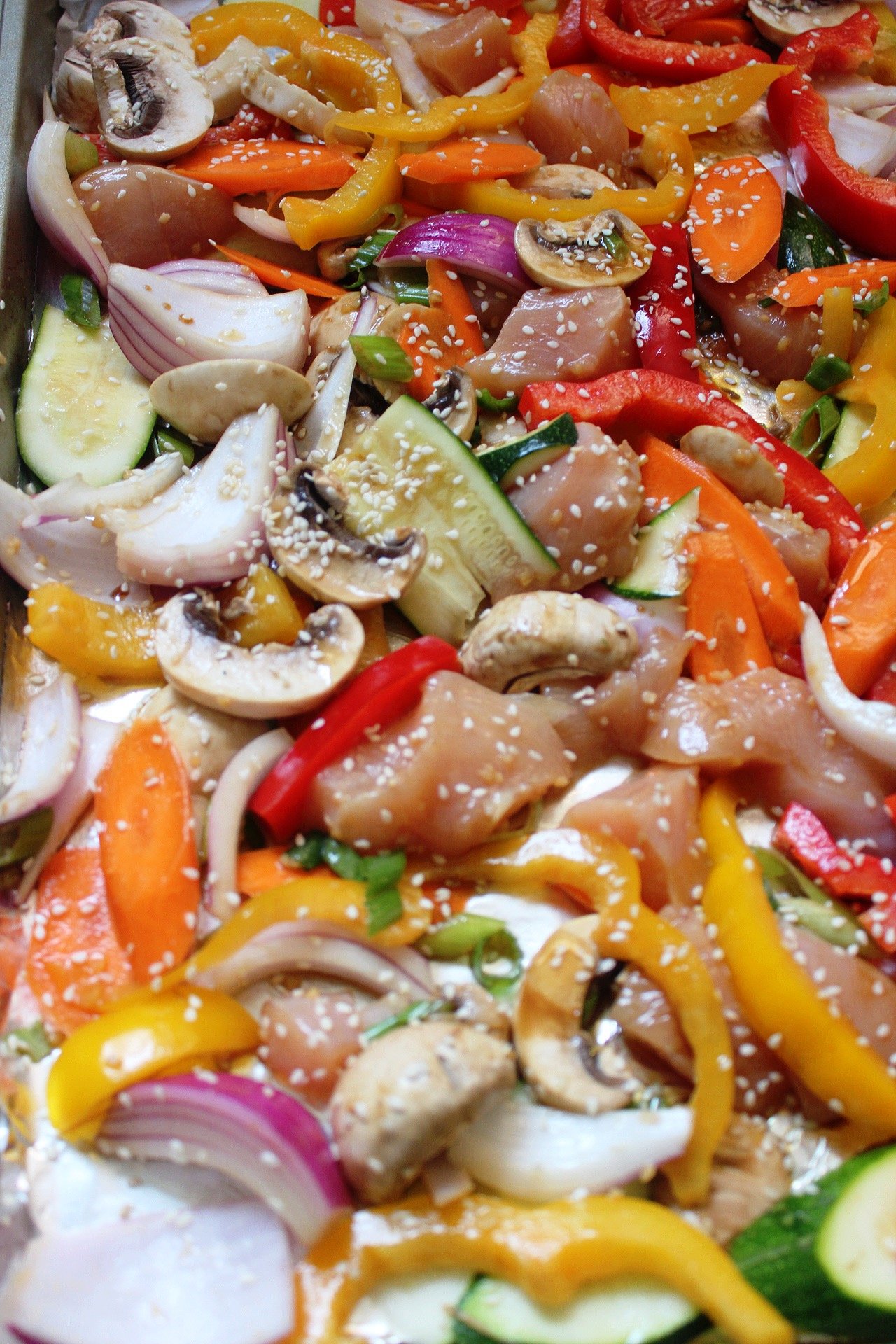 The sauce is really easy to whip up and only takes a few ingredients. You'll want to whisk it together in a separate bowl first so that it's combined before pouring over the meat and veggies. For the sauce I used rice vinegar, which contrary to popular belief, is Paleo and Whole30 approved. I also used coconut aminos (I get mine from Thrive Market), toasted sesame oil, minced garlic and ginger and tapioca starch.
Whisking the tapioca starch in 1/2 tablespoon at a time and before you add in the minced garlic and minced ginger will give you the smoothest result for the sauce. Mixing it in too fast or with the minced ingredients can result in clumping and just more hassle than you want to deal with for only a 30 minute meal, ya know? 😉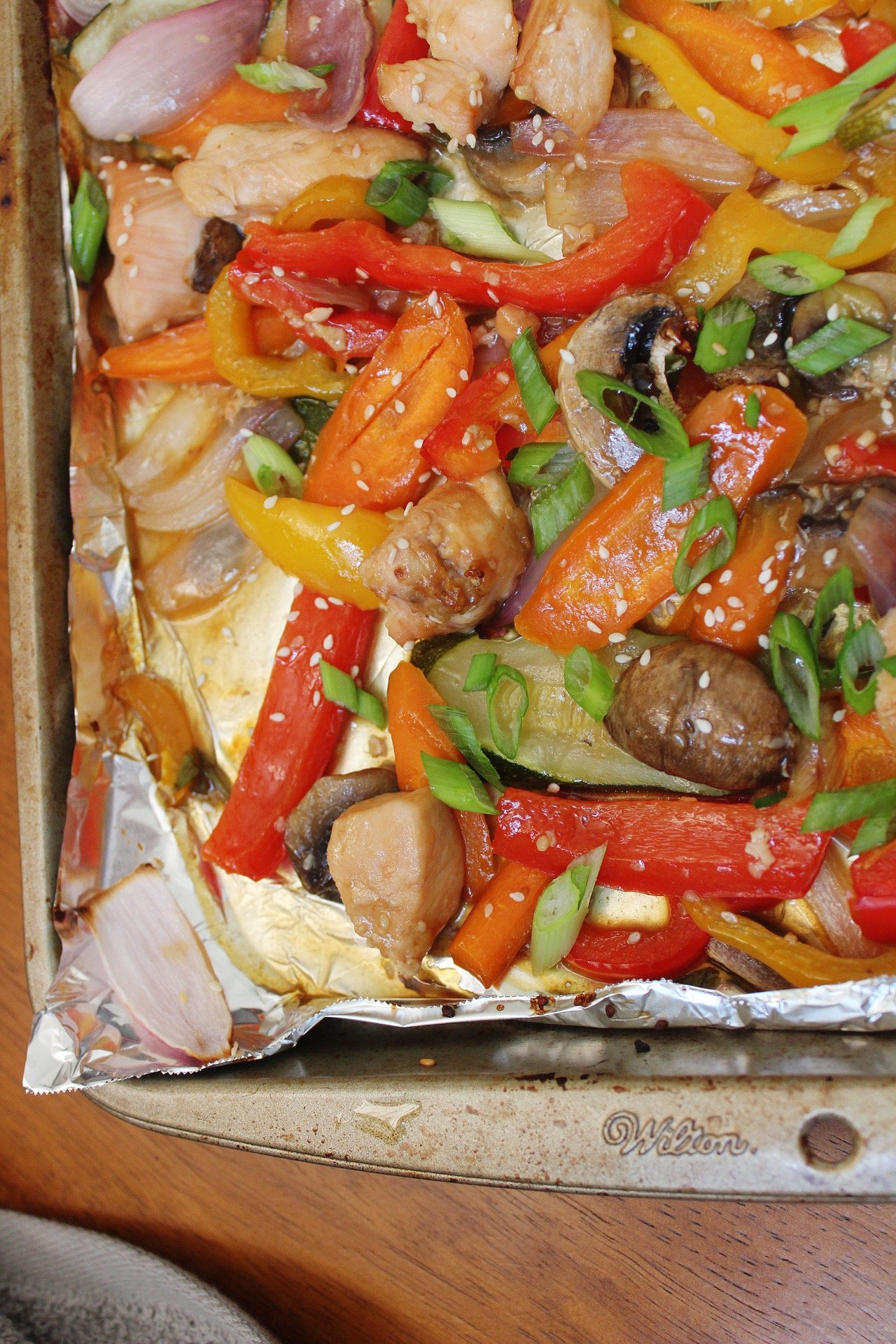 It's important you chop the thicker veggies, such as the carrots, in a similar thickness so they cook evenly. As with all sheet pan meals, you obviously want all of the ingredients to be fully cooked at the same time. If you use mushrooms, you'll want to slice them a bit on the thicker side so they don't cook too fast and burn!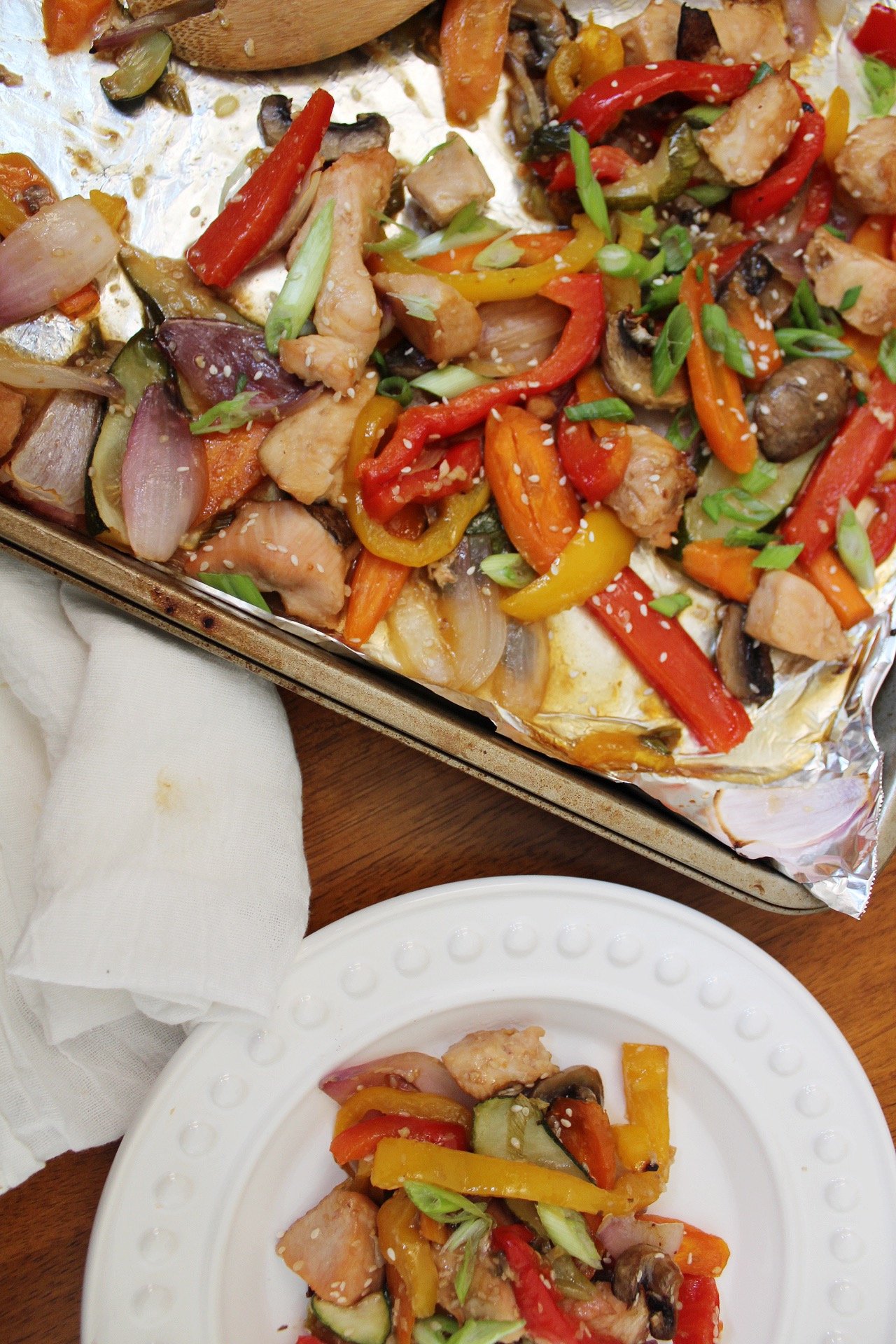 Print
Hungry for more? Subscribe to my newsletter to get new recipes delivered straight to your inbox! And be sure to stay in touch on Facebook, Pinterest and Instagram for all of the latest updates.
Sheet Pan Chicken Stir Fry: Paleo & Whole30 30 Minute Meal
Prep Time: 10 minutes
Cook Time: 30 minutes
Total Time: 40 minutes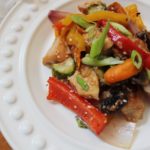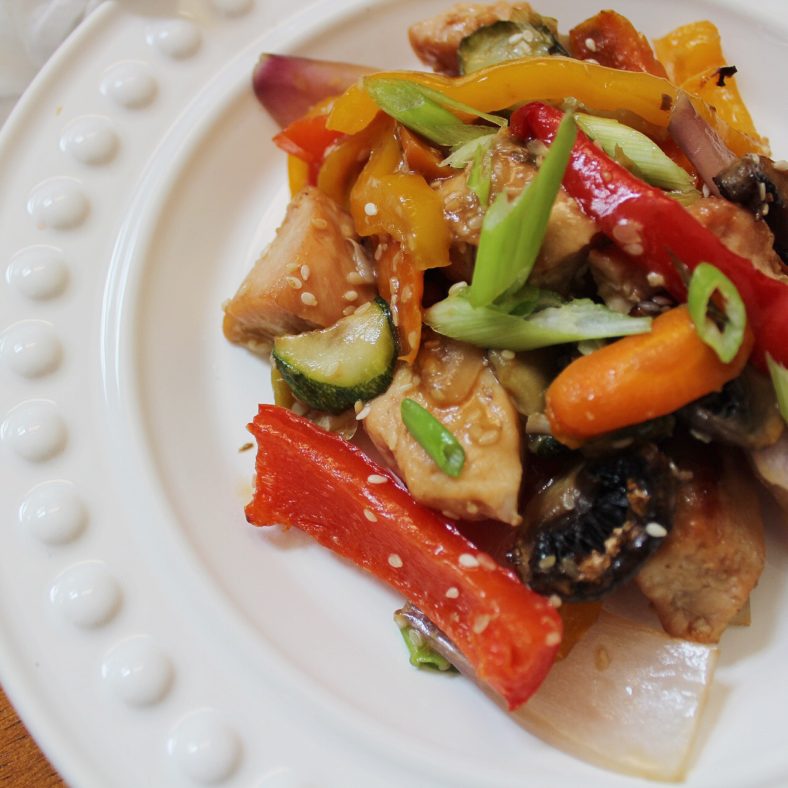 Ingredients
For the Sauce:
For the Veggies and Meat
1–1.5 lbs thawed chicken, cut into 2" cubes
2 green onions
2 large carrots, peeled and cut diagonally
1 small zucchini, cut diagonally
2 peppers (red, green or yellow)
1 cup sliced mushrooms
1/2 red onion, sliced
Sprinkle of sesame seeds
Instructions
Preheat oven to 400 degrees F.
Cut veggies and chicken and spread out over a large sheet pan lined with tin foil
Mix sauce in a small bowl – first whisking all ingredients except garlic, ginger and starch
Slowly whisk in starch, 1/2 tablespoon at a time
Then mix in ginger and garlic
Pour over veggies and chicken
Stir around so it's evenly coated
Place in oven for 30 minutes, or until veggies are done to your liking (more time = crispier veggies)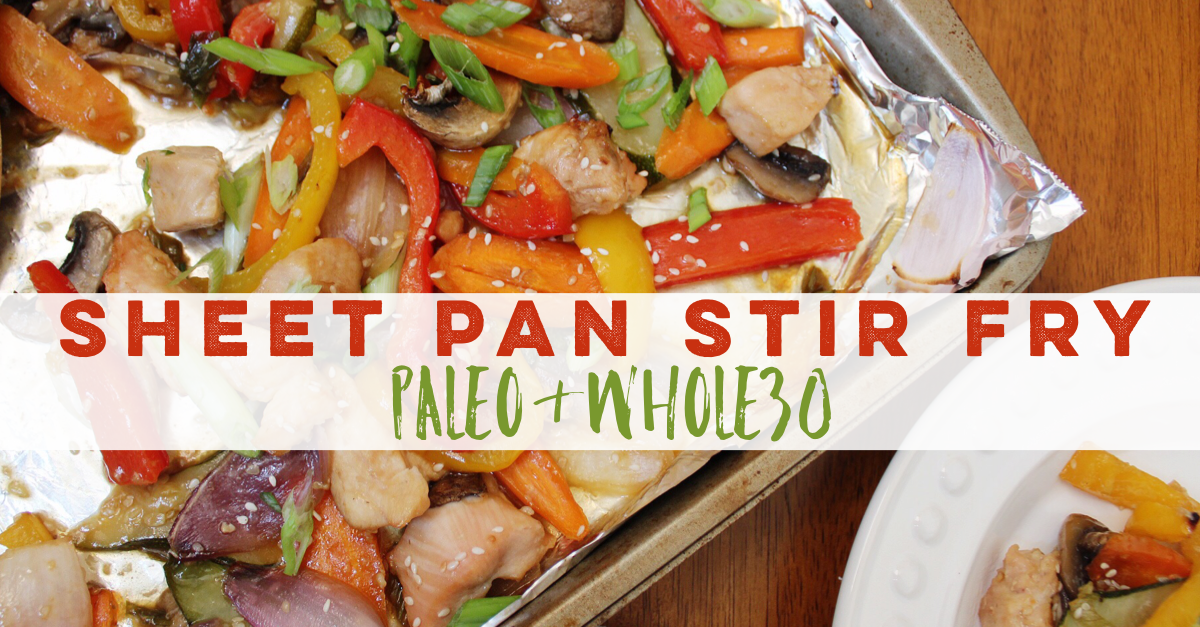 This post contains affiliate links, though the products are ones I frequently use personally and recommend. When you purchase anything using my links, it costs you absolutely nothing extra, but it does give wholekitchensink.com a little financial support which helps to keep this blog running. Thank you for your continued support, both with your dollars and your interest.