My friend Chelsea recently completed her first round of Whole30. I was already inspired by her story (fun fact- she was the very first person I followed on Instagram when I started paleobailey and now we're friends!) and I was so excited when she told me she was gearing up to complete her first round. If you haven't been following Chelsea on Instagram, which you should, here's a little background on how she got here:
"I was always heavy. From the time I was little girl I knew that I was bigger than the other kids and was extremely self-conscious. I was raised on a fast food diet and completely addicted. After having my daughter my weight only got worse. I didn't even realize how large I had gotten. Because I was so unhappy with my appearance, my husband urged me to make a change to make MYSELF happier. I didn't feel ready but I still tried to incorporate exercise and cutting out junk food into my life. Even though it seems like the progress is slow, I've lost 55 pounds and gained a lot of muscle. I used to eat the least nutritious foods out there but now I fuel my body with what it needs. I used to hate exercise and would refuse to do it. Now I embrace it as a way to reduce stress and boost my mood. I still have a long way to go but I'm so proud of how far I've come on the way to being the me I've always dreamed of.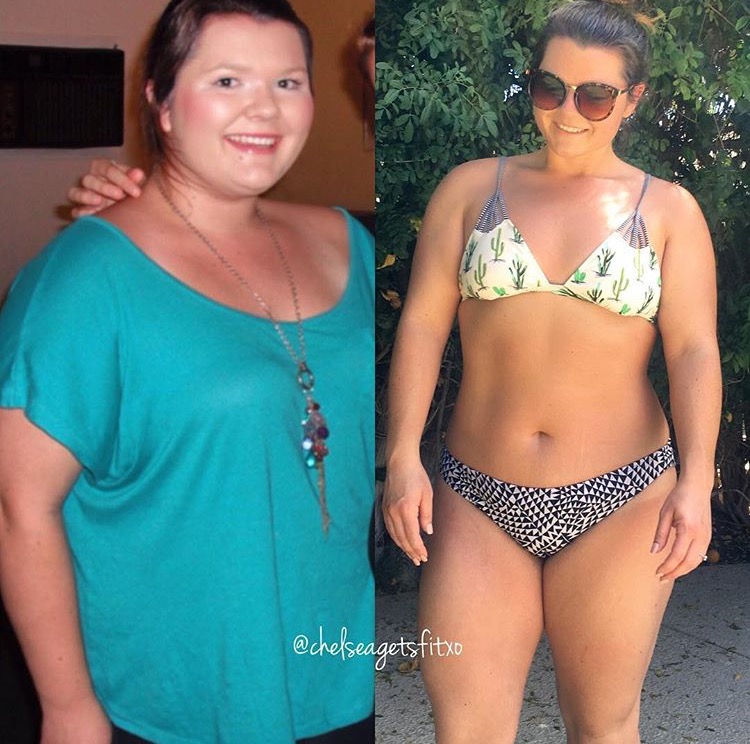 Hey guys! This is Chelsea, better known as @chelseagetsfitxo from Instragram, and I am honored to be here today typing this up to share with you! My girl Bailey has given me the opportunity to write up this guest blog post to discuss my Whole30 experience for all of you wonderful people. So I hope it's even the tiniest bit helpful and that you enjoy!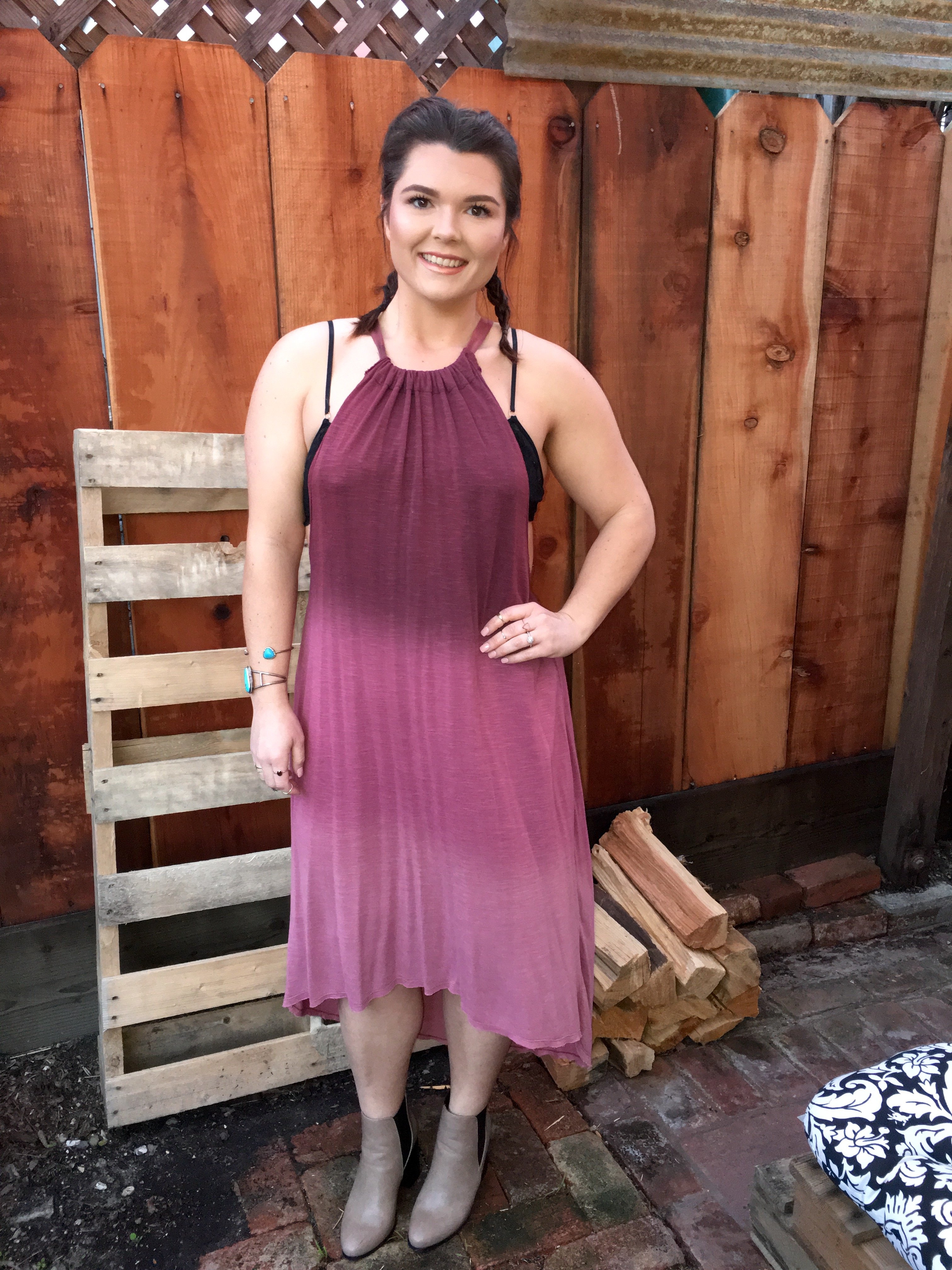 What to Know Before Starting Whole 30
Food is Your Friend
I know we've all heard the typical "food is fuel" statement. And I'm here to say it again. We need food. We need nutrients. We need all of them. Macros (macronutrients – carbs, proteins, fats). Micros (micronutrients – vitamins, minerals, etc.). But those nutrients come in many different forms. And, sadly, a lot of food forms we come across these days are processed and full of who-knows-what. Whole30 helps you "reset" your system with nourishing real foods and helps you regain a healthy relationship with food again.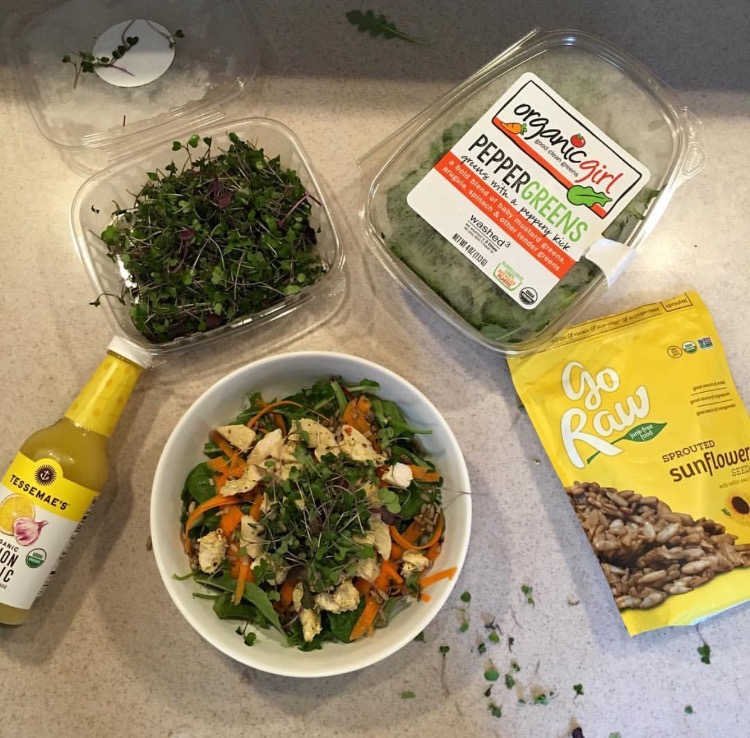 You Will Cook Your Life Away
I don't think I have ever cooked so much in my life and I don't know why because I usually have my food prepped no matter what type of eating plan I am currently on. But regardless, it happened. I was cooking ALL THE TIME. So I tried to figure out how to cook more things in bulk to make my life a bit easier.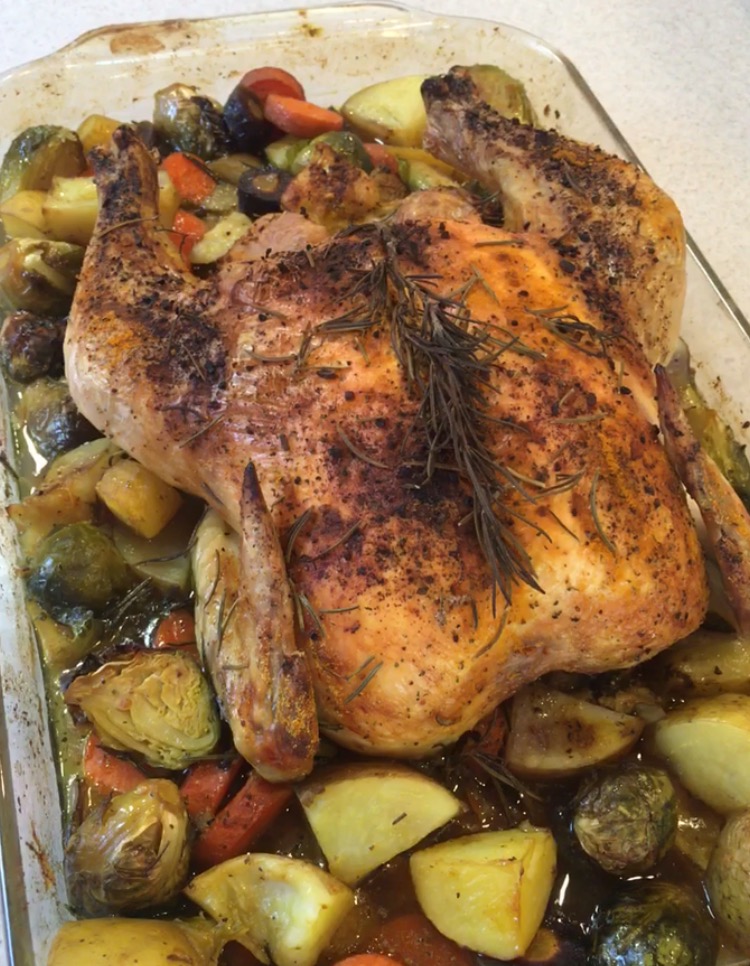 Another problem I came across was what to eat for breakfast. This was a problem for me because I do not like eggs. Like at all. I will not eat them so don't even try with me. (PS: forcing yourself to eat things you don't like on Whole30 – or ever – is a big no no).
My go-to breakfast: garlic and herb chicken sausages (I got mine at Trader Joe's) and sweet potato toast with a side of berries.
To Make Sweet Potato Toast –
Slice sweet potatoes in a toast-like fashion (thin).
Spray baking tray with avocado oil then place potatoes on tray.
Spray potatoes with the same avo spray and top with seasoning of your choice.
Bake at 400 degrees for 15 minutes then flip over and bake for another 10-15 minutes until bronzed and a bit crispy.
I like to top my sweet potato toast with guacamole and Trader Joe's everything but the bagel seasoning
My Favorite Whole30 Food Preps:
Roasted chicken breasts
Roasted veggies (carrots, broccoli, broccolini, Brussel sprouts, squash)
Steaks; pan cooked or grilled
Pan-seared asparagus
Beef roasts with veggies
Salads (big bowls of greens topped with the roasted chicken, some sprouted sunflower seeds, pistachios, microgreens and one of my fave dressings -see favorites list below- became one of the easiest and yummiest meals to take on the go)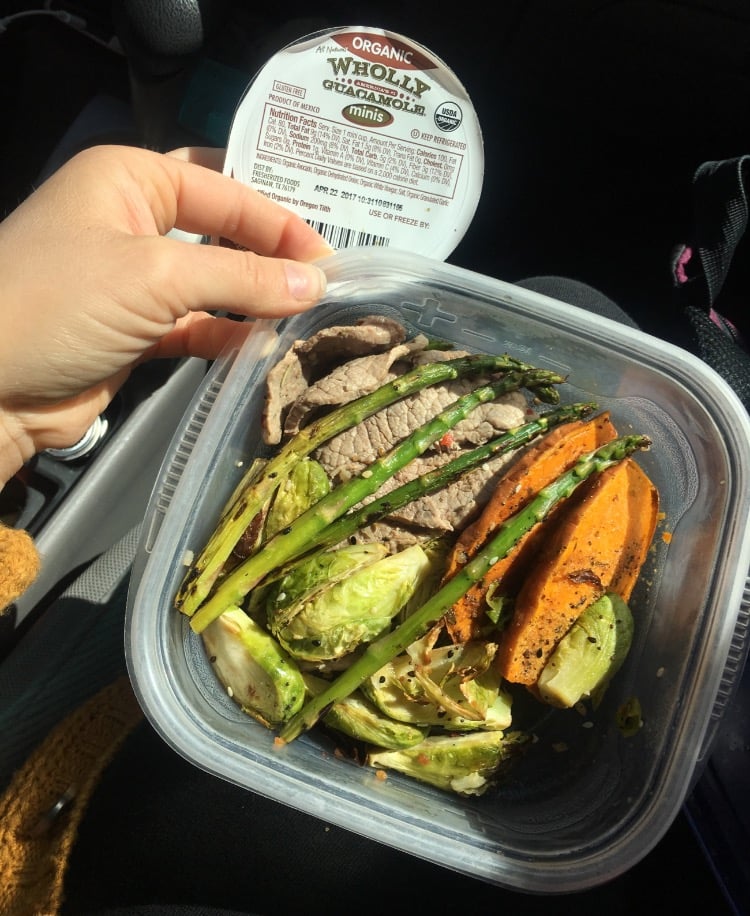 BEWARE:
You will lean on fruit and RXBARs/Larabars
You're not supposed to do it, but you probably will. When you find what you are able to eat so limiting you might start leaning on these easy to grab options. I know I did. The amount of fruit I ate on Whole30 was way above the normal amount I ate beforehand. While fruit has its own benefits, you don't need a large amount of it. RXBARs and Larabars are labelled "emergency foods" by the Whole30 Police. And you know what? My hunger was an emergency on almost a daily basis dammit. Or that's what I told myself at the time to justify the situation at least.
HOW TO AVOID:
Prepare, prepare, prepare!!! So I thought I was really prepared on Whole30 since I was cooking nonstop pretty much. But I wasn't prepared enough. I found that my typical prepped breakfast, lunch and dinner meals were not holding me over and I ended up eating extra fruit and bars way too frequently.
If I were to do Whole30 again I would definitely make sure I had a few extra smaller meals prepped to have during these times instead. I would try to ensure I had some extra roasted veggies and proteins on hand.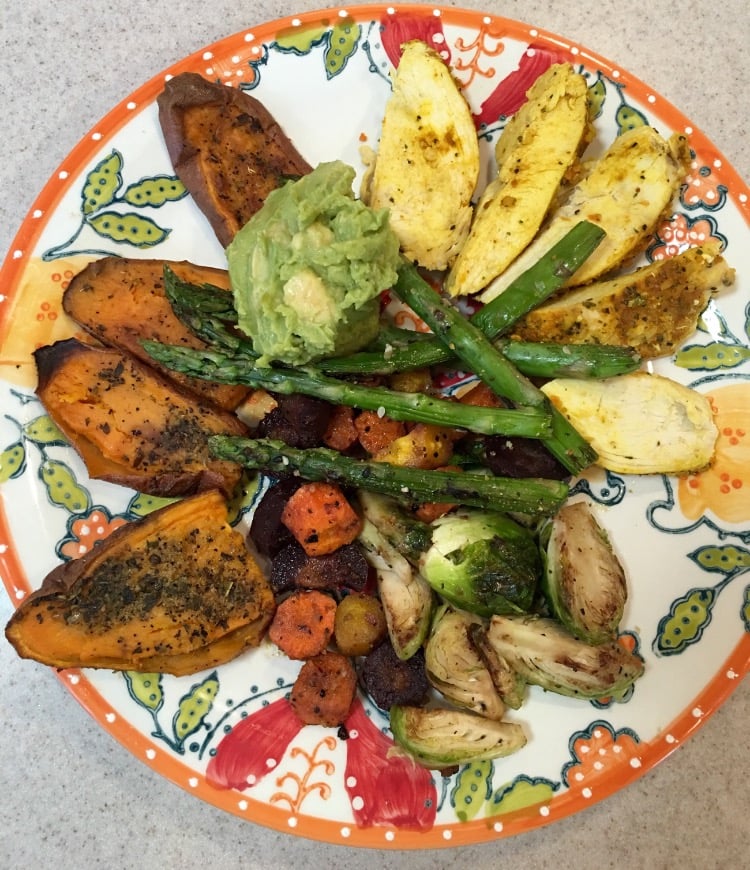 WHOLE30 FAVORITES:
1. Vital Proteins collagen: I used this on a daily basis and I loved it. Collagen has so many benefits (a story for another time) and it added an extra boost of protein in the morning when added to my morning coffee. It was the perfect combo along with…
2. nutpods Dairy-Free Creamer: these non-GMO, gluten-free, vegan and Paleo creamers made from almond and coconut milk were exactly what I needed to add to my coffee to give it that little extra flavor and creaminess it needed.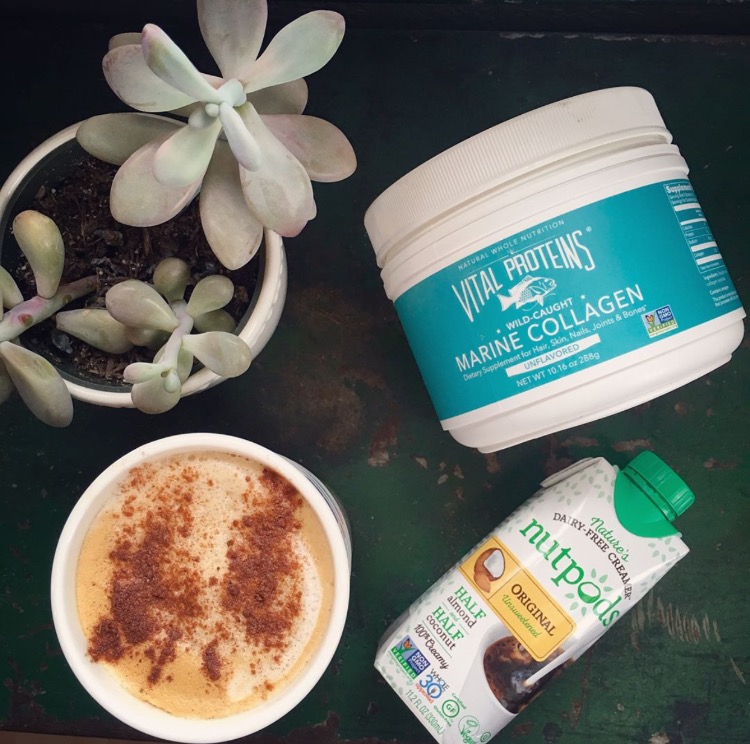 3. Kombucha!!!! I am a complete kombucha addict and I don't know what I would have been able to do without it on Whole30. For those that don't know, kombucha is fermented tea packed with live cultures of probiotic bacteria and is so good for gut health (gut health = overall health FYI!). GT's kombucha is a favorite of mine and perfect for Whole30 because it only has fruit juices added after the fermentation process and is lower in sugars.
4. Whole30 approved sauces and dressings: Tessemae's and Saucy Lips were my go-to options.
5. Avocado Oil- I used Chosen Foods avocado oil and the avocado oil spray.
6. Primal Palate seasonings: these are such great quality seasonings and tasted amazing on everything I made.
WHOLE30 TAKEAWAY:
Whole30 is a tough gig guys, I'm not going to lie. Eating out is a challenge when you find yourself in that situation. Constantly having to make sure that all your food is approved can get a bit tiring. BUT it is totally doable if you make sure to prepare and if you have your mind set to succeeding.
And not only is it doable, but it is a very rewarding experience.
I know a lot of people turn to Whole30 as a weight-loss tool, and I'm sorry to tell you that I did not lose a single pound on Whole30.
While that was slightly disappointing, what I gained meant so much more. I really developed a much healthier relationship with food. I now look to foods for nutrients and health benefits, rather than to eat something that tastes "good" regardless of what it is made of. I also have Whole30 to thank for helping tame my sweet tooth. My sweet tooth was insane before I started and after it is basically nonexistent. I'm not following a strict Whole30 way of eating at the moment, but the experience has definitely helped me achieve a healthy and balanced lifestyle.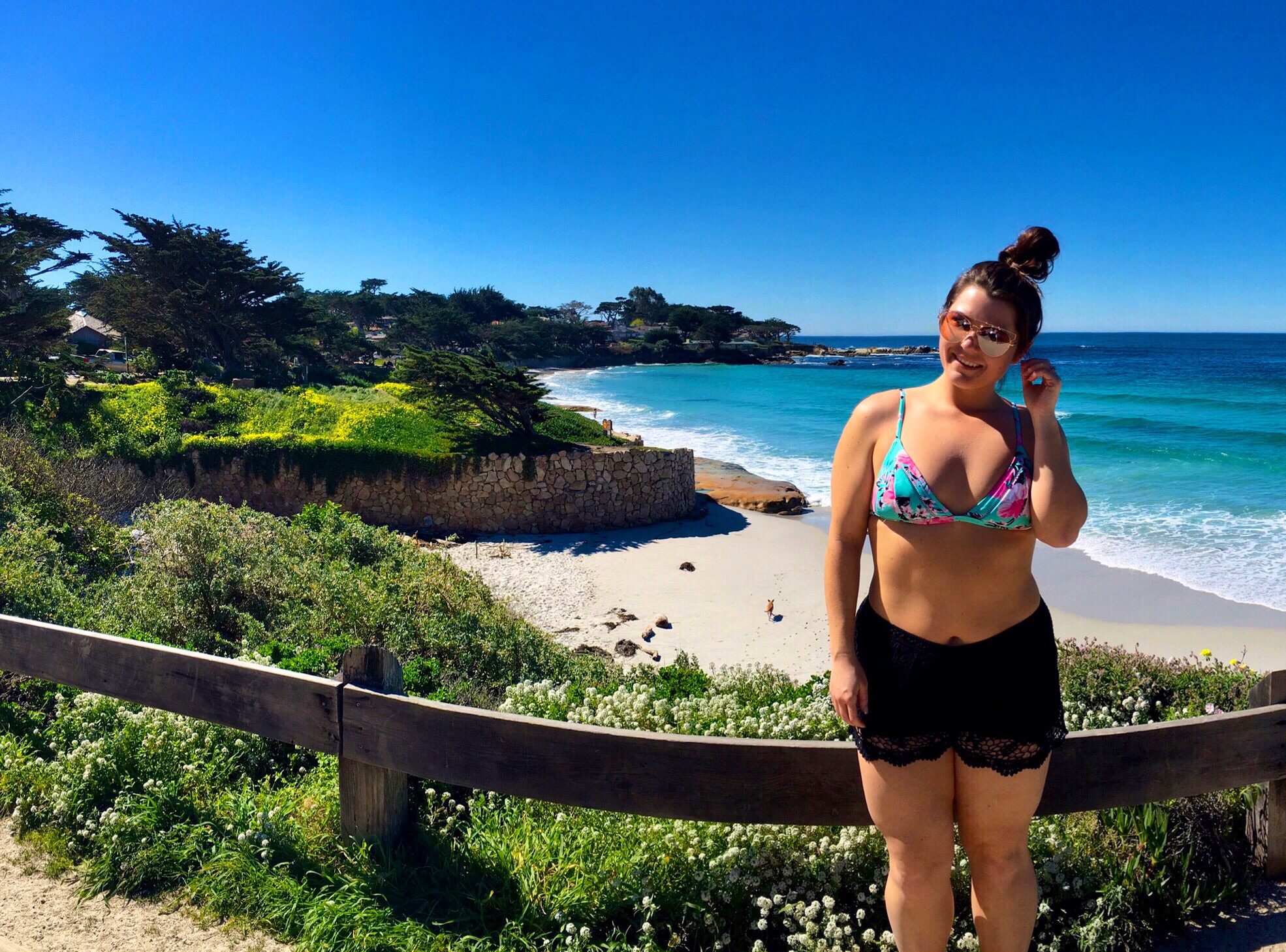 *Definitely go check out Chelsea on Instagram and share your first Whole30 experience with us here in the comments! Huge thank you again to you, Chels, for being my first IG inspiration and now my first Friday Feature! <3