If you follow my Instagram, you know that my main go-to for breakfast is either packaged sausage or bacon. You'll also know that this month, I'm embarking on another round of Whole30 but this time, I'm doing it as cheap as possible. One of the major ways to save money during a Whole30 is by making your food yourself and not relying on packaged items. I knew one way I could do that was by preparing my own breakfasts. Enter: pear and rosemary breakfast sausages.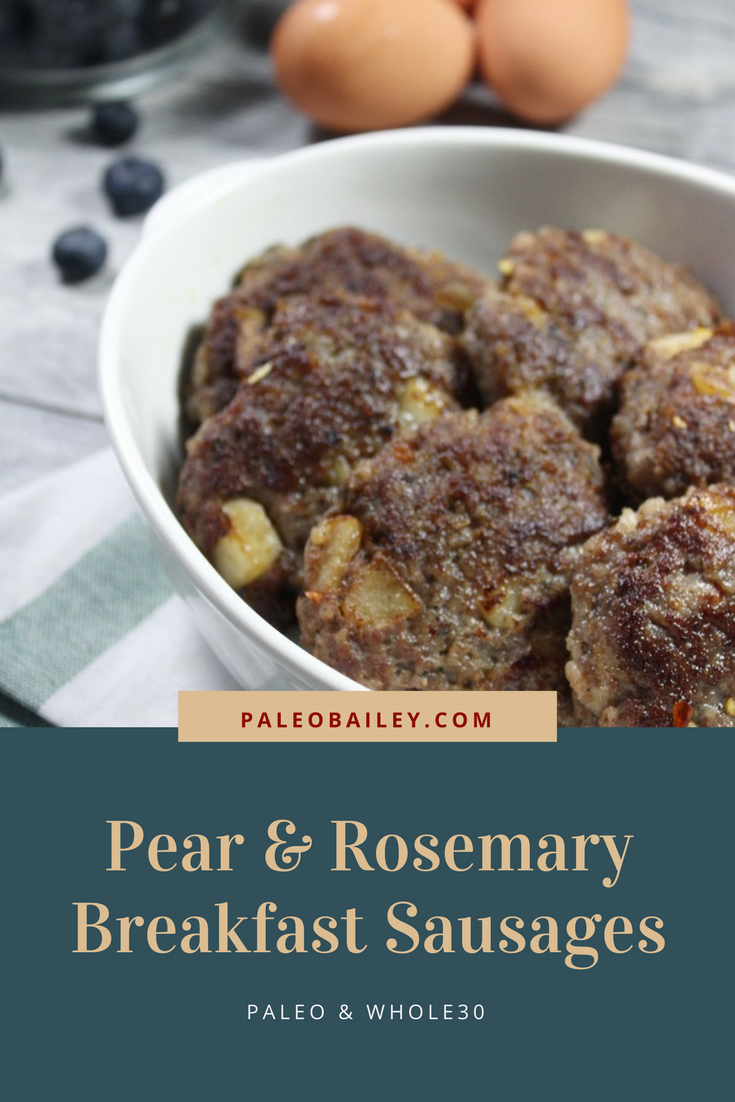 Making my own breakfast usually includes cutting up an Aidell's chicken and apple sausage (found at Target!) and sautéing it in ghee. A package of these sausages typically runs me $5.99 a package, unless I get them on sale. In which case, I buy more than one package at a time. However, for the purpose of this budget experiment, I knew I could cut my costs on breakfasts.
I wanted to make something during meal prep that would be not only be filling, but would be delicious so I didn't miss my chicken and apple sausage. Well, mission accomplished.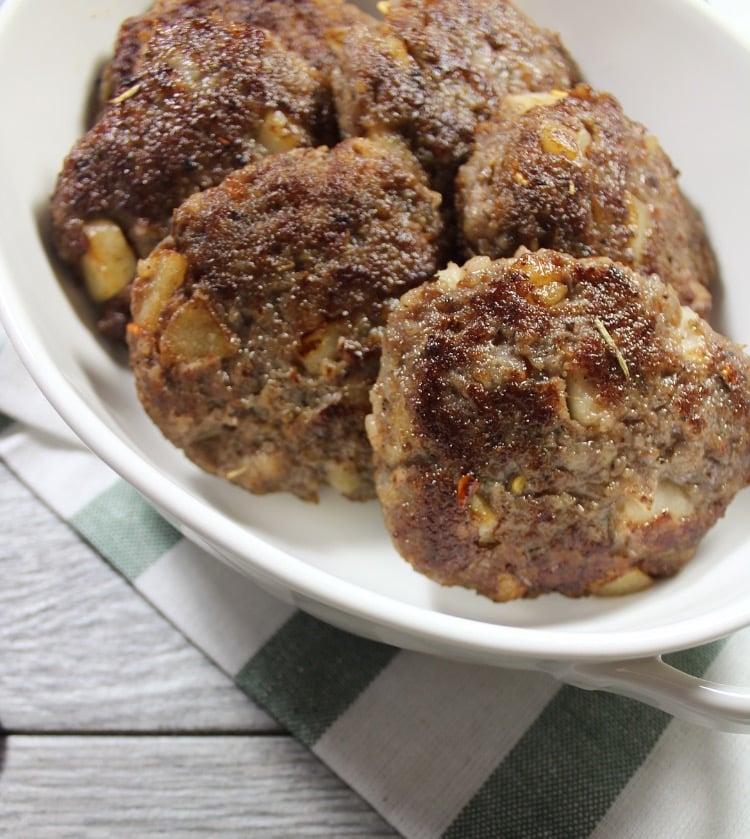 With summer right around the corner, I have all kinds of summer food on the brain. At first I was going to chop up an apple and throw it in with the pork. Then I remembered the pear sitting in my fridge and that pork and apple isn't all that much different than my chicken and apple… So I changed it up.
I'm glad I did too! These breakfast sausages are so flavorful. Next time I'm definitely going to double the recipe and have some for the whole week. This batch got me through 4 days. And I even gave my dog one. Yeah, I know, she's a spoiled pup.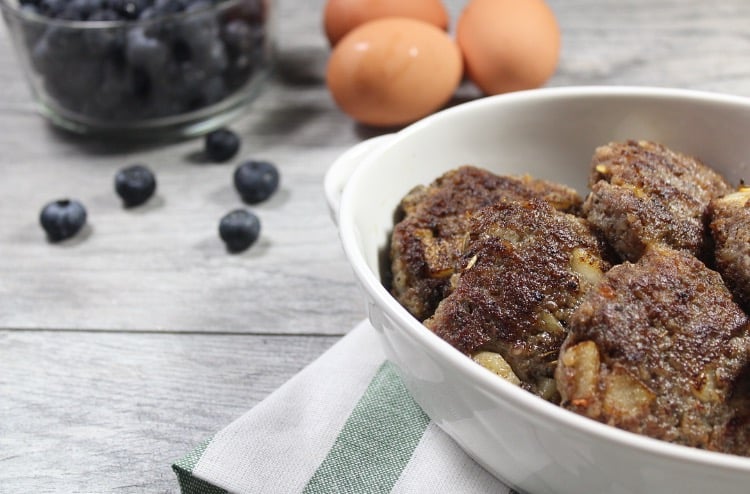 I also put some red pepper flakes into half of the mixture for these breakfast sausages just to give some of them a little kick. I didn't include that on the recipe here, but feel free to go for it! You could also finely chop fresh rosemary if you have that handy or have some you need to use up. This is a great recipe to get rid of those fresh herbs that are going to go bad soon!
Print
Pear and Rosemary Breakfast Sausage Patties
Prep Time: 5 minutes
Cook Time: 10 minutes
Total Time: 15 minutes
Yield: Makes 6-8 patties, depending on desired thickness 1x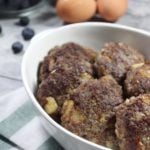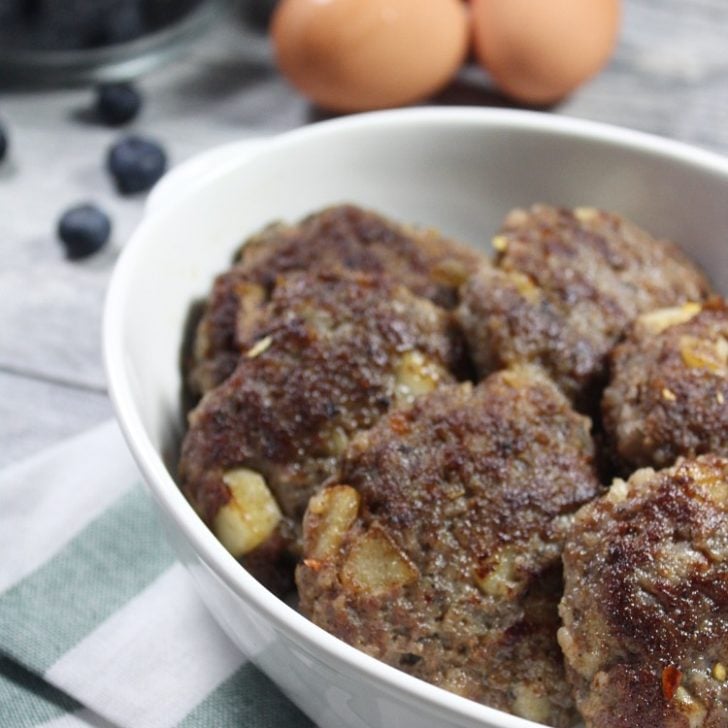 Ingredients
1 pound ground pork
2 tablespoons olive oil or avocado oil
1 cup pear, skinned and diced
2 teaspoons dried rosemary
1 teaspoon salt
1 teaspoon thyme
1/2 teaspoon black pepper
1/4 teaspoon nutmeg
1/4 teaspoon cayenne
Instructions
In a large bowl, mix the ground pork with the pear and spices
With your hands, shape pork into sausage patties, about 3″ in diameter
Heat oil in a large skillet
Place patties into the skillet, ensuring not to over crowd them, you'll need to do this in two batches
Cook for 4 minutes on each side, or until no longer pink
Remove from pan and do the same with the last half of the patties
Notes
Store in the refrigerator. Reheat in the microwave for 1 and 1/2 minutes, depending on microwave.
This post may contain some links that are affiliate links, though products are ones I use personally and recommend. When you purchase anything using my links, it costs you absolutely nothing extra, but it does give wholekitchensink.com a little financial support which helps to keep this blog running. Thank you for your continued support, both with your dollars and your interest.