These grain free blueberry muffins only need a few simple ingredients, and 25 minutes in the oven! I really am not the kind of "baker" who has the patience for anything much more than common ingredients and a few minutes anyway. These Paleo blueberry muffins check all my boxes. Easy, quick, and a much healthier option than your standard blueberry muffin.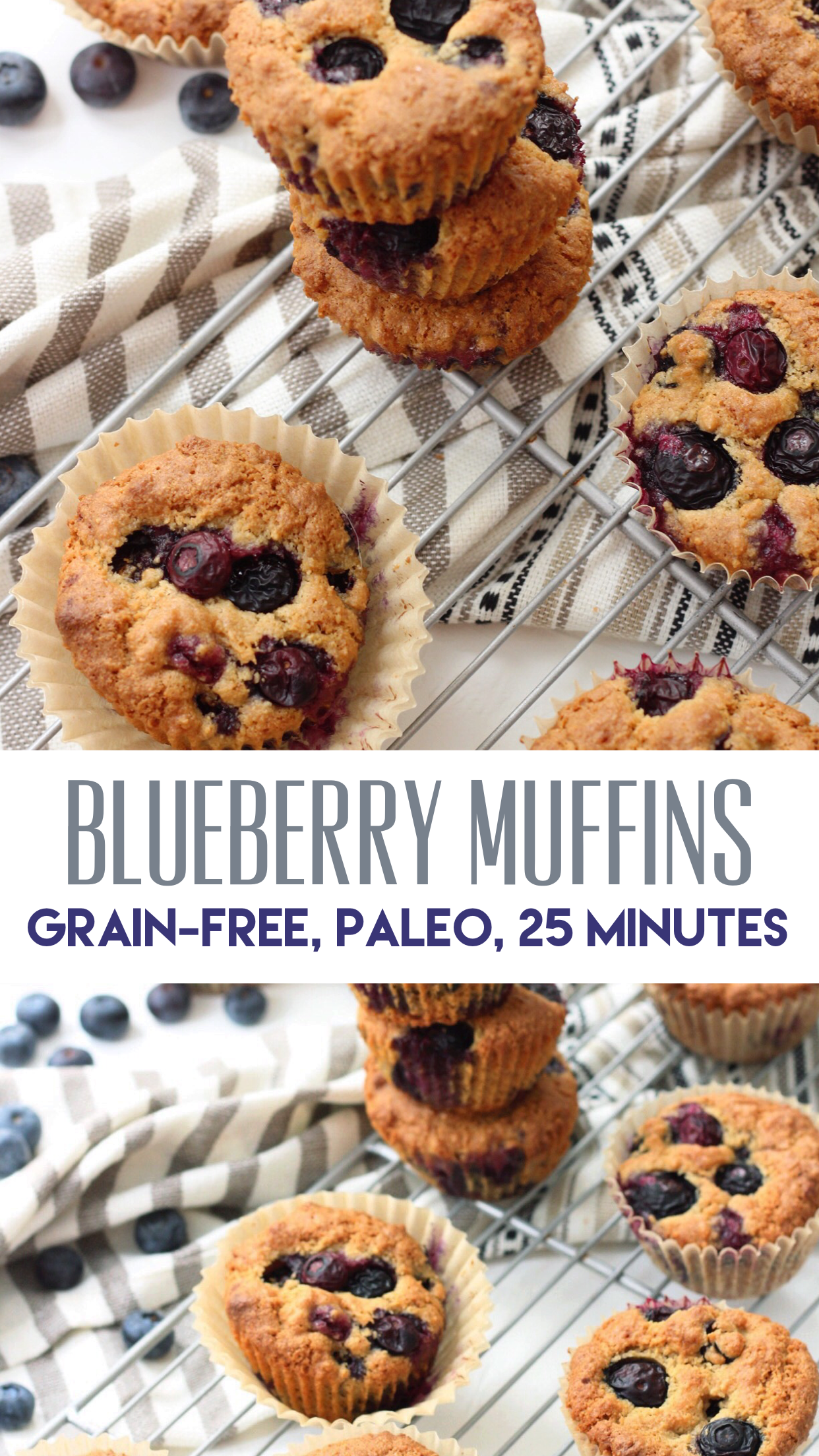 I made a batch of these right before I went out of town. The whole time I was gone, Justin (my junk food loving boyfriend) has been sending me photos of his breakfast the last two mornings consisting of 2 of these Paleo blueberry muffins. "THIS is how you can get me to eat Paleo. Just keep making these muffins." is all he keeps saying.
Now that I know they're such a big hit, so easy to make, and doesn't take me long, I think I can do that. While I'll be keeping my breakfasts the way they are, I fully am on board with having a grain-free blueberry muffin go-to for him.
Most of the flours are pretty common staples in a Paleo or grain free pantry, but if you don't have them, don't worry! They're really easy to get nowadays from your local grocery store, Amazon, or Thrive Market, which gives you 20% off your first 3 orders.
Check out my Paleo on a Budget Thrive Market Staples
The main pantry items you'll need are almond flour, ghee, baking flour and coconut sugar. The other ingredients, like eggs, you'll already have!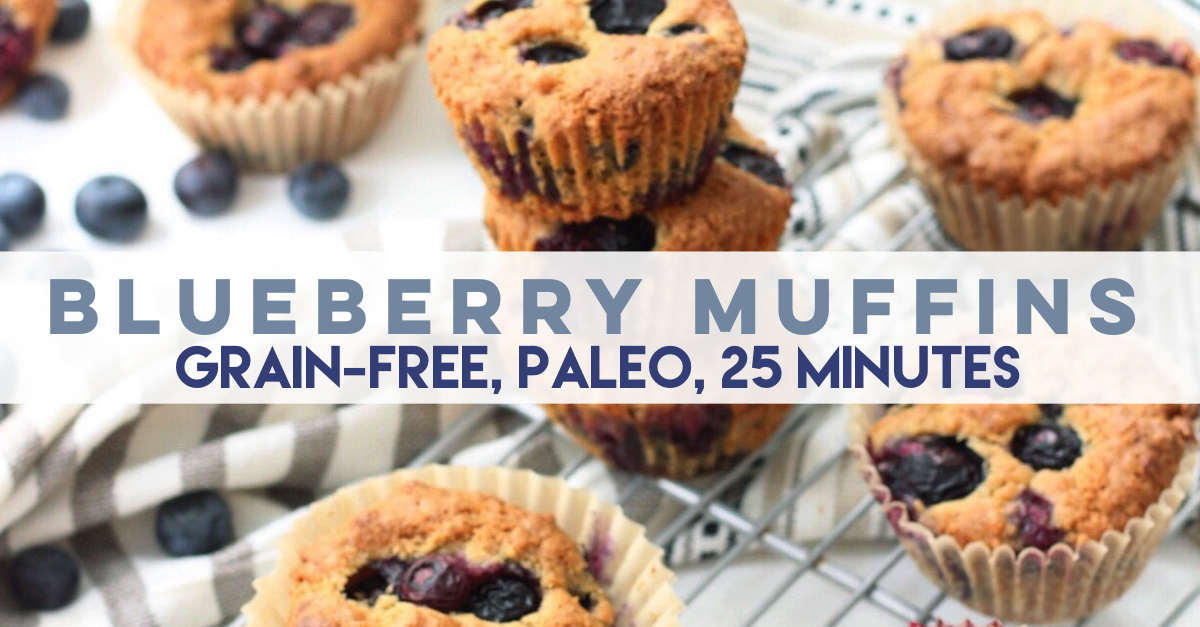 Print
Blueberry Muffins: Easy, Grain-Free, Paleo
Prep Time: 5 minutes
Cook Time: 25 minutes
Total Time: 30 minutes
Yield: 12 muffins 1x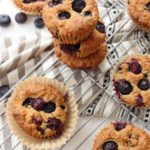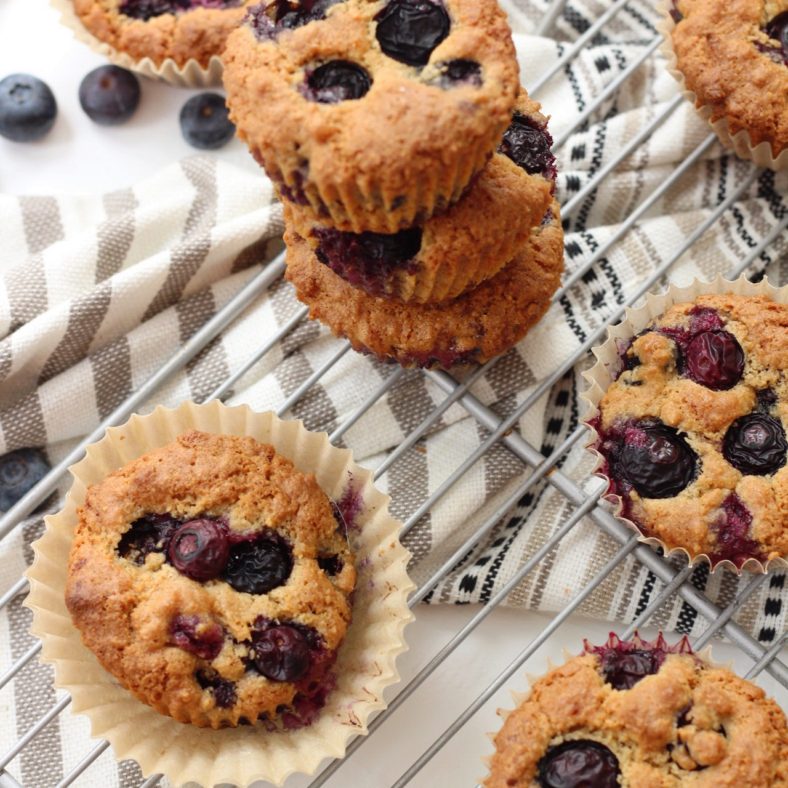 Instructions
Preheat the oven to 350°
Mix the eggs, ghee and maple syrup together first
Then add in the dry ingredients and stir well to combine
Add in the blueberries and gently fold into the dough
Fill muffin tin 3/4ths of the way full and top with additional blueberries if you want!
Bake into oven for 25 minutes
Let cool, and enjoy!
This post may contain some links that are affiliate links, though products are ones I use personally and recommend. When you purchase anything using my links, it costs you absolutely nothing extra, but it does give wholekitchensink.com a little financial support which helps to keep this blog running. Thank you for your continued support, both with your dollars and your interest.