Nuremberg is one of my favorite cities on our planet. From it's walkable nature, friendly residents, rich history and beautiful fairytale-like German architecture, it's a city not to be missed when taking a trip to Germany if you find yourself in the Bavarian region. It's got all of the old-world charm but all of modern-day Germany's conveniences. This guide will sum up the history, along with the best things to see, do and, of course, eat.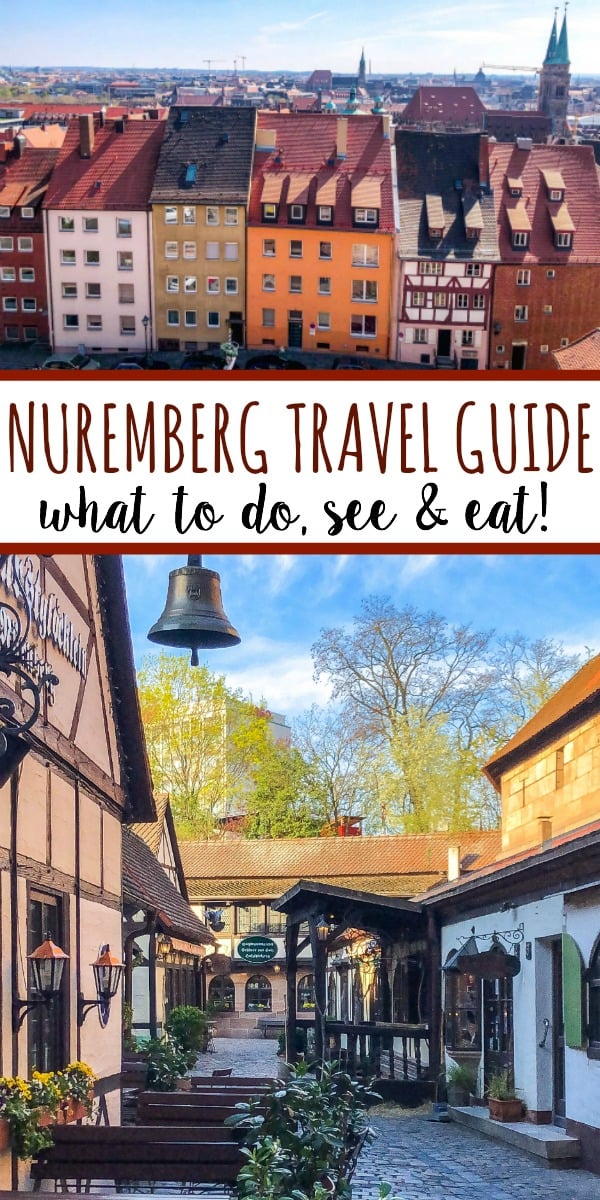 Overview of Nuremberg
Nuremberg (spelled Nurnberg, in German) is nestled in the Bavaria region of Germany, a two hour train south from Frankfurt or an hour north from Munich. The main train station (Hauptbahnhof means "central station" in any Germany city, or Hbf, for short) will drop you just one block from the city wall, and transportation in and throughout the city is incredibly easy by foot, bus or taxi. Nuremberg is a safe city, and as a solo female traveler, I always felt secure and comfortable. It's also incredibly clean and well taken care of, and one of the cleanest cities I have been to.
It's probably best to spend 2 to 3 days exploring the city and all of the things there are to do, but even if you only have one day, I highly suggest spending it here in the old city center wandering the cobblestone streets filled with shops, markets and timbered-framed houses, and checking out a museum if there's time. Nuremberg is famous for it's Christmas markets, but there's so much to see and do outside of the Christmas season.
History of Nuremberg
Nuremberg is FULL of history. Dating as far back as the Medieval times in the 1300's, and with it's extensive role in more recent WWII Germany, there is so much to see and learn here for everyone. Nuremberg was the unofficial capital of the Roman Empire, and the Nuremberg Castle that sits at the highest point in the city with the city walls protecting the entire town made Nuremberg a go-to for many rulers and a force to be reckoned with. There's also a rich history here in religion, and, what some argue is the first Lutheran church (St. Senaldus), can be found in the city center.
Travel tip: Make sure when you go you take an extra close look at the large doors in the wall that circles the city. Legend has it that the famous "Nuremberg sausages" were made in the small size you'll enjoy them in today so they could fit through the keyholes in the doors and gates in the city wall. The doors where closed and locked every evening and not reopened until morning to keep the city and residents safe, and the workers that didn't make it back in time were shut out until dawn. Extra ground meats were stuffed into small sausage casing and then put through the key holes for the men who found themselves missing dinner and sleeping outside!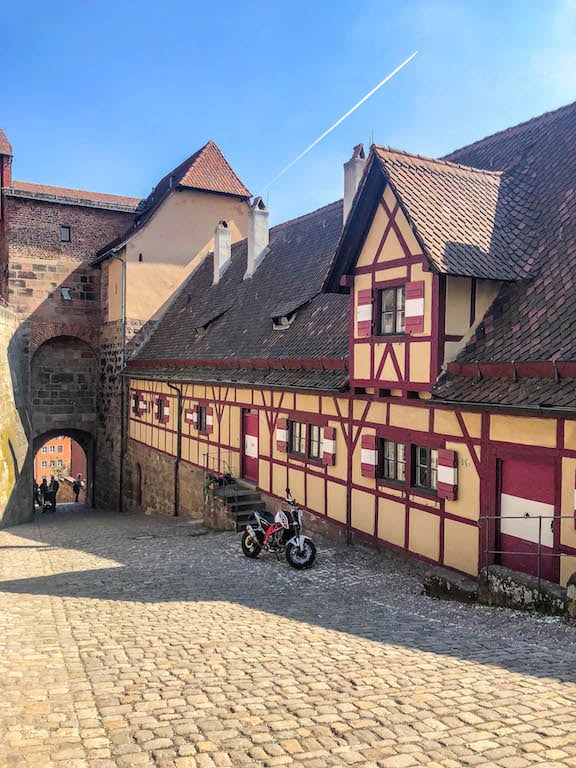 In more recent centuries, Nuremberg gained worldwide recognition as the headquarters and meeting point for the Nazi party during WW2. Hitler thought of Nuremberg as "the most German city" and in turn held many rallies and meetings here. That led the city to undergo bombings of many of the Medieval sites around town by the Allied forces.
After the war, because of the role Nuremberg played in the Nazi rise to power, it was chosen as the place where many of the worst Nazi leaders would face trial and sentencing for their war crimes.  Today, the city has been restored, and it's moderate population makes it feel alive while still keeping a small town feel.
11 Things to Do and See in Nuremberg
Courtroom 600 at the Palace of Justice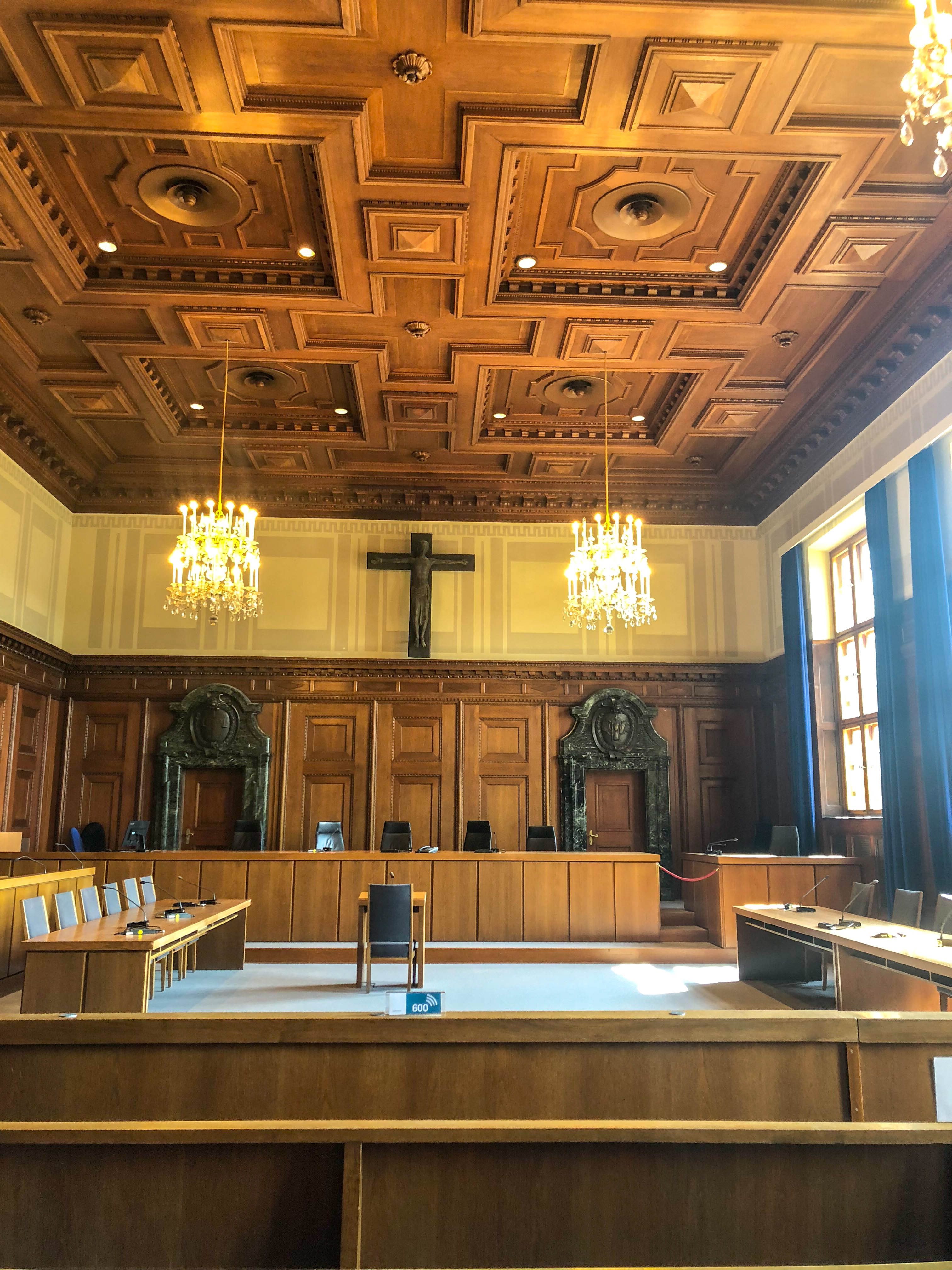 This is a must-do for anyone even a little interested in history. The site where the Nuremberg Trials took place and the Nazi leaders were brought to justice was incredibly well preserved, and is still being used as a courtroom today. Because they still hold open court here, some days you can't walk into the room, but if you go when there's no court in session, you can walk in and take a seat and look around.
Even if they are holding a trial when you stop by, there's a very in-depth museum that does a great job taking you through what all went on here in 1945. It's only a few euros for the audioguide, and you can still at least view the courtroom through windows even if you can't go in. There's a wealth of information and things to see, including the original benches the war criminals sat on in court, trunks of evidence that the Nazi's had hidden all over Germany during the war, and it's just a very well done time capsule that portrays all that transpired during this dark place in Germany's past.
Imperial Castle & Views of the City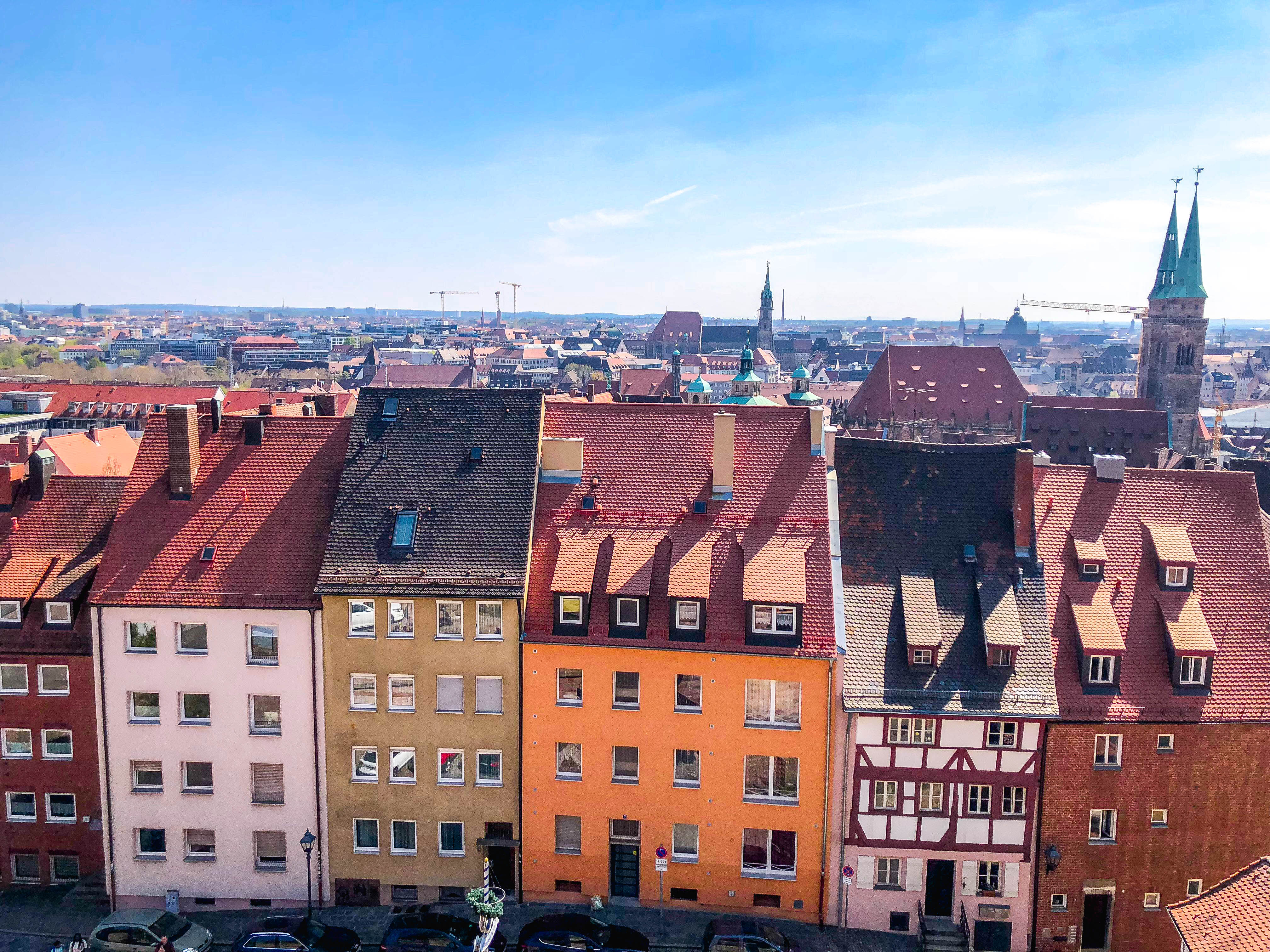 Walking around and exploring the old Medieval castle and the grounds is a good way to spend a few hours being transported back to what living in Nuremberg Germany might have been like hundreds of years ago. There's fascinating history here, and it's well worth a visit!
Travel Tip: Start your day off by taking a cab or public transport all the way up to the castle, as it sits at the furthest and highest point of the city, especially if you are traveling with someone who has a hard time with walking up steep hills. This way the cab will take you as far up as it can to the castle, and you can explore, and then make your way back down on foot, slowly exploring the city by walking back.
Explore Handwerkerhof Market
This is a little medieval village right within the city walls (1 block from the central station). There's Bavarian restaurants to grab a bite to eat, cute craft shops and little stores to wander through. It can get very crowded, so early morning would be a great time to walk through.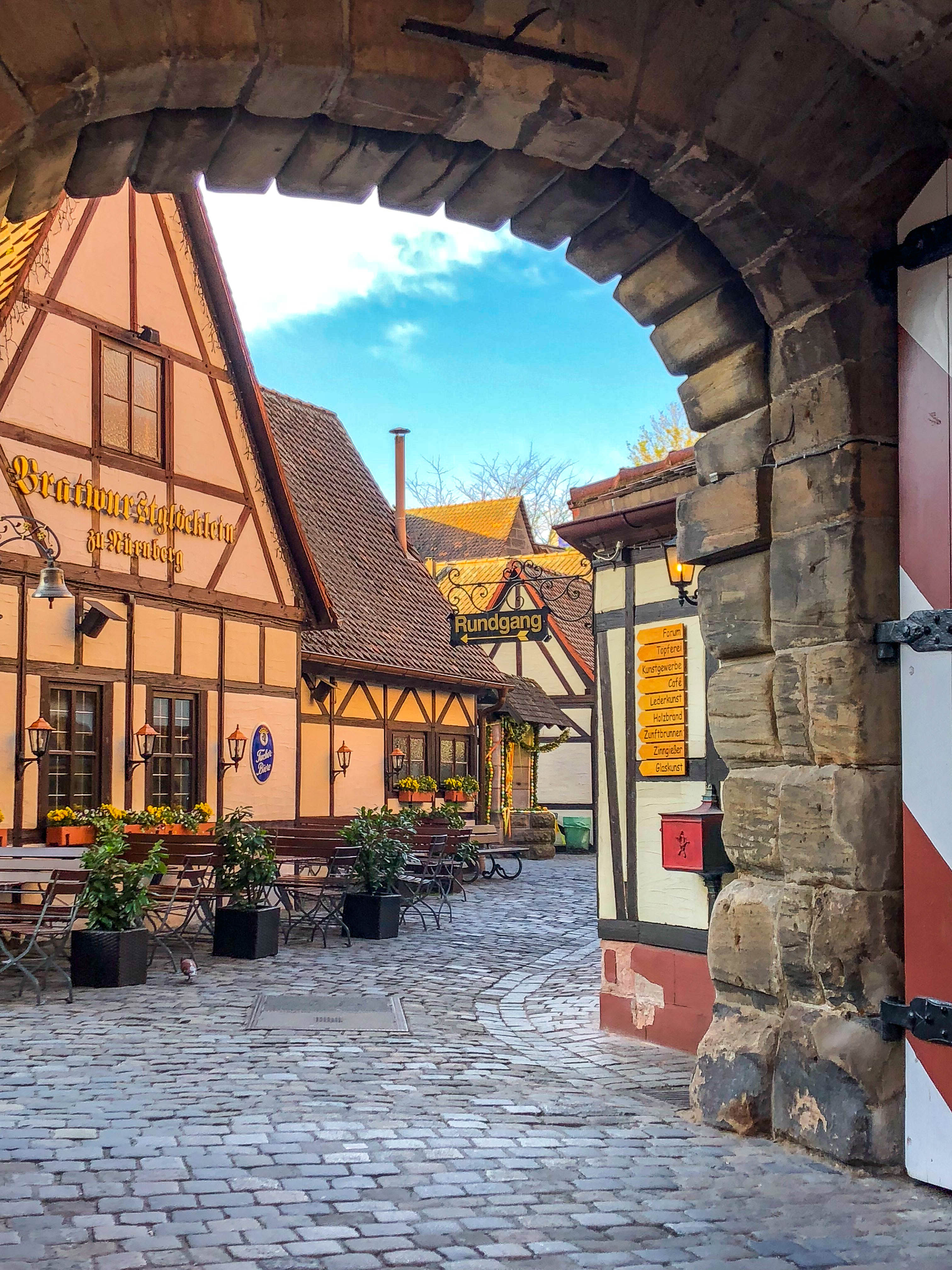 My hotel was only a few steps away, so I stopped here for a beer as the night was winding down and it was a lovely people-watching spot!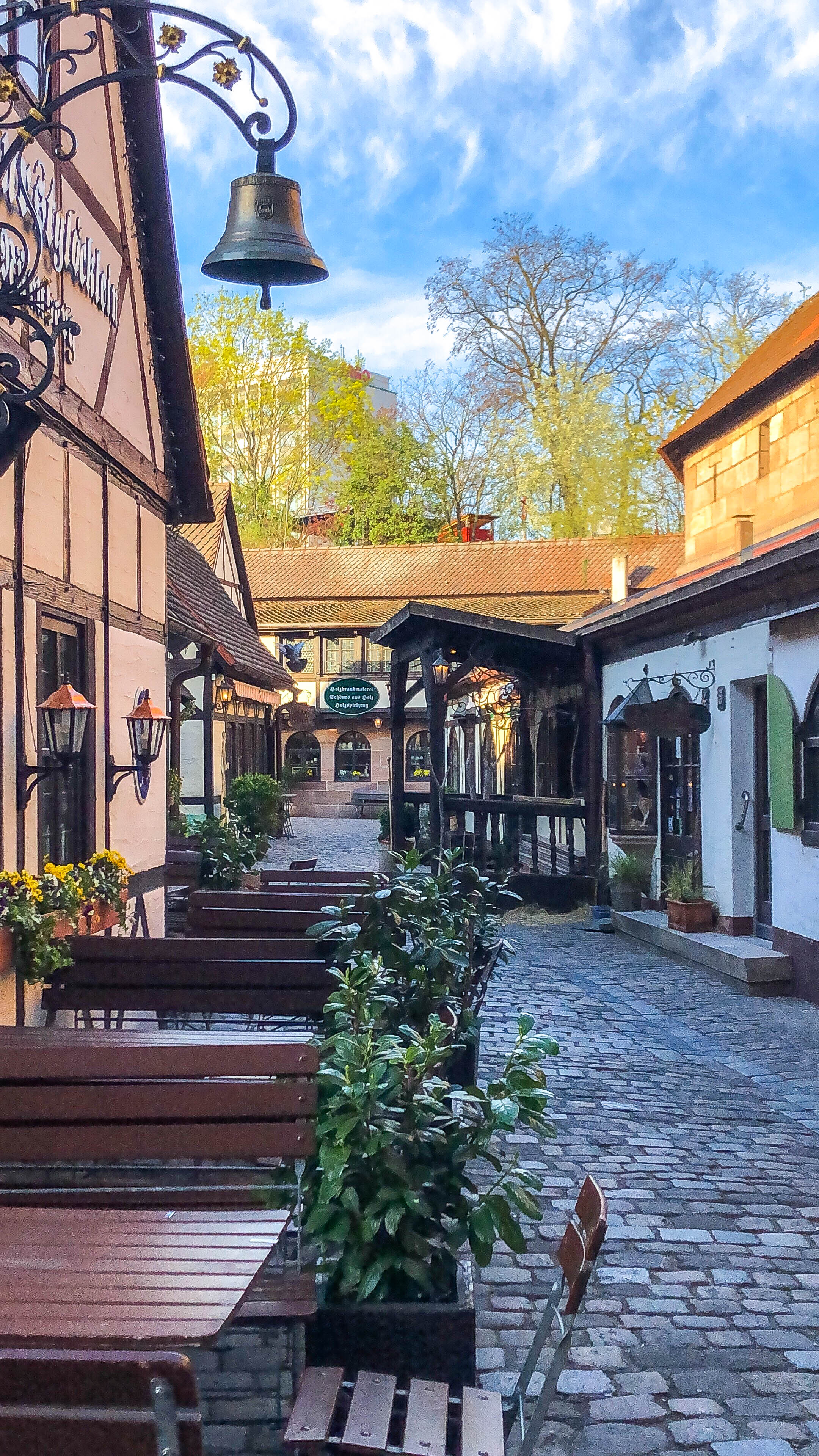 Documentation Center / Nazi Party Rally Grounds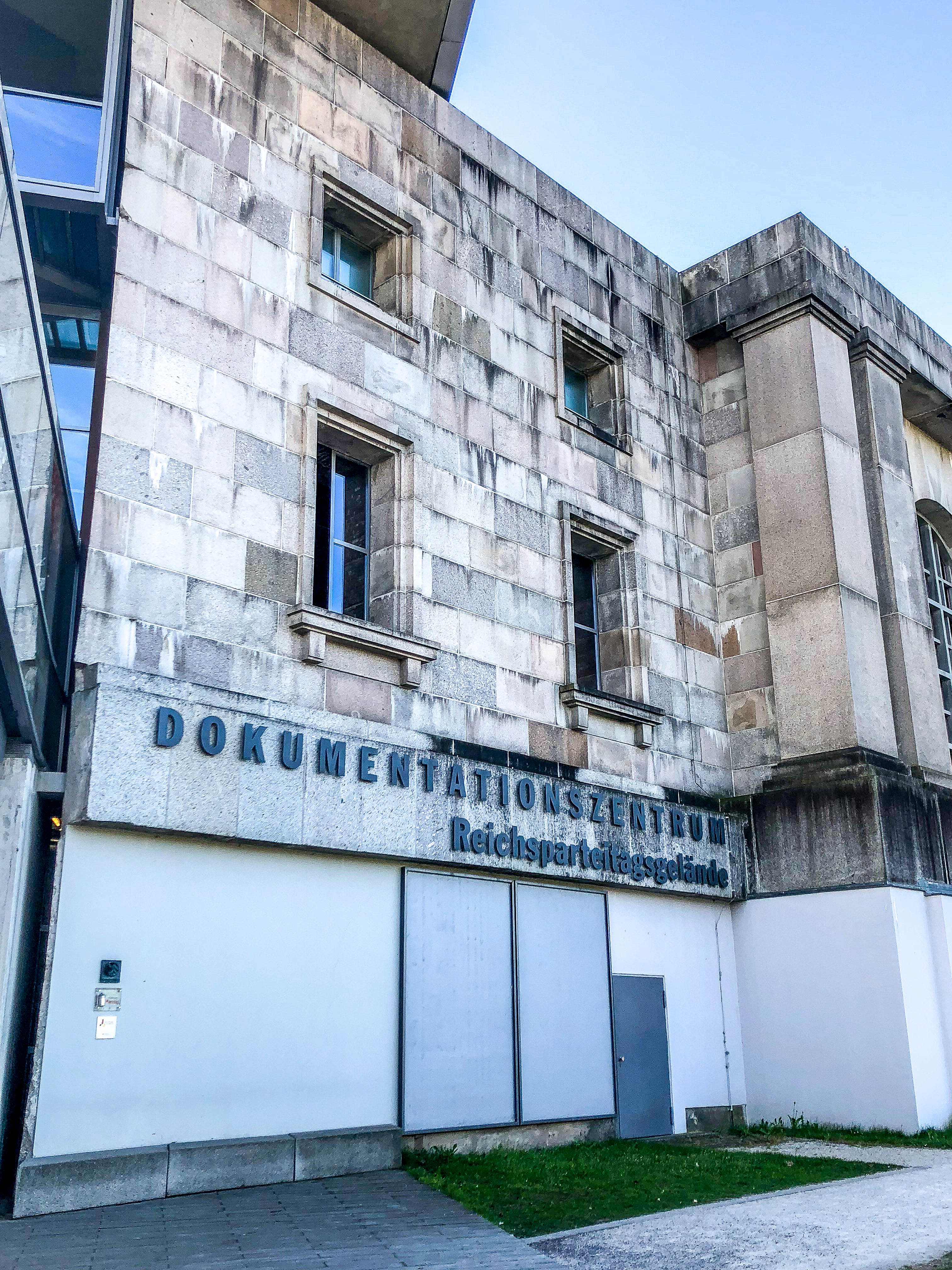 This building is now a museum, but back during the Nazi era, this location was built and used by Hitler for his speeches and as a rally ground for the Nazis. This museum is unlike other WWII museums I've visited in that it catalogs, details and truly helps the visitor understand Hitler and the Nazi Party's rise to power and just how that could have happened.
You'll walk through the Documentation Center as it takes you through the history with interactive exhibits. It's one of the most interesting, well-done WWII museums that focuses more on the decade leading up to when the United States entered the war, and a local told me that a visit here is now required in school for all school aged German children as a way to ensure that they educate and prevent something like this from ever happening again. Even for someone who as extensively studied WWII, I learned a great deal here and I highly recommend it.
The outdoor rally ground is right around the corner, so make sure to head over there once you're finished in the museum. There's also a beautiful boating lake beside it, which I took a walk around with my coffee being I arrived to the museum a bit before they opened. You can rent paddle boats and go out on the water, too.
Check Out Weinstadel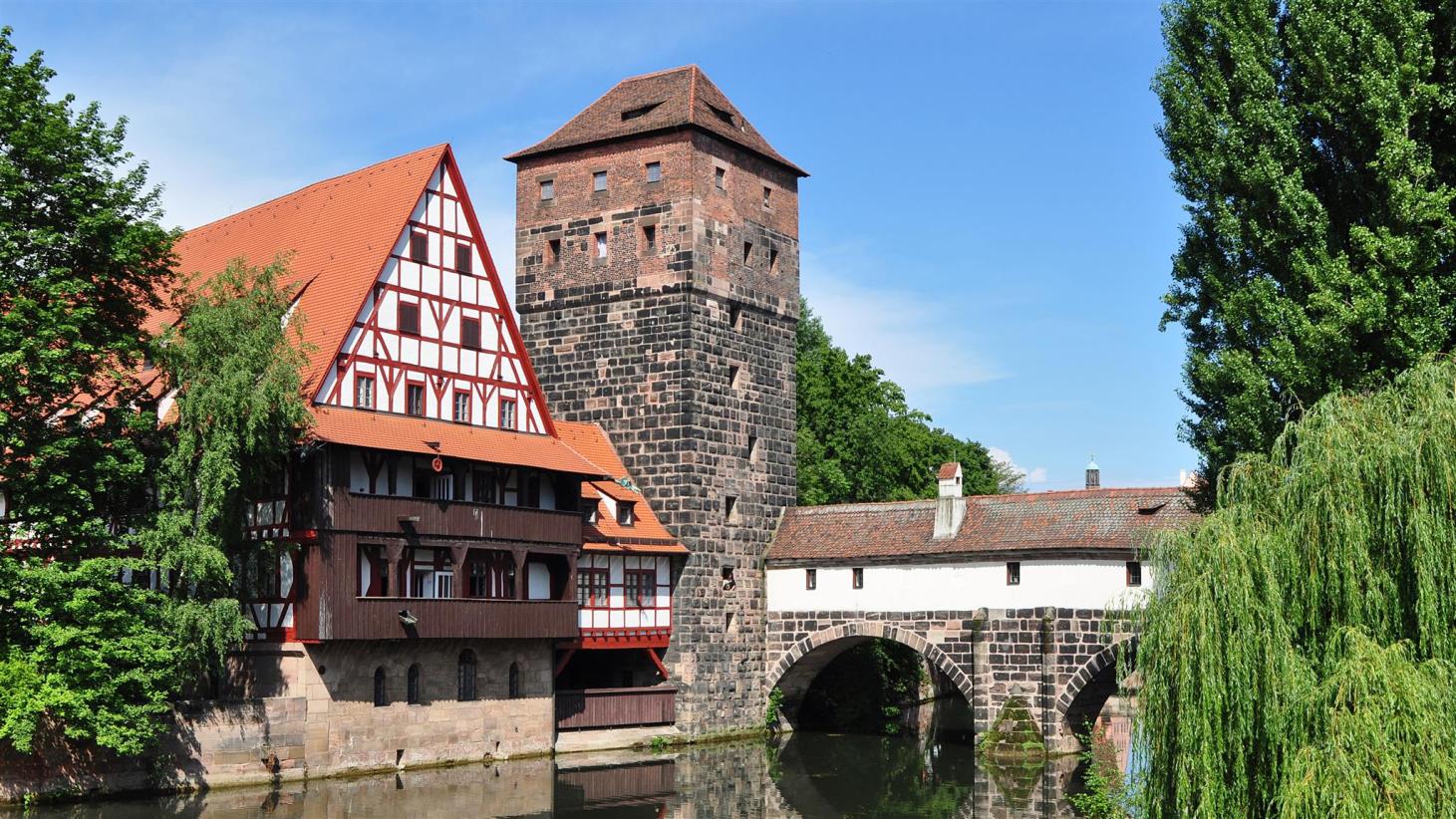 This building is one of the most photographed and most historic buildings in Nuremberg. It's been used for many things throughout the years, such as a warehouse for the city's wine, a house for lepers, student accommodations and more. One of the most historic (and prettiest!) things to do in Nuremberg is visit this building. There's also many beautiful stone bridges passing over the waterways in Nuremberg, so get lost and enjoy the day while wandering over them!
Walk Around Weißgerbergasse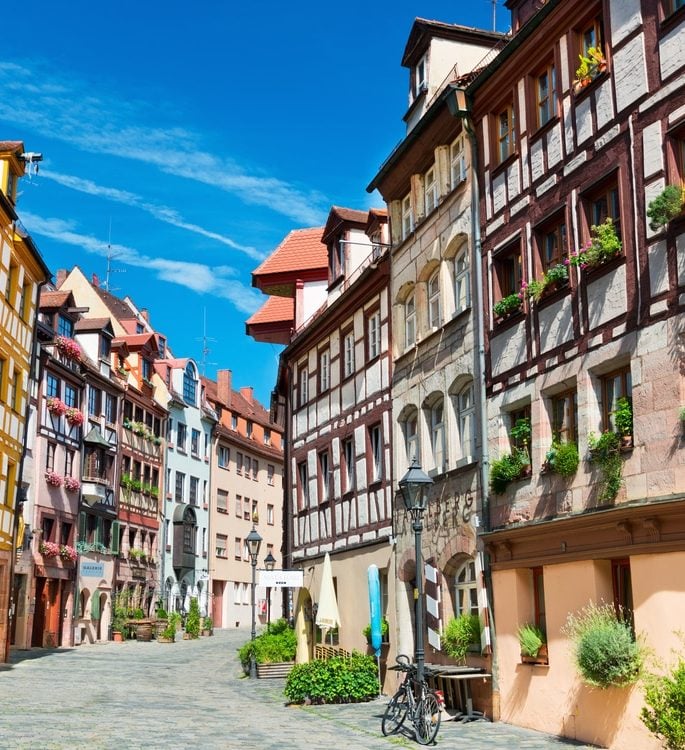 This is another one of the most photographed areas of Nuremberg because of it's old world charm and distinct German look. Get here early to walk though before the crowds to get some awesome photos and to admire the timbered buildings and German architecture. And then grab a beer and sit outside and watch the world go by!
Walk Through Lorenzkirche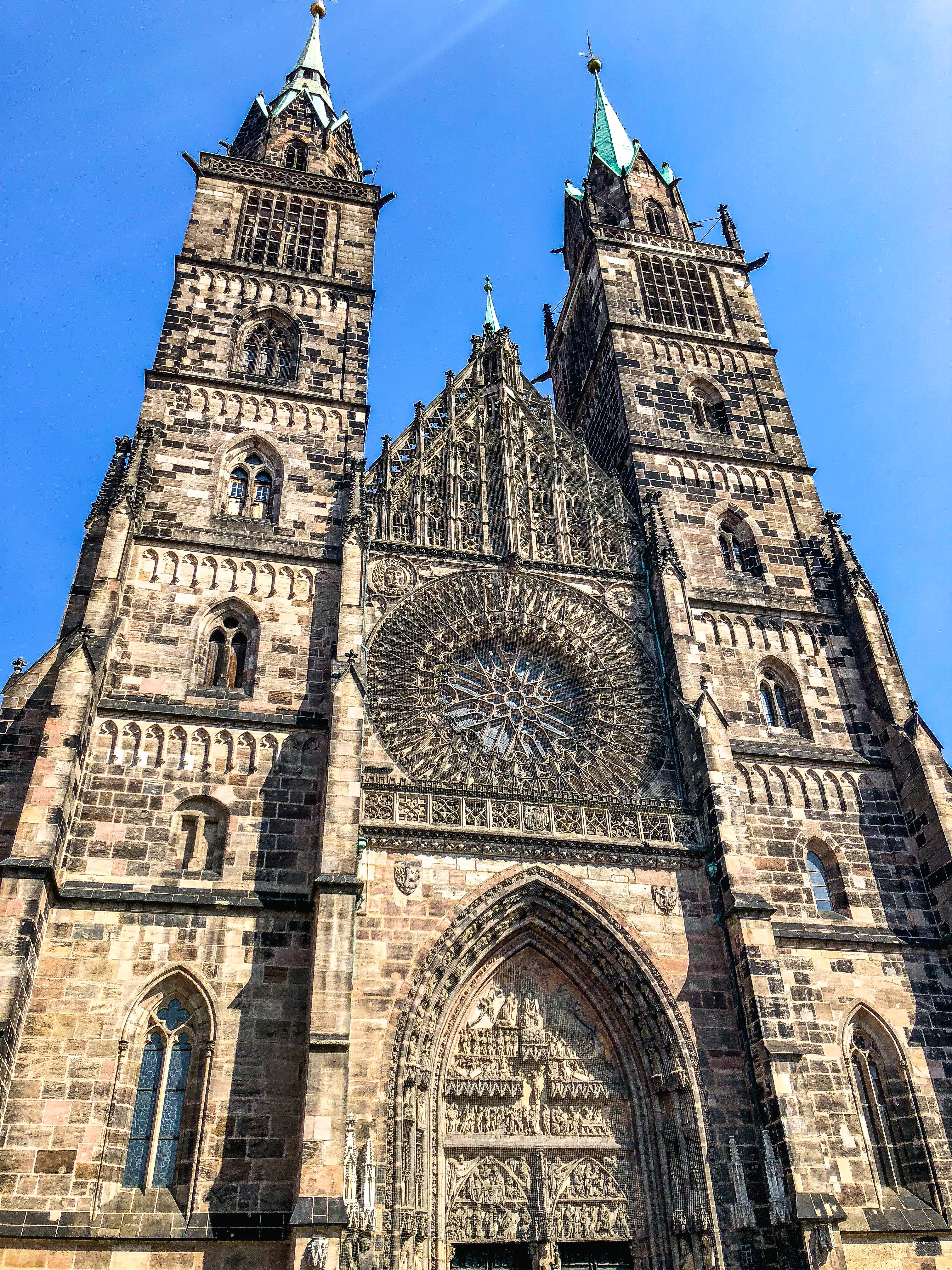 This is a beautiful old church that is open to the public to walk through. It was nearly demolished from bombings during WWII and then rebuilt and restored to all of it's original glory.
Visit the Markets and Market Square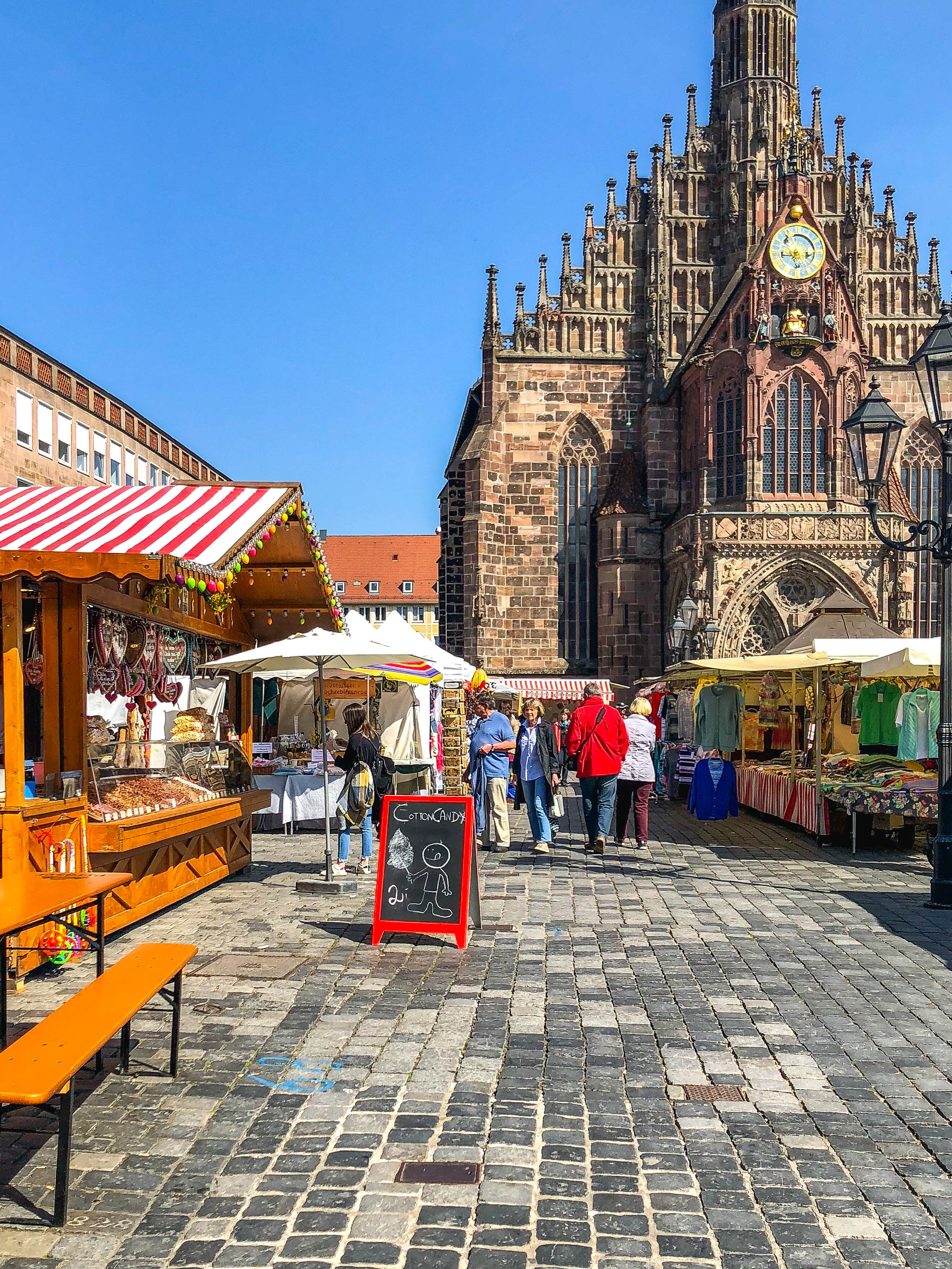 While of course Christmas is the famous time for Nuremberg and the markets, they are there all year round and full of booths from craftsmen, bakers, cheese mongers, butchers, and there's plenty of trinkets, souvenirs, yummy treats and gifts to pick up.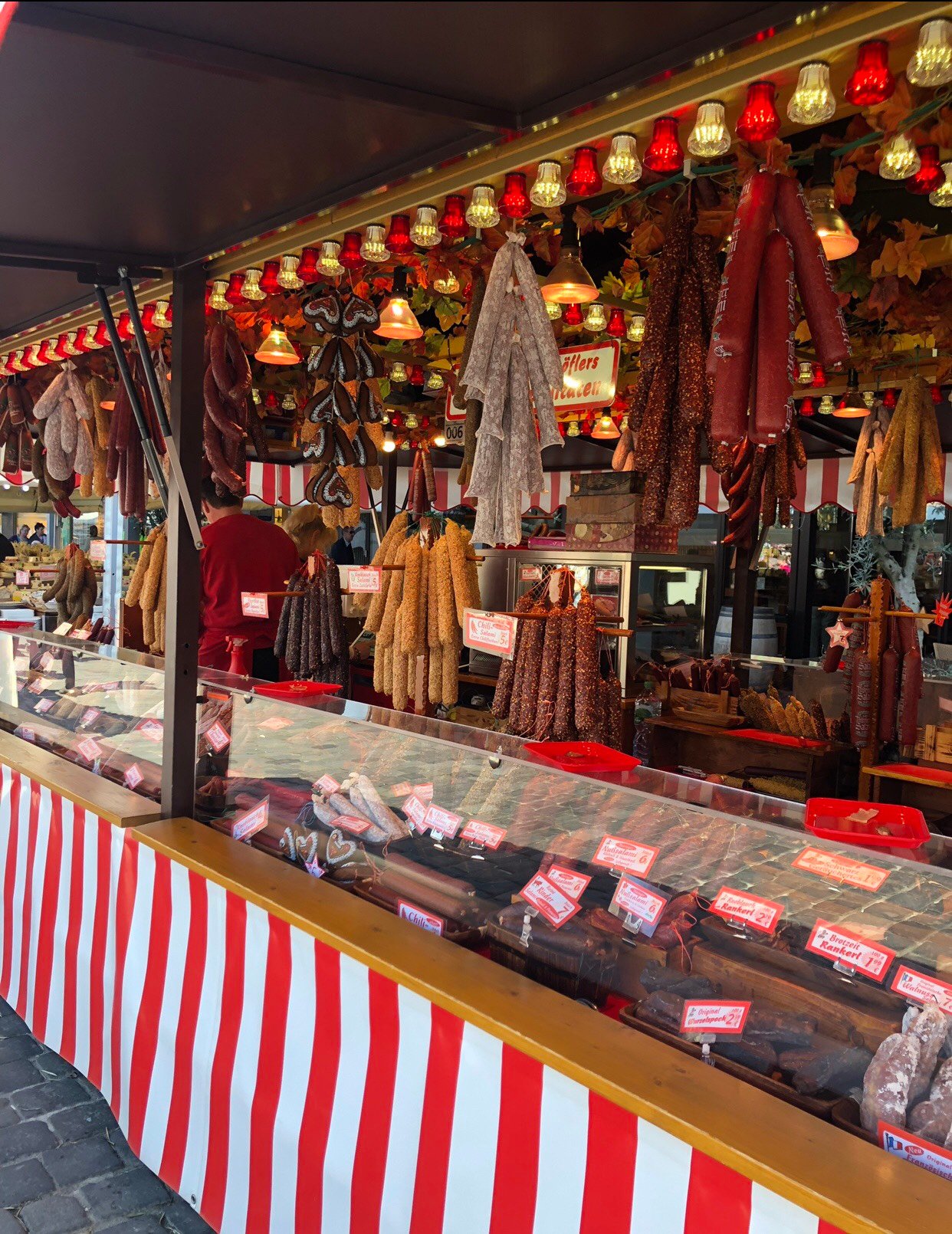 Visit the Germanisches National Museum
One of the coolest things here is getting to see the world's oldest globe. It dates back to the 1400's, and it doesn't have the United States on it because it's so old. It's fascinating to me because it truly goes to show you how little history America has and how young our country is compared to the European continent.
Tour the Underground Cellars
Way back in Nuremberg's history as the city was beginning to come alive, they passed a law requiring that any merchant that wanted to sell beer needed to have their own cellar to store it. This led to a maze of tunnels and storage rooms that were built beneath the city that can today be explored through beer tours. Not only will you sample the different beers, but you'll also learn the history of how these cellars were also used as bunkers during WWII. Nuremberg was heavily bombed over many years, and the cellars were used to keep the city's treasures, such as paintings and important church artifacts, and Nuremberg's people, safe from the bombings.
Albrecht Durer's House
Albrecht Durer was one of Germany's most famous artists, and his house and art has been turned into a small museum. It's located right at the base of the castle, and the timbered house dates back to the 1500's when Durer lived and created here.
Where to Eat in Nuremberg
Zum Schwänlein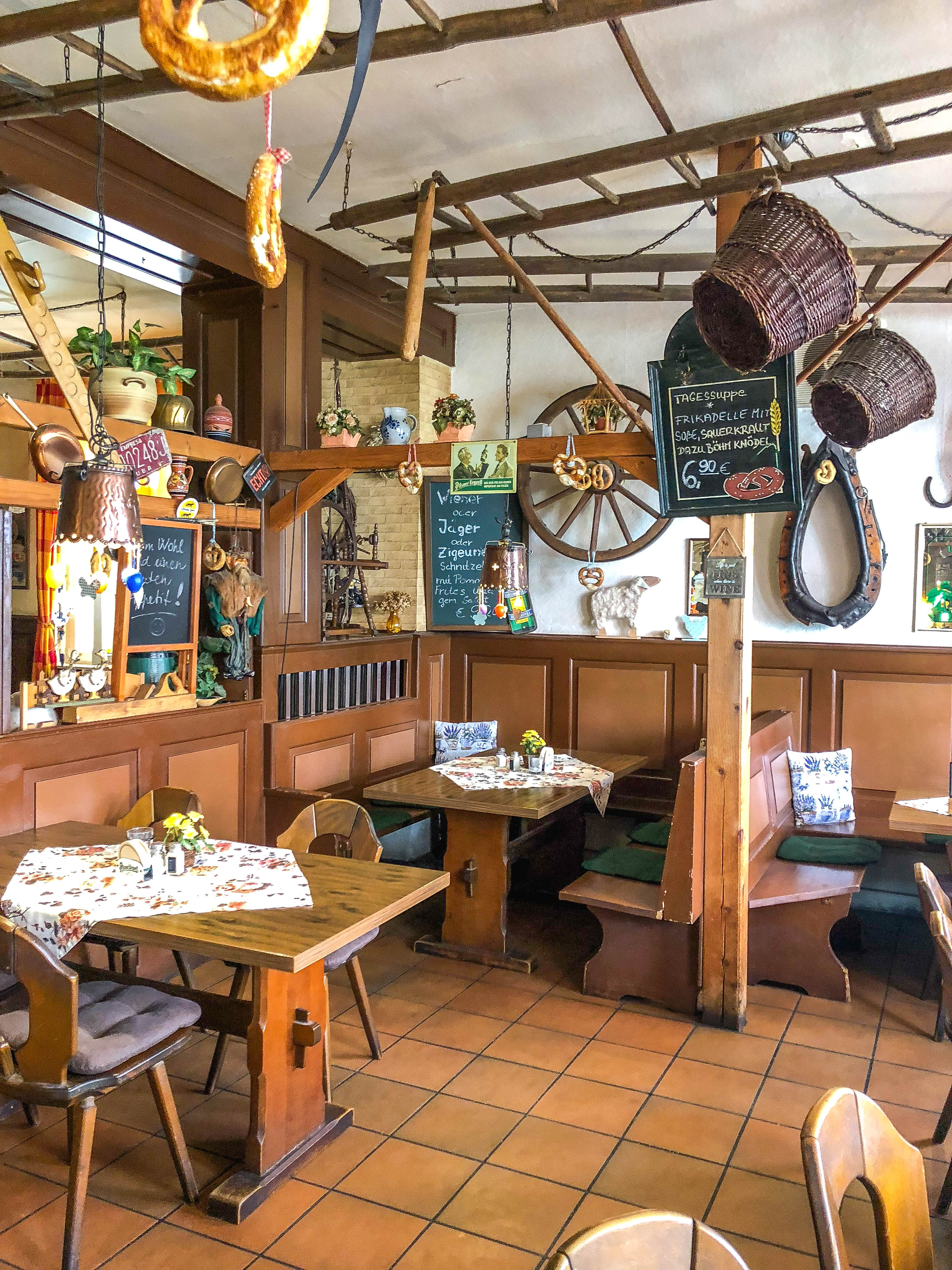 This little restaurant was my favorite. It was so cozy, charming and wonderfully German. I ate here a few times, as it is just 2 blocks from Hotel Victoria where I stayed, and you can't go wrong with any of the German meals on the menu, but the Nuremberg Sausages and potato salad was delicious! I ate my fair share of potato salad, and this place had the best!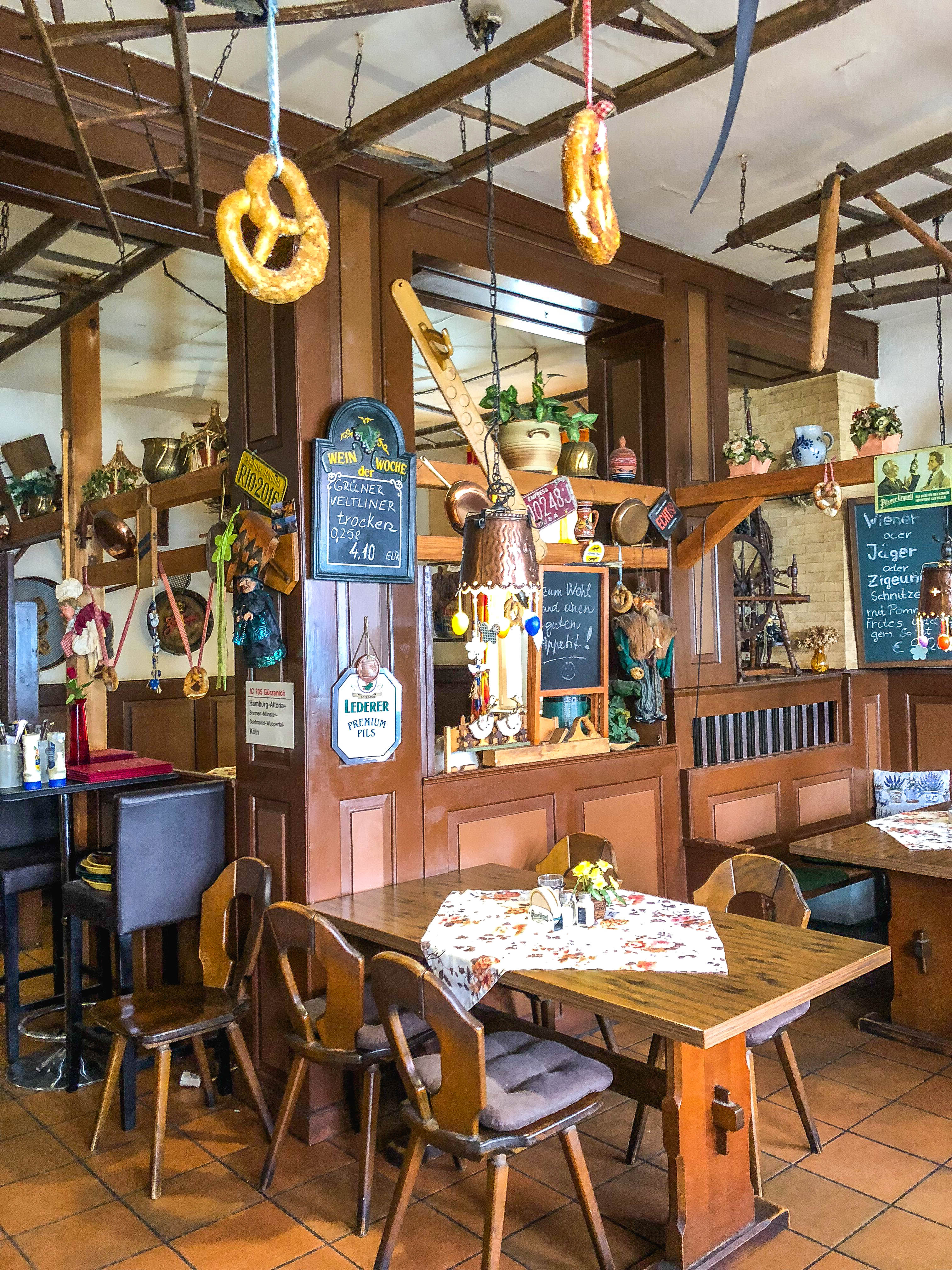 Handwerkerhof Nürnberg
This is the area that the little village is in (see above), and there's a few restaurants inside that have some good German food. It's another great spot for some Nuremberg sausages and potato salad.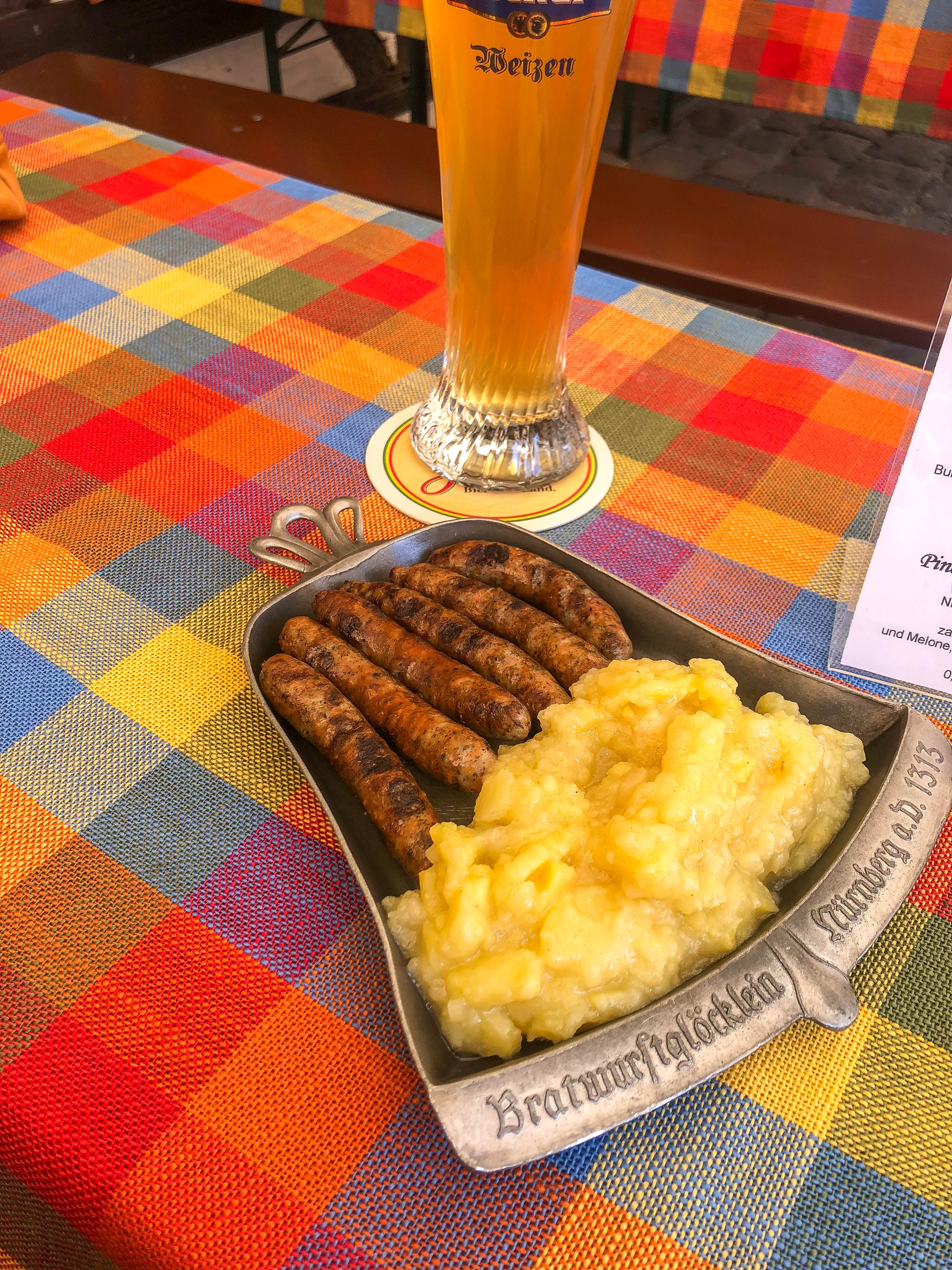 Travel Tip: Tucher is a beer, and brewery, that was founded in Nuremberg in 1672. Drinking it while in Nuremberg is a must!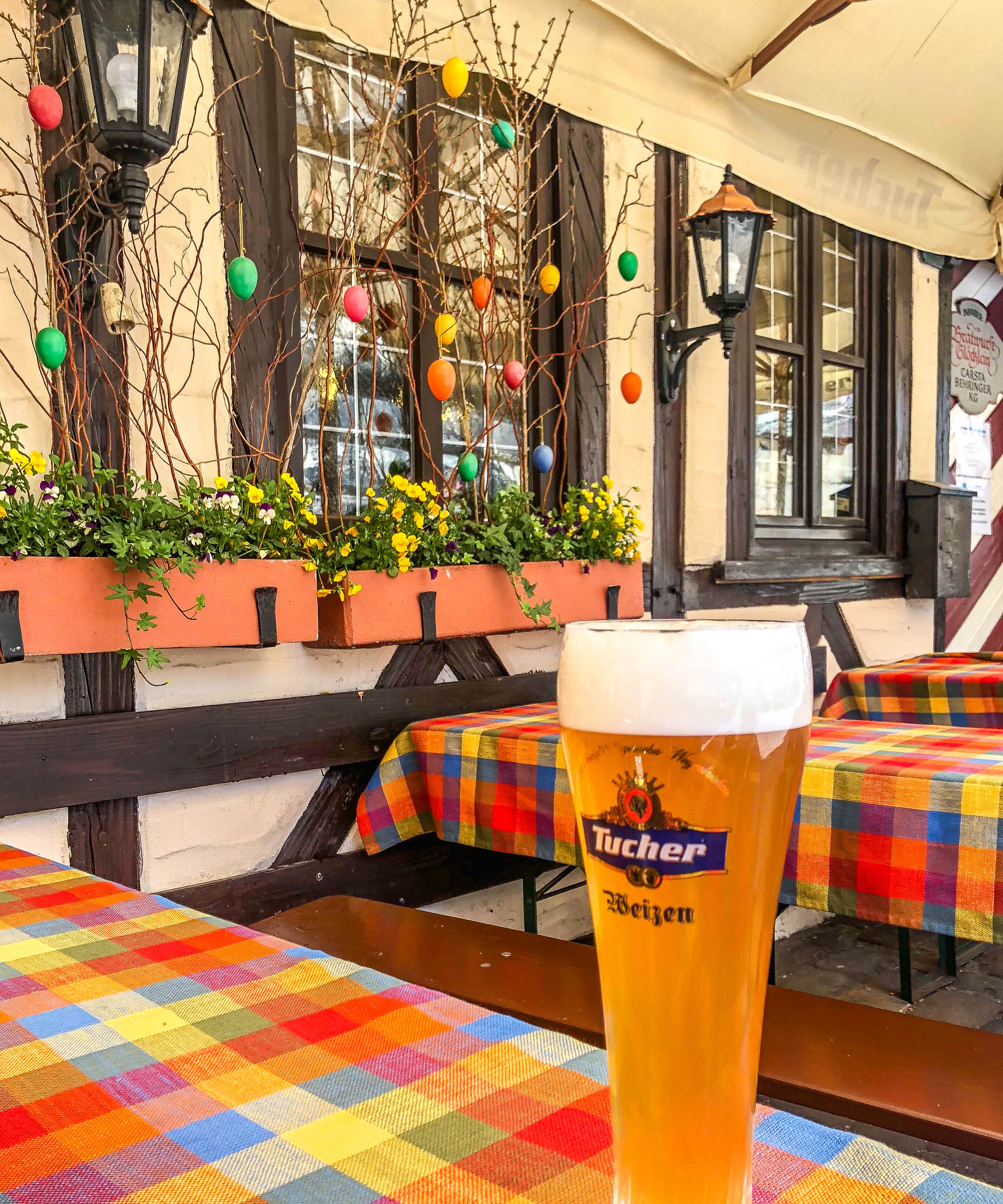 Bratwurst Röslein
This is a great spot for a nicer dinner if you're looking for traditional Bavarian food that's a bit more upscale. Plus, you can't beat German pretzels on the table instead of a bread basket!
Wurstdurst
Here you'll find currywurst, which is a popular German street food staple. It's open late if you're looking for something past closing time. The wurst and potatoes are delicious, and the owners are awesome and friendly.
Cafe Bar Wanderer & Bieramt
This cafe is right at the bottom of the castle and it's lovely for morning coffee, or is a great cozy bar for later in the day. There's a good selection of Franconia beers, and while there's limited food options, there's still plenty and what you would expect for a cafe menu, and there's something for everyone. It's a wonderful people watching spot too if the weather is warm and you can sit outside.
Schäufelewärtschaft
This restaurant is located outside of the city center or "Old Town". They have a wide variety of Bavarian dishes, including the best pork roast ever. The restaurant is cozy, the prices are affordable and the service is great.
Where to Stay
I did a lot of research as to where the best place to stay in Nuremberg would be. I landed on Hotel Victoria, both for the price and the convenience. It is located in such a great area that is within walking distance to almost everything I wanted to do. It's about 10 feet from the Handwerkerhof village, 2 blocks from the central train station, close to many restaurants, shopping areas and the markets. There is also an Aldi grocery store right across the street that I frequented to pick up waters, fruits and veggies for snacks.
Day Trips From Nuremberg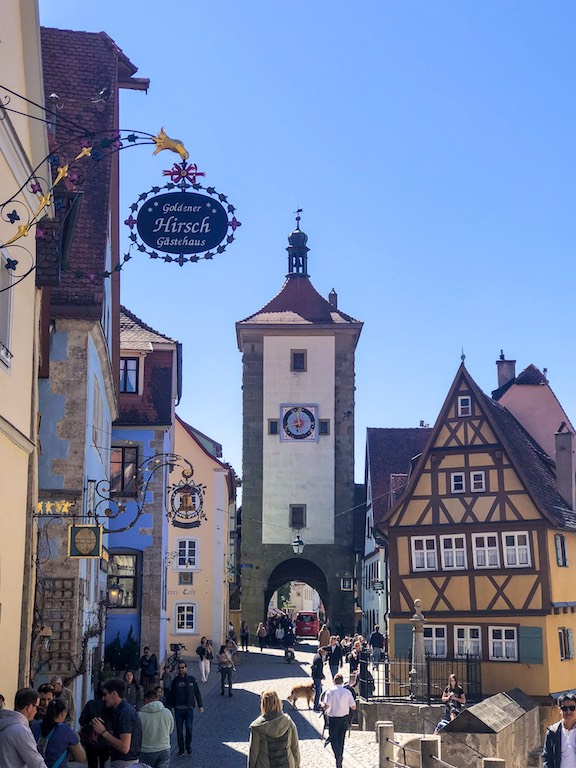 To wrap up my Nuremberg travel guide, let's talk about some day trips. Nuremberg is a great place to base yourself out of for a few days, as I did. I stayed here for 4 nights, and was able to see everything I wanted to within Nuremberg and also then venture out to some of the areas that are only a short train ride away.
It is easy to get to Munich, but some other smaller Bavarian towns are well worth your visit. Rothenberg would be my number one recommendation if you had to choose. This city is incredible and so very charming. It only requires a short train ride and can easily be done in a day.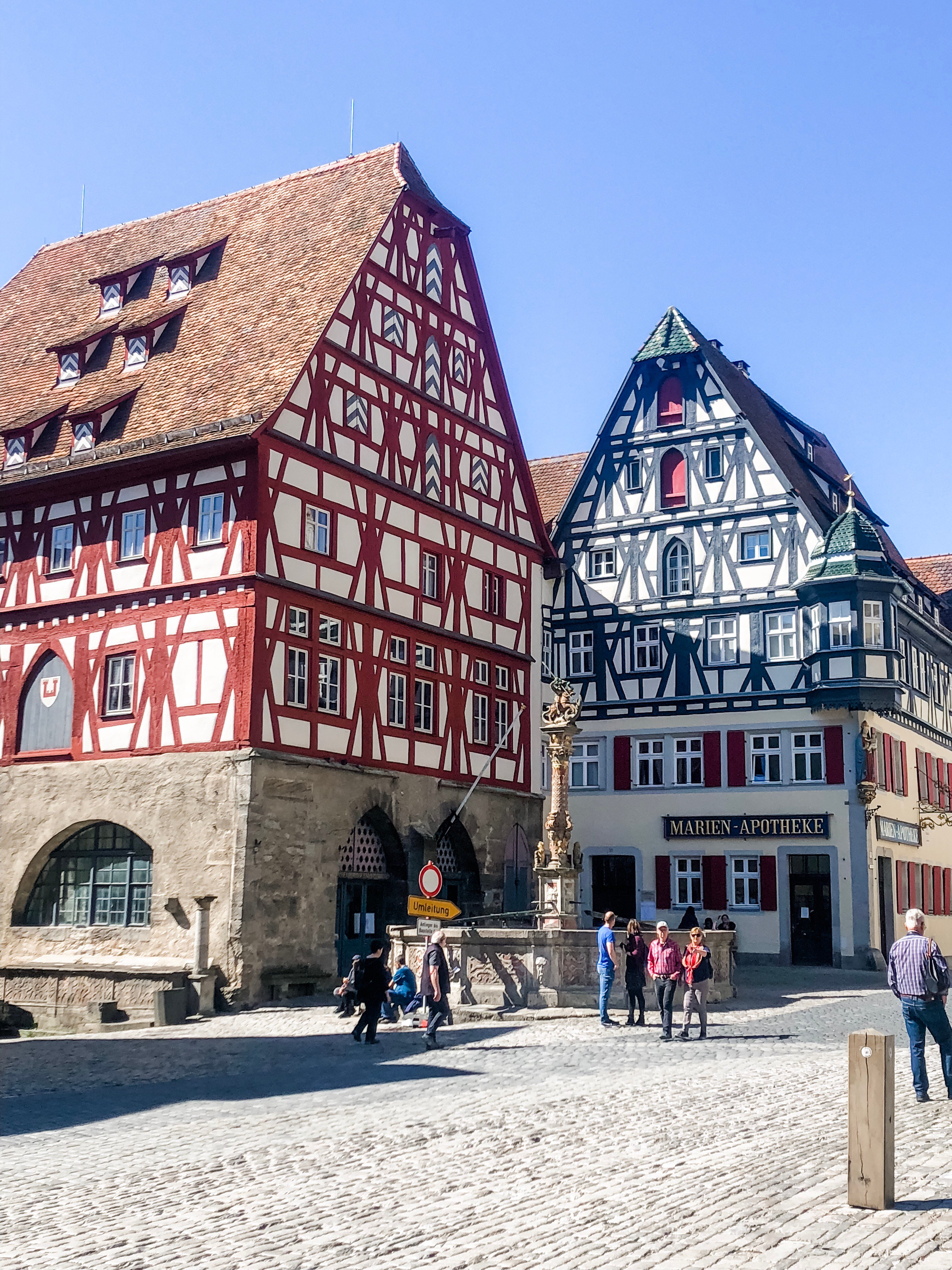 From Nuremberg, you can also spend the day in Wurzburg, Bamburg, or explore Regensburg on the Danube River. For more WWII history, a day trip to Dachau Concentration Camp is easily done from Nuremberg.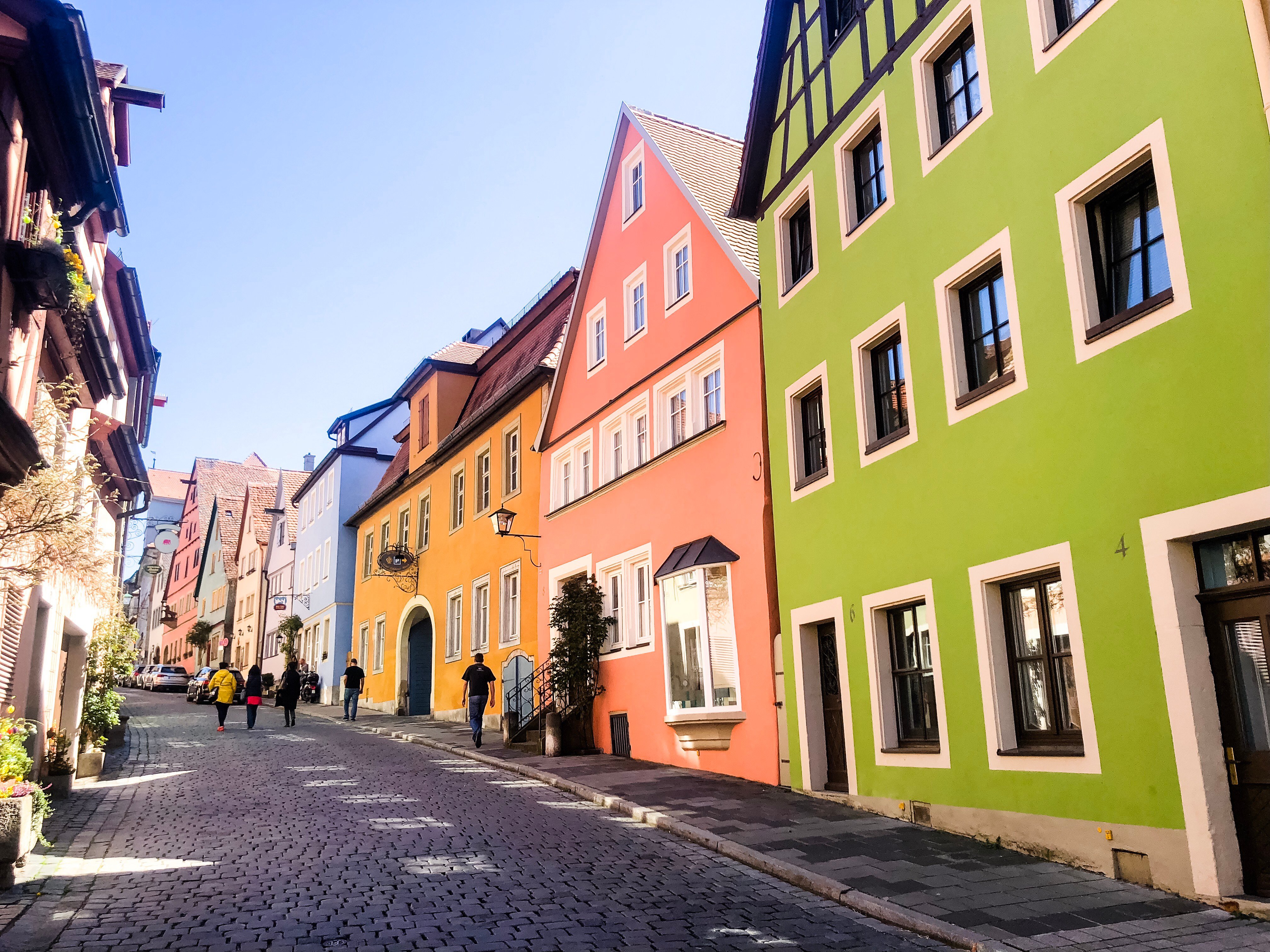 As you can see, there's plenty to keep you busy in Nuremberg, and so much history to learn, delicious German food to eat and beer to drink, and beautiful places to see. It's a wonderful city and within the first day I knew it was going to soar to the top of my list for favorite European cities!