This Whole30 instant pot sausage pizza soup is so quick to make. Just roll the meatballs, add the vegetables and set the timer to 10 minutes! Perfect for meal prep or an easy weeknight dinner recipe that's healthy, paleo, gluten free and can be made keto! No fancy prep work here, just a few steps and this flavorful pizza soup is done!
This post is in partnership with Primal Kitchen. They're giving you 10% off any of their products using the code "PALEOBAILEY" at checkout! I'm happy to work with a company I love, use and believe in so much. Thanks for your support here on the blog and your support for Primal Kitchen!
Why this Instant Pot Pizza Soup Is So Good
Because this soup is made in an electric pressure cooker, it takes no time at all and is ready in under 20 minutes.
After rolling the meatballs, you just have to dump in the veggies, sauce and spices and let the instant pot do it's job.
Pizza sauce can be hard to find without sugar, but with a few common spices, you can add your own pizza flavor!
Pressure cooking meatballs makes the most juicy and tender end result, and they don't dry out like baked meatballs.
This Pizza Soup is paleo, Whole30 and can easily be made low carb and keto by substituting some vegetables.
Whole30 Instant Pot Pizza Soup Ingredients
This soup calls for ground pork and ground beef to make the meatballs, but you can use all ground pork if you want. You could also swap them for beef meatballs, or even chicken meatballs. You'll also need some almond flour, an egg and spices for the meatball mixture.
The soup ingredients themselves are also very straight forward. You'll use fresh veggies, along with a can of tomatoes and black olives, all of the typical vegetables that are found on a sausage supreme pizza! Then you'll use common pantry spices to combine with the marinara and broth to transform them into a delicious, savory pizza sauce that will give this soup all of it's flavor!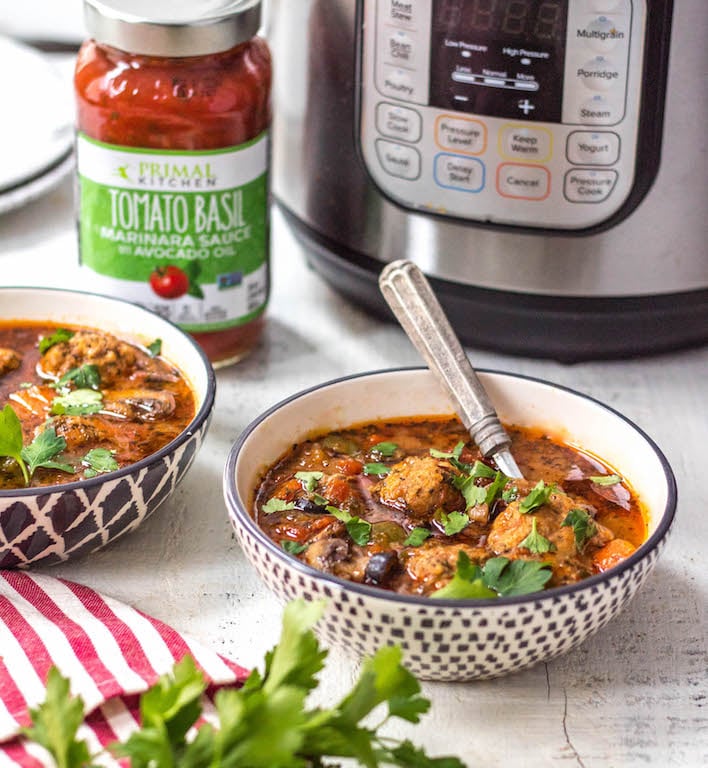 It's really important to use a flavorful marinara sauce because that's what the meatballs will cook in! The high pressure of the instant pot helps to really infuse that flavor into the meat. That's where Primal Kitchen's new Whole30 Approved and Paleo marinaras come in! Made with avocado oil, no sugar or junky additives, it's almost unbelievable that they were able to pack so much flavor into a jar! The two marinara flavors are Roasted Garlic and Tomato Basil. Tomato Basil has been my go-to for easy weeknight meals just like this one.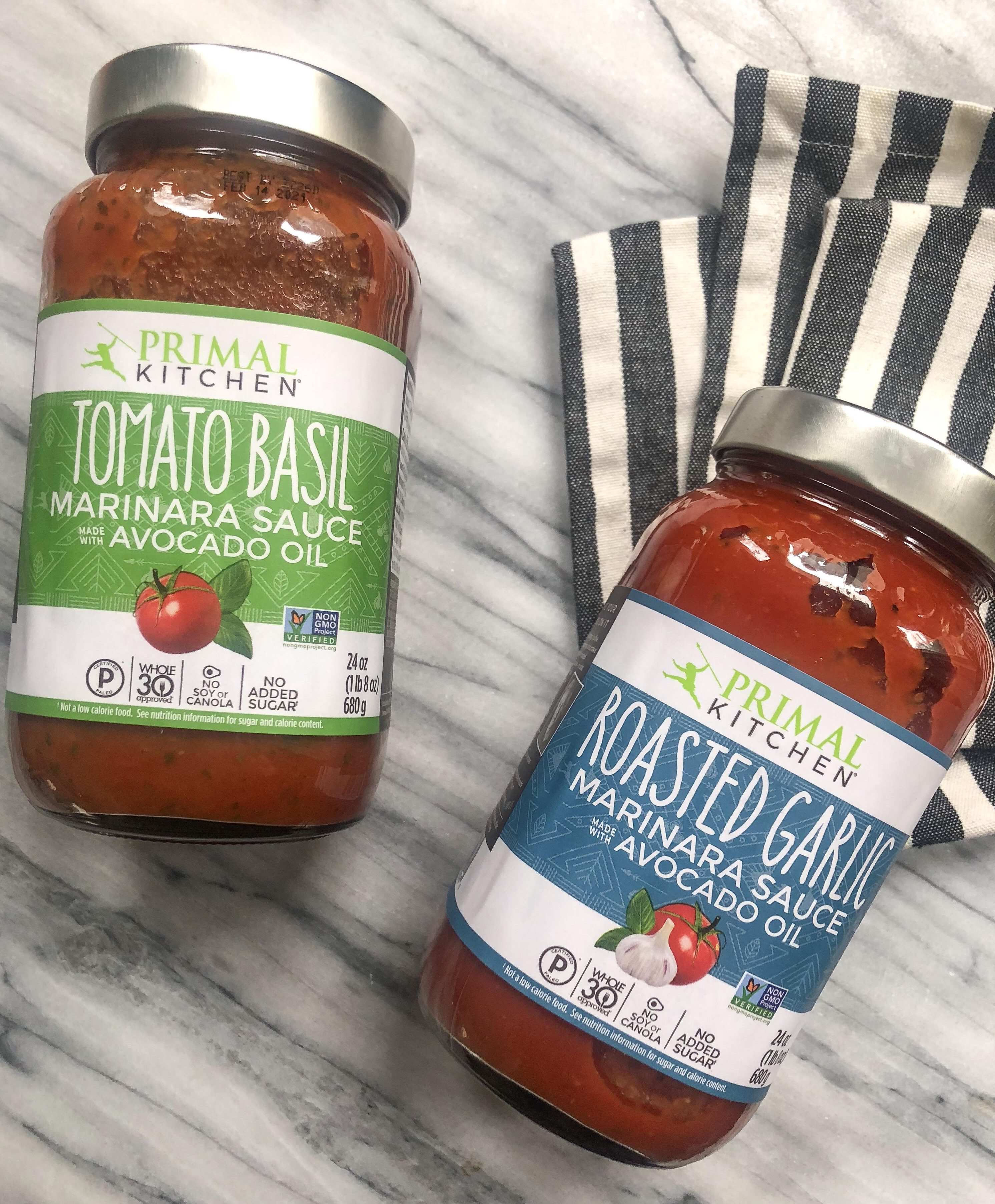 You can stock up on these healthy, Whole30 marinaras on Primal Kitchen's website, and make sure to check out their cashew based, dairy-free Alfredo sauces too (another favorite around here)! The code PALEOBAILEY will take 10% off your order as well! Another way I love using this marinara is browning some ground chicken, turkey or beef with diced carrots, onion and celery, dumping in the marinara and having a 15 minute meat sauce to use over zoodles, butternut squash noodles, baked potatoes, you name it!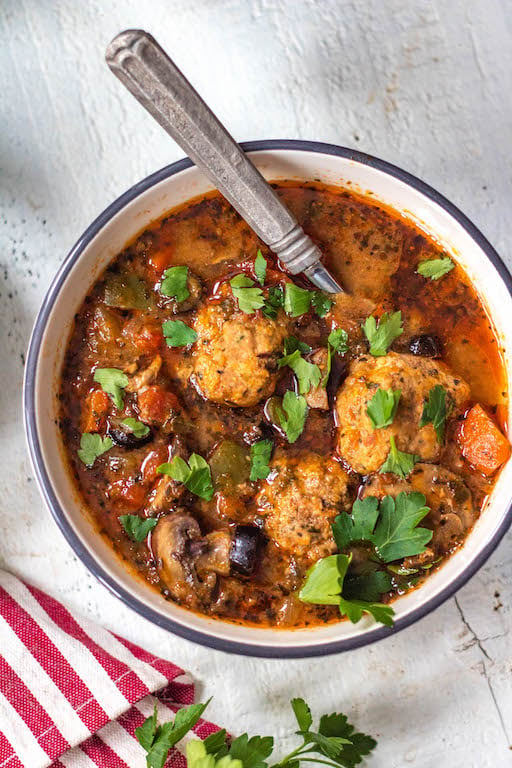 Top Tips To Make Instant Pot Pizza Soup
Do not over-mix the meatball mixture. Working with the meat too much can lead to a weird texture once they're cooked. Mix just until the meatball ingredients are incorporated and then stop.
Lightly spray the bottom of the instant pot with a spray cooking oil, such as avocado oil or olive oil. This will help prevent your instant pot from showing a "burn" notice if you have a newer model. They tend to do that even when nothing is burning, but there's food sitting on the sensors, and the light spray of oil will help coat those sensors.
If you're not strictly dairy-free (Paleo, Whole30), this pizza soup is great with some cheese on top!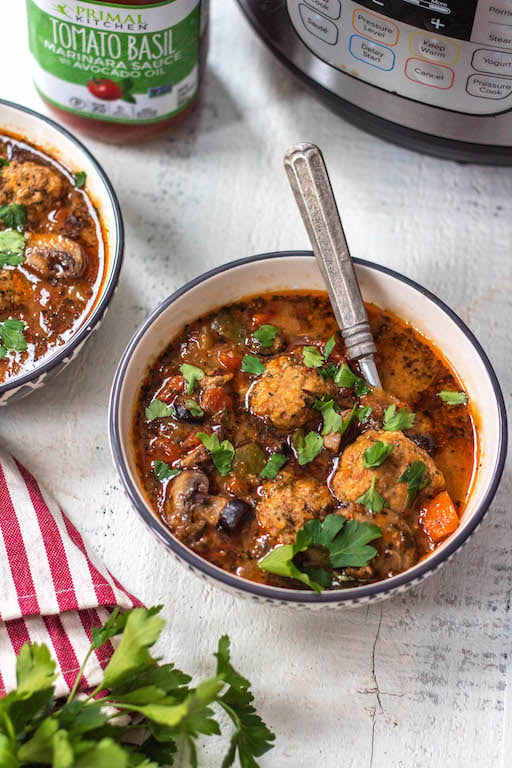 More Easy Whole30 Instant Pot Recipes
5 Minute Instant Pot Chicken Meatballs
Whole30 Instant Pot Beef and Broccoli
Instant Pot Sweet and Sour Chicken
Print
Hungry for more? Subscribe to my newsletter to get new recipes delivered straight to your inbox! And be sure to stay in touch on Facebook, Pinterest and Instagram for all of the latest updates.
Instant Pot Sausage Pizza Soup: Whole30, Paleo, Keto, GF
This Whole30 instant pot sausage pizza soup is so quick to make. Just roll the meatballs, add the vegetables and set the timer to 6 minutes! Perfect for meal prep or an easy weeknight dinner recipe that's healthy, paleo, gluten free and can be made keto! No fancy prep work here, just a few steps and this flavorful pizza soup is done!
Author:
Prep Time: 15
Cook Time: 10
Total Time: 25 minutes
Yield: Serves 6-8 1x
Category: Soup
Method: Instant Pot
Cuisine: American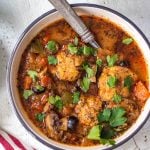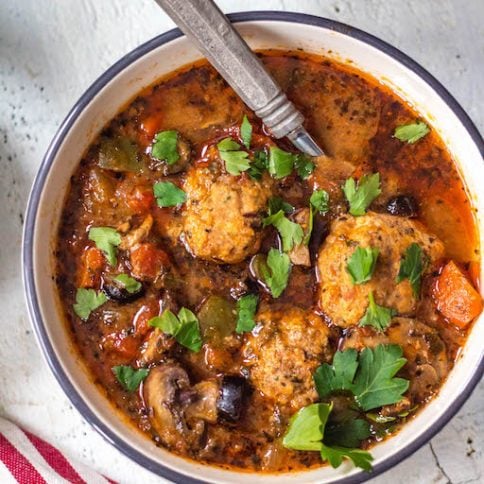 Ingredients
For the Meatballs
1 lb ground pork
1 lb lean ground beef
1 egg
1/2 cup almond flour
1/2 tbsp dried basil
1/2 tbsp dried oregano
2 tsp dried parsley
1 tsp onion powder
1 tsp garlic powder
1/2 tsp ground fennel
1/2 tsp salt
For the Soup
1 green pepper, diced
1 red pepper, diced
1.5 cups sliced mushrooms
1 medium white onion, diced
1 (14 oz) can diced tomatoes with liquid
1 (4 oz) can sliced black olives, drained
2 cups beef broth (can substitute chicken broth or water)
1 tbsp dried basil
1 tbsp dried oregano
1/2 tbsp dried parsley
2 tsp dried thyme
2 tsp dried minced onion
1 tsp garlic powder
1 tsp salt
Instructions
Prep all of the ingredients first (chop veggies, open cans), and coat the bottom of the instant pot in a light layer of spray cooking oil.
In a large bowl, combine all of the meatball ingredients and use your hands to combine. Roll the mixture into meatballs (about 1 inch in diameter) and place directly into the bottom of the instant pot.
Do this until all of the meat has been rolled into meatballs. Place them in the instant pot so they are touching, but not smooshed in there tightly. Once the bottom of the pot has been covered by meatballs, begin a second layer by placing meatballs in the spaces between the meatballs on the first layer.
Once all of the meatballs are formed, add in the fresh vegetables, and then the canned tomatoes and olives, and then the spices, and lastly, pour the marinara and broth over the top.
Do not stir. Place the lid on, set the valve to "sealing" and then set the instant pot to manual high pressure for 10 minutes.
Once the time is up, do a quick release and remove the lid. Gently stir, and serve. Top with any extra "pizza toppings" you'd like, like additional black olives, fresh parsley or basil, or cheese if you're not dairy-free.
Notes
You can use pizza sauce in place of marinara, but you will need to reduce the amount of dried spices that are used to create the pizza sauce flavor.
Keywords: whole30 instant pot recipes, instant pot, pressure cooker, instant pot soup, whole30 pizza soup, whole30 sausage recipes, paleo instant pot, low carb soup
This Whole30 Instant Pot Sausage Pizza Soup post may contain some links that are affiliate links, though products are ones I use personally and recommend. When you purchase anything using my links, it costs you absolutely nothing extra, but it does give wholekitchensink.com a little financial support which helps to keep this blog running. Thank you for your continued support, both with your dollars and your interest.