This Whole30 arrabbiata meat sauce with vegetables is made in the instant pot, so everything is cooked in one pot! Made with ground beef and with lots of vegetables snuck in, it's a hearty, cozy and healthy recipe that's great for meal prep. It's also gluten-free, Paleo and low carb/keto. This meat sauce is full of flavor and we love that it's freezer friendly, too.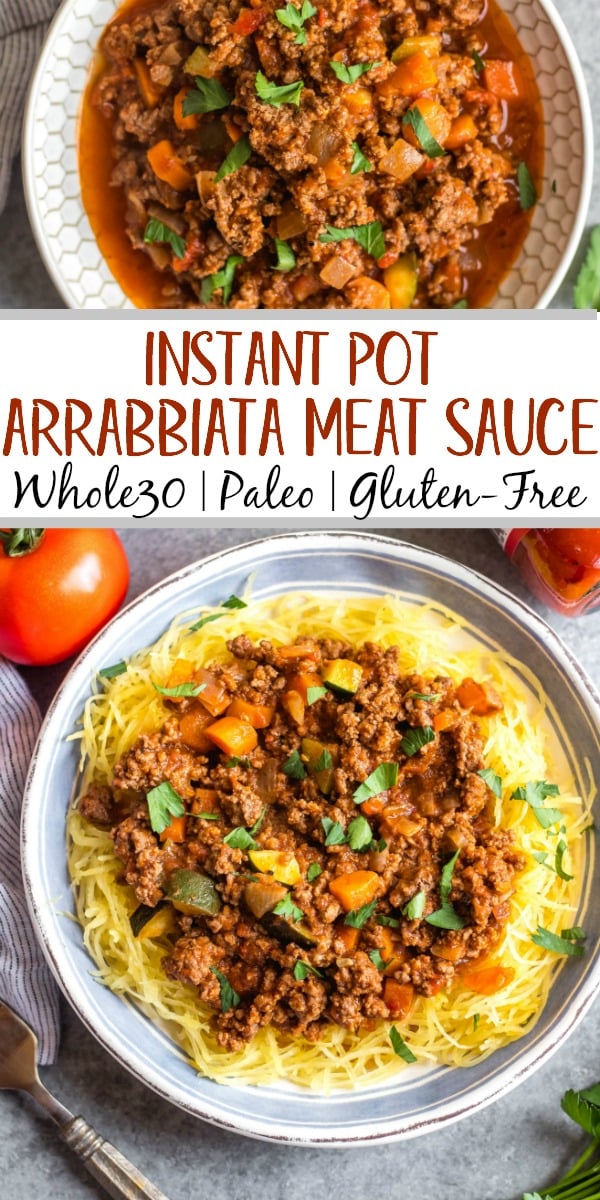 This post is in partnership with Primal Kitchen. They're giving you discount on any of their products using the code "PALEOBAILEY" at checkout! I'm happy to work with a company I love, use and believe in so much. Thanks for your support here on the blog and your support for Primal Kitchen!
Ingredients For Whole30 Instant Pot Arrabbiata Meat Sauce
One reason this recipe is so great for weeknights, or easy Whole30 meals to meal prep is because it's under 10 ingredients! You just need the sauce, ground beef and a few vegetables! It's also really flexible in the sense that you can swap in or out any vegetables you have on hand or prefer. Such as adding diced red peppers, diced mushrooms or wilting in spinach at the very end.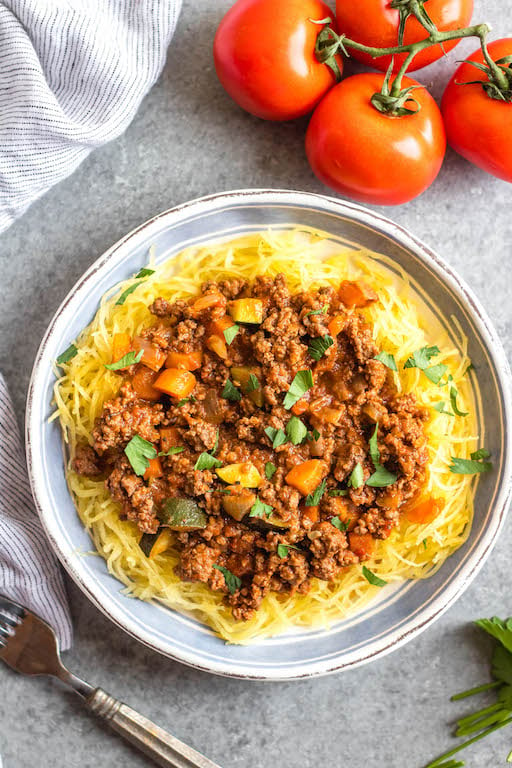 The vegetables I prefer it with are onions, carrots and zucchini. To "hide" these veggies more, you can dice them finely and incorporate them into the sauce mixture. The sauce you'll need is a jar of marinara, or Whole30 Approved Arrabbiata Sauce from Primal Kitchen. It's also keto, Paleo, and organic! The ingredient list is short while still being so full of bold flavor.
You can grab a jar of this delicious sauce to simply your weeknight cooking from their website! Make sure to use the code "PALEOBAILEY" for a discount at checkout!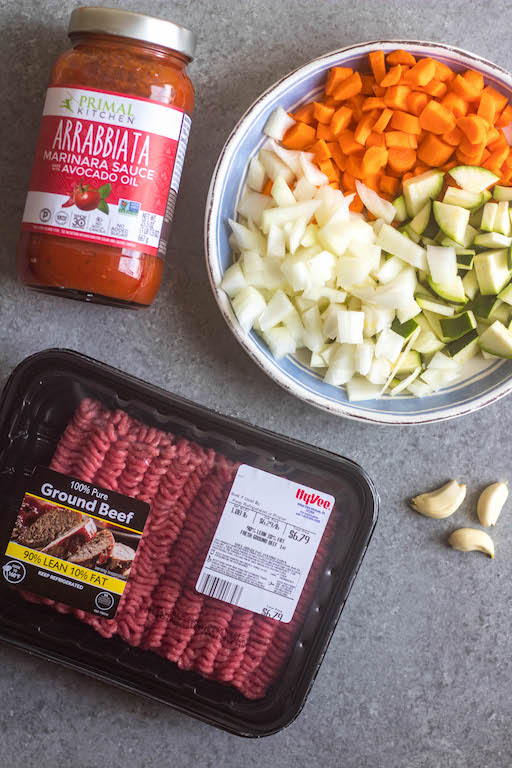 What Is Arrabbiata Sauce & How to Make Your Own
Arrabbiata sauce is a type of Italian marinara sauce. The main difference is that uses red pepper chili flakes! Arrabbiata in Italian means "angry", so naturally, this sauce is a bit spicier than traditional tomato marinara. The other spices are also a bit different than a traditional sauce.
This Primal Kitchen jarred Arrabbiata Sauce has a bit of heat, but it isn't that spicy. My 73 year old grandma (who doesn't like much spice at all) and I ate this together, and she loved it and said it was just the right amount! If you're using just a jar of regular marinara, you can definitely make this recipe with that, too. Either use as is, or add 1 tablespoon of crushed red pepper chili flakes into the instant pot prior to pressure cooking.
How to Make This Whole30 Instant Pot Arrabbiata Sauce
This recipe comes together really quickly, thanks to the instant pot! The instant pot is also a really wonderful way to get the same flavor you would by simmering this meat sauce all day on the stove top, because the instant pot really forces that flavor infusion into the meat thanks to cooking it under such a high pressure.
To start, you'll heat the olive oil on sauté mode, and then add in the minced garlic and diced onion. You'll sauté those for about 2 minutes until the garlic is fragrant and the onions start becoming translucent, and then you'll add in the diced carrots. Those will be sautéed for another few minutes before adding in the ground beef.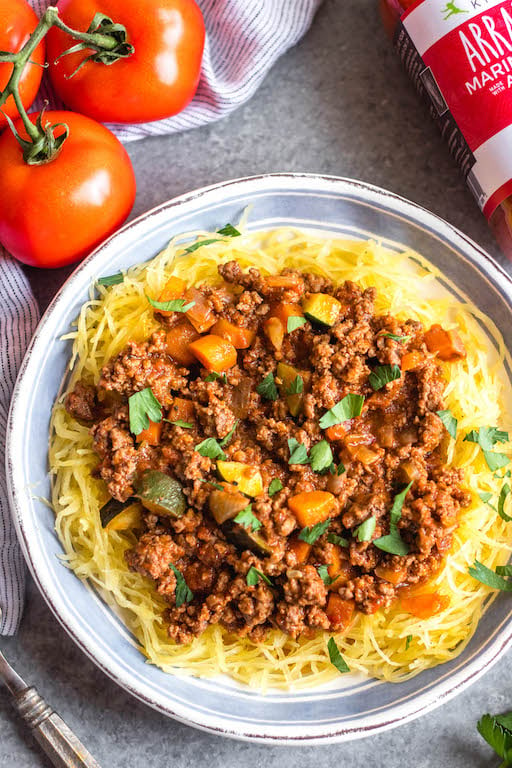 For the ground beef, you'll want to brown it and get it broken apart a bit, but you do not need to cook it all the way through here. The instant pot will take care of that for you. So you'll just brown it for about 6-8 minutes here, or until it's about half brown and half raw still.
Then, place the lid on and set the pressure toggle on the top to "sealing". Cook the Whole30 arrabbiata meat sauce for 10 minutes on high pressure. When the instant pot is done, do a quick release of the pressure, open the lid, give it a good stir and you're ready to eat!
Storing and Freezing Arrabbiata Sauce
This arrabbiata sauce will stay good in the fridge for up to 7 days, but it's also a really great freezer-friendly recipe. To freeze, make sure it's completely cooled after cooking in the instant pot. Then, separate it into the amount of servings you'd like, such as half of the recipe or into fourths, into freezer-safe bags or containers. Store in the freezer for up to 4 months. When you want to reheat, let it thaw in the fridge overnight and then heat on the stovetop over medium heat or in the microwave.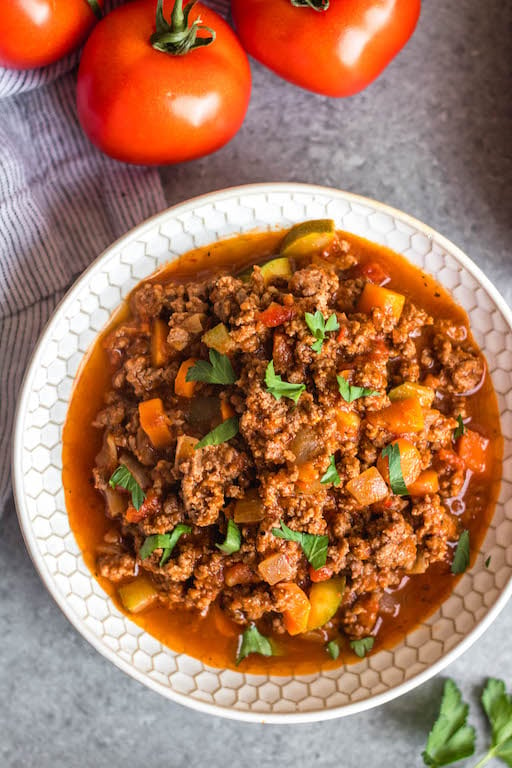 What to Serve This Meat Sauce With
You can serve this Whole30 arrabbiata sauce over any vegetable noodle, such as zucchini, butternut squash or spaghetti squash. It's also great over mashed potatoes, roasted sweet potatoes or in zucchini boats! If you're not eating Whole30 or paleo, or your feeding family members that aren't, of course this meat sauce is awesome over a bowl of your favorite pasta.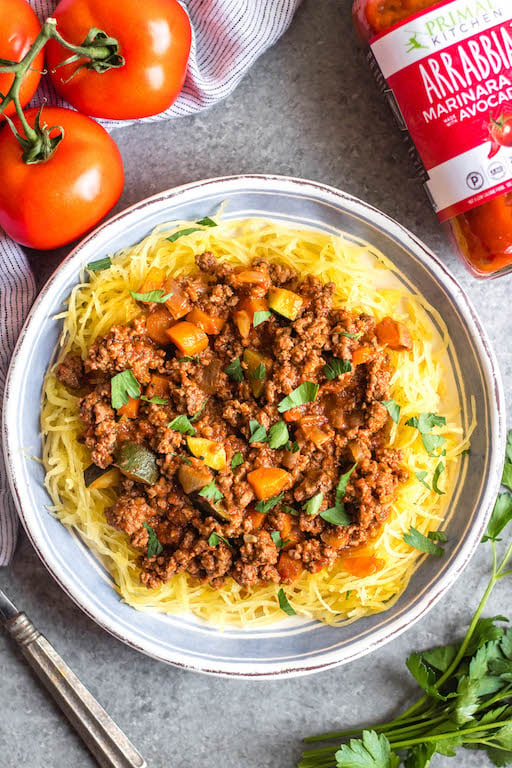 Other Whole30 Instant Pot Recipes You'll Love:
Instant Pot Pot Roast, Veggies & Gravy
Instant Pot 5 Minute Chicken Meatballs & Marinara
Print
Instant Pot Arrabbiata Meat Sauce with Veggies: Whole30, Paleo, Gluten-Free, Keto
Author:
Prep Time: 15
Cook Time: 10
Total Time: 25 minutes
Yield: Serves 6
Category: Beef
Method: Instant Pot
Cuisine: American (Italian Inspired)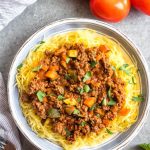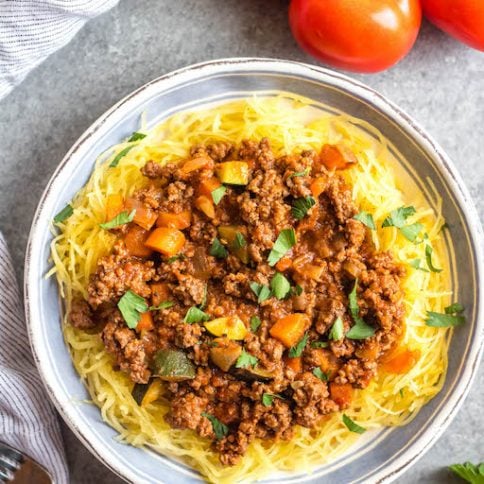 Ingredients
1 tbsp olive oil
2 tbsp minced garlic
1 diced yellow onion
1 cup diced carrot (about 2–3 long carrots)
1 cup finely diced zucchini
1.5 lbs. ground beef
1 (24 oz.) jar Primal Kitchen Arrabbiata Sauce
Instructions
Heat the olive oil in the instant pot on "sauté mode". Once hot, add in the minced garlic and minced onion. Saute for 2-3 minutes, until garlic is fragrant and onions are almost translucent
Add in the diced carrots and let saute another 2 minutes. Then, add in the ground beef and break up the beef while it begins to brown. Do not brown it all the way through, only about halfway, browning for about 6-8 minutes
Add the zucchini on top of the ground beef, onion and carrot mixture, and then add in the jar of sauce over the top of all of the ingredients. Do not stir, and place the lid on the instant pot. Put the toggle onto "sealing", and cook on high pressure for 10 minutes
Once the instant pot has finished, do a quick release of the pressure and remove the lid
Serve by ladling over your veggie noodles, mashed potatoes or zucchini boats!
Notes
If you use ground beef that is less than 93% lean, you may want to drain it prior to pressure cooking
If you're using just a jar of regular marinara, you can definitely make this recipe with that, too. Either use as is, or add 1 tablespoon of crushed red pepper chili flakes into the instant pot prior to pressure cooking.
Keywords: whole30, whole30 beef recipes, ground beef, arrabbiata sauce, instant pot, paleo, gluten free, low carb, keto
Nutrition Facts:
Calories: 268
Fat: 7.2 g
Carbohydrates: 11.1 g
Fiber: 2.2 g
Protein: 23.3 g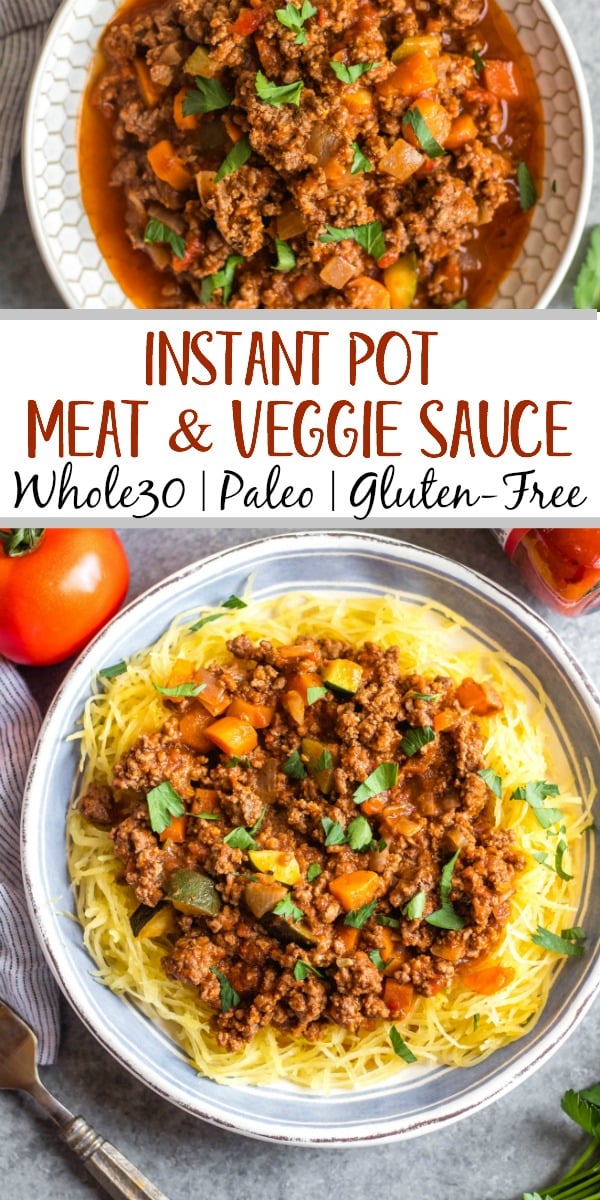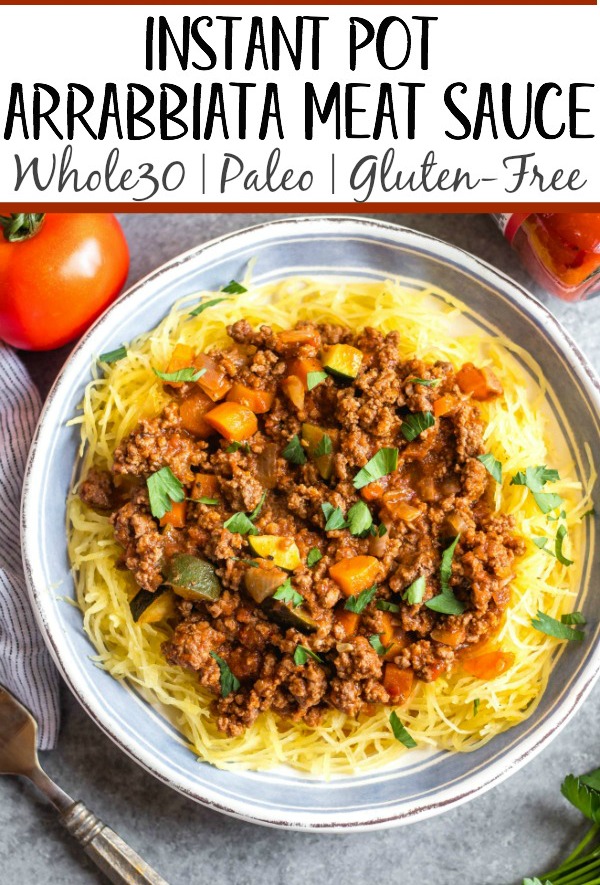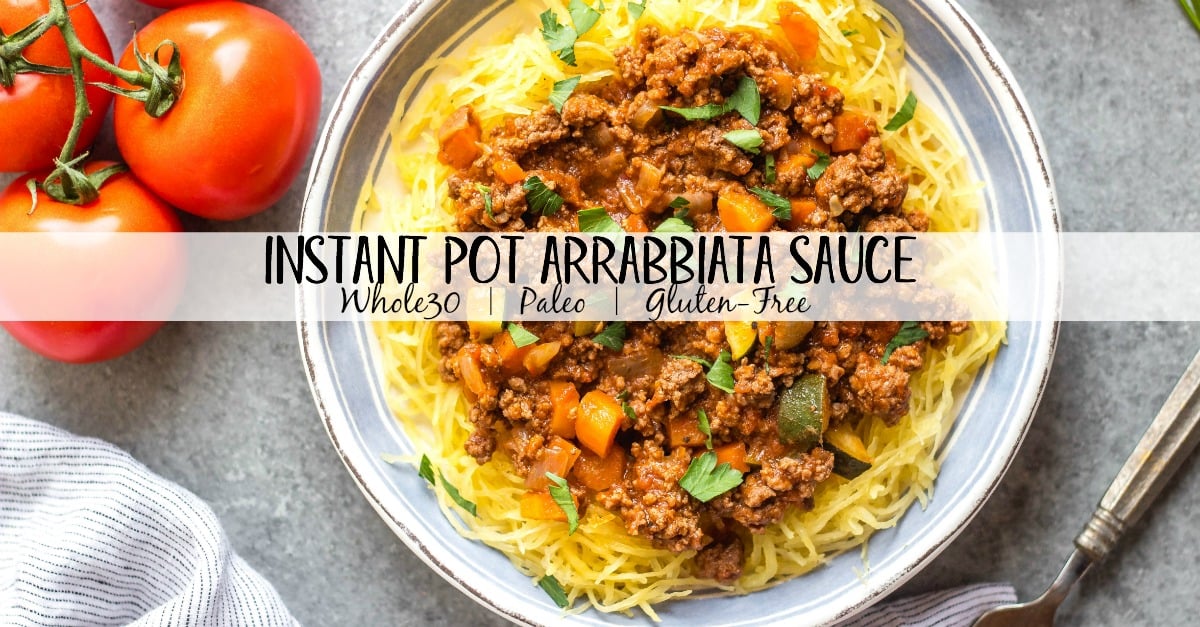 This Whole30 Instant Pot Arrabbiata Meat Sauce post may contain some links that are affiliate links, though products are ones I use personally and recommend. When you purchase anything using my links, it costs you absolutely nothing extra, but it does give wholekitchensink.com a little financial support which helps to keep this blog running. Thank you for your continued support, both with your dollars and your interest.