This Boba coffee recipe is naturally gluten free and can easily be dairy free as well. It uses only four ingredients to create a refreshing, visually appealing drink easily and quickly right at home. Making your own homemade bubble coffee saves you money and this versatile recipe can be tuned to your personal taste and hits the spot anytime from breakfast into the evening.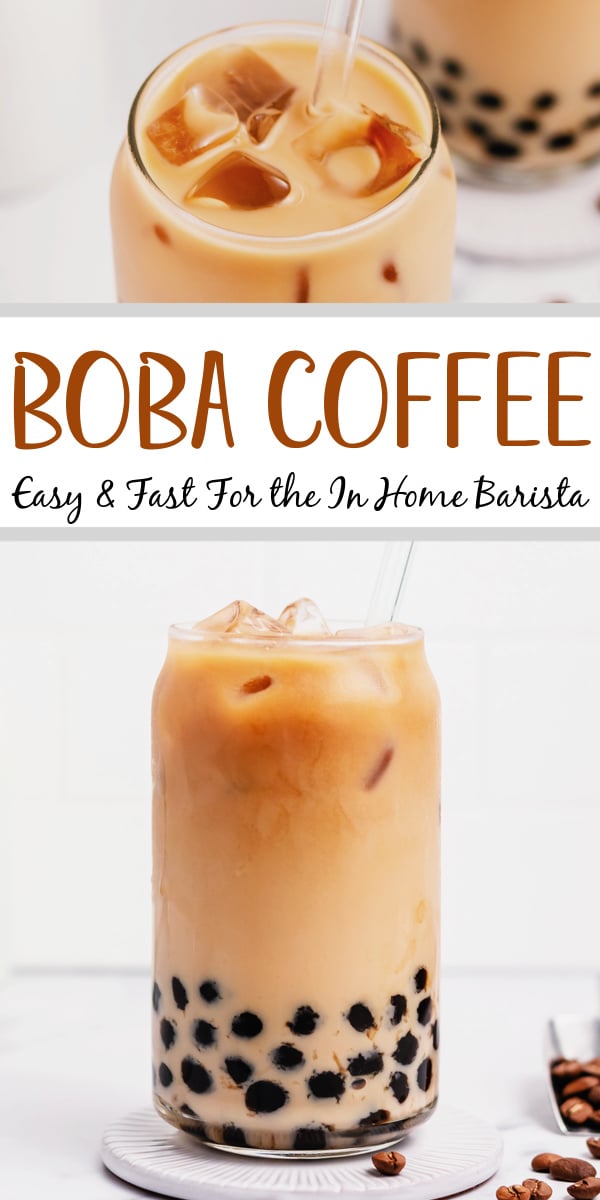 Why You'll Love This Boba Coffee Recipe
You will fall in love with this bubble coffee recipe first and foremost because it is a super quick and easy recipe. It's naturally gluten free and can be dairy free if that's your preference. This recipe is a perfect use for any leftover coffee you may have on hand but also works extremely well with fresh coffee made by your favorite method (shoutout to the French press and Aeropress).
Making your bubble coffee at home saves money and is a great drink to make for entertaining guests with its impressive visual appeal. Plus, it's so customizable that you can fine tune your drink so it fits perfectly with your tastes and dietary preferences!
Boba Coffee Ingredients to Make Bubble Coffee at Home
To make boba coffee you'll need only a few ingredients. A half cup of  cooked tapioca pearls, three cups of coffee, a cup of cream, and two to three tablespoons of sugar and you're all set. Since coffee is a personal thing I've included some options/suggestions as this recipe is very versatile.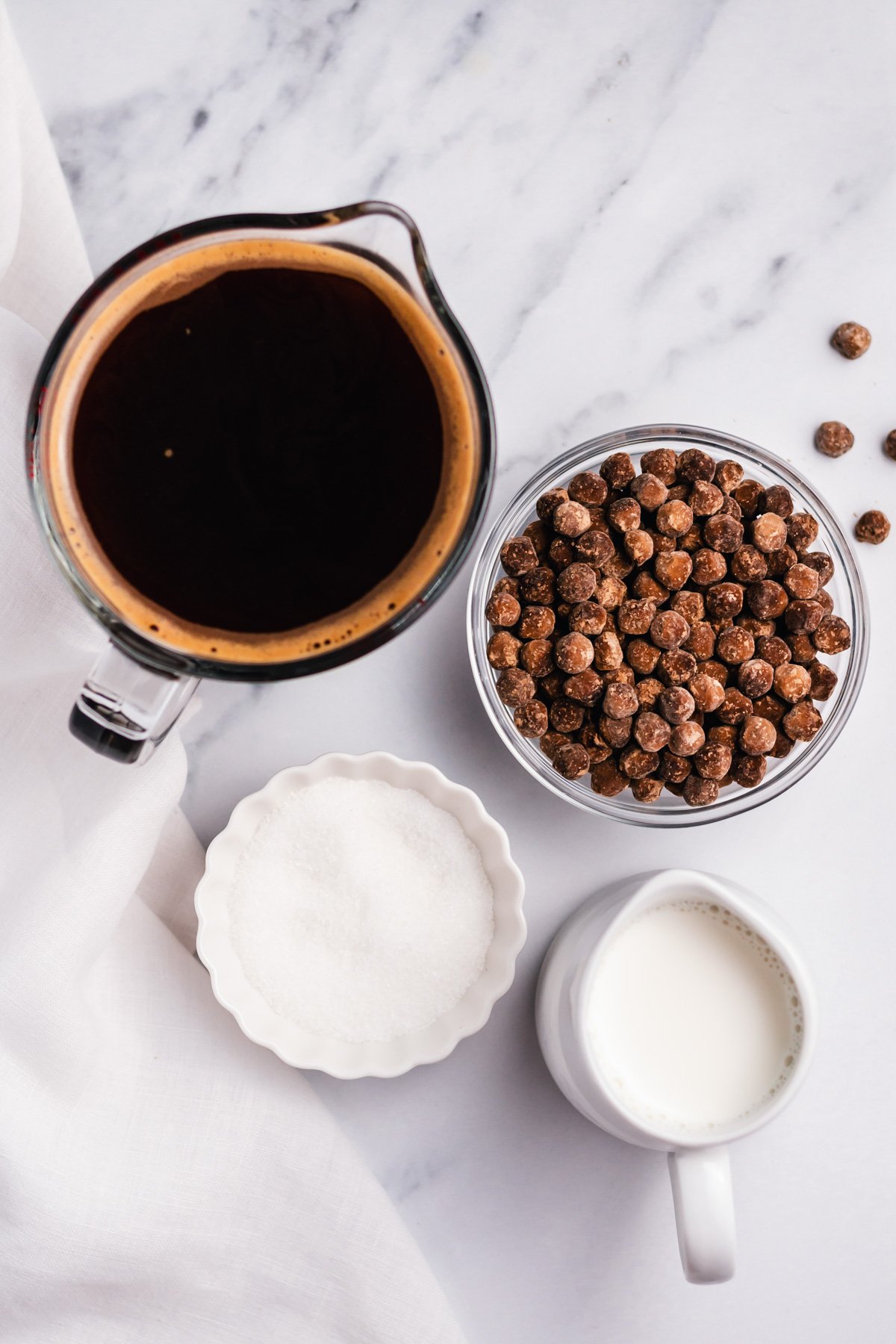 Tapioca Pearls
The tapioca pearls can be homemade or store bought.
Brewed Coffee
This recipe is a great use for leftover coffee although you can use fresh coffee as long as you cool it before making the boba coffee. You can also use espresso or your favorite French pressed coffee; again cooled ahead of time, or cold brew.
Milk/Cream
The milk/cream component of this boba coffee recipe is flexible as well. Of course you can use heavy cream, whole milk, or skim milk but any of your preferred milks or creamers will do. Almond milk, coconut milk, and oat milk will all work as well. Choose your favorite and experiment!
Sweeteners
This recipe calls for sugar but you can substitute that for honey if you'd prefer (especially give that a shot if you're using oat milk). You can also try coconut sugar or brown sugar.
What Are Tapioca Pearls?
Tapioca pearls are little balls made of tapioca starch and are also known as boba. They are made with tapioca, black food coloring, water, and sugar. It is formed into balls and has the texture of a soft gummy and look like little black jelly pearls.
Originating in Taiwan, tapioca pearls are served with flavored or milk teas making bubble tea or boba tea. It is now available in most parts of the world and after today, your home, as well!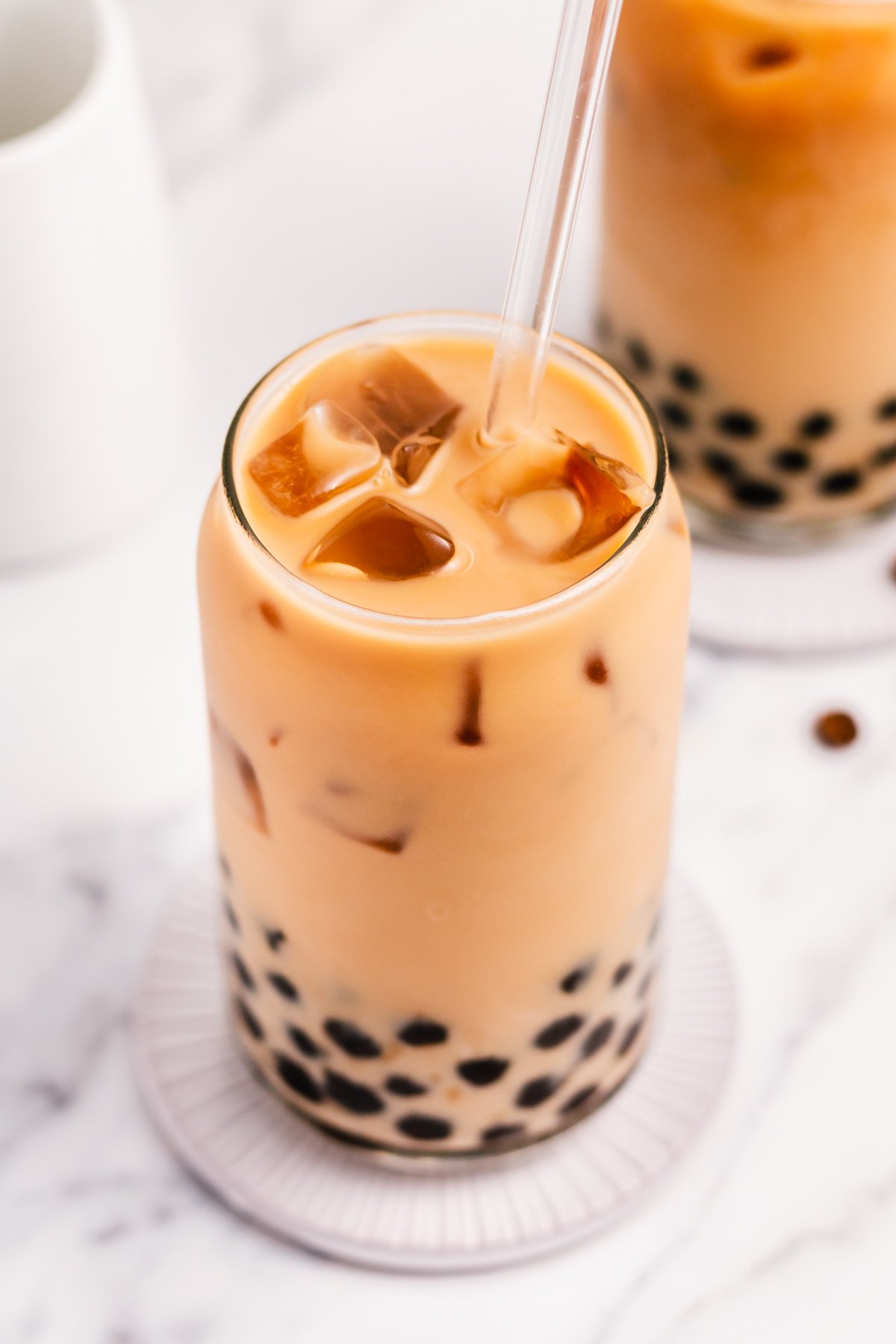 Making Boba Coffee
Start your boba coffee by gathering your ingredients and making sure your coffee is cooled. If you haven't pre cooked the tapioca pearls, do so now.
If they are pre made, cook them according to instructions on the packaging. Typically it involves boiling them until they float up. About 5-10 minutes for the small pearls and 10-15 for the larger ones. Once the pearls are done, transfer them to an ice bath or a bowl of cold water. This will stop the cooking process and cool them for the rest of the recipe.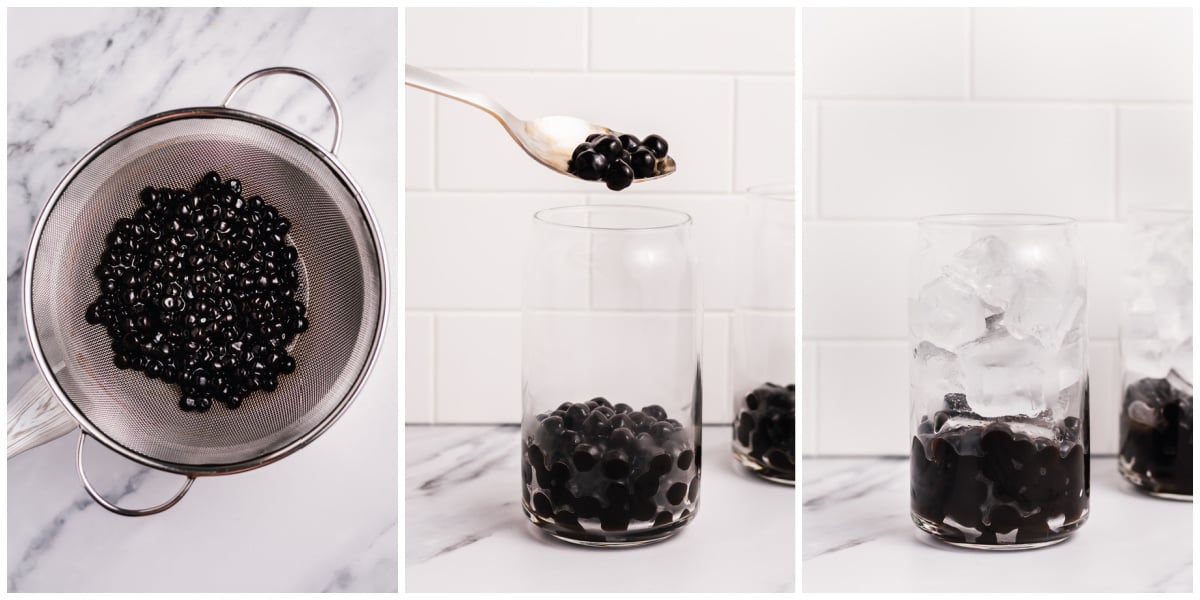 When the pearls are cooled, drain the water/ice. Divide them into glasses. You can do this evenly or to taste depending on preference and how many glasses you're making.
Mix your sweetener with your creamer selection. I like the honey and oat milk combo and the coconut sugar and vanilla almond milk combos, personally. Next, fill the glasses of tapioca pearls half full of ice.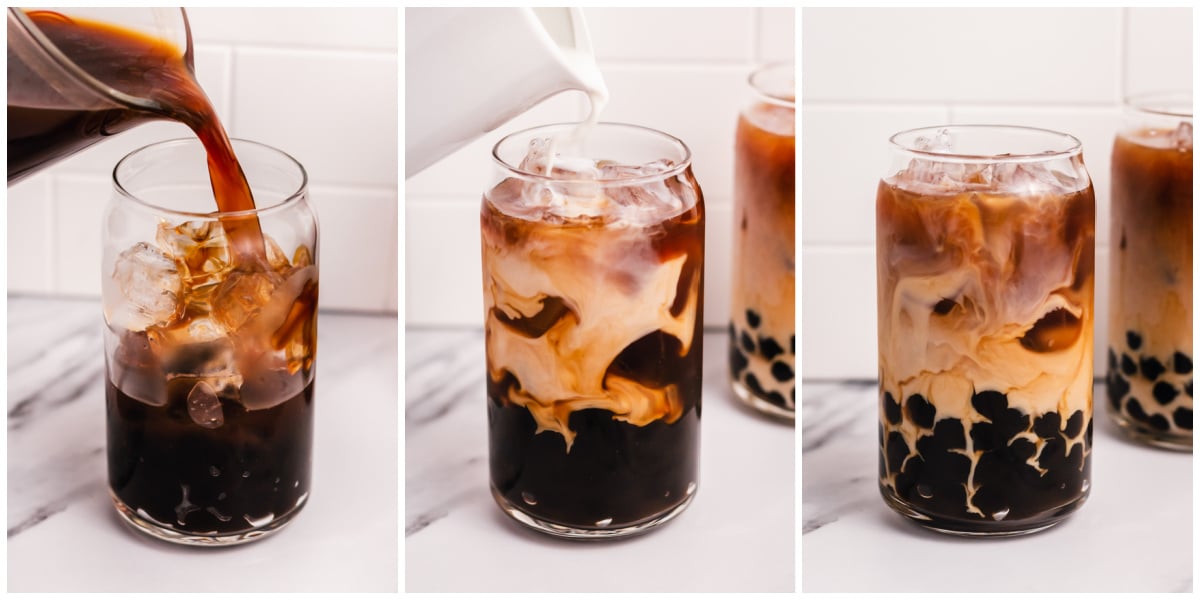 Pour coffee over the glasses until they are about 3/4 full and then fill the rest of the way with the cream mixture. Lastly, admire and enjoy your fancy, in house, coffee drink!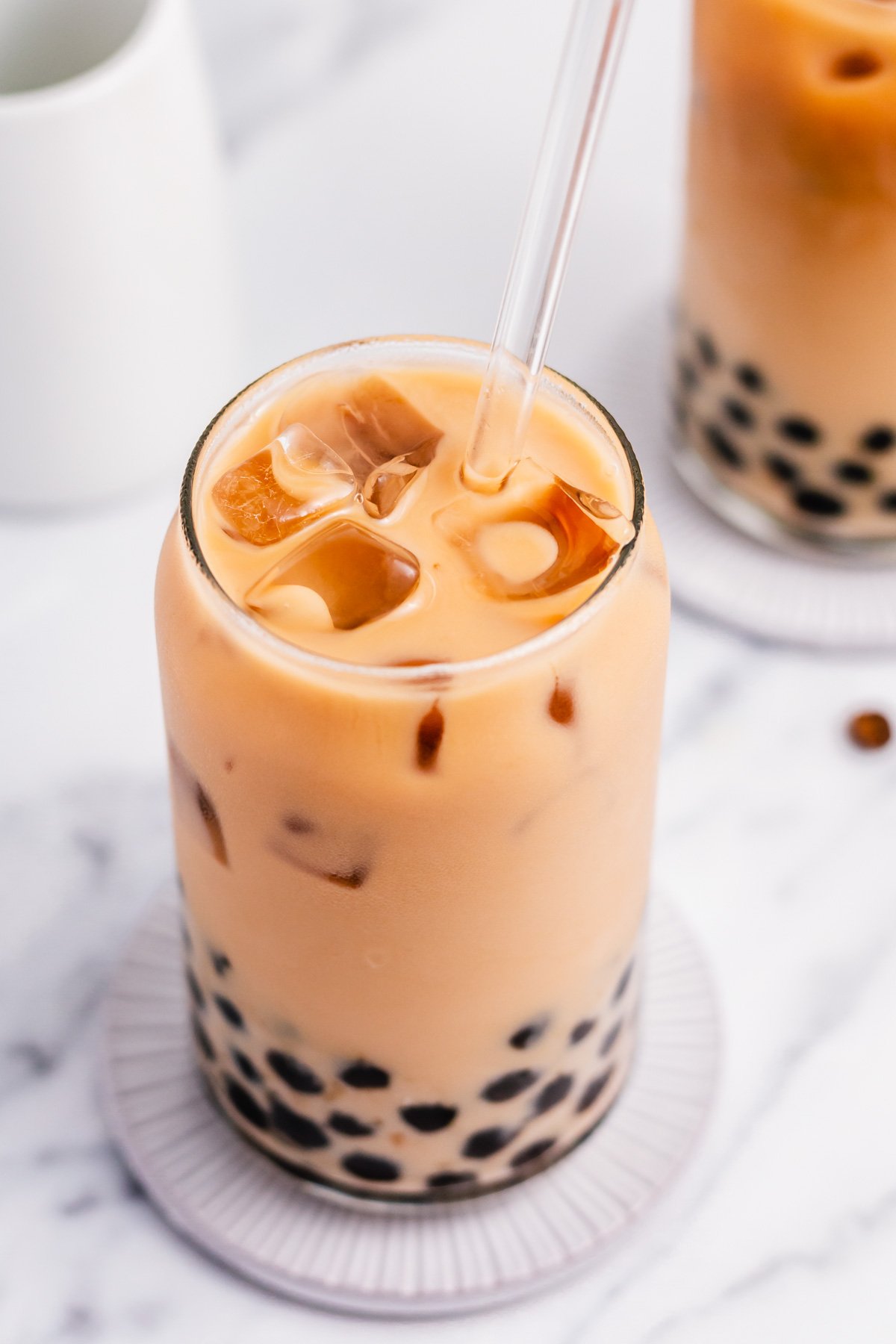 Serving and Storing Instructions
Serve this boba coffee over ice for guests in the afternoon or for a quick morning treat. It fits into the breakfast niche well but can also hold up in a variety of scenarios. Try garnishing it with a dusting of cinnamon or dress it up for the holidays with a peppermint stick.
This drink is best when drank fresh but if you refrigerate it it will keep for about 24 hours just fine. If you want to have some bubble coffee for later it's best to keep the boba stored at room temperature separate from the coffee and creamer mix and combine the you're ready to drink. The boba should be used within about four hours of cooking and cooling if you're not freezing them for later.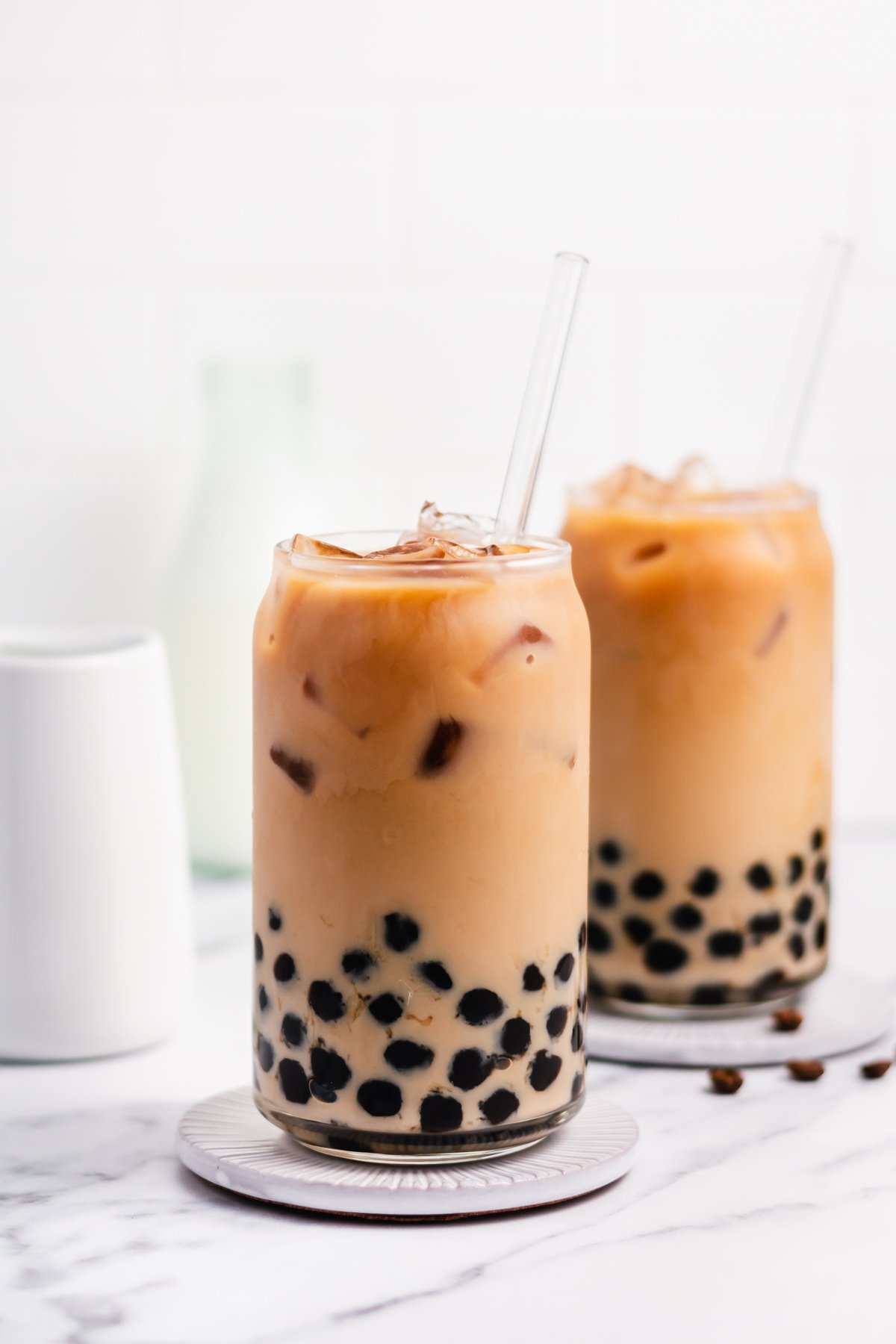 Related: Refreshing Drinks to Try
Frequently Asked Questions
How do I cook boba?
Typically you cook boba by boiling it. You bring water to a rolling boil and then add the boba for about 5-10 minutes for the small ones and 10-15 minutes for the larger ones stirring occasionally. Keep in mind that many of the pre packaged boba come with more brand specific instructions so follow those as much as possible.
What is in boba?
Boba, also known as tapioca pearls, is made from tapioca starch which is also known as cassava starch. They are little round balls that are generally simmered in brown sugar syrup. They're both simple and sweet.
Why is boba black?
The boba pearls get their black color from the brown sugar syrup they're simmered in when being made or a caramel coloring that is sometimes used. This preparation also helps give the pearls their sweet taste.
How did boba start?
Boba got started in the later 80's in Taiwan. Tea drinking was a part of the culture in east Asia and tapioca balls were a common dessert. Someone eventually decided to combine the two into the drink we know, appreciate, and love today.
Other Breakfast Recipes You'll Love!
Print
Boba Coffee
Boba coffee is naturally gluten free and can easily be dairy free as well. It uses only four ingredients to create a refreshing, visually appealing drink easily and quickly. Making your own bubble coffee at home saves you money and this versatile recipe can be tuned to your personal taste and hits the spot anytime from breakfast into the evening.
Author:
Prep Time: 5 mins
Cook Time: 0 mins
Total Time: 5 minutes
Yield: 2 1x
Category: Meatless
Method: Stovetop
Cuisine: American (Taiwanese Inspired)
Diet: Gluten Free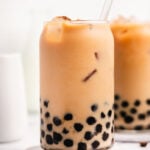 Ingredients
1/2 cup 5 minute boil black tapioca pearls
2 to 3 tablespoons sugar
3 cups cold brew black coffee or cold black coffee
1 cup heavy cream (or almond milk for dairy free)
Instructions
Cook the tapioca pearls according to the package, likely boiling for 5 minutes until they're floating
Transfer the tapioca to an ice bath or bowl of very cold water to stop the cooking process and cool them, and then drain the ice/water
Mix the sugar with the heavy cream or almond milk
Divide the pearls into glasses, then fill each glass to ½ full with ice
Pour the coffee over the ice until the glass is ¾ full and then top with the cream
Notes
Instead of sugar you can substitute for honey, brown sugar, or coconut sugar to fit your preference.
You can swap the heavy cream for almond milk, coconut milk, oat milk, or any of your favorite creamers to customize this recipe to your personal tastes.
Keywords: boba coffee, bubble coffee, how to make boba coffee, how to make bubble coffee, easy boba coffee, easy bubble coffee, dairy free boba coffee, dairy free bubble coffee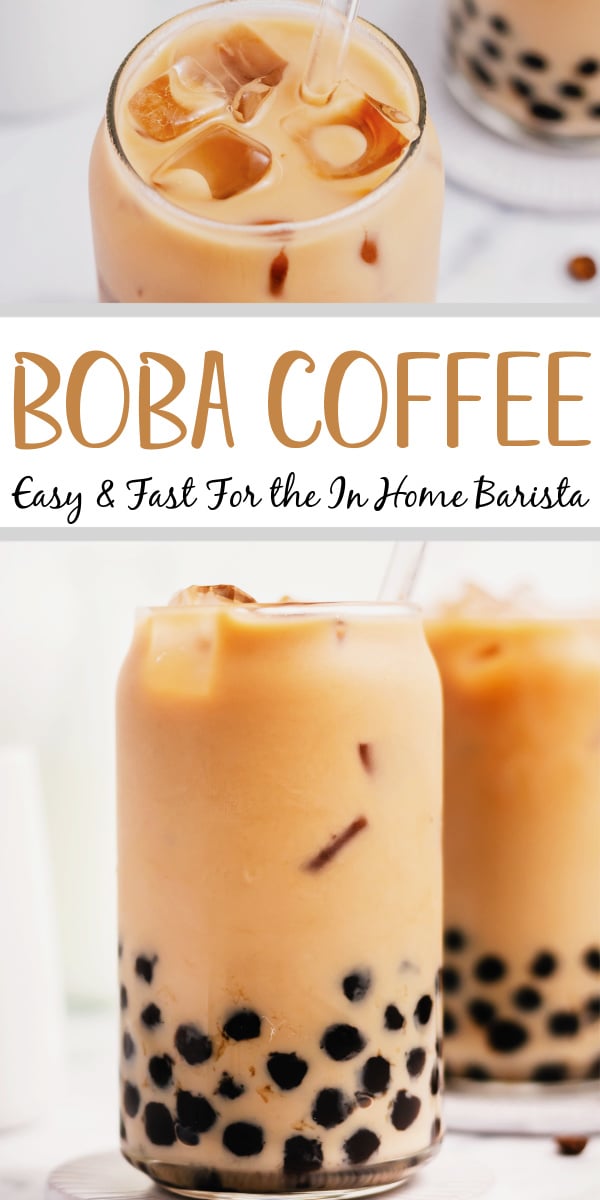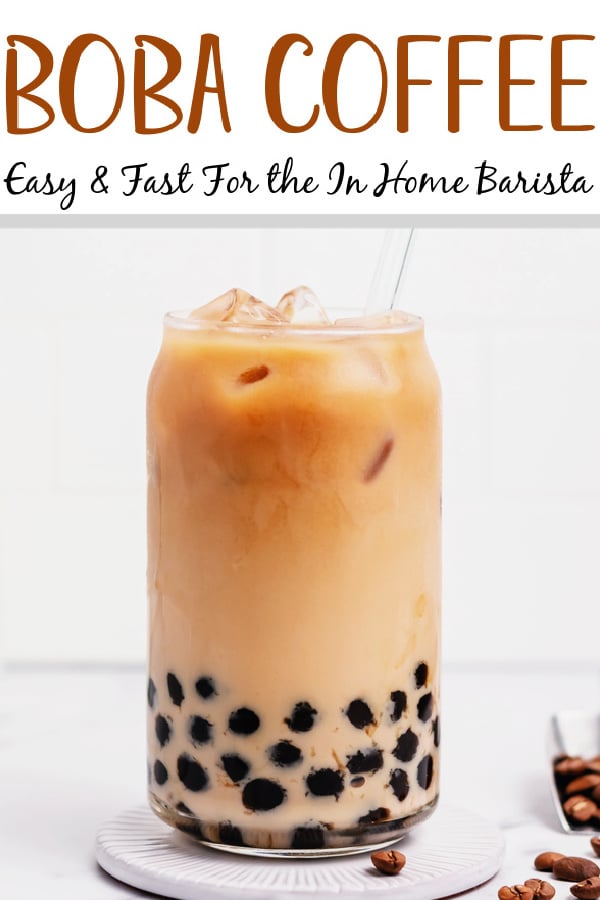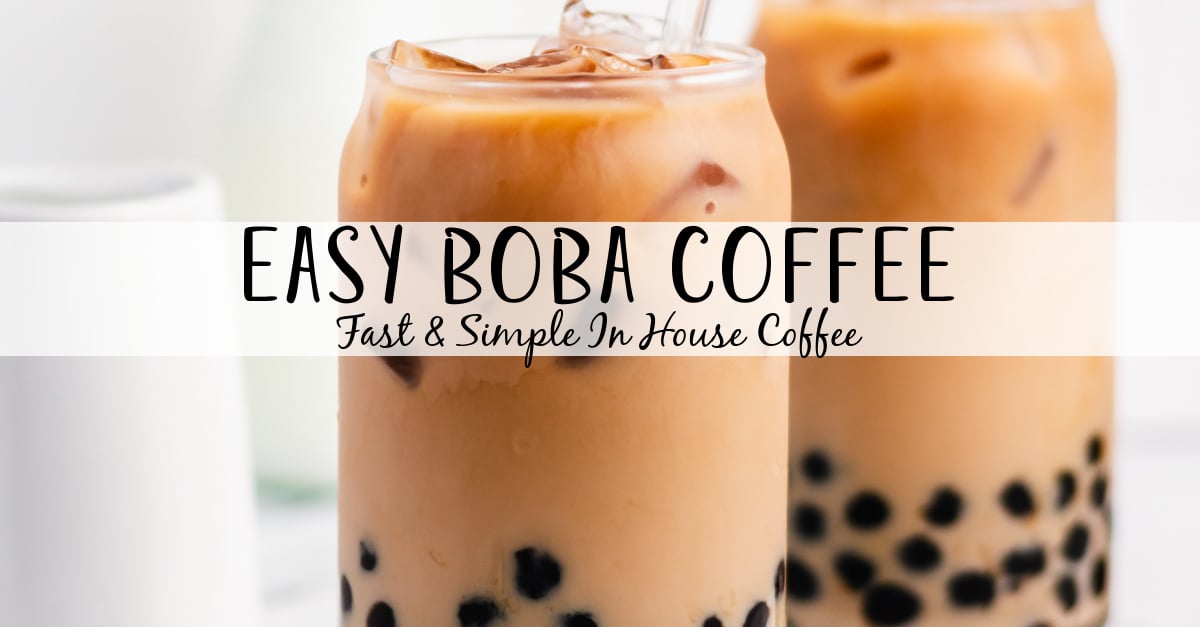 This boba coffee post may contain some links that are affiliate links, though products are ones I use personally and recommend. When you purchase anything using my links, it costs you absolutely nothing extra, but it does give wholekitchensink.com a little financial support which helps to keep this blog running. Thank you for your continued support, both with your dollars and your interest.