This easy Whole30 Chinese orange chicken is the best takeout fake-out ever. Sometimes you just need some orange chicken in your life, and this version is much healthier and there's no delivery fee! It's also a Paleo orange chicken recipe, which makes it gluten free and made from real ingredients, so you can skip the MSG!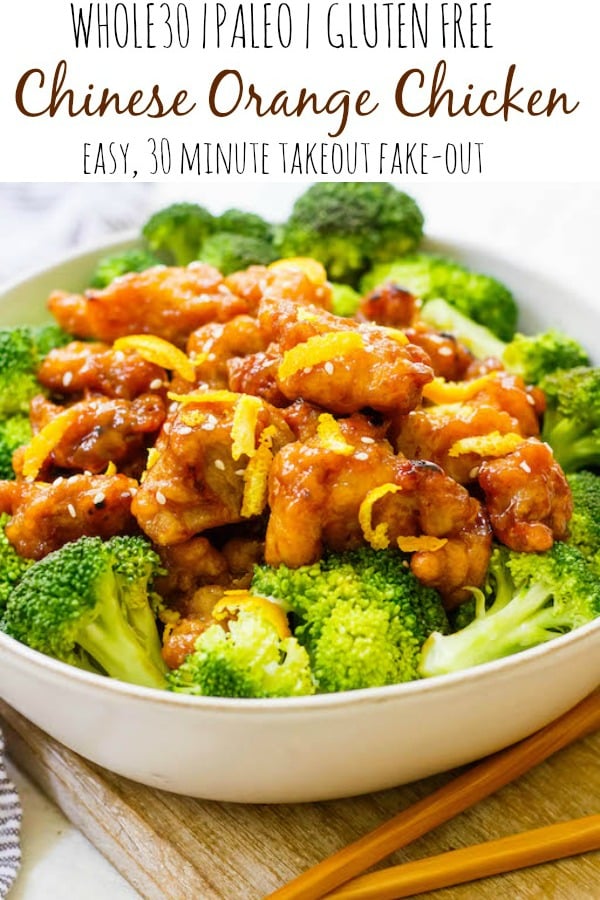 In a past life, it was not uncommon of me to order Chinese delivery at least once a week. It was my favorite go-to. I'd almost always order the orange chicken. It still remains one of my favorite flavors. Which is why I knew I needed to figure out how to make it Paleo and Whole30. This Whole30 Chinese orange chicken obviously isn't the real thing, but, I will say, it's a really great takeout fake-out.
When I started making this for myself and my boyfriend, he prompted me to add it to the blog to go along with the other Chinese inspired recipes I have here. It took a little refining and tweaking to get it blog ready, but hey, neither of us complained about having to eat it multiple times!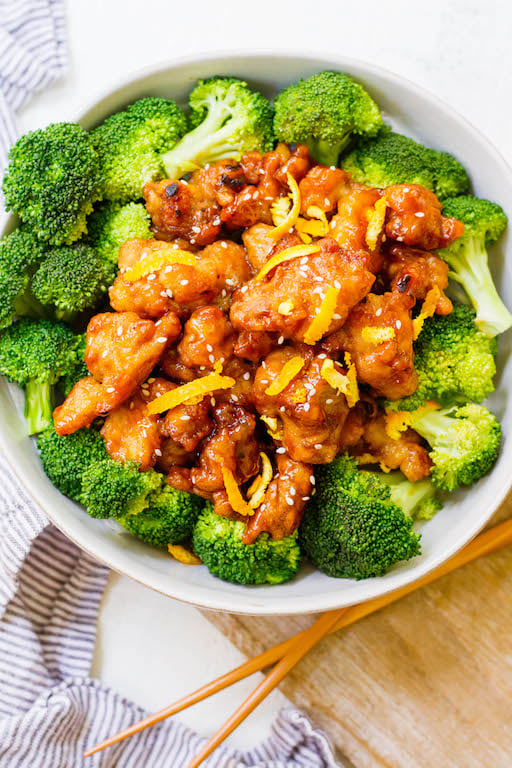 In the Whole30 orange chicken recipe, I do suggest using cassava flour. However, you can make it with alternatives like coconut flour. You could use almond flour, but it won't have exactly the same consistency once cooked and be more gritty.
Cassava flour has become my favorite for breading things. In this case, it gives it a lighter more "fried" taste than coconut flour does, in my opinion. Cassava can be found at many health food stores nowadays, like Whole Foods. But it's also available on Thrive Market and Amazon.
Chinese 5 spice is another spice you'll need for the Whole30 orange chicken. I'm not sure how common it's included in most of our spice cabinets. If you don't already have it, you can pick it up at Target, Whole Foods, Amazon, Hy-Vee, and a number of other grocery stores. It's sometimes called just "5 spice" on the label, if you can't find Chinese 5 spice. They're the same thing though, not to worry!
You can serve this Paleo and Whole30 Chinese orange chicken over cauliflower rice, roasted or sautéed broccoli or throw it into a stir fry!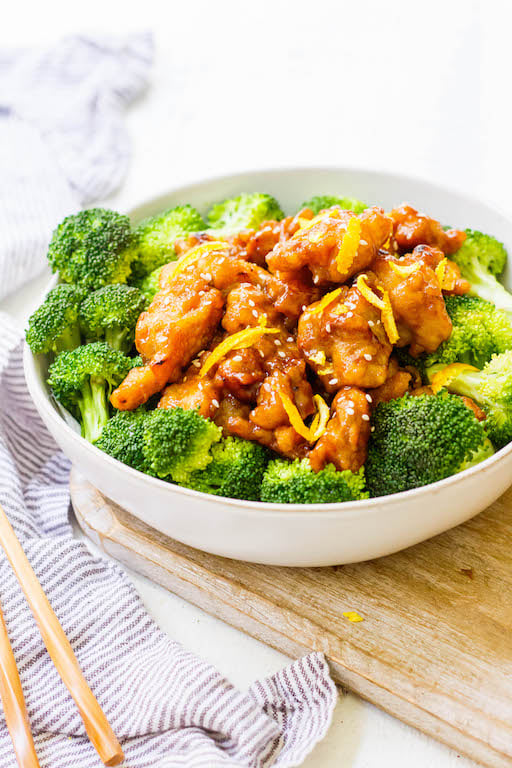 Other Whole30 Chinese Inspired Recipes You'll Love:
Sheet Pan Sweet and Sour Chicken
Print
Easy Whole30 Chinese Orange Chicken: Paleo, Gluten-Free
Author:
Prep Time: 10
Cook Time: 30
Total Time: 40 minutes
Yield: Serves 4-6 1x
Category: Dinner
Method: One Pot
Cuisine: Asian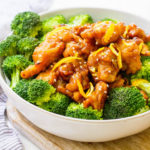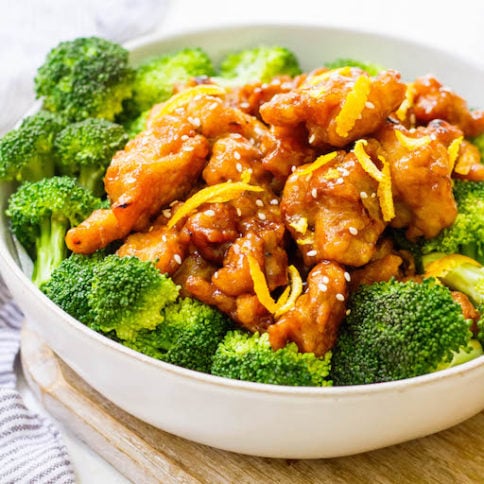 Ingredients
1.5–2 pounds chicken breasts, cut into 2–3 inch cubes
1 cup cassava flour (or coconut, tapioca or almond flour)
3 tablespoons avocado oil (or olive oil)
2 tablespoons ghee
2 Medjool dates, pitted
1/2 cup orange juice, 1.5 tbsp zest
1/2 cup coconut aminos
1.5 tablespoons creamy almond butter
2 teaspoons toasted sesame oil
2 teaspoons salt, divided
2 teaspoon garlic powder, divided
1 teaspoon minced ginger
1 teaspoon white wine vinegar (or apple cider vinegar)
1/2 teaspoon Chinese 5 Spice
1/2 teaspoon pepper
Optional: 2 teaspoons arrowroot flour to thicken the sauce
Instructions
Mix flour, 1 teaspoon salt, and 1 teaspoon garlic powder together in a large bowl. Add chicken cubes. Toss with your hands until equally coated.
Heat avocado oil and ghee in a large skillet until melted and hot.
Add some of the chicken cubes (do not overcrowd the pan) using tongs, and cook until browned, about 2 minutes per side. Remove and set on a plate. Repeat process with remaining chicken until all are cooked. Note: you may have to add additional ghee and oil to the pan if doing more than 2 batches, or replace the oil halfway through.
For the sauce: in the same pan, add orange juice, zest, coconut aminos, almond butter, sesame oil, 1 teaspoon salt, 1 teaspoon garlic powder, minced ginger, vinegar, 5 spice seasoning, pepper and dates. The dates will not be covered by the sauce but that's okay. Just ensure to flip dates over as sauce comes to a simmer.
Bring to a simmer for 5-10 minutes, until all ingredients are combined and dates are soft. Remove from heat and pour into a food processor or use immersion blender to blend dates into the sauce.
Transfer the sauce back into the pan and add the chicken. Bring to a simmer again and stir frequently to evenly coat chicken. If you prefer a thicker sauce, at this time mix arrowroot flour with 1 tablespoon water in a small dish until dissolved and then pour into the pan. Stir to combine and allow to simmer for another 2-3 minutes to thicken.
Remove from heat and enjoy!
Notes
Optional: you can skip the breading step and just cook diced chicken and serve with the sauce, which makes the process much quicker
Keywords: Whole30 orange chicken, Paleo orange chicken
Nutrition Facts:
Calories: 405
Sugar: 9
Fat: 21
Carbohydrates: 20
Protein: 35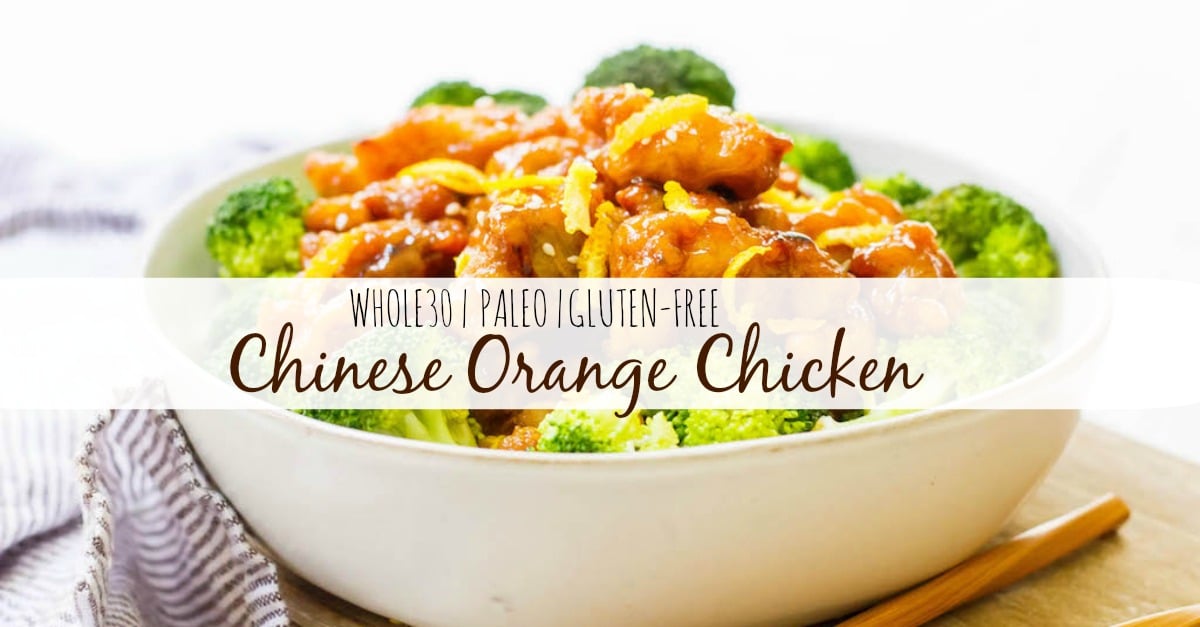 This Whole30 Chinese Orange Chicken post may contain some links that are affiliate links, though products are ones I use personally and recommend. When you purchase anything using my links, it costs you absolutely nothing extra, but it does give wholekitchensink.com a little financial support which helps to keep this blog running. Thank you for your continued support, both with your dollars and your interest.