This Paleo taco chicken salad is a fun and flavorful spin on the more traditional mayo chicken salad. It's a delicious Whole30 recipe that is easy to add to your meal prep. It's also low-carb, loaded with veggies and spices that are sure to have you making this recipe again and again!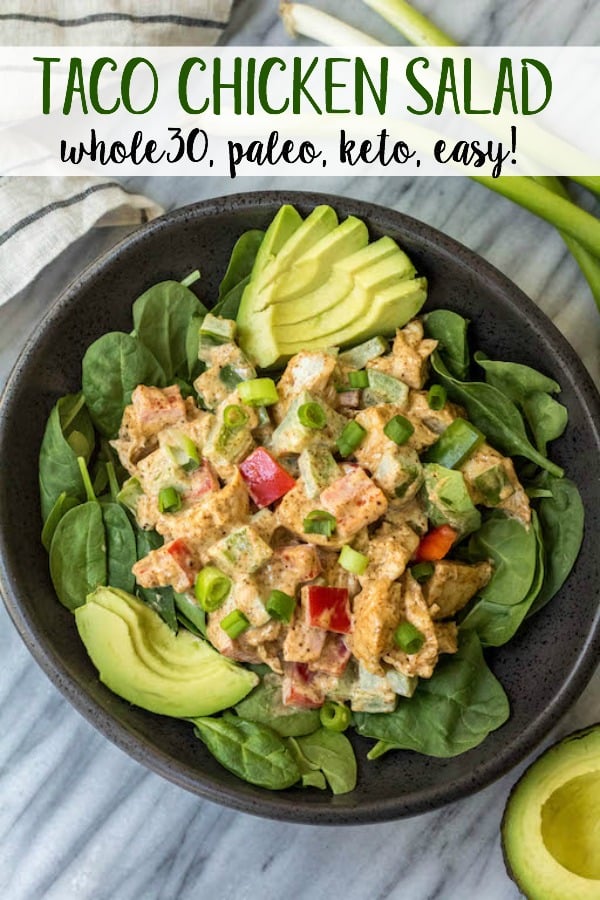 One thing I love most about this Paleo chicken taco salad is how quick it is to whip together. After weeks of always prepping a regular chicken salad with the traditional ingredients, like mayo, grapes and celery, I needed to change it up. That's when I started playing with different seasonings and veggies to add. It's also a really great way to use up leftover chicken or a rotisserie chicken!
I basically took the taco seasoning I use in my chicken taco soup recipe and mixed them in with the mayo here. Most mayo brands at the store aren't Whole30 or Paleo. You'll either have to make your own mayo, or pick up a compliant option. Primal Kitchen (code PALEOBAILEY for 10% off) has an awesome one made with avocado oil. You can get it from stores like Whole Foods, from Amazon, or Thrive Market at a cheaper price.


There's a lot of ways you can customize the Paleo taco chicken salad recipe to make it your own. You can add more or less seasoning, cilantro, or substitute your favorite veggies. I often use whatever peppers I have on hand already. While I love green and red peppers, sometimes a yellow pepper thrown in there gives it a different hint of sweetness that the other two don't. Use what works for you!
I also love adding avocado to the Paleo chicken taco salad. But make sure to do that only once you're ready to eat. Brown avocados, while totally still good, are just less appetizing, you know?! This will last in the fridge for up to a week in the fridge in an airtight container. That makes it something I like to keep on hand for easy lunches, quick protein or to make ahead before a party or event.
For an additional way to add a ton of flavor to this salad, try it with grilled chicken instead!
Enjoy!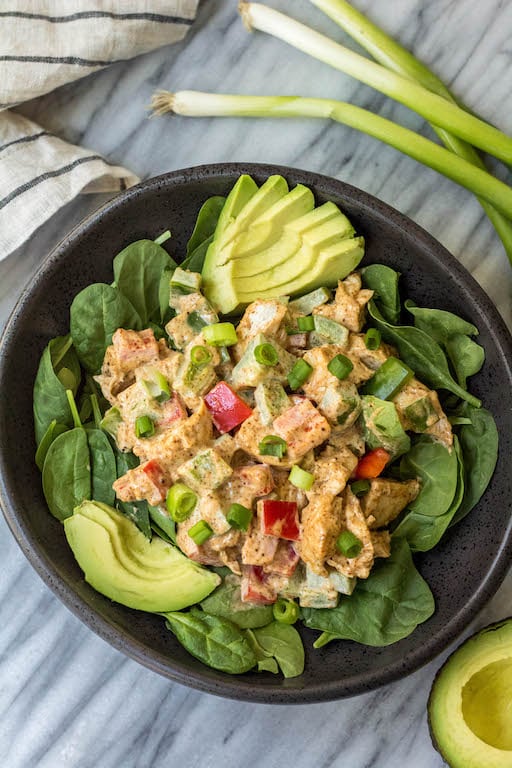 Other Chicken Salads You'll Love:
Blackened Chicken Chopped Salad
40 Whole30 & Paleo Chicken Salads
Taco Chicken Salad Tutorial Video
Print
Taco Chicken Salad: Paleo, Whole30, Keto
This easy taco chicken salad is a family friendly paleo recipe that only takes 15 minutes to whip together. No cooking needed! It's a great Whole30 salad for meal prep or Whole30 side dish for any event!
Prep Time: 15 minutes
Total Time: 15 minutes
Yield: Serves 6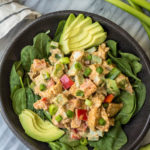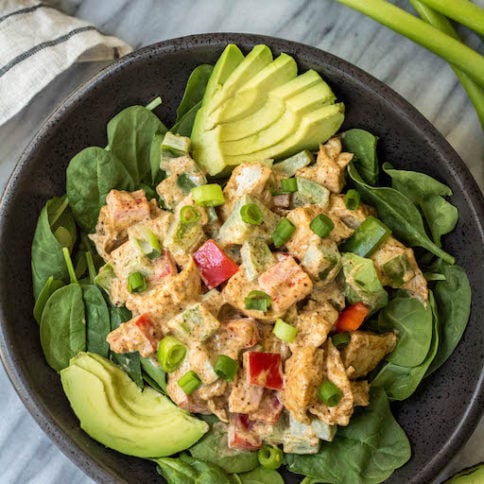 Ingredients
3–4 cups cooked chicken, diced
1/2 cup mayo, or to taste
1/2 green pepper, diced
1/2 red pepper, diced
1/2 cup red onion, diced
1/2 medium tomato, diced
1/2 cup chopped cilantro
1 tablespoon chili powder
1/2 tablespoon garlic powder
1/4 tablespoon paprika
1/2 teaspoon cumin
1/4 teaspoon cayenne
1/4 teaspoon chipotle powder
Juice of 1/2 lime
Instructions
In a large bowl, mix mayo with the spices first to evenly combine
Add in chicken and vegetables, mix well to evenly coat with seasoned mayo
Squeeze lime juice over chicken salad and mix again to combine
Top with any additional garnishes (more cilantro, diced green onion)
Store in the refrigerator in an airtight container
Nutrition Facts:
Calories: 206
Sugar: 3
Fat: 14
Carbohydrates: 10
Protein: 13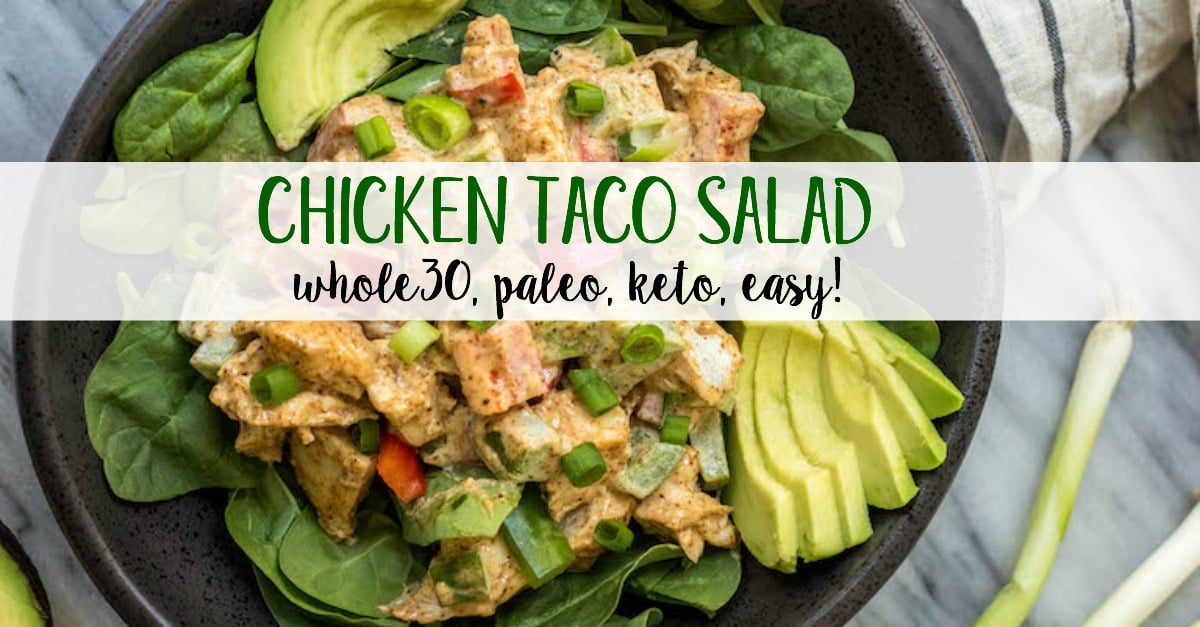 This post may contain some links that are affiliate links, though products are ones I use personally and recommend. When you purchase anything using my links, it costs you absolutely nothing extra, but it does give wholekitchensink.com a little financial support which helps to keep this blog running. Thank you for your continued support, both with your dollars and your interest.