Exercising was never part of my normal routine. Even when I played soccer in high school, I didn't enjoy the physical act of exercising. Physically, it was extremely taxing on my body and even though I knew it was good for me, I could think of about 100 other things I'd rather be doing. That's why my history with exercise is pretty short. As I got older, I allowed myself to be lazy and that led to being even more inactive. The less I moved, the harder it became to move which continued the cycle of my unhealthy habits and sedentary lifestyle.
The month I started my Whole30 I went to the gym maybe 3 times. There were a few reasons for this. First, working out when I was this heavy was painful and uncomfortable. More than in just a "oh, my muscles are sore" kind of way. It physically left my ankles and knees hurting for days. My lower back screamed after just a short period of cardio. I knew this was all the more reason that I needed to get healthy but working out at this point was impacting how productive I was the following days and I had a lot of other habits to work on changing first.
Secondly, I was extremely embarrassed and felt out of place in a gym setting. I only went in the late hours of the night between 2 and 4 a.m. when I would have the smallest chance of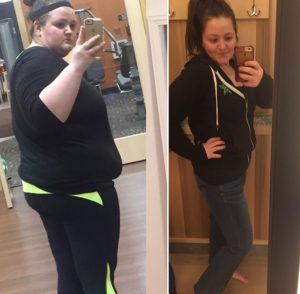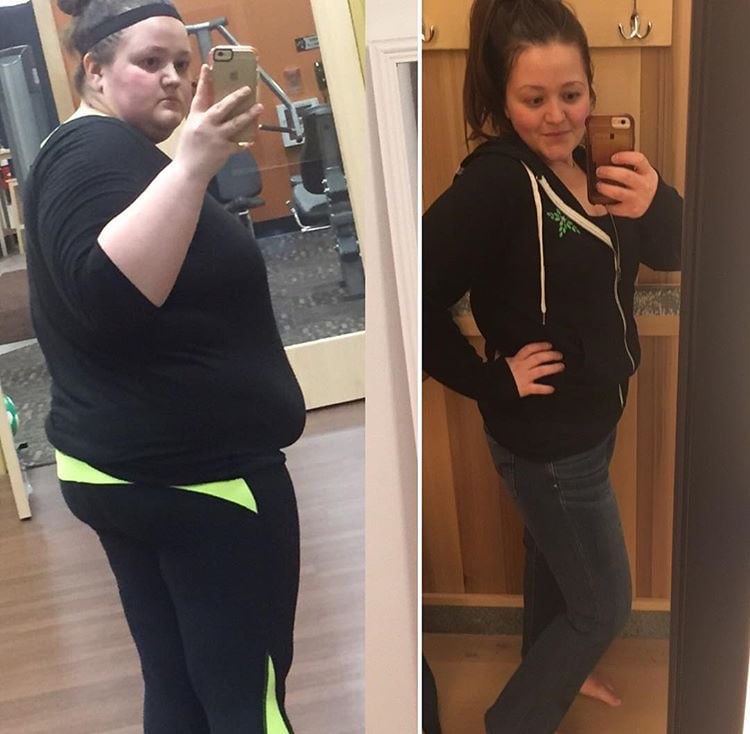 anybody seeing me. This before photo was taken in the gym at 3 in the morning. If there were a lot of people there I would even park in the very back of the parking lot and wait for people to clear out before heading in. A few times I sat in my car, talked myself out of going and left without even working out. I didn't know what I was doing and felt so much shame for how out of control my health was. I didn't want to feel people staring at me or think about what I imagined they were thinking seeing my 300 pound body moving around in gym clothes. The first few times I was there I did an hour on the elliptical and then got the hell outta' dodge.
I realize now how completely ridiculous this is. I had just as much of a right to be there as everyone else did. After all, we're all there for the same reason. I now can see that when I was heavy I had this idea that I didn't deserve the same things as other people because of my size. This mindset limited so many things in my life, including my time in the gym. Now that I'm not the biggest one there anymore and I'm further along in my weight loss, I see it from a different perspective. When I see heavier people, I'm thinking so many positive thoughts about that person. I'm happy for them for taking steps in the right direction and sacrificing time out of their day to change their life. I know how hard it is to do when you're in the beginning of your journey and it fills me up with respect and admiration for them.
I ended up not really doing much in terms of exercise for the next few months. I gave myself a pass on this because I know myself well enough that when I dive into too many things at once I'm more likely to give up and get overwhelmed. Read more on this in my 23 Steps to a Successful Whole30. I was completely changing my entire way of eating and all of the habits around it that I had for years. I was quitting smoking. I wasn't going out with my friends. I was shopping and cooking for the first time in my life. The last thing I needed was to add something that else that made me so uncomfortable, self-conscious and anxious.
When I saw that I lost 22 pounds the first month just from changing my eating habits, I decided to just focus on that at first. I wanted to get everything else under control and truly give making lasting dietary changes my best effort. I was investing so much time those first few months between shopping and cooking that if I had forced myself to get on a strict workout routine I would have lost my mind trying to do everything.
I'm glad I did it this way, too. Although I sometimes think that I could have lost more weight had I began working out right from the start, this time to just focus on my eating taught me a lot and gave me the time I needed to do a total 180 with my habits. One thing it taught me was that it really, really does start with food. I lost 60 pounds between the end of April and September all from changing the way I eat. I learned the value of nutritious, satiating foods and almost completely stopped binging. I worked hard on evaluating the relationship between food and my emotions which helped me to figure out why I binged, in turn helping me to stop.
I started exercising after I lost 60 pounds. When I started, I also started losing weight slower. I'm attributing this to increasing my muscle mass as I was still losing inches. Working out was much easier now. I was healthier- at a lower weight, eating whole foods and had a few months of no smoking under my belt. I started off by easing my way into it. Jogging around the lake here and there or doing between a half hour to an hour on the elliptical a few times a week. After a few weeks I added in weight machines. I didn't do anything formal. Didn't follow a plan or do the same routine each time. As a beginner, I just alternated legs and upper body, doing core on the same day I did legs. It worked for me.
I really don't think a beginner needs anything fancy to get going. Your body is going to respond positively regardless of having an actual plan made for you or found online. It obviously doesn't hurt to research if you have questions but I just want to let you know that you can start at the basic level and still see awesome results.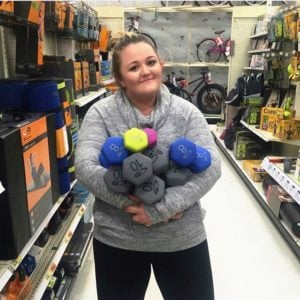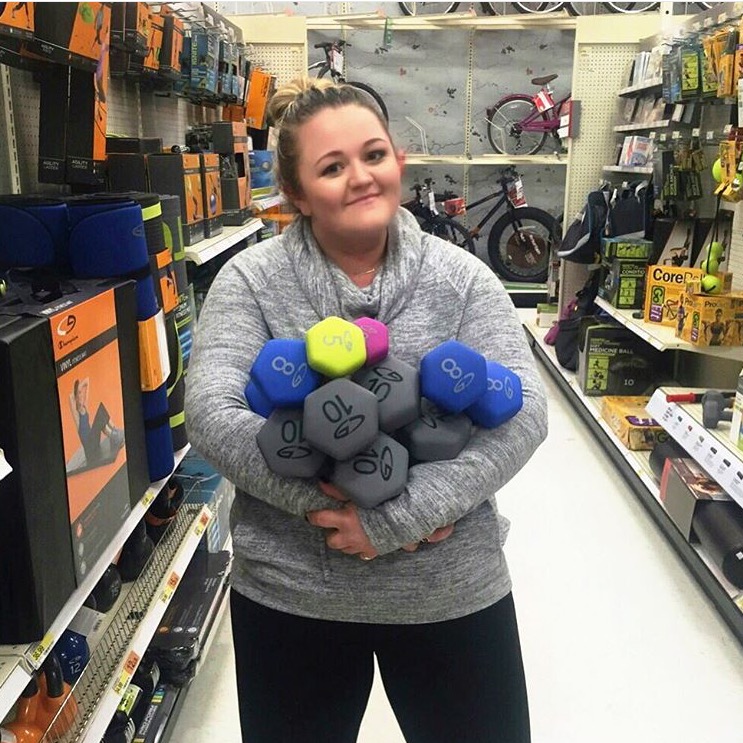 After I got more comfortable in the gym, I started dabbling in all sorts of exercises and types of workouts. I really wanted to find something that I enjoyed doing. That's the key to consistency. If you absolutely hate what you're doing, you're not going to stick with it for very long. I tried everything from yoga, swimming, biking, barre, you name it. That was a really fun part of this for me because I didn't know what I liked and because I was more fit and active, I got to try them all. I felt like so many doors were opened for me now. While that's not actually true and all of these exercises can be done by someone at any size, I limited myself and my options because of my own perceptions.
I now have a better idea of what I like, what I totally hate and couldn't be paid to do and what I'm good at. Because of the experimenting I did I can now structure my workouts accordingly. I discovered that I love biking when I had an injury and continue to bike between 10-20 miles multiple times a week from spring to late fall. I also really got into yoga while I was training for my half marathon. I only had cross training scheduled 2 times a week during the training but I found myself going much more often than that and have stuck with it ever since. It's one of my most favorite things to do. "Blessed be the flexible, for they shall never get bent out of shape." Right? Right.
After the half marathon, I went into working out with weights and cardio 3-5 times a week with yoga and biking thrown in there where I could make it work. I've never had a structured workout routine and probably never will. Working out makes me feel good, leaves me energized and helps me make better choices throughout the day. I believe exercise is a crucial element to both cardiovascular and overall health, as well as changing your body composition. That being said, it's not something I get worked up about or spend hours planning. If it's nice out one day, I'll get my workout in outside by biking or running. When it's snowing, I'll hit the gym. If I didn't get any sleep after my 12 hour overnight shift, I'm skipping it.
Overall, if you're just beginning to get into a workout routine I encourage you to start off slowly and allow your body to get accustomed to it. You won't be able to run 5 miles or lift 200 pounds two weeks after starting. That stuff isn't the hard stuff anyway, just starting is. You're already doing good things for your body so remember not to be too hard on yourself right off the bat if you think you're not working out enough or are doing it wrong. You'll learn as you go and discover what works best for you, your body and your schedule. Keep reminding yourself that just by showing up you're choosing to make yourself better than you were before, even if it's not perfect.
That's just a short snippet of what my workout routine looked like back when I first started exercising. What other questions do you have about working out during weight loss? Lets talk about it in the comments!