Sheet pan meals are the unsung hero of Whole30. And really, they are the unsung hero of healthy meals in general. This sheet pan sweet and sour chicken is the perfect example. We don't always have an hour to dedicate to hands-on cooking every single night. Making a wholesome meal you'll be excited to eat doesn't have to equal tons of time in the kitchen with the help of this magical meal.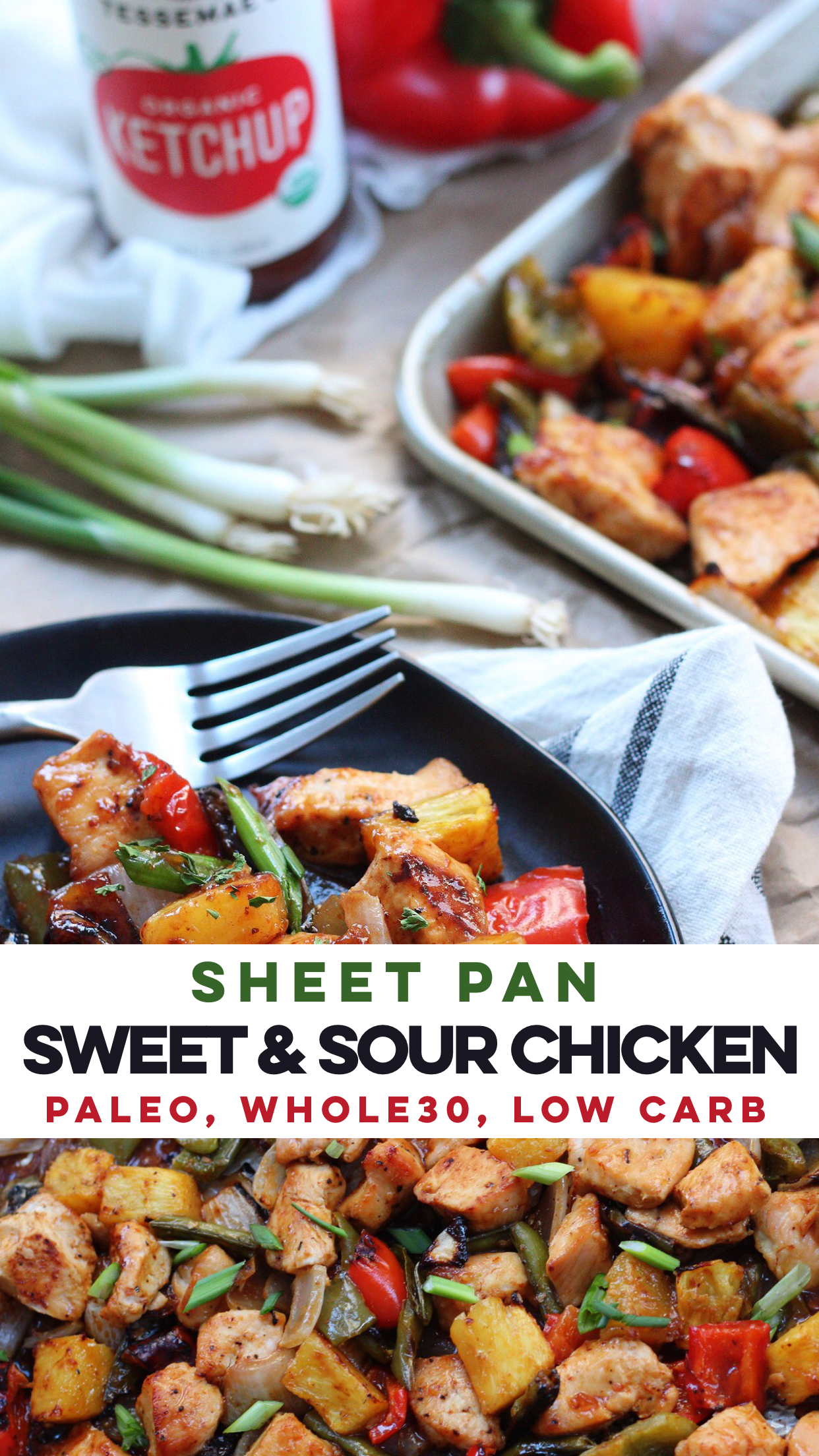 This post is sponsored by Tessemae's. I'm happy to work with a company I love, use and believe in so much! Thanks for your support here on the blog and your support for Tessemae's!
This sheet pan sweet and sour chicken takes less than 10 minutes of prep work before you toss it into the oven, and the sauce takes 2 minutes to whip up. I'm all about easy over here, so of course you know this recipe is exactly that. My sheet pan sweet and sour chicken recipe only calls for a handful of standard ingredients, and the Tessemae's ketchup I use in the sauce means that I can skip the honey, sugar and other sweeteners that are often used in sweet and sour sauce.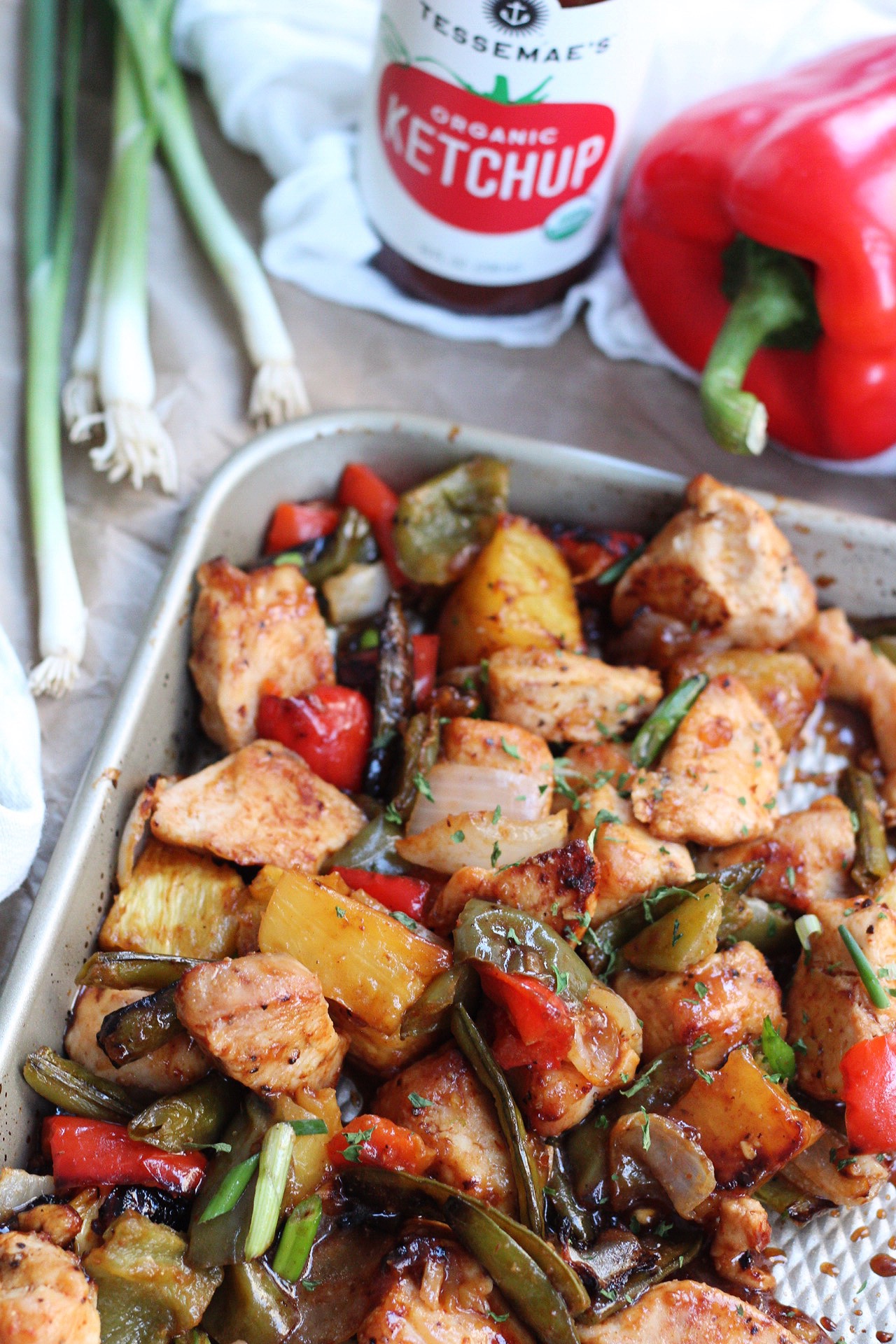 I've always said I hate making my own ketchup because if I don't use it all within a few days, I end up wasting it. So, to make my life easier when I'm doing a Whole30, I pick up Tessemae's ketchup. Their Whole30 Approved condiments and dressings are made without sugar, additives or any of the junk found in most options on the market.
Truthfully, even when I'm not on a Whole30, I always have a fridge full of their condiments. Not only do I not have time to make my own, but I can't make them taste better or last longer than Tessemae's do. So I don't even try to compete. They're the best and having them available has made my journey eating Paleo way less stressful and intimidating over the last 2 years.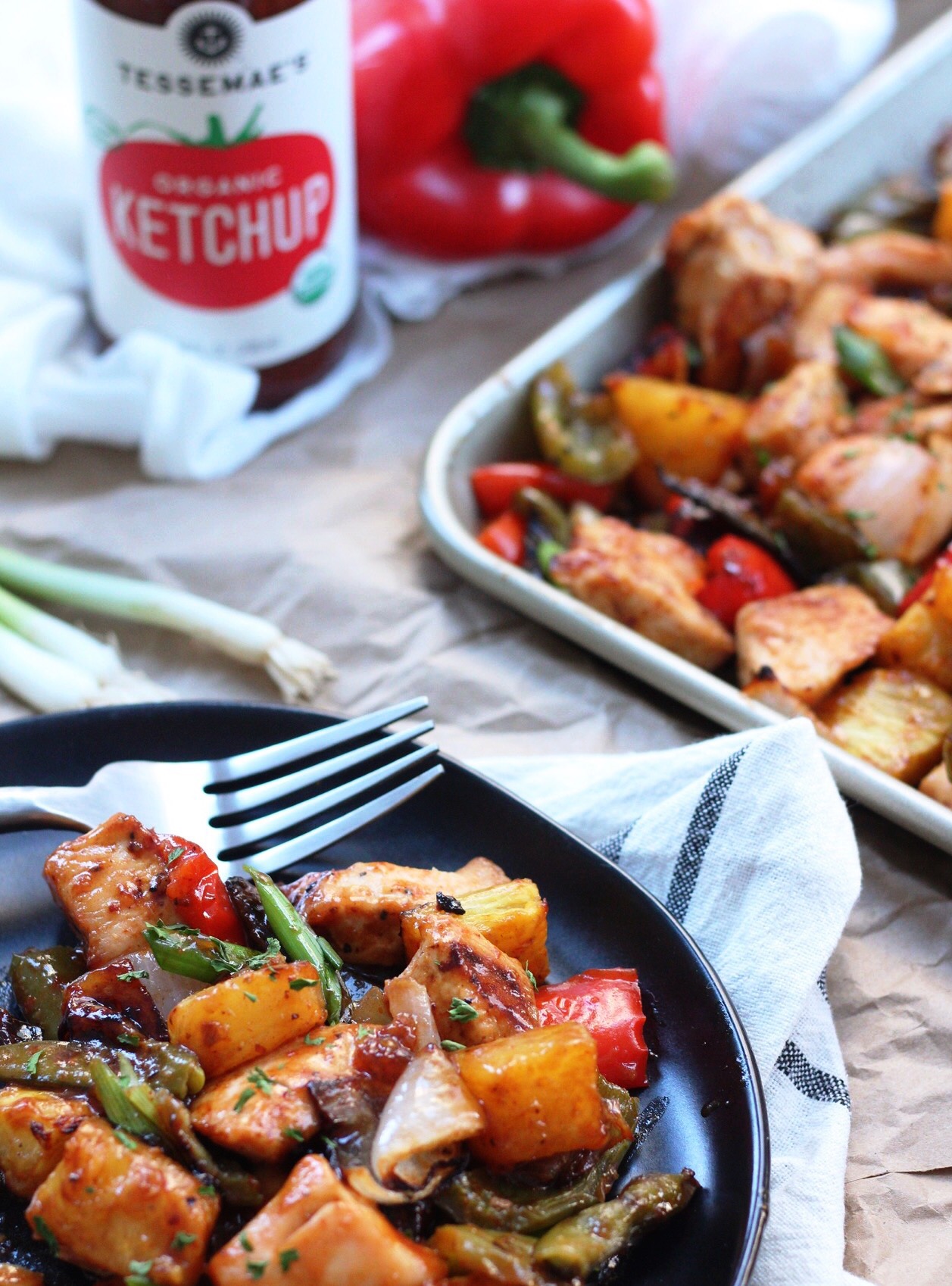 Get my favorite Whole30 Approved Tessemae's Ketchup HERE and get their Whole30 Approved Tessemae's Sauce Boss Kit HERE
After you get your sauces, make sure you make one of the most popular recipes on my blog using Tessemae's BBQ after you make this sweet and sour chicken!
I have used both fresh and canned pineapple for this sheet pan sweet and sour chicken. Both are great and work equally as well. Sometimes I prefer fresh pineapple, if I can get it in season. Either way, you can't skip the pineapple! Roasted pineapple, combined with the chicken and topped with the sauce is just too good and I'd hate for you to miss out on the flavor it gives this sheet pan meal!
Because making your life simple is the name of the game, if you've got boneless skinless chicken thighs instead of chicken breasts, by all means, use those instead! Again, I've made this both ways and it's been a hit in my house with either type of chicken. In fact, it's more than just a favorite recipe. It's one that when I make it for MY meal prep, it never even makes it into meal prep containers. We can thank my sheet pan sweet and sour chicken lovin' boyfriend for that.
Happy cookin'!
Print
Sheet Pan Sweet and Sour Chicken: Whole30, Paleo & Low Carb
Prep Time: 10 minutes
Cook Time: 40 minutes
Total Time: 50 minutes
Yield: Serves 4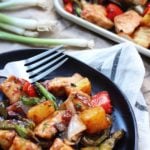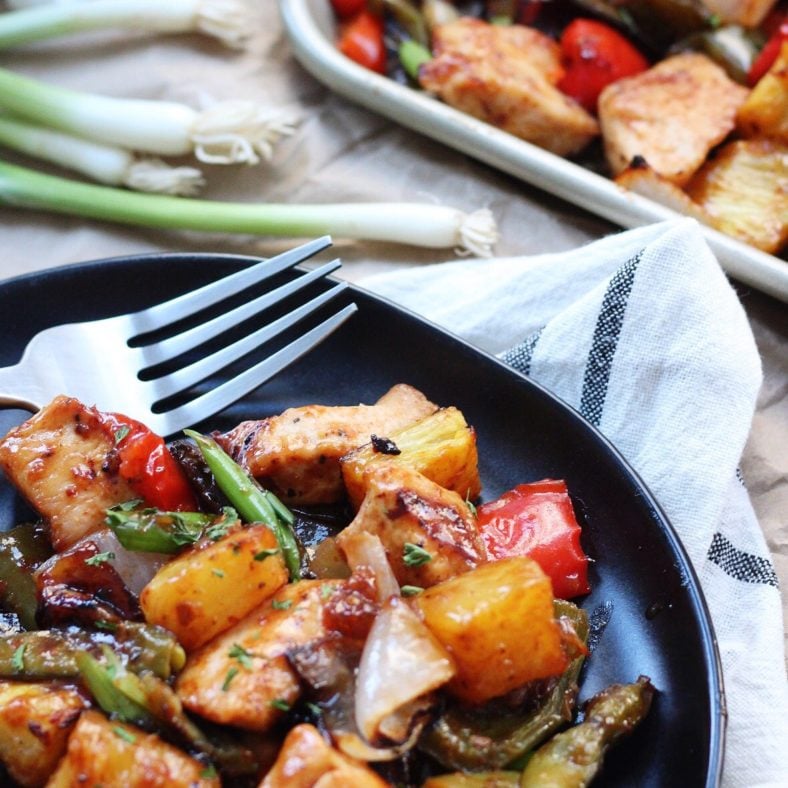 Ingredients
For the Sheet Pan:
1.5 pounds chicken breasts, diced in 1″ cubes
2 green peppers, diced in 1″ wide pieces
1 red pepper, diced in 1″ wide pieces
1 and 1/2 cup pineapple, diced in 1″ chunks
1 cup sugar snap peas
1 medium onion, diced 1″ thick
2 tablespoons avocado or olive oil
1 and 1/2 teaspoons minced ginger
1/8 teaspoon salt
1/8 teaspoon pepper
For the Sauce:
1/2 cup pineapple juice (fresh or canned)
1/3 cup Tessemae's Ketchup
1/4 cup rice vinegar
1/4 cup coconut aminos
1 tablespoon arrowroot flour or tapioca starch (cornstarch replacement)
Instructions
Preheat oven to 400 degrees F.
Place diced chicken, peppers, pineapple, sugar snap peas and onions on a large baking sheet
Add oil, minced ginger, salt and pepper
Using your hands, mix around on the baking sheet to evenly coat
Place in oven on middle rack and bake for 40 minutes
5 minutes prior to the sheet pan being done, combine all sauce ingredients except for the thickener to a sauce pan over medium heat
Stir to combine and very slowly add in thickener, whisking entire time
*Optional: add arrowroot or tapioca to 1/4 cup cold water and whisk before adding to sauce
Continue whisking while sauce thickens
Once thick and bubbling, remove from heat to avoid burning
Remove sheet pan from oven and either pour sauce over sheet pan and stir to evenly coat on the pan, or add the sheet pan ingredients to the sauce pan and stir to evenly coat
Serve and enjoy!
Nutrition Facts:
Calories: 359
Sugar: 28
Fat: 7.5
Carbohydrates: 38.5
Protein: 36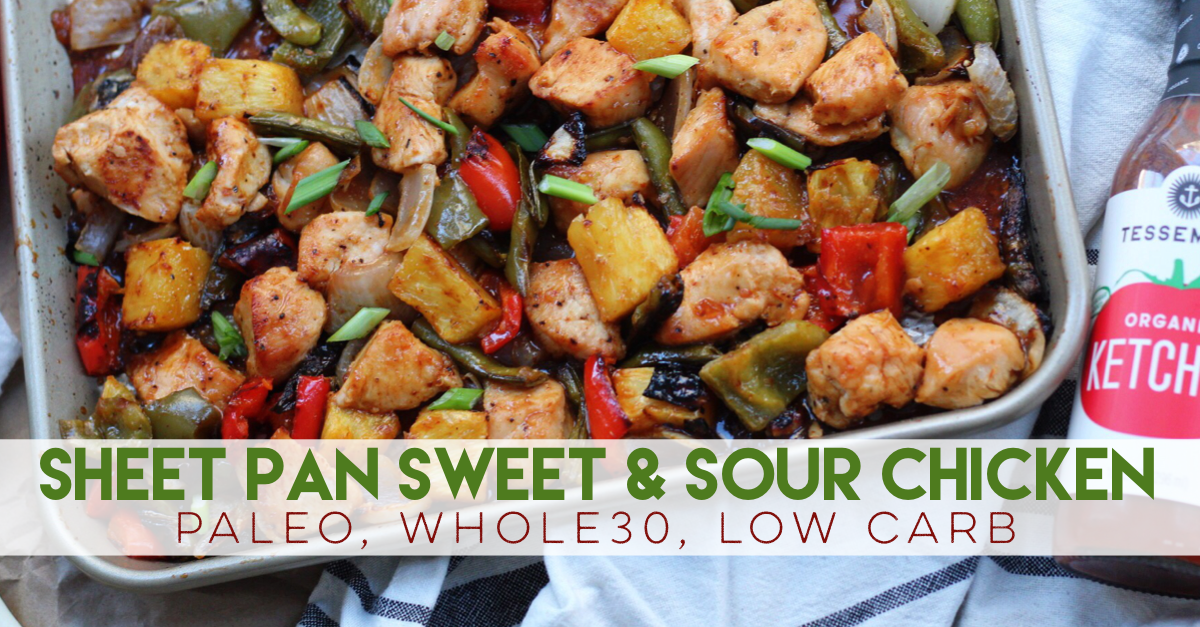 This post may contain some links that are affiliate links, though products are ones I use personally and recommend. When you purchase anything using my links, it costs you absolutely nothing extra, but it does give wholekitchensink.com a little financial support which helps to keep this blog running. Thank you for your continued support, both with your dollars and your interest.