I'm not sure why, but it seems like steak is something often reserved for a special occasion around here. It's one of those things that feels like a "treat". I knew it was what I had to make for our Valentine's menu to make it special for my handsome boyfriend. This grilled steak with cranberry chimichurri is both festive and beautiful, and the cranberry really adds a ton of flavor to the grilled steak.

This post is sponsored by Vital Proteins. I'm happy to work with a company I love, use and believe in so much! Thanks for your support here on the blog and your support for Vital Proteins!
You guys know Justin from my random Instagram stories showing my "5 year old boyfriend's eats" and, I gotta say, the man really isn't a huge fan of Valentine's Day. But I am. And he sucks it up for me. We always spend Valentine's Day by staying in. Making dinner together and avoiding the craziness of restaurants. I love this not only because it's just a night for US, but ever since I started caring about what was in my food, cooking at home is just easier. It's easier, more fun, and I truly enjoy it now.
Especially when things like this grilled steak and cranberry chimichurri show up on my menu. Easy plus healthy makes a girl (and her steak loving guy) really, really happy. The chimichurri has some hidden benefits from Vital Proteins Collagen Veggie Blend. I love sneaking this stuff into dishes that could use a little extra help from veggies.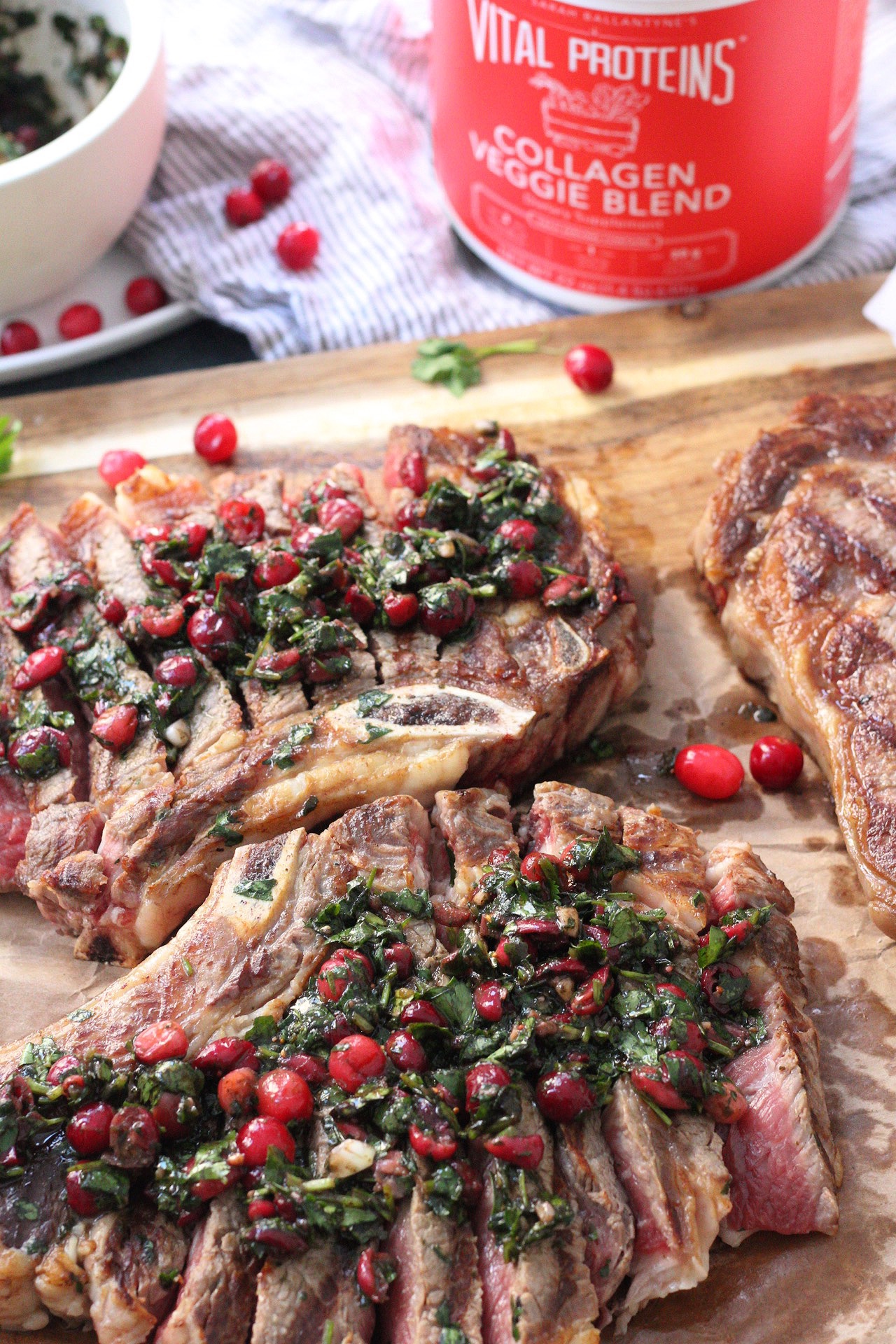 The Collagen Veggie Blend from Vital Proteins combines the benefits of collagen, with a super nutrient dense mix of organic veggies and fruits. There's 3 servings of veggies and 1 serving of fruit in every serving of this miracle stuff, and it's made with 11 different types of fruits and veggies. So, that means it's an insanely healthy and easy way to add more nutrients and antioxidants into your diet.
Of course, it's Whole30 Approved, but it's even AIP friendly. I love using it in sauces, soups, smoothies, and duh, this chimichurri! The Collagen Veggie Blend is easy to work into meals to get the collagen and veggie benefits without having to go to town on a ton of veggies in one sitting. Which is really helpful for picky eaters, husbands, and those who just don't have the time and need to get their servings of veggies in ASAP.
Speaking of chimichurri, it's a sauce that's traditionally made with a TON of herbs. Which we definitely use in this chimichurri recipe. However, I've added some chopped frozen cranberries to give it a fun and flavorful facelift.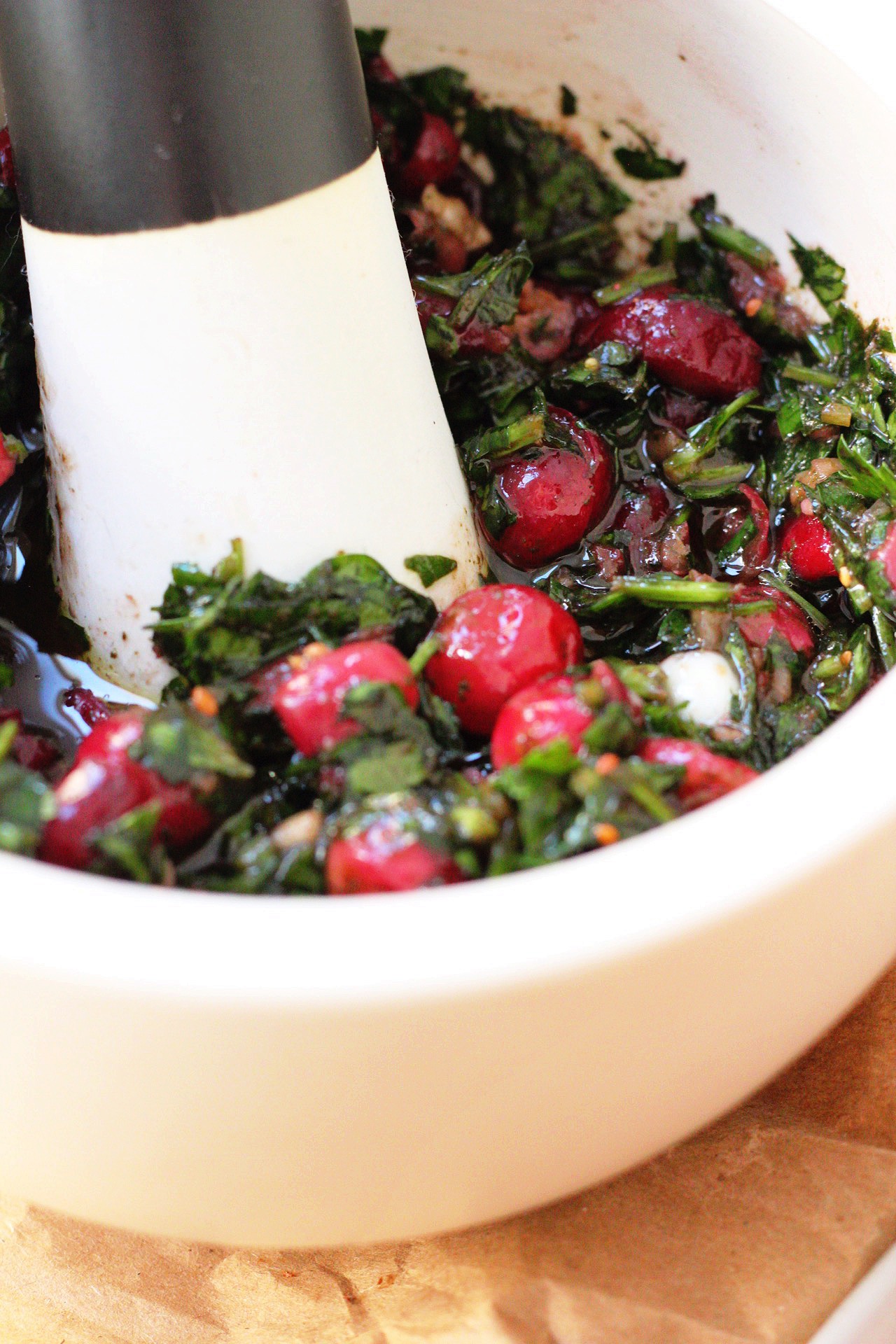 If you have a knife or a food processor, you can make the cranberry chimichurri in just a few minutes while the steak is grilling. Dinner in 10 minutes. Name something better than that.
Enjoy!
Get the Collagen Veggie Blend HERE!
Print
Hungry for more? Subscribe to my newsletter to get new recipes delivered straight to your inbox! And be sure to stay in touch on Facebook, Pinterest and Instagram for all of the latest updates.
Grilled Steak and Cranberry Chimichurri
Prep Time: 10 minutes
Cook Time: 10 minutes
Total Time: 20 minutes
Yield: Serves 2-4 1x
Category: Entree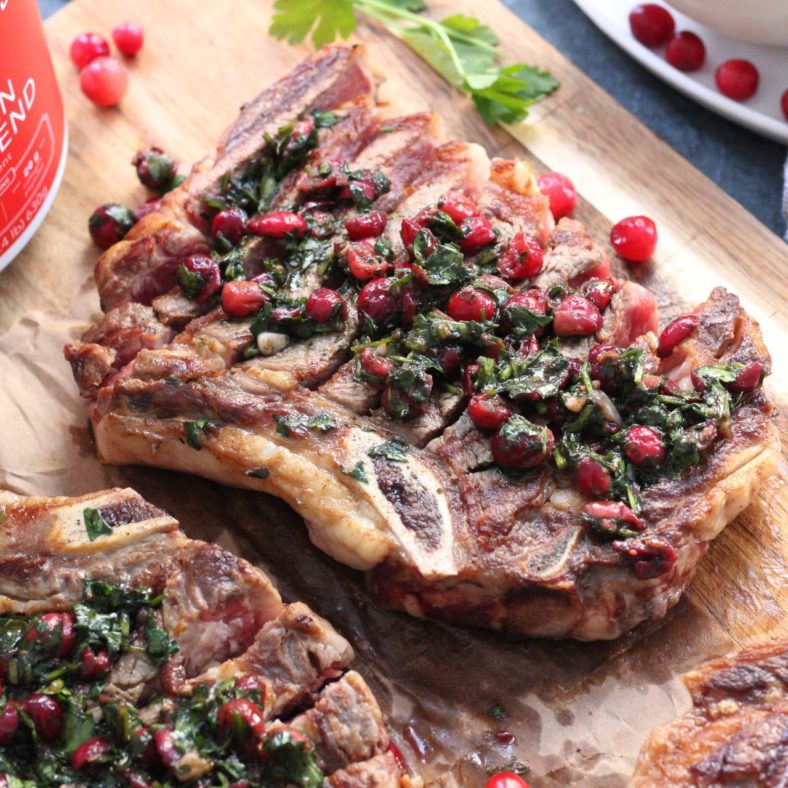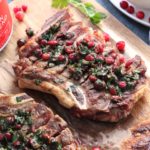 Ingredients
For the Steak:
2 bone-in ribeye (or cut of choice, flank steak is a great option)
1 tablespoon olive oil
Salt and pepper to taste
For the Cranberry Chimichurri:
1 bunch parsley, finely diced
1/4 bunch cilantro, finely diced
1/2 cup frozen cranberries, thawed and chopped
1/3 cup olive oil
2 cloves garlic, minced
1 teaspoon red wine vinegar
1 teaspoon coconut sugar, omit for Whole30
Instructions
Rub steaks with oil and season with salt and pepper
Place on grill or grill pan over medium heat for 4 minutes per side to cook to medium
While steaks are cooking, chop chimichurri ingredients and combine in a bowl, or place all ingredients into a food processor and pulse until finely diced
Remove steaks from grill, allow to rest for 5 to 10 minutes
Slice steaks and add chimichurri sauce over top
Serve and enjoy!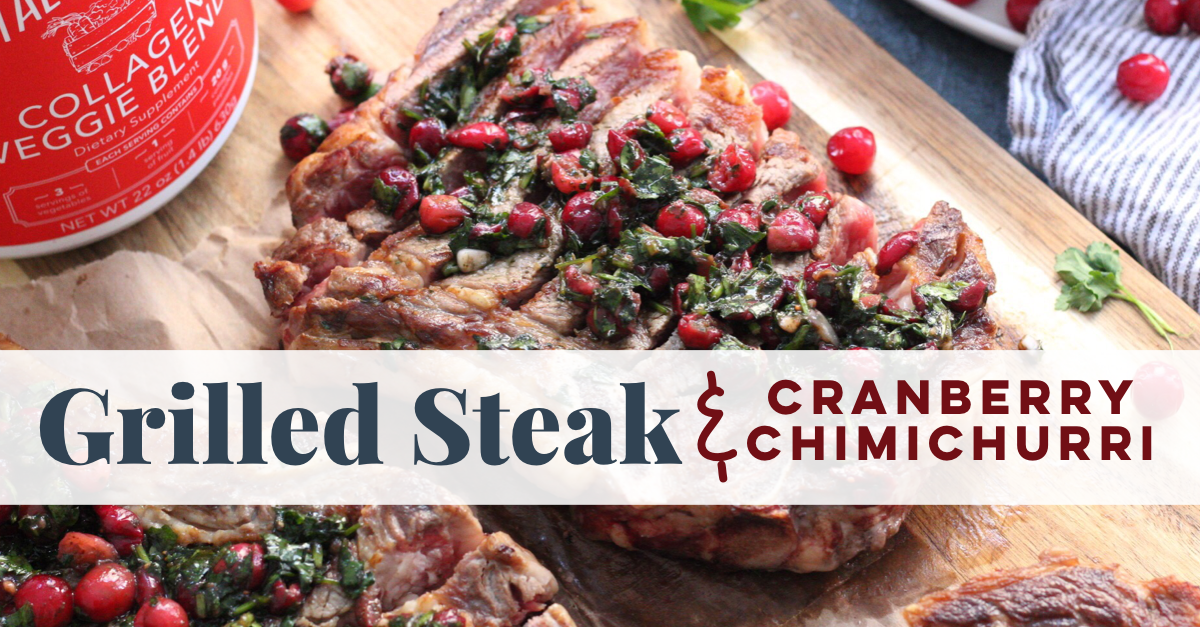 This post may contain some links that are affiliate links, though products are ones I use personally and recommend. When you purchase anything using my links, it costs you absolutely nothing extra, but it does give wholekitchensink.com a little financial support which helps to keep this blog running. Thank you for your continued support, both with your dollars and your interest.