Summer is here! Time to cold down with a treat that's actually good for you! These collagen peptide packed berry popsicles are dairy free, and totally Paleo. Using only 4 other simple ingredients, fresh fruit and only a blender, these Paleo popsicles are going to be on repeat all summer long.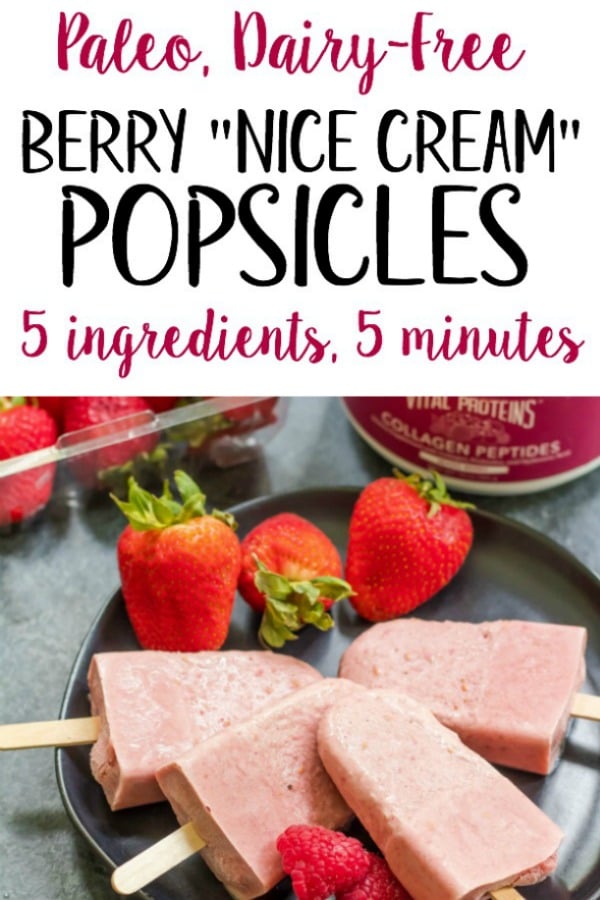 The video for this recipe is quick because this recipe really is THAT simple to make. Better than that, there's no added sugars, no added junk, and tons of nutrients. The healthy fat from the coconut cream, plus the collagen peptides from the Mixed Berry Vital Proteins makes this the ultimate healthy Paleo popsicle.
If you're unfamiliar with collagen peptides, now is the time to get onboard! Collagen is the most natural protein source there is, because it's made from amino acids our body is already naturally producing! (Seriously, collagen is the most abundant protein in the human body!) However, production decreases as we get older, so supplementing can have a huge impact in your health.
Because collagen is found in muscles, bones, skin, the lining of our organs, our digestive system, tendons and ligaments, hair, skin and nails, by adding Vital Proteins to your daily routine, you'll likely soon see benefits that go far beyond what any other protein supplement could give you.
Read more about the benefits and uses of collagen peptides in my Guide to Collagen!
I've been using Vital Proteins for over a year now, and this was the first winter I didn't have any joint pain in my ankle I broke years ago. It always gave me trouble in the cold months, and now, it was a non-issue! Plus, as you can see from this recipe, it's so easy to add into your life. The Mixed Berry Collagen also has 100% of your daily dose of Vitamin C, and is delicious in smoothies, coffee, tea, baked goods, salad dressings, desserts, energy balls, the list goes on!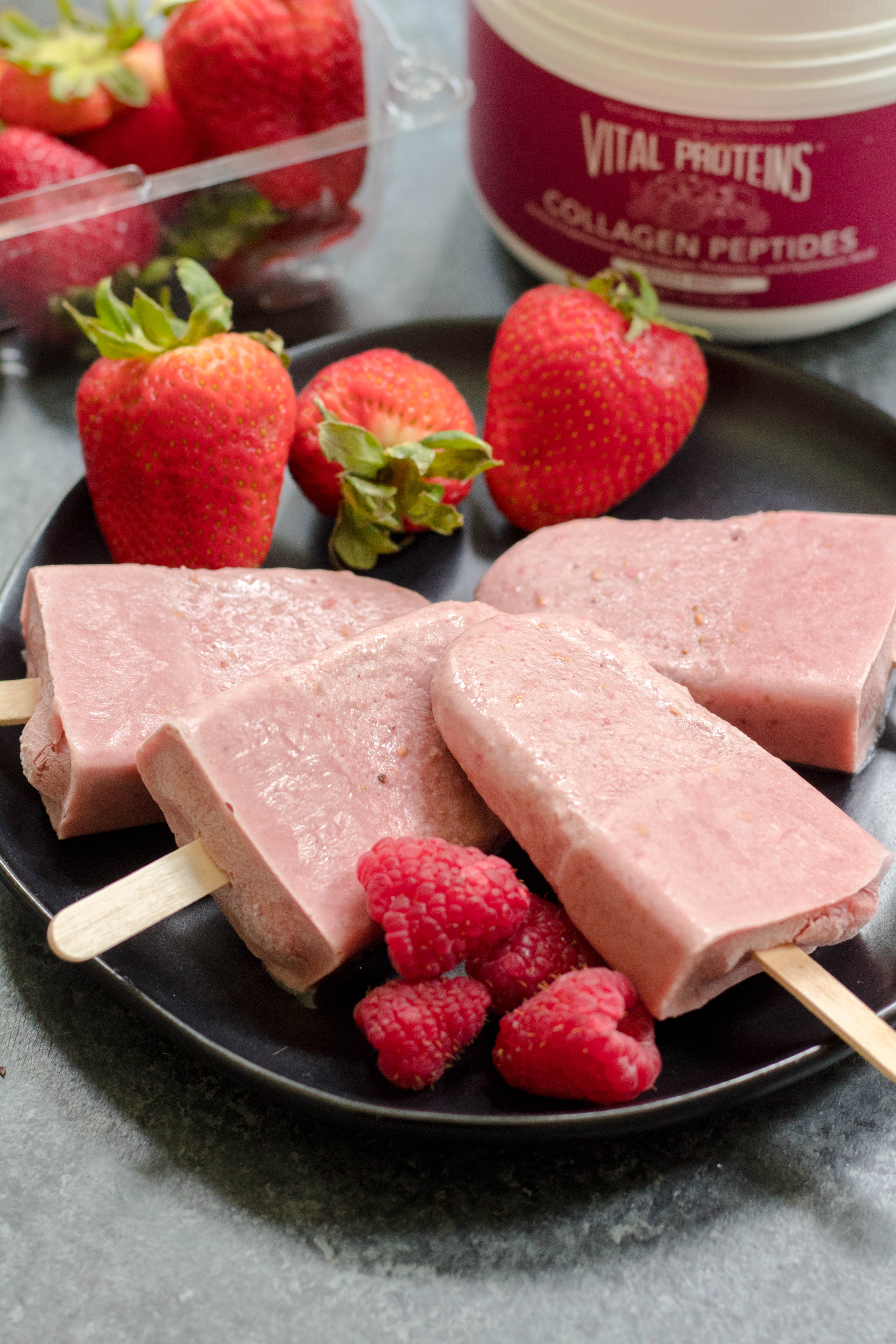 For the Paleo popsicles recipe, I used fresh strawberries and raspberries, but you can change it up and use blueberries or blackberries instead. The Mixed Berry Collagen from Vital Proteins is made with a combination of organic strawberries, organic blueberries, organic raspberries, organic acreola cherries, organic blackberries – so I think substituting any of those would be super tasty!
Want more recipes to use your collagen peptides with? Check out these 19 Vital Proteins Recipes!
Print
Hungry for more? Subscribe to my newsletter to get new recipes delivered straight to your inbox! And be sure to stay in touch on Facebook, Pinterest and Instagram for all of the latest updates.
Berry Nice Cream Collagen Popsicles (Paleo, Dairy-Free, GF)
Prep Time: 10 minutes
Total Time: 10 minutes
Yield: Serves 8 1x
Category: Dessert
Cuisine: American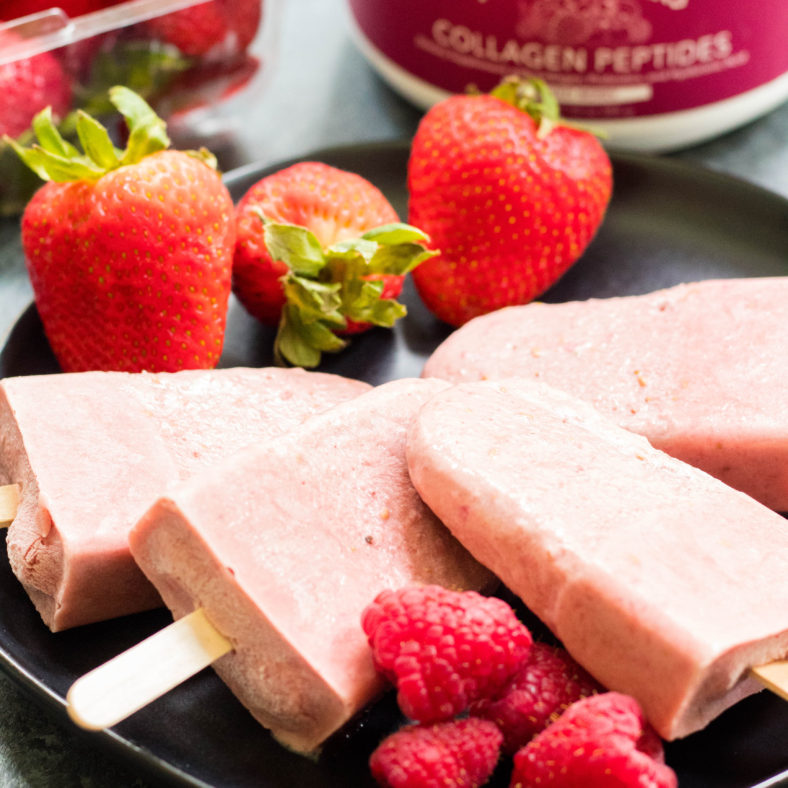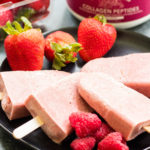 Ingredients
1 13.5oz can full fat coconut milk
1 cup strawberries (fresh or frozen)
1 cup raspberries (fresh or frozen)
3 scoops Mixed Berry Collagen Peptides
2 tablespoons honey
1 teaspoon vanilla extract
Instructions
Add all ingredients to a blender and blend until smooth
Pour into popsicle molds
Freeze for 6 hours or overnight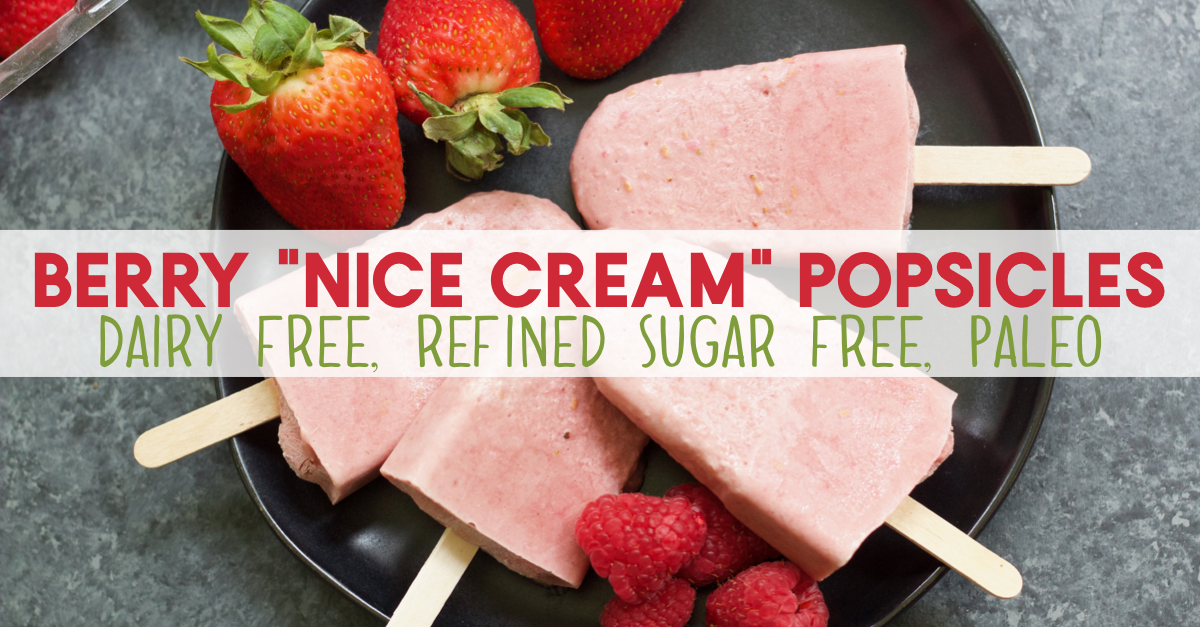 This Paleo popsicles post may contain some links that are affiliate links, though products are ones I use personally and recommend. When you purchase anything using my links, it costs you absolutely nothing extra, but it does give wholekitchensink.com a little financial support which helps to keep this blog running. Thank you for your continued support, both with your dollars and your interest. I promise I won't buy a pony.