I get worn out on always pairing chicken with hearty veggies. It always seems to be a go-to for me, and I'm guessing you too.  My brain often thinks "fruit = snack" and "veggies = chicken". So when I saw an awesome sale on raspberries, a few containers went into my cart before I even knew what I was doing with them. When I got home from the store, I decided that instead of snackin' on these lil' guys all week, I'd switch up my meal plan to include making delicious and easy berry glazed grilled chicken.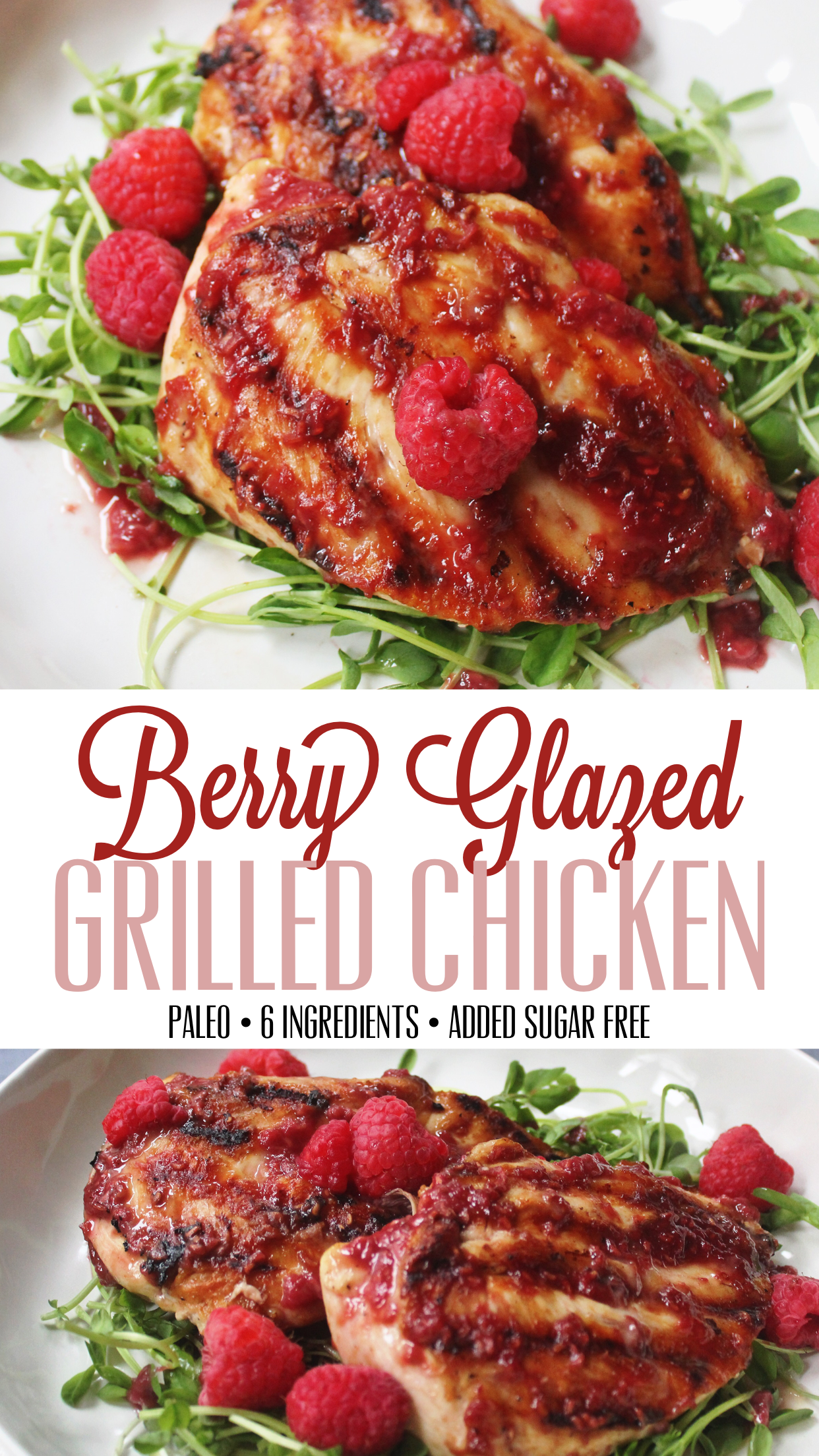 This post is sponsored by Vital Proteins. All opinions are my own. I'm happy to work with a company I love, use and believe in so much! Thanks for your support here on the blog and your support for Vital Proteins!
I can't really take total credit for this fruity and sweet spin on chicken breasts. My friend's mom used to make this a ton in the summer and fall when she had an excess of berries in the backyard. What I did do to this berry glazed grilled chicken recipe, however, is lightened it up by removing the sugar or molasses she would use in the glaze, added some extra health benefits from collagen and only used a few simple real food ingredients.
It's quick, easy to make and my boyfriend loves it. Win, win, annnnnd… win. It's also pretty enough to serve when company is over by throwing over a bed of spinach and making a beautiful berry chicken salad. People will think you worked really hard on it and I won't tell them you didn't. Our secret.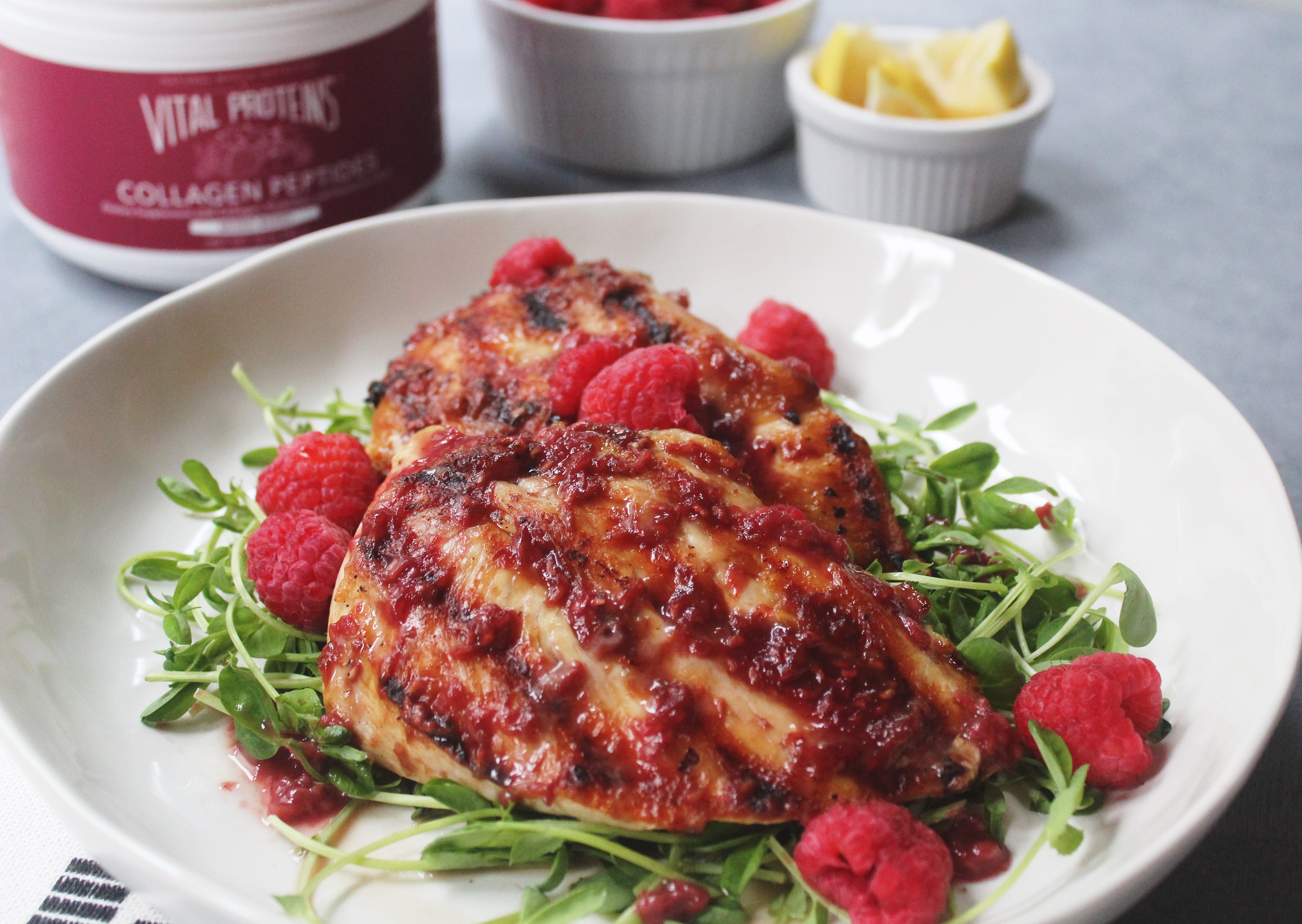 My friend's mom typically added blackberries to the berry mixture as well but a perfect substitution, which actually adds extra health benefits, is to add Vital Protein's Mixed Berry Collagen Peptides. By using the mixed berry collagen peptides, the berry flavor of the glaze is amplified without having to use the extra berries or take the extra time to simmer all of them down. Made with organic blueberry, organic strawberry, organic blackberry, organic raspberry, and organic acerola cherry, the mixed berry flavor is packed with all the good stuff.
And by good stuff I mean probiotics, 20 grams of collagen, 18 grams of protein per serving, hyaluronic acid (naturally occurring in epithelial, connective and neural tissue that helps with inflammation, injury repair, skin elasticity and more), and 100% of your daily vitamin C requirements.
If you haven't heard of collagen yet, allow me to introduce you to your new BFF. Collagen aids in digestion, gut health, muscle and tissue repair, inflammation and sleep. It's important to supplement with collagen because as the body ages, we stop producing as much of it. Collagen also helps in joint, ligament, tendon and bone health and supports healthy hair, skin and nails. There's a ton of benefits to it. I really couldn't even list them all here.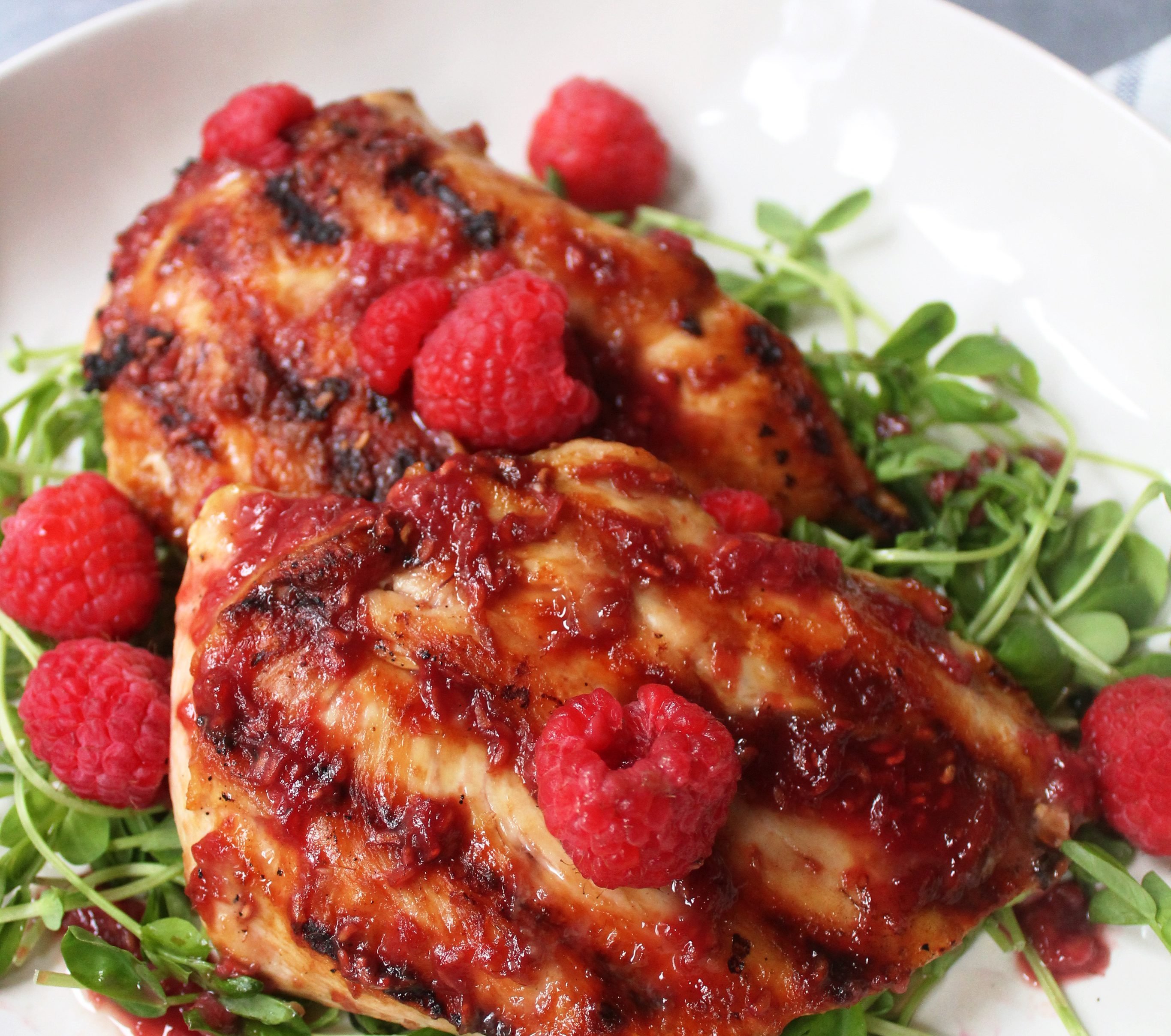 Anywho, there's unflavored collagen peptides, but this mixed berry is definitely a favorite of mine. You can add it to smoothies, acai bowls, fruit recipes, baked goods (muffins, bars, pies, energy balls, etc.), your coffee and, duh, this berry glazed grilled chicken!
On the off chance you don't have mixed berry collagen peptides, you can add roughly a cup of blackberries or blueberries to the recipe instead. Don't forget to add a bit more water to thin out the glaze, though!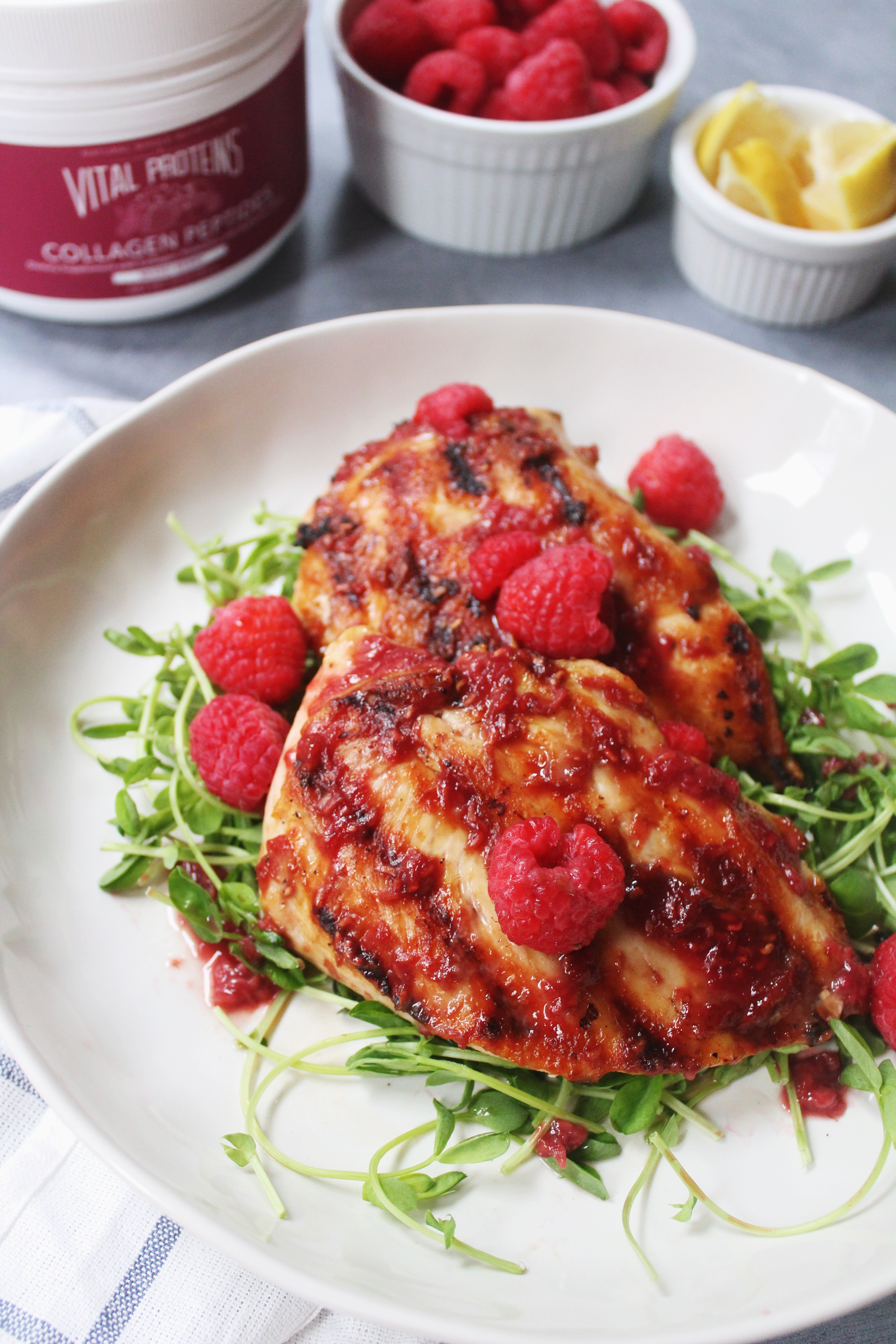 Print
Hungry for more? Subscribe to my newsletter to get new recipes delivered straight to your inbox! And be sure to stay in touch on Facebook, Pinterest and Instagram for all of the latest updates.
6 Ingredient Berry Glazed Grilled Chicken
Prep Time: 5 minutes
Cook Time: 15 minutes
Total Time: 20 minutes
Yield: Serves 4 1x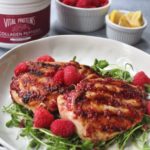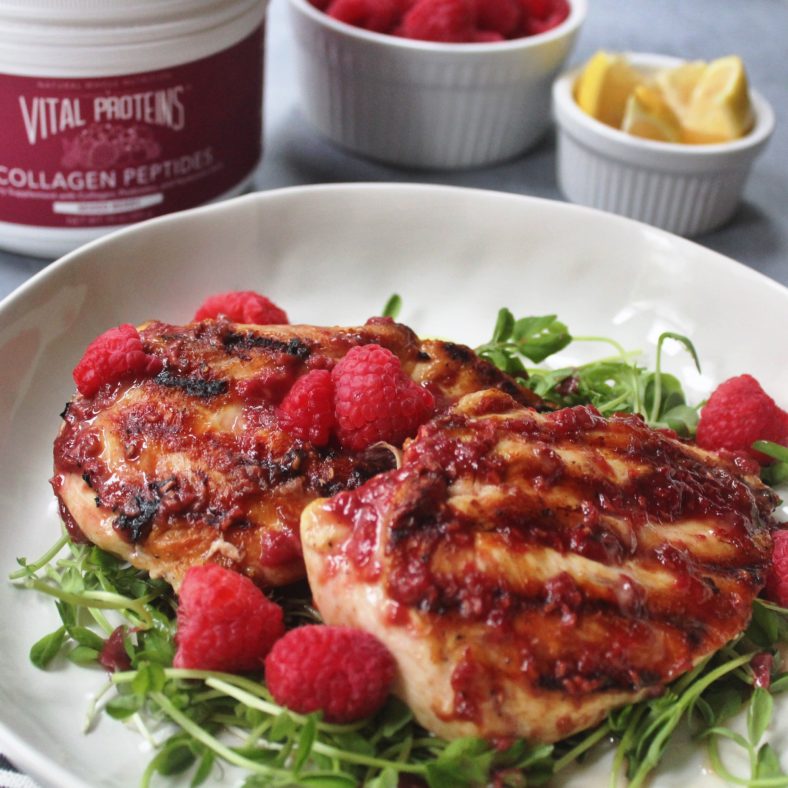 Ingredients
4 medium sized chicken breasts (1 pound of chicken)
2 tablespoons avocado oil
For the Glaze:
1 and 1/2 to 2 cups raspberries (about 1 small carton)
1/2 cup water
2 scoops Vital Proteins Mixed Berry Collagen
1 and 1/2 tablespoon honey (can sub with 1 tablespoon dijon mustard if on Whole30)
Additional raspberries to garnish
1 tablespoon lemon juice
Instructions
In a small saucepan over medium heat, add water
Once it begins heating, add in raspberries and lemon juice
Rasberries will begin to soften and liquify
Reduce heat to medium-low
Once they begin softening, add in mixed berry collagen
Stir to combine until the collagen has dissolved
Add in honey and stir to combine again
Bring to a slow simmer on low heat and stir frequently for 5 minutes
While glaze is cooking, oil a grill pan or a skillet works too (if using outdoor grill, coat chicken in oil first)
Sauce should become a glaze texture, if it's too thick still, add an additional 1/4 cup of water
Add chicken to hot oiled grill or skillet
Spoon enough glaze to cover onto the top of the chicken
After 2 minutes, flip chicken, glaze side down
Spoon glaze onto the top side of the chicken and let cook for 4 minutes
Flip chicken again and finish cooking, about 3 additional minutes, until chicken is no longer pink
Remove from heat
Add more any additional glaze left over to the top of chicken before serving
Garnish with raspberries and enjoy!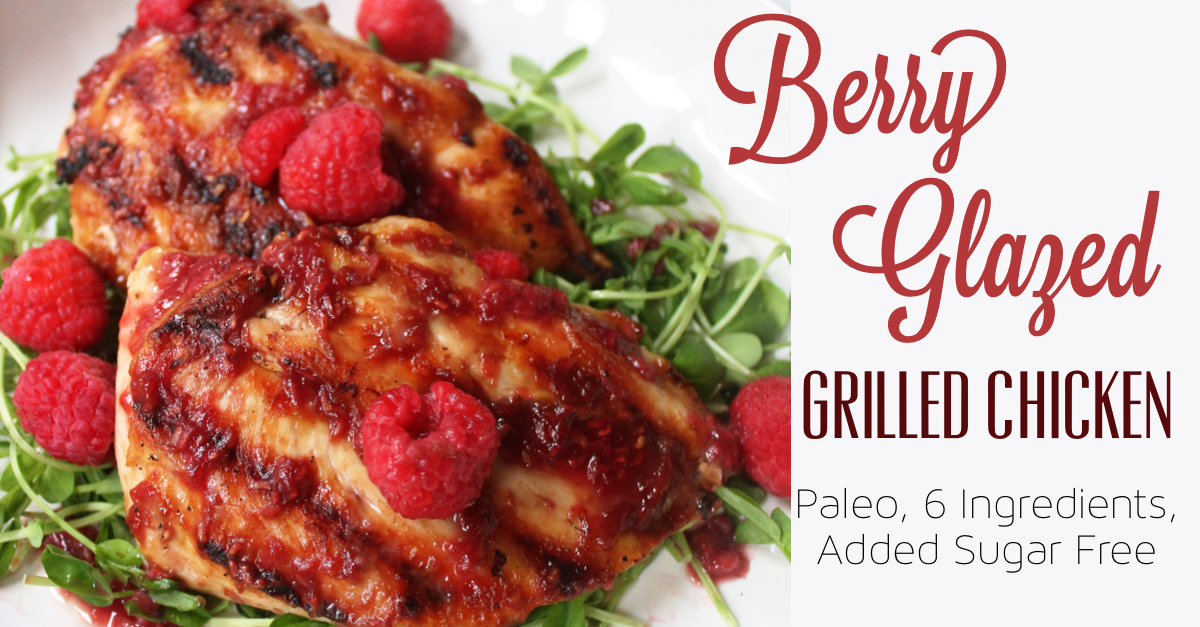 This post may contain some links that are affiliate links, though products are ones I use personally and recommend. When you purchase anything using my links, it costs you absolutely nothing extra, but it does give wholekitchensink.com a little financial support which helps to keep this blog running. Thank you for your continued support, both with your dollars and your interest.